Race Report: Global Energy 10K Orlando 2016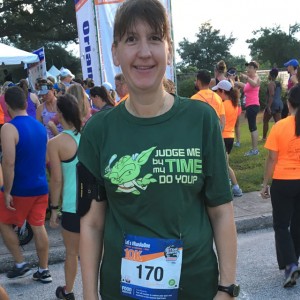 The Global Energy Race is a series of 10K and 3K runs around the world all taking place on the same day. This was the second year of the race and the first time it took place in Orlando. Sponsor Bimbo Bakeries donated bread to local food banks on behalf of every runner. The race set the Guinness World Record for the most 10K race runners in the largest number of cities on the same day with more than 85,000 participants in 36 cities around the world.
Training & Goals
My training plan calls for several back-to-back runs to prepare for the back-to-back-to-back runDisney races during the Wine & Dine festival at the beginning of November, and this race paired up nicely with the Endless Summer 10K I ran the day prior. Entry was also very cheap (many runners got free entry with discount codes released closer to race day -- they really wanted to pack this race!). My only goal was to have a good run and enjoy myself.
Race Day: September 25 2016
I drove to Festival Park in Orlando for the race. Parking and packet pickup were both a breeze and I was ready to run with plenty of time to spare. It was 79° with 89% humidity at the start of the race.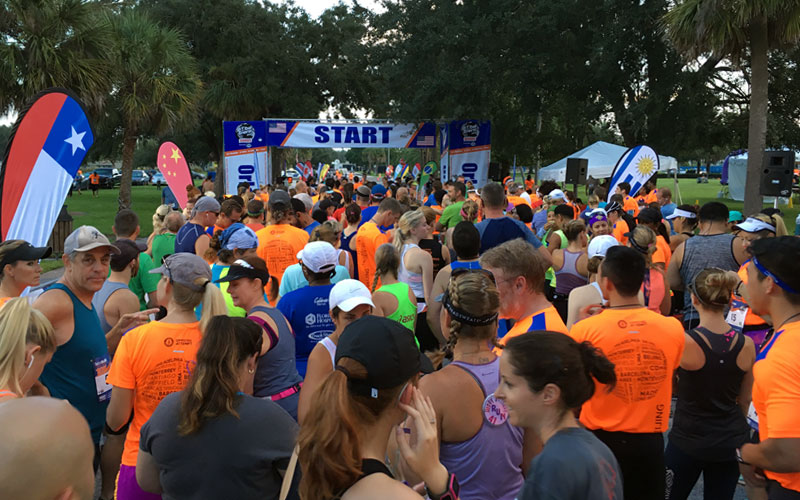 Mile 1: 10:52
The race took us through residential and commerical streets south of Colonial and east of Mills Ave in Orlando.
Mile 2: 10:44
I tried to keep a nice slow and even pace and didn't take any walking breaks until later in the race.
Mile 3: 10:49
The course was nice and flat and I think if I wasn't on tired legs I might have had a PR.
Mile 4: 10:22
During this mile we headed out to run around Lake Underhill and we could see the lead runners heading back towards the start/finish at Festival Park already. It was pretty motivating seeing them so it seems I picked up my pace a bit.
Mile 5: 10:44
This took us about 3/4 of the way around the lake.
Mile 6+: 10:58, 4:30*
I was pretty pleased with my final time considering my somewhat tired legs and the heat/humidity.
At the finish line there were lots of treats for the runners, including bananas and water, plus goodies like cereal fruit bars, bags of mini muffins, and bagels. They were giving away whole packages of bagels and boxes of the mini muffins. All runners got a voucher for a gourmet grilled cheese sandwich from a food truck as well.
The winner of the 10K race at each location won a trip to next year's Global Energy Race at any city of their choice. The female winner in Orlando was champion Russian marathon runner Lyubov Denisova who now lives in Gainesville. The male winner was an Orlando resident who had qualified to run in this year's U.S. Olympic Team Marathon Trials.
Chip time: 1:07:37
Placement details: 110th out of 360 women participants and 554 finishers total
Race Amenities: Swag included a nice Kappa tech short sleeve shirt, drawstring backpack, sport towel, and big finisher medal.
Cost: $12.00 via Groupon
*I often forget to turn off my Garmin after a race, so the final time is skewed.
Report written September 30, 2016