Race Report: Disneyland 10K 2017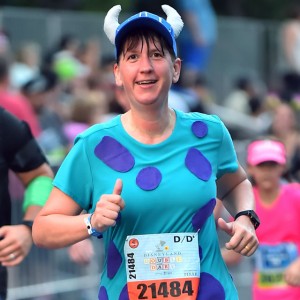 Day two of the Disneyland race weekend brings runners the 10K, this year themed to Pixar's Monsters University.
For this race I decided to run as Sulley from the Pixar franchise, along with every other runner in the race. Well, maybe not everyone, but Sulley was certainly a popular choice! I tacked (or basted -- temporary stitching) purple felt spots onto a turquoise tech top and a turquoise SparkleSkirt for the costume. I got a cheap blue cap on Amazon and hot-glued the Monsters U logo (cut out of foam paper) on the front and sewed Sulley's horns on the sides.
Disneyland race courses are known for having long stretches through the parks. We ran through California Adventure and Disneyland, along with additional backstage miles, to run all 6.2 miles of the 10K race.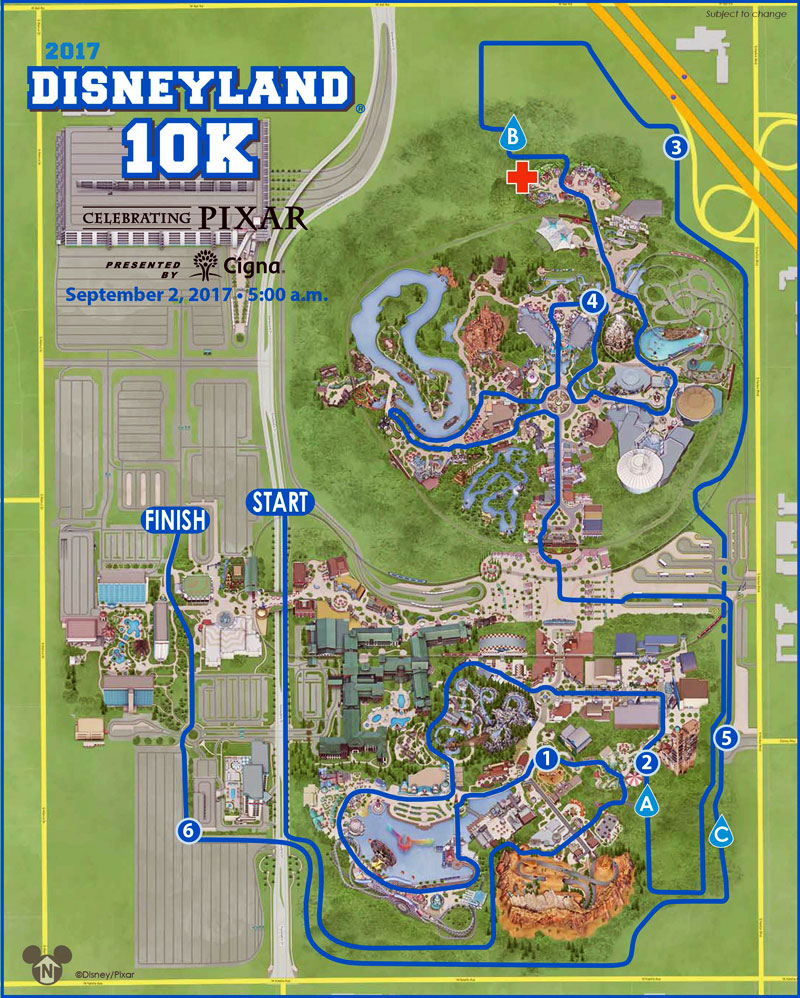 Goals
Usually I try to take it easy for Disney 10K runs, especially when I've got a half the next day, but it was going to be our second day of visting the theme parks so I didn't dawdle too much.
Race Day: September 2, 2017
All of the races during the weekend started at 5AM. Each day I got up a little bit later and walked over to the staging area from our hotel. Since I was alone I was able to creep up in the corral for the start.
It was 75°F with 89% humidity when I started my run at 5:16AM from corral D.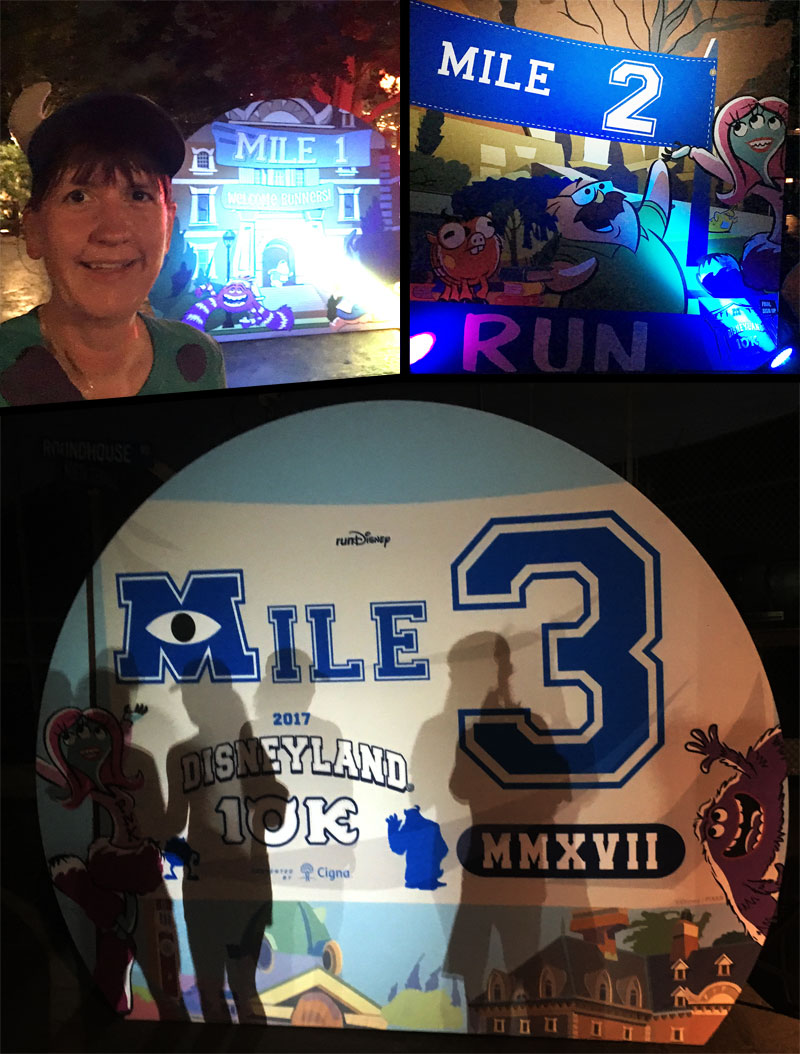 Mile 1: 11:45
Like yesterday's 5K, we ran from the parking area starting line into California Adventure at Cars Land. I ran by two photo ops: Monsters U cheerleaders and Flik with Princess Atta (ants from A Bug's Life).
Mile 2: 13:32
From Cars Land we headed around the boardwalk at Paradise Pier and then back around Grizzly Peak, again exiting the park backstage by the old Tower of Terror. I ran by a few more photo ops: Roz (Monsters Inc character -- I ended up regretting skipping this one, bummer); Russell (Junior Wilderness Explorer from Up); and Mike & Sulley (Monsters Inc).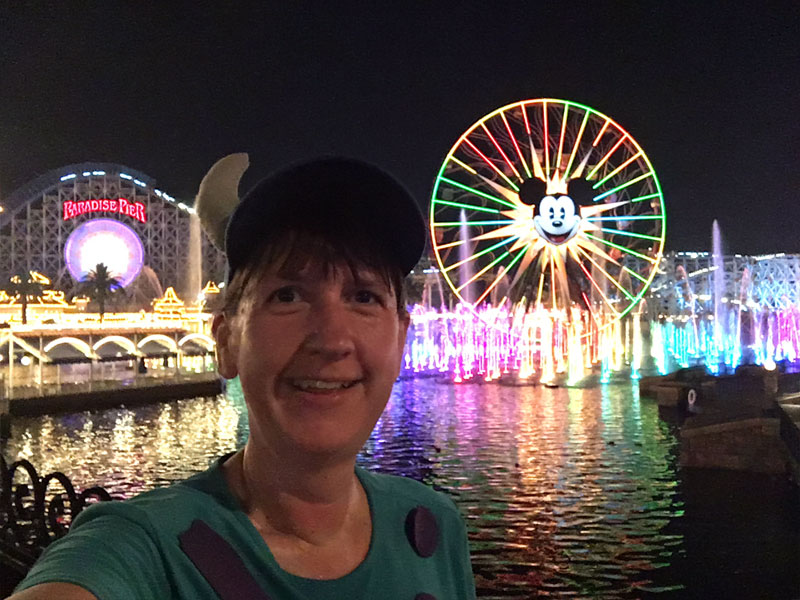 Mile 3: 12:20
We ran down backstage roads along the east side of Disney property up towards the north side of Disneyland. In the tunnel a couple of characters from the Child Detection Agency (Monsters Inc) were dancing around.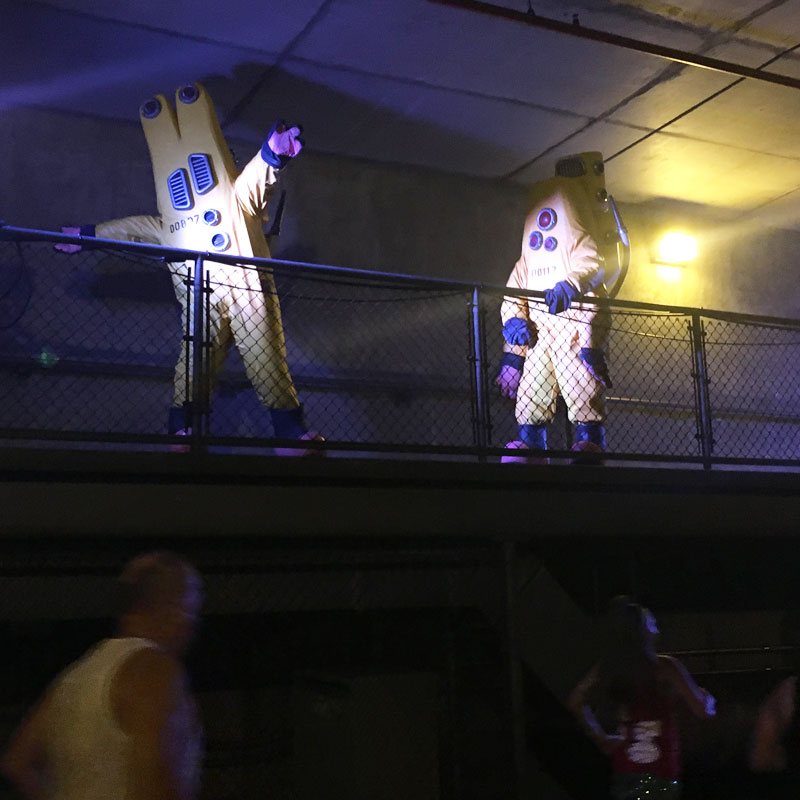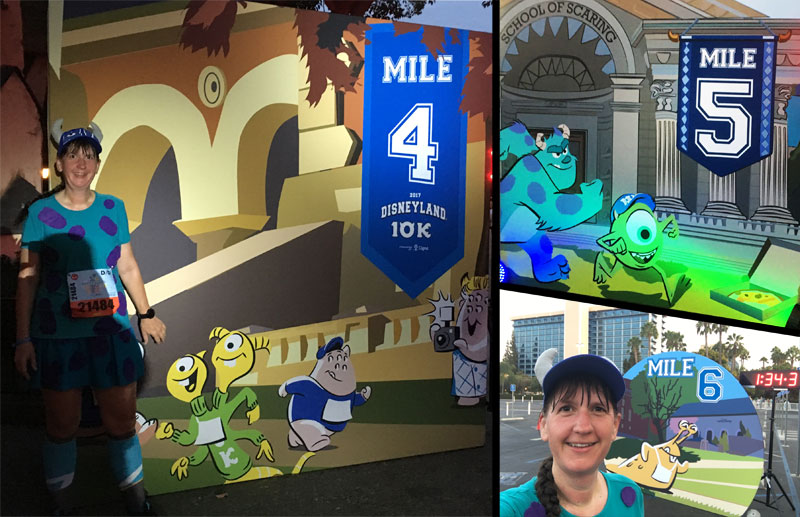 Mile 4: 13:14
After a bit more backstage running we headed into Disneyland via Toontown. We ran through Tomorrowland and finished up Mile 4 in Fantasyland. I ran by the photo ops I noticed: more Monsters U cheerleaders and Nemo with Dory and Marlin.
Mile 5: 14:07
Next we ran through the castle and then through Frontierland and Critter Country along the Rivers of America. Then it was back through the hub, down Main Street and back out of the park onto backstage roads. Here I stopped for one photo with Mickey and pals on a street trolley. PhotoPass got me, too!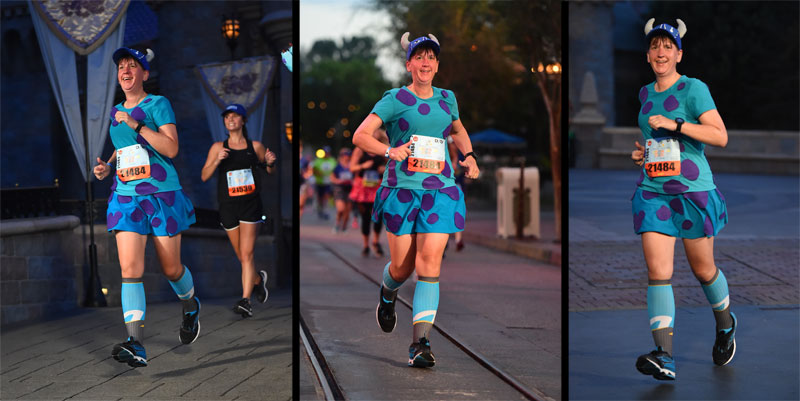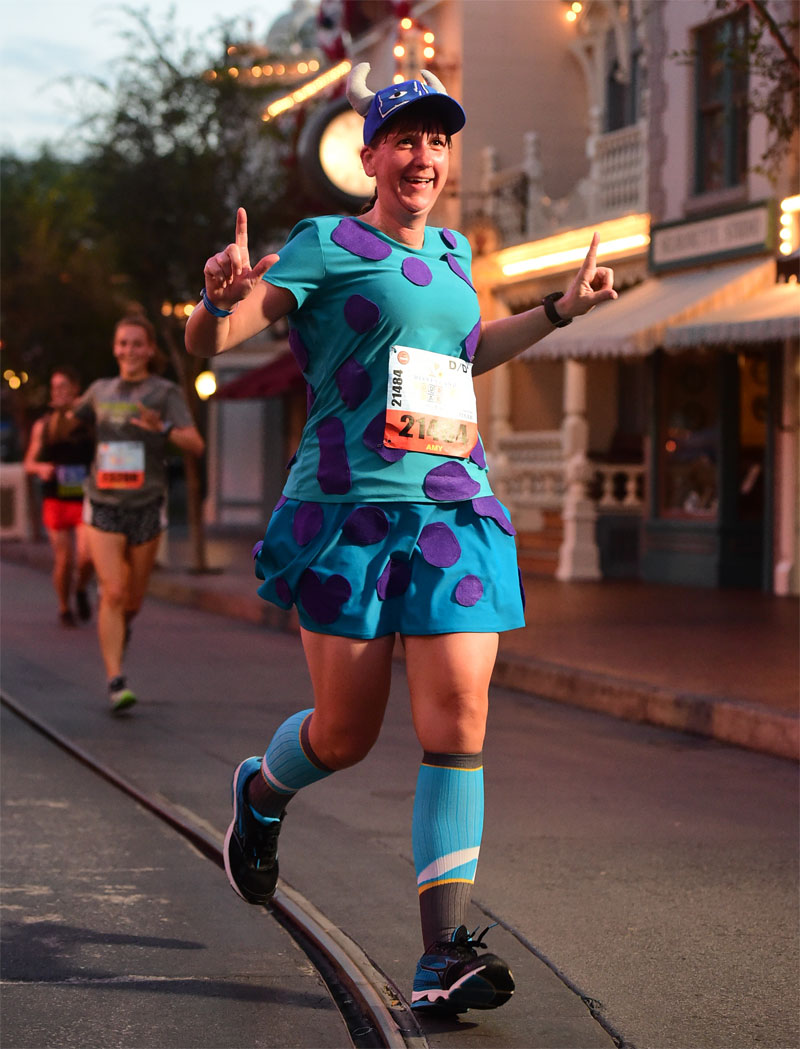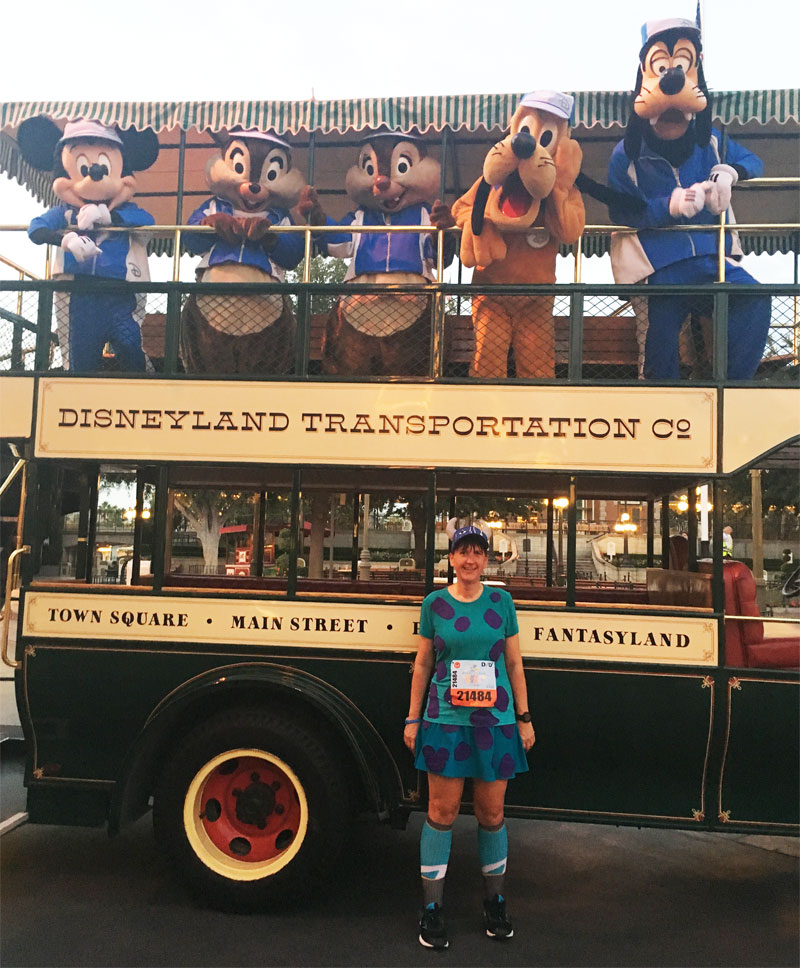 Mile 6+: 12:46, 4:52
The race continued along the backstage roads, swinging back around the south side of California Adventure before heading to the finish line in the parking lot.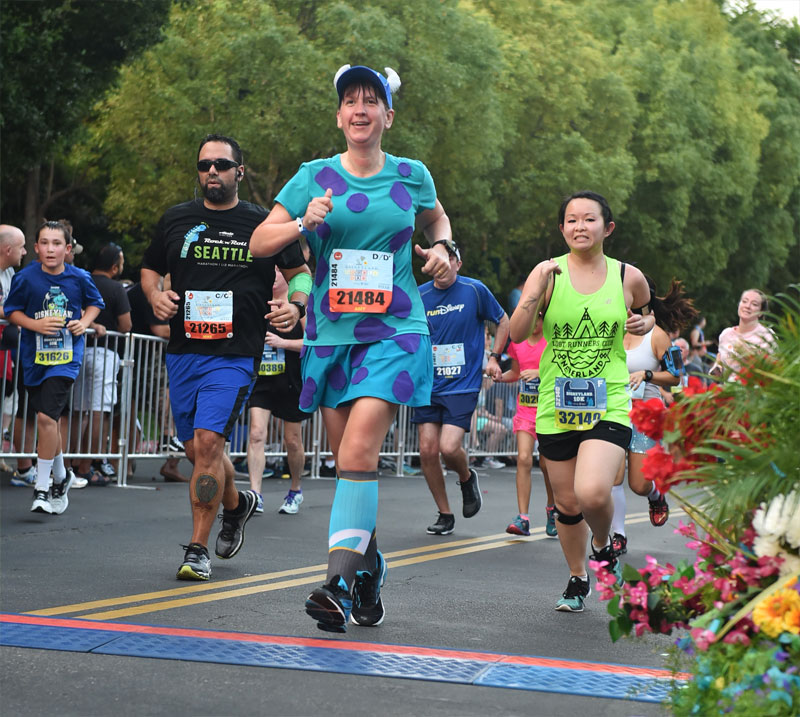 Post-Race
I zoomed back to the hotel to shower and change -- we had more theme park exploring to do! We went and had fun at California Adventure all day.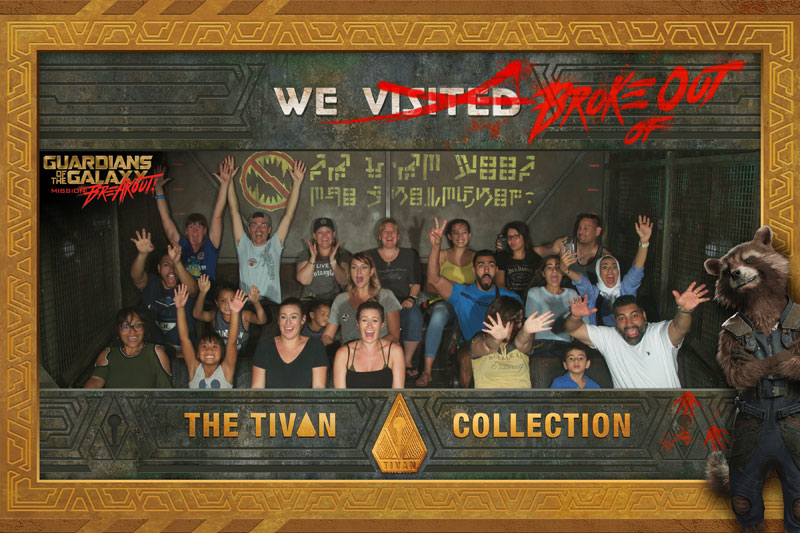 Recommendation
This was another fun race put on by Disney. Again I liked the smaller field than we see at Disney World and I enjoyed the less-crowded feel. I'm looking forward to running at Disneyland again.
Chip time: 1:22:27 (my fastest Disney 10K by over 24 minutes LOL)
Placement details: 139/558 in Age Group, 3033 overall out of 8198 finishers
Race Amenities: All that sweet, sweet Disney good stuff
Cost: $341.78 (for 10K/Half Marathon challenge)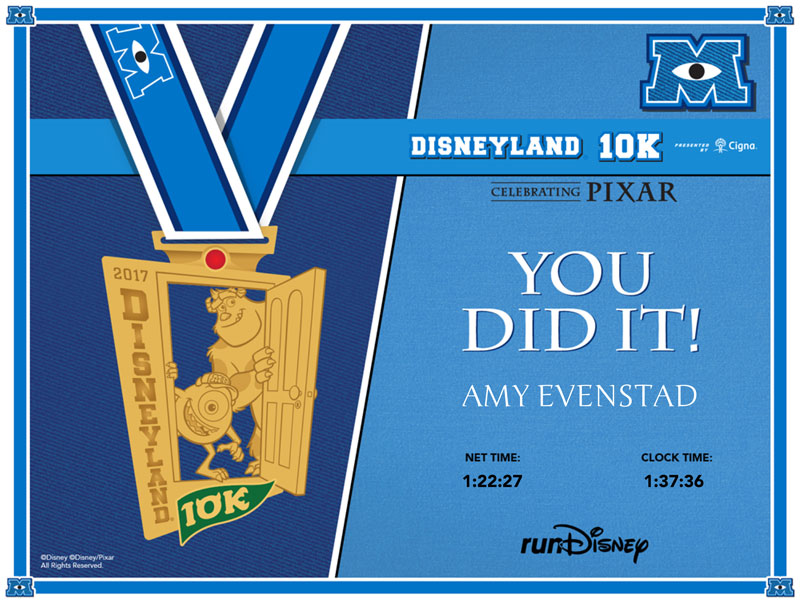 Report written September 30, 2017