runDisney Race Recap: Springtime Surprise Monsters 10K 2023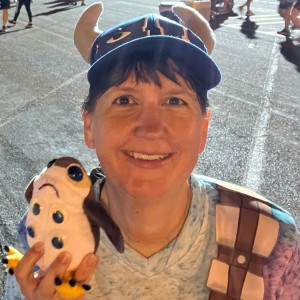 I participated in the second annual Springtime Surprise race weekend at Walt Disney World. Here's my recap of the second event of the weekend, the Monsters 10K.
Training & Goals
So I'm still struggling with my arthritic knees, plus I suffered a very painful case of bursitis in my left knee about 6 weeks ago. The bursitis has mostly cleared up with PT, stretching, and strength work. It was scary, though, and that's been tough on my motivation -- I'm afraid I'll feel that sickening pop and pain again.
I did a nice slow run/walk last week at the Bunny Hop 5K, and walked the Cars 5K the day prior, and everything felt ok. I aimed to keep a slow pace for this race too, in order to make sure my knees would be able to take me 10 miles on Sunday.
Costume
I'm always going to try to do Star Wars mashups for these races. I miss those runs so much!
For the Monsters 10K I mashed up Chewbacca and Sulley to be Sulleybacca in a matching shirt and skirt set. I carried a small Porg stuffed doll that I made into a little monster by adding four extra eyes with hot glue. And I wore the Monsters University hat that I made for the 2017 Disneyland 10K where I dressed up as Sulley.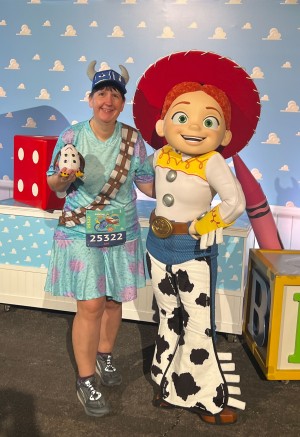 Race Day: April 15, 2023
Arthur and I both managed to sleep a bit and woke up with our alarm at 1:45AM. We hit the road by 2:17AM, parking at Epcot at 3:12AM. Arthur had decided to join me so we could go to Typhoon Lagoon after the race together.
Since I didn't have to arrange anything with my costume like I had for the 5K, we were quick to get out of the car and head through security, and then on to the race area. It was fun to see all of the runners dressed as monsters. Mike and Sulley were well-represented, but so were other characters and elements from the Pixar movie series.
A lot of runners were wearing a sock pinned to their back left shoulders, whether they were dressed as George Sanderson or not. It was part of a fun game and donation campaign arranged by some members of runDisney fan Facebook groups. Dead Last Start (DLS) runners, who start the race after almost everyone else, would try to gather socks from other runners who wearing the sock as they passed them on the course. The sock was a sort of signal (to those in the know), and if a DLS runner asked "23-19?", which was the contamination code that George triggered when he returned with a human sock on his back, the runner would give a sock.
At the end of the race, hundreds of socks ended up being donated to a worthy local charity. I was wearing a sock on my shoulder and planned to carry some socks to give out, but I changed my mind at the last minute (I sweat so much, the socks would get funky if I carried them). Instead I found the group collecting socks and dropped off my donation before the run.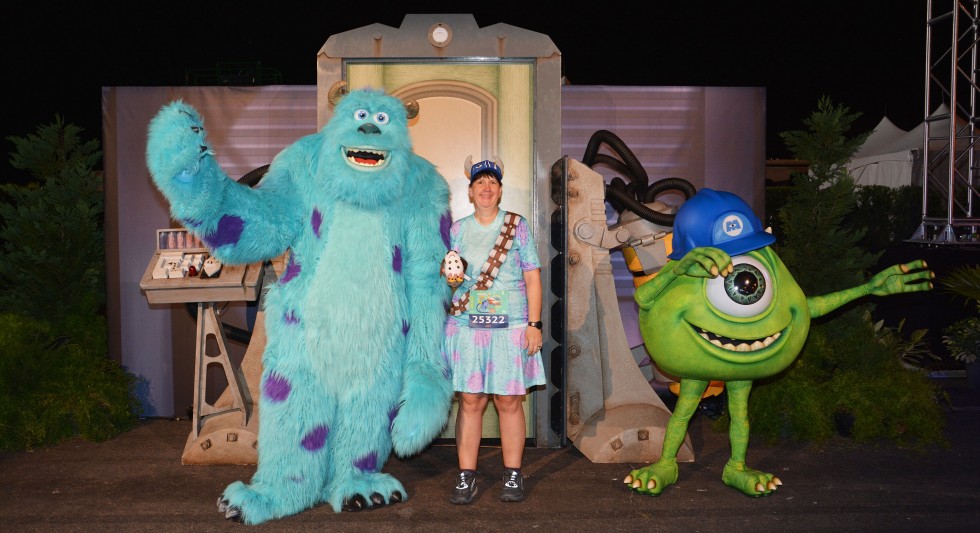 For the morning photo ops, Mater and Wall-E were there again, but Needleman was replaced by Mike and Sulley with the Monster backdrop, and Jessie replaced Bo Peep for the Toy Story backdrop. The line for Mike and Sulley was extremely long (took us almost an hour) but we managed to make it through and I even got to pose with Jessie before heading to the corrals at around 4:30AM.
Heading to E (the last corral) I found myself walking behind Jogging Jack Sparrow and asked for a selfie. He gladly obliged -- in character, of course. It's hilarious that he is always totally in character, from the stumbling walk to the slurry British accent! Thanks for the selfie, m8!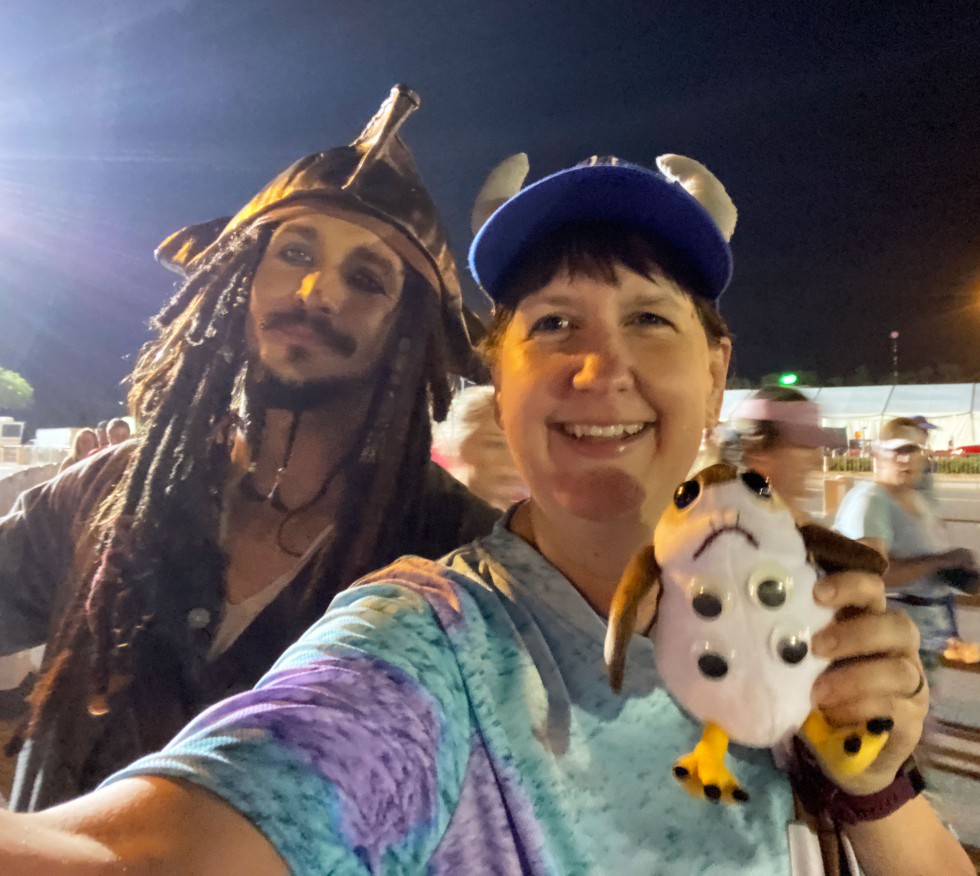 It was about 70°F with 88% humidity when I started towards the back of corral E (I think I was in the second-to-last release) at 5:59AM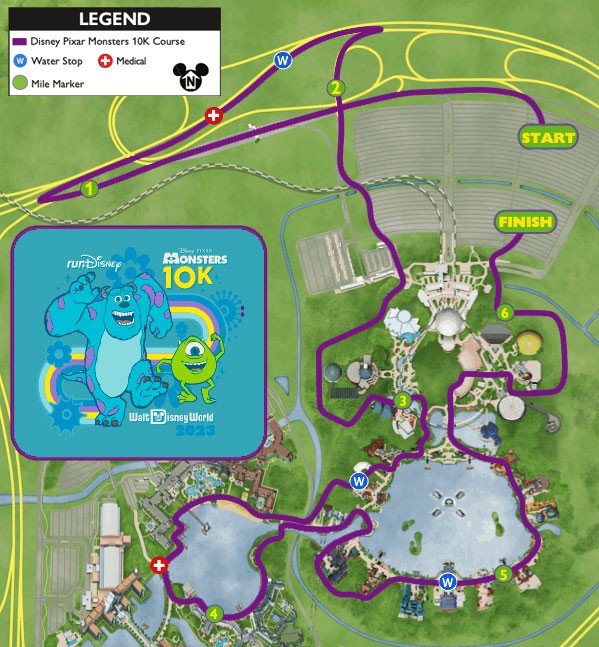 Mile 1: 14:44
After a brief walking warm-up, I started slow run/walk intervals of 15/45. Because I crossed the start line very close to the Balloon Ladies (effectively the last pacers before race staff picks up anyone not keeping up), I had to hustle, especially if I wanted to stop for any character photos. Less than a half mile in, Merida was out for photos but I passed on by.
Mile 2: 15:53
I had banked a bit of time in that first mile, so I felt safe stopping briefly for a photo with Mickey Mouse, who was wearing a dapper outfit. The line was very short, I guess due to the prolonged releasing of the corrals (especially compared to Friday).
During this mile, which took us onto Epcot Center Drive to head back towards the park, we also passed a marching band, and Carl from Up.
In the past I had used SaltStick FastChews to help replenish salt since I always sweat buckets. I actually remembered to bring them along for this race, and ate two tablets every half hour or so. They helped so much with recovery and minimizing hand swelling.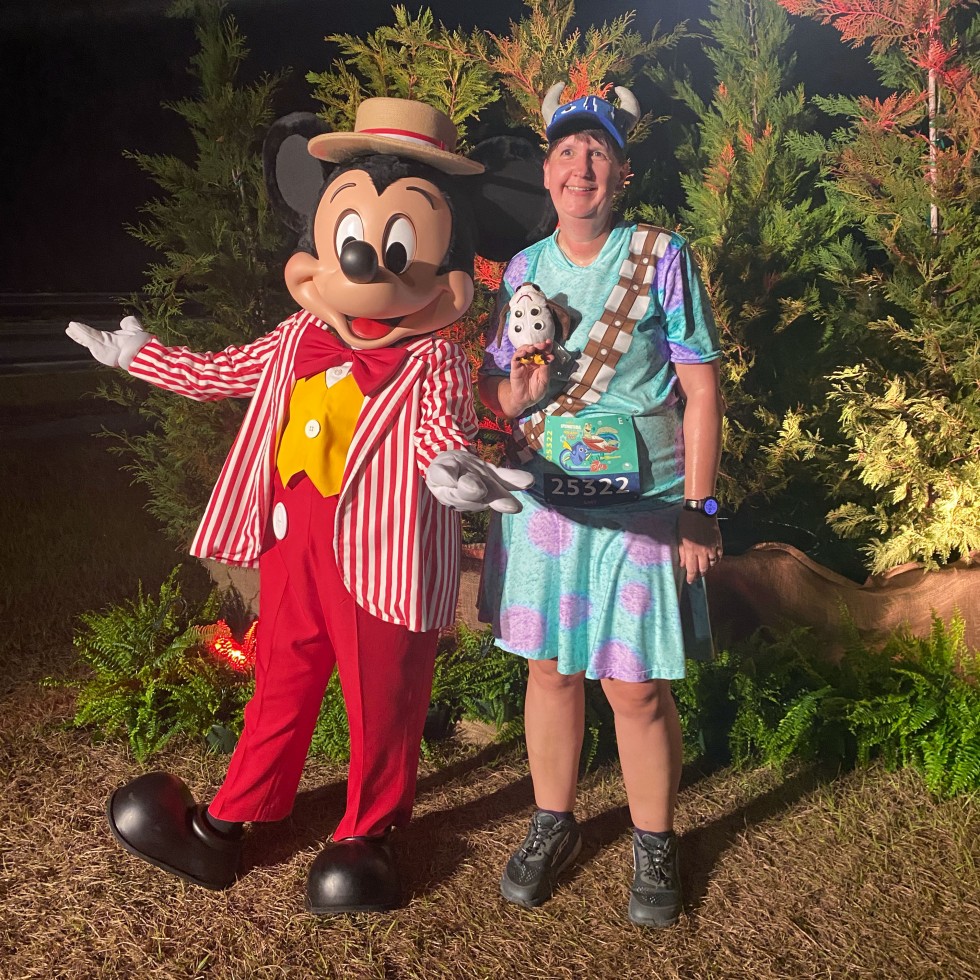 Mile 3: 14:59
I kept moving, passing Woody's photo op (he was on a break when I went by), Needleman, and PhotoPass snapping runners with the Figment statue as we entered Epcot.

Mile 4: 15:24
This mile was partially through World Showcase and around the Crescent Lake resorts. I passed photo ops with Frozone and Minnie Mouse.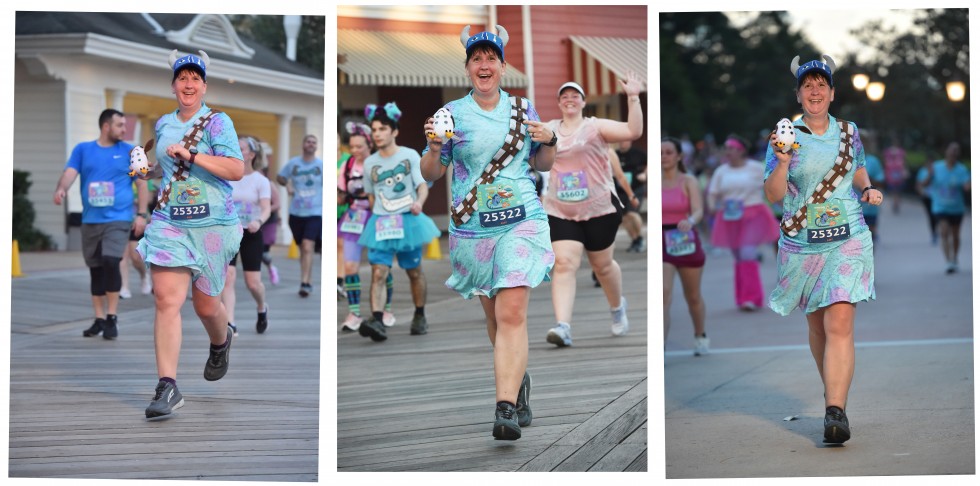 Mile 5: 16:39
During mile 5 we finished up with the Boardwalk area and headed back to Epcot and around World Showcase. I had banked enough time by this point in the race to walk the rest of the distance. I stopped for a photo with Chip and Dale, and skipped Emile with Remy in France.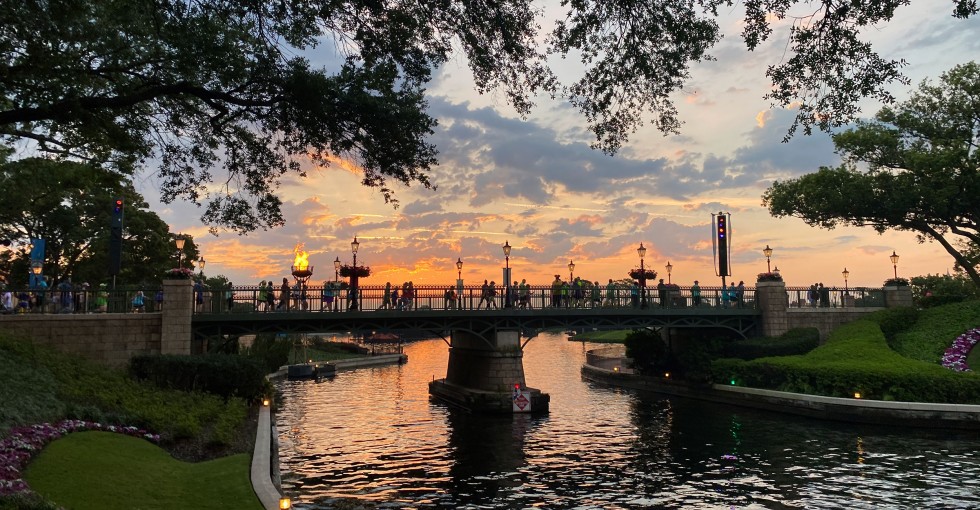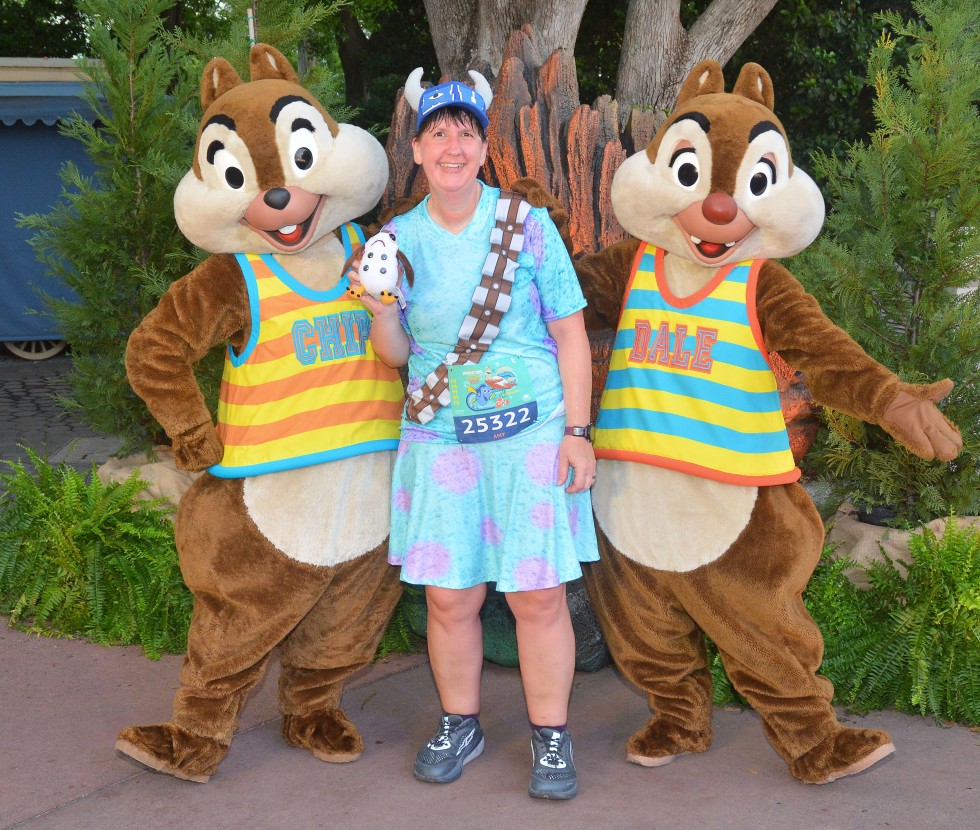 Mile 6+: 15:29, 7:23 (Garmin recorded 6.45 miles)
Here was a bit more course through World Showcase and Future World before heading out to the finish line. I passed photo ops with Pinocchio in Italy, a dapper Goofy between World Showcase and Future World, Pluto backstage, and Donald at the finish line.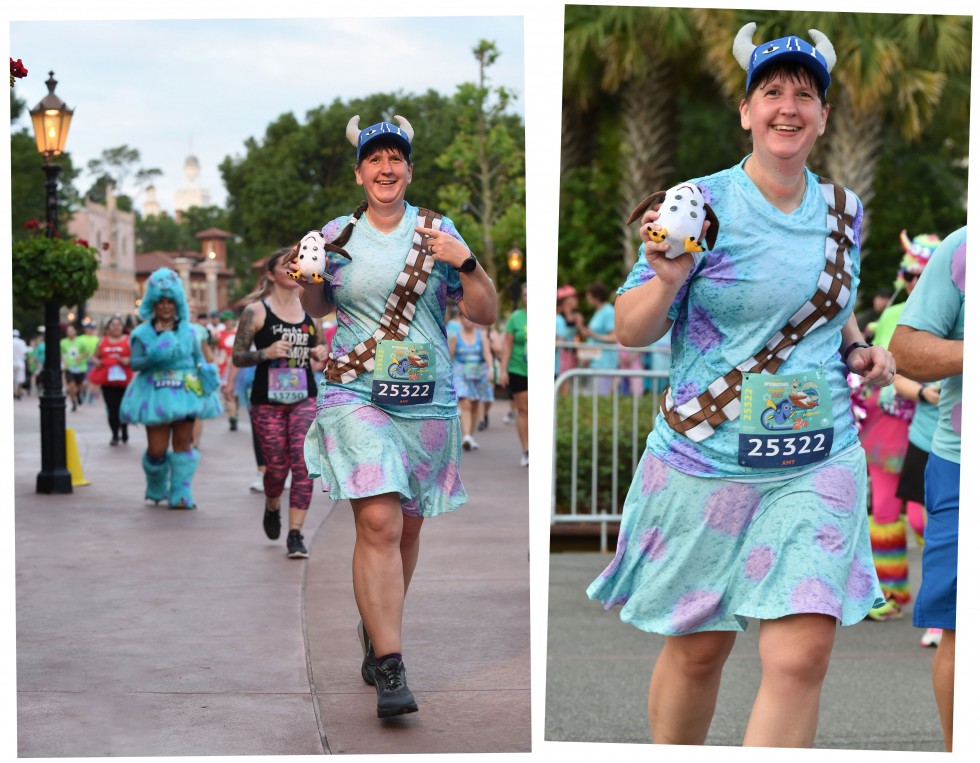 After the Race
After getting my medal, I headed to the medical tent to get some ice wrapped on my knees. Icing my knees after exercise has been beneficial so I thought it would be a good idea to do this, but right after I walked out of the medical area, the wrap started to fall apart. I ended up holding two bags of ice and trailing strings of plastic wrap loose around my legs as I collected my drinks and snacks. Back in the reunion area, I sat down on the bleachers and just held the ice bags to my knees. Meanwhile, Arthur kindly fetched me a celebratory cup of beer.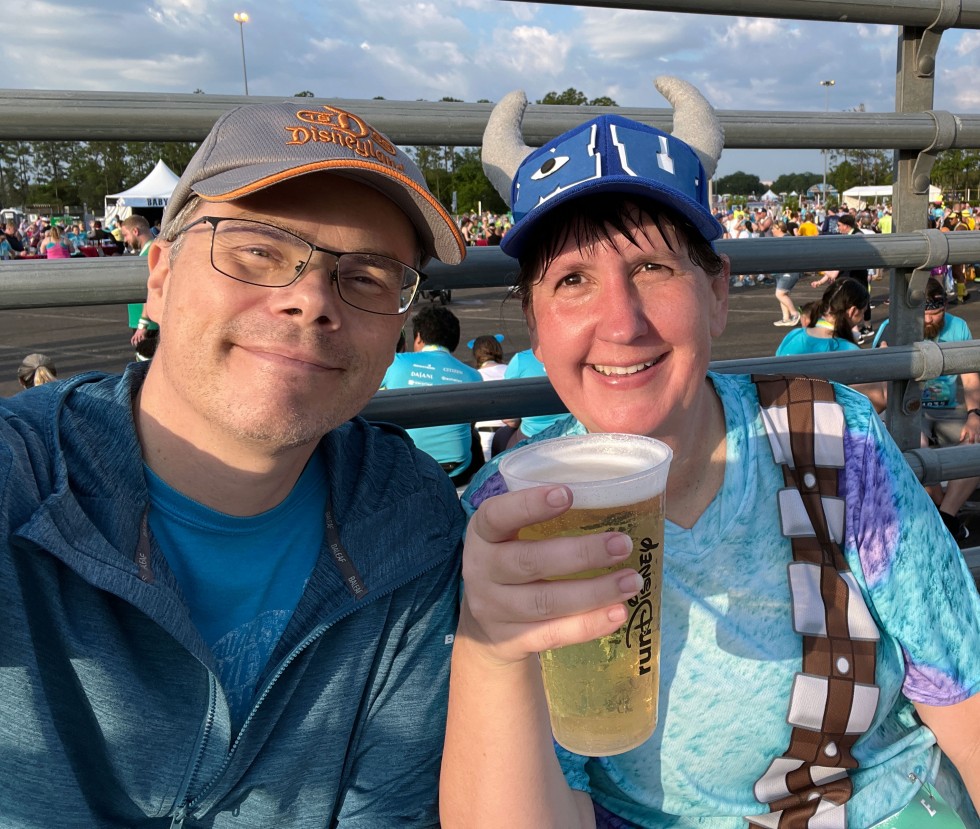 After I iced my knees a bit longer we headed out, stopping for a photo together with Mater before we left.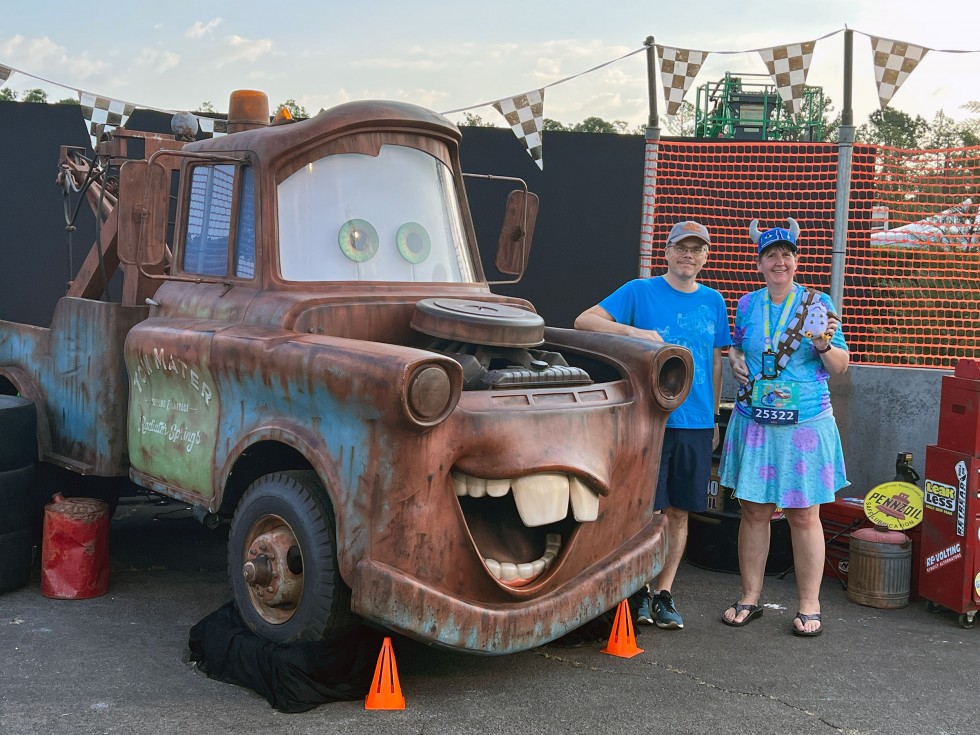 We enjoyed a hearty breakfast (and I had a stealth change of clothes in the restroom) at Port Orleans Riverside resort (our favorite) before heading to Disney Springs and then finally Typhoon Lagoon for some serious water park relaxation action.
Recommendation
Even though I'm much slower than I used to be, and I'm not able to stop for characters as much as before, I still have fun at these events. I was very happy to be able to stop for some character photos during the 10K, and generally enjoy the course.
Chip time: 1:40:33
Placement details: 368/667 in Age Group; 6039/9858 overall
Race Amenities: Nice themed medal and Monsters race shirt
Cost: $479.70 for the three race challenge!