Race Recap: Doughnut (or Donut) Day 5K 2022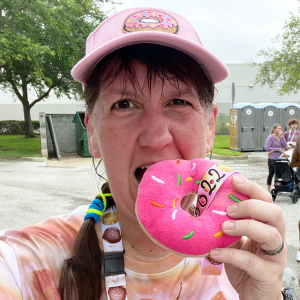 I ran the Doughnut Day 5K in Lake Mary, Florida on June 4, 2022. This race is put on by the Rotary Club of Seminole County and benefits their scholarship fund. It was the 4th or 5th annual running of this race (Facebook said 4th; race page said 5th). The race was also called either the Doughnut Day 5K or Donut Day 5K, according to various sources. The race commemorates National Doughnut Day, which takes place on the first Friday of June annually.
Training & Goals
Since January 1st I've been working on coming back after a period of no running, managing knee pain, and working on losing some pandemic weight. Weight loss has stalled over the past couple of weeks, which was compounded by a recent bout with COVID-19. I was in isolation and semi-isolation with the virus for about 10 days and went into this race following two weeks of no running. I aimed to run/walk this race at 2/1 intervals as well as I was able, with no expectations. I was ready to walk the whole thing if that's what my body told me.
Race Day: June 4, 2022
I left home at around 6:25 and arrived at the race location, Front Running Sports in Lake Mary, about 15 minutes later. This gave me plenty of time to pick up my bib and drop off my shirt back at the car before the race began.
The race took place under the shadow of a tropical system that was predicted to dump rain over the region, but we only got a very small sprinkle during the run. I think the spectre of stormy weather may have kept some participants from showing up. While 208 were registered, there ended up being only 141 finishers.
For unexplained reasons the race had a bit of a late start; it was about 73°F with 89% humidity and dark, gloomy skies when I crossed the starting mat at 7:08AM
Mile 1: 12:43
This race takes place on the Florida Trail out of Front Running Sports. The out-and-back course is mostly on the really nice suburban multi-use trail, with a short turn onto sidewalk for the turn-around.
The course was lined with terrible donut pun motivational signs put up by Rotary volunteers. They were amusing to read on the way. Stuff like Donot Give Up with a cartoon doughnut running on a treadmill, Donot Stop Believing, plus silly signs about eating doughnuts after workouts and even the old standby You Thought They Said Rum Didn't You? made an appearance.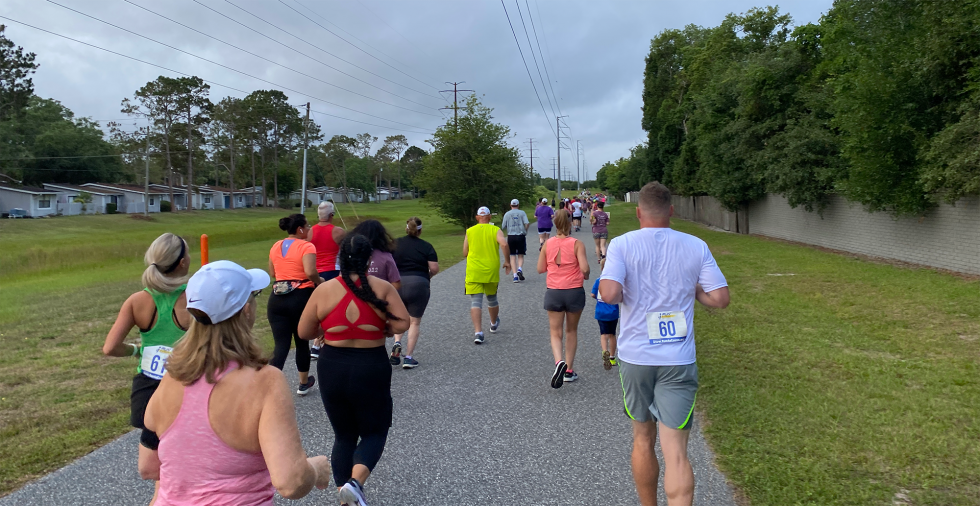 Mile 2: 12:36
There was one water stop on the course, close to the turn-around. On the first pass, I saw that the volunteer was removing the lids from all of the water bottles for runners to take. On the way back, I asked the volunteer for a closed bottle and he happily obliged. I was able to drink a bit and then stow the bottle in my skirt pocket while I was running, and take sips on my subsequent walk breaks.
The turn around was unmarked, and unmanned! I was kind of shocked to see this, and I wondered how the lead runner managed to know when to turn back. There was a cone, but it was to the side of the path, so it wasn't super obvious, in my opinion.
Mile 3+: 13:19, :39 (another slightly short race; my Garmin said 3:06 miles)
I felt pretty good running this race, so I was surprised to see my 3rd mile split so much slower than the first two. I didn't feel like I was slowing down at all. I was able to keep up my 2/1 intervals for the whole run, and I was pleased with that, especially considering the complete lack of any running the 2 weeks prior and recovering from illness.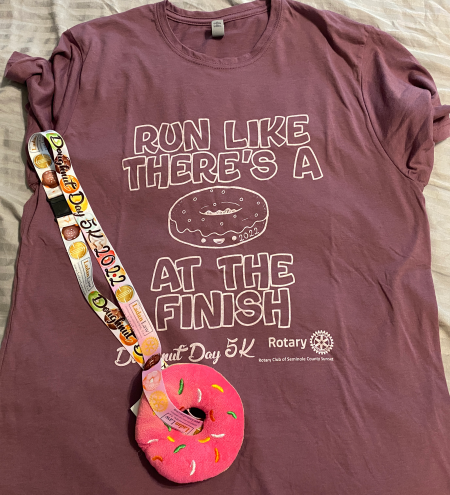 After the Race
There were donuts, plus bananas, watermelon, and other treats for runners, plus ample water and orange juice available. I didn't stay too long because it still looked like rain and I wanted to beat any weather. Of course, it ended up staying dry all day!
Recommendation
Well, I'm sorry to say that I don't recommend this event. The race started about 8 minutes late, which isn't a huge deal, but there was very little pre-race communication at all, and that was pretty disappointing. The lack of any personnel or volunteer at the poorly marked turn-around was unacceptable in my opinion. There was no national anthem at the start either, which I don't particularly mind, but it is notable. I'm also not a big fan of the plush donut "medal" participants received at the end, although I think that's kind of typical for doughnut dashes, maybe. I do really like the soft everyday t-shirt we got; the plum color is different and the design is cute. But I don't plan on running this one again.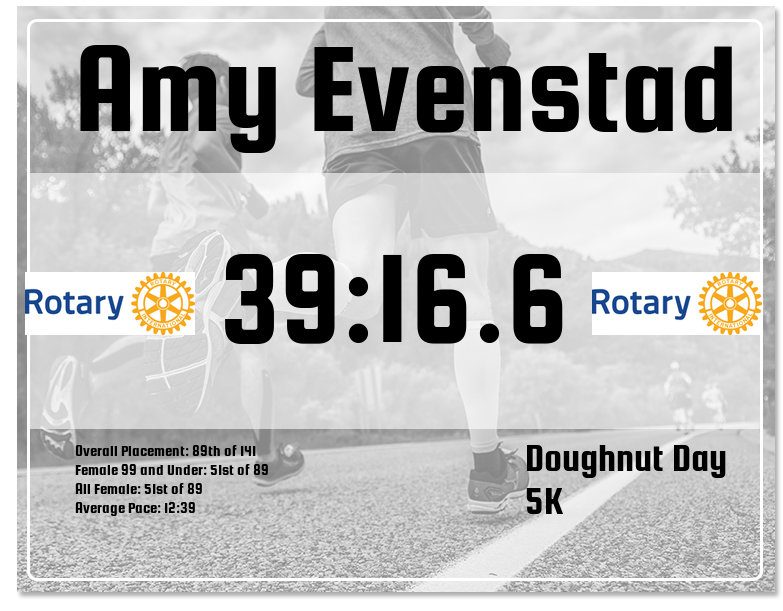 Chip time: 39:16
Placement details: 51/89 female; 89/141 overall
Race Amenities: Nice soft race shirt, plush donut finisher medal for all
Cost: $38.65