Race Recap: Beachin' It 5K 2019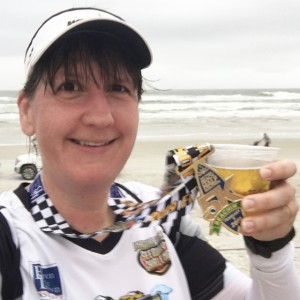 The Daytona Beach Half Marathon weekend made some changes for 2019, including adding a Saturday 5K to the challenge options. I had planned to run the half marathon for the third year in a row (read my previous reports from 2017 and 2018). Because of my current shape I was glad to have the option to transfer to the Dual 5K Challenge. First up, a beach 5K on Saturday evening.
Training & Goals
[Cue the usual of late] My right Achilles tendon is still bothering me so I haven't been running very much. No training, no goals.
Race Day: February 9, 2019
I parked at the Ocean Center and walked to the start. Packet pickup was quick and easy and bag drop was available for those of us who needed it. Restrooms were available at the host venue LandShark Bar & Grill.
It was 64°F at the start with 88% humidity. It had been threatening rain most of the day with mist, fog, and drizzle. Rain held off until after the run.
Mile 1: 12:25
A bit of soft sand right at the start but then we were running on hard sand with the wind strongly at our backs. Wee! I felt pretty good.
Mile 2: 12:00
Wind still at our backs until the turnaround. I felt good until the wind hit my face. Ugh.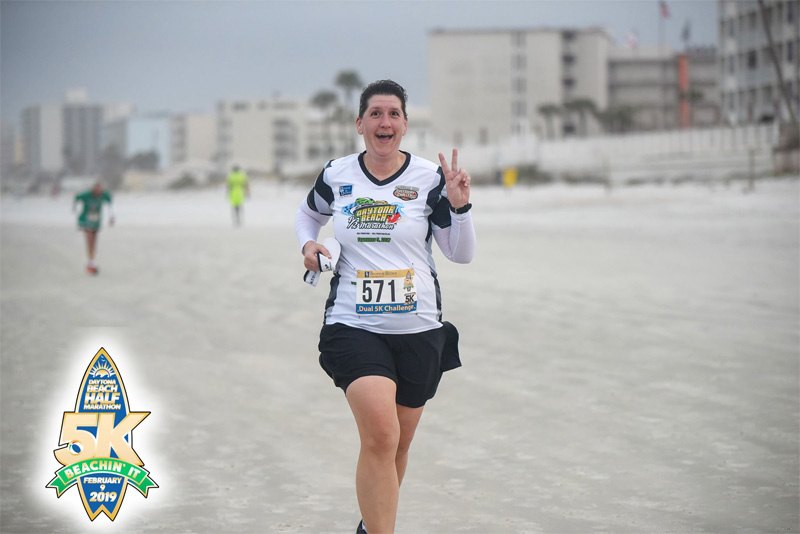 Mile 3+: 13:01, 1:27
So running back in the headwind was no fun, but I was still really happy with the run and felt great. My Achilles didn't bother very much at all. Sunday afternoon, though...
After Party
There was a nice spread out for the runners, with free beer and beef sliders and something else (no vegetarian option so I'm foggy on the details) warm being served. It started spitting rain so I headed back to the car fairly soon after finishing.
Recommendation
Runners could register for this race as a stand-alone or as a Speedway Challenge with the half marathon on Sunday or as a Dual 5K Challenge with Lap the Track on Sunday. This was the first year for the Beachin' It 5K and I think the organizers did a great job. Recommended, along with the rest of the Daytona Beach Half Marathon weekend events.
Chip time: 38:46
Placement details: 18/40 AG and 269/492 overall
Race Amenities: Finisher medal for all, soft cotton gender-specific shirt
Cost: $68.32 for the Dual 5K Challenge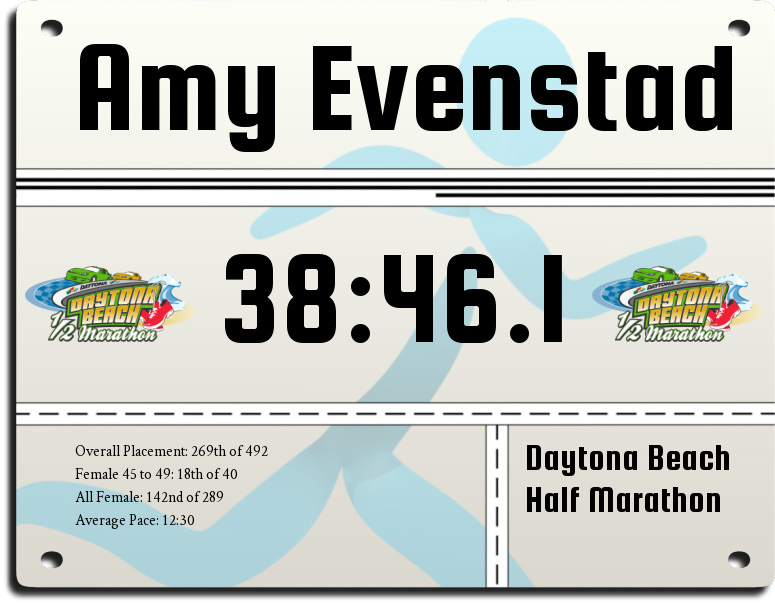 Report written February 11, 2019
Branded race photo (c) Almost There Photography