Local 5K Race Report: Volusia Pines 5K 2016 or: That Time I Won a Race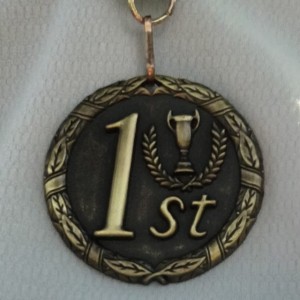 So I kind of signed up for the Volusia Pines Elementary 5K on a whim. I was looking for races on RunSignUp.com and this nearby event came up. There weren't a lot of participants listed and the price was right ($10) so I thought I'd go for it. After I registered online, I realized I hadn't been asked my shirt size. And that it wasn't a timed race, which was something I'd meant to avoid. RunSignUp allowed cancellation for a while before the registration went through, so I cancelled my registration and sent an inquiry to the race director... who thanked me profusely for signing up. I got the t-shirt business sorted out and signed up again for the race. The race was to raise money for the school's kindergarten playground.
Training & Goals
I had been running 3 times per week for several months, usually two short runs of 5K and a longer run. Since the race wasn't timed, I wasn't worried about making a PR.
Race Day: February 6, 2016
This was the first race I went to by myself. I really downplayed it to my husband, plus I was going to be racing three more times in February. When I arrived at the school, the gate was still locked with two cars in front of me. After we got inside and I parked the car, I went out to pick up my shirt and bib. The race director showed us the route, which was mapped out on a whiteboard. We would be running two loops around the parking lot, and then two loops outside of the school. As I wasn't at all familiar with the area, I asked if there would be pointers out on the course. We were assured it was so -- phew!
The race was supposed to begin at 8:00AM, but we didn't start lining up until about 8:15. In total there were 72 people registered for the race, with about 1/3 of them being students and nearly everyone else associated with the school as a parent or teacher. A group of totally adorable little cheerleaders performed a few cheer routines before the race. It was 54°F and partly cloudy at the start.
Mile 1: 10:51
We ran around the parking lot twice. There were a lot of walkers so I passed a bunch of people on these two loops. Then we headed out on a rural road and followed a farm field.
Mile 2: 10:44
We turned into a small woods that ran alongside the school grounds. The water stop was being manned by two older students who just sat behind the table. The table was pretty obscured by a boundary fence so I didn't even see the water until I was right on top of it. We passed the school and headed into the second loop.
Mile 3+: 10:53, 5:07*
What a pretty course! I thanked the people directing us and stopping traffic. Along the farm field I started passing a few other runners. Heading into the woods, I saw a lot of walkers just finishing up their first loop. I didn't see anyone running in front of me any more. As I ran back into the school parking lot, I was unsure of how to reach the finish line. Loop the parking lot again? Or run to the finish "backwards"? I saw the cheerleaders and race director motioning me towards them so I headed in their direction to finish the race.
The race director handed me a little medal with an envelope and said "Congratulations, first adult"! What. I laughed and said, "You're kidding!" No joke, but I couldn't stop laughing, and then smiling like an idiot. I got a little first place medal, a $20 Walmart gift certificate, and a $5 ice cream parlor gift certificate. The cheerleaders gave out medals to the next few finishers, too.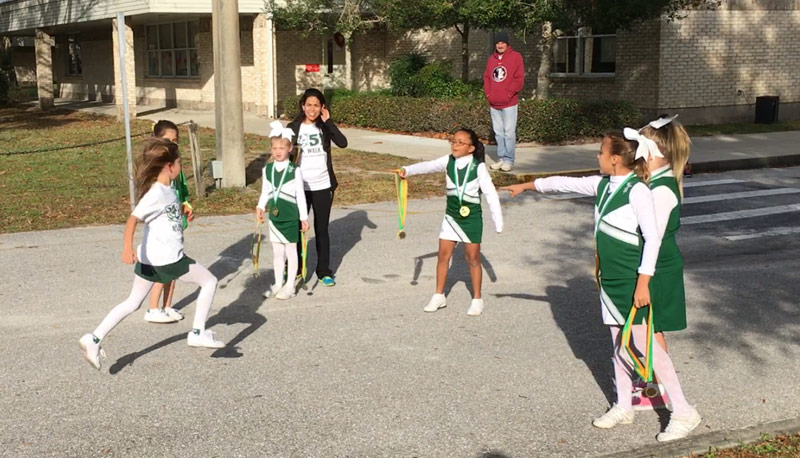 The course was a bit long. My Garmin put me at having run just under 3.5 miles (5K is about 3.1 miles). Another runner mentioned the same.
Garmin GPS time: 33:34
Placement details: 1st overall out of 72 registrants.
Race Amenities: Swag included a cotton t-shirt. And of course my sweet sweet 1st place medal (no finisher's medals).
Cost: $13.00 including $3 transaction fee
*I often forget to turn off my Garmin after a race, so the final time is skewed.
Report written March 9, 2016