runDisney Race Recap: Springtime Surprise Expo & Cars 5K 2023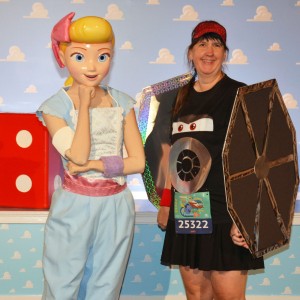 I participated in the second annual Springtime Surprise race weekend at Walt Disney World. Here's my recap of the expo and the first race in the three-day challenge event, the Cars 5K.
Expo: April 13, 2023
Everyone participating in a runDisney event needs to go to the Expo before race day to pick up the event bib(s) and shirt(s). Merchandise from runDisney and other vendors is also available at the Expo, which takes place at the ESPN Wide World of Sports complex.
I picked up my bib and shirts, had a look around at the official merch and expo vendors, and took photos with all of the photo ops I saw! There were replica medal posters outside near the ESPN Wide World of Sports entrance and several PhotoPass ops at bib pick-up (one pictured below). In the official merchandise exit hall, there were two characters and distance number photo ops. The characters were George Sanderson and Woody alternating with Bullseye. I think it was the first time I ever saw Bullseye.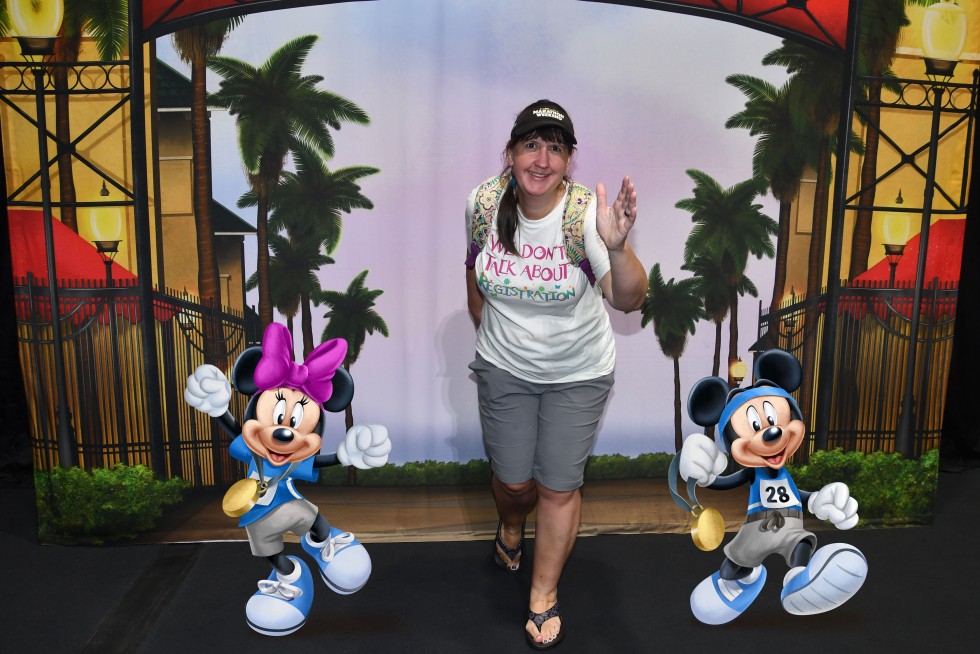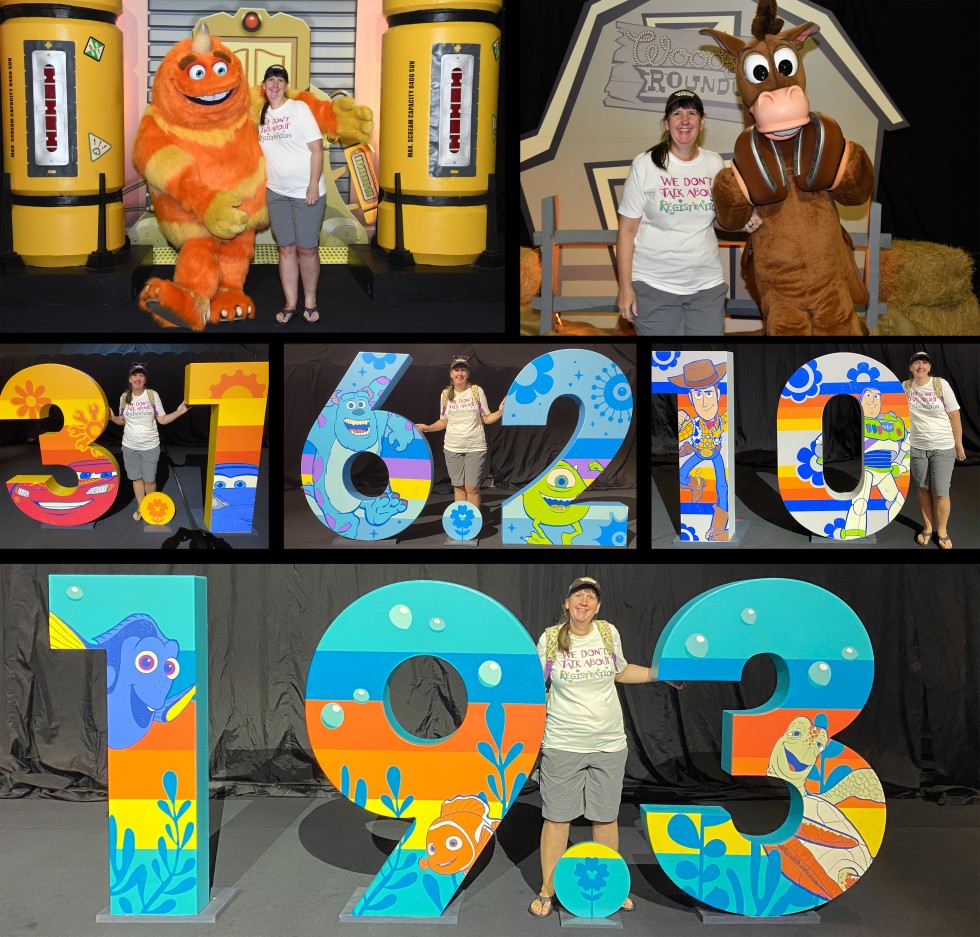 Training & Goals
So I'm still struggling with my arthritic knees, plus I suffered a very painful case of bursitis in my left knee about 6 weeks ago. The bursitis has mostly cleared up with PT, stretching, and strength work. It was scary, though, and that's been tough on my motivation -- I'm afraid I'll feel that sickening pop and pain again.
I did a nice slow run/walk at the Bunny Hop 5K last week, and everything was working ok. For this race I knew I'd be wearing a silly costume and it would be hard to run, so I aimed to walk this race to try and save my knees for the 10K and 10-Miler.
Costume
I'm always going to try to do Star Wars mashups for these races. I miss those runDisney races so much!
For the Cars 5K I did a Cars / TIE Fighter mashup that I'm calling TIE Fight-car. I wore a Cars-inspired black shirt with a fun Run-eze spoof logo on the back. I used a glue gun to attach the cockpit window to the front of my shirt (a disc made of silver posterboard and glitter foam pieces).
I carried a pair of TIE Fighter wings I made out of silver posterboard, black foam board, silver ribbon, and silver duct tape. I used a pair of old running armbands to carry them. Velcro hooks attached to the phone window on the armbands stuck very nicely to fabric loops on the wings, and made it easy for me to put the costume together myself after I arrived at Epcot. I held onto the bottoms of the wings with my hands to help keep them in position. I was worried about them staying together and figured the wings would get completely ruined if it rained, but we only had a bit of light drizzle before the race started so that was no problem.
I wore a black checkerboard Sparkle Skirt and a red Sparkle Athletic Headsweats visor to complete the mashup outfit.
Race Day: April 14, 2023
I woke up well before my alarm was to go off, at 12:45AM (!), and had a really hard time trying to get back to sleep. I finally got up at around 1AM and slowly started to get ready. I left home at 1:58AM and arrived at the Epcot parking lot at 2:46AM. I changed into my race shirt, attached my bib, and put on my TIE wings. I arrived at Epcot security right at 3AM and was among the first to enter the race area. I was able to get photos with all of the characters (Mater, Needleman, Bo Peep, and Wall-E) before heading to corral E (the last corral) at around 4AM.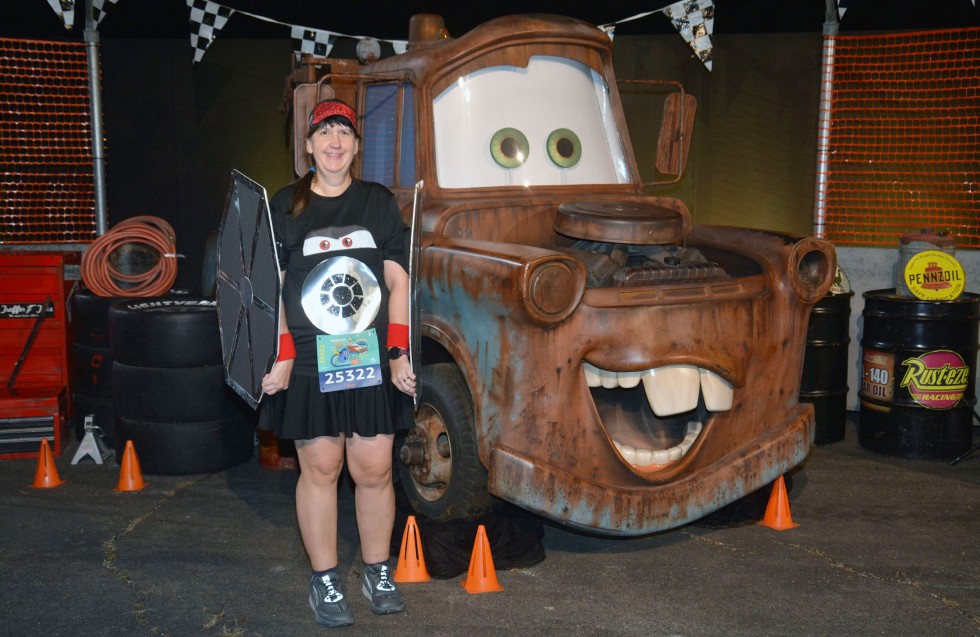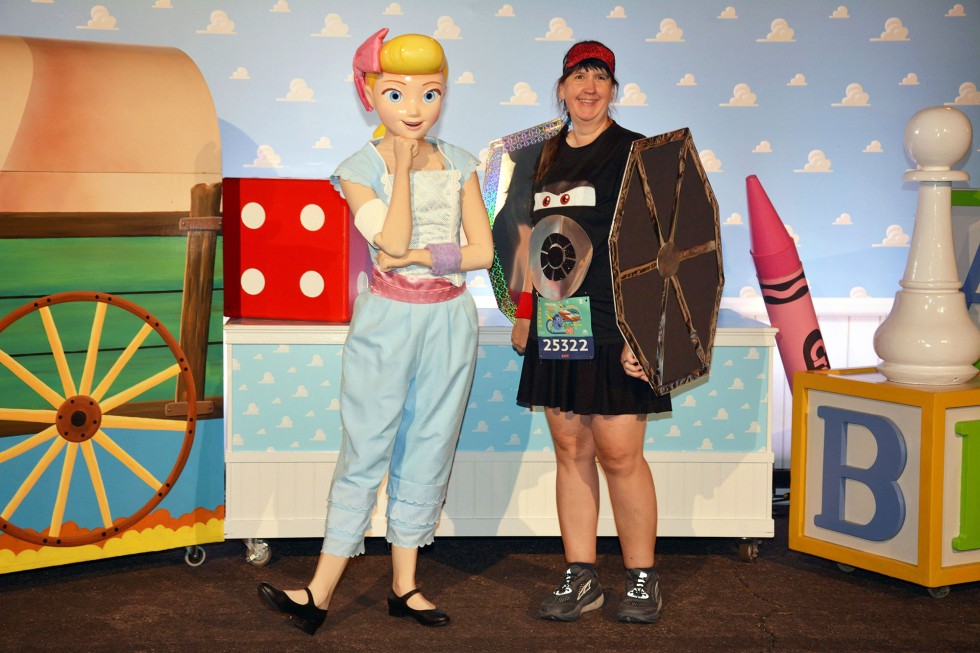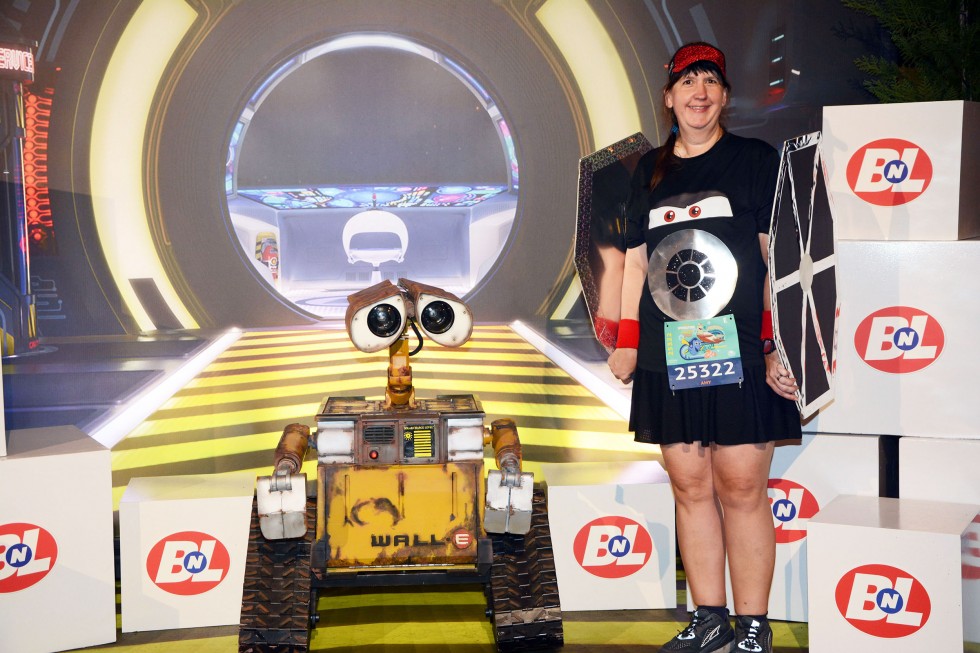 It was a long wait, but I wanted to practice being at the front of the corral. I'm going to need the extra buffer for the 10-Miler for sure. The race announcers kept the crowd entertained somewhat, and at the end we found out that announcer 3 and non-runner John Pelkey would be participating in his very first 5K along with everyone else!
It was about 70°F with 100% humidity and sporadic light rain when I started at the front of corral E at 5:36AM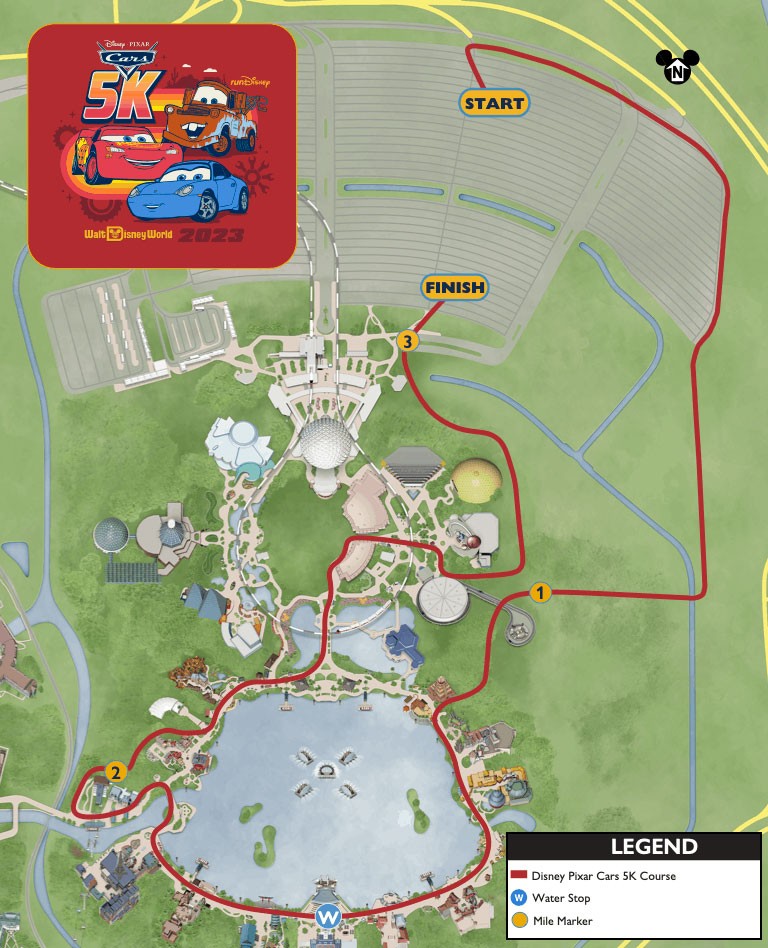 Mile 1: 16:19
I maintained a nice pace walk for the first mile, pretty much boxed in by other walkers. About a half mile in, my right armband's Velcro slipped and the armband started coming loose. Uh oh! I removed the wing, re-strapped the armband to my arm, reattached the wing to the armband, and kept moving. The armband would end up popping loose a few more times during the race, despite me making adjustments and checking it frequently for the rest of the run. Though it was designed to hold something relatively heavy like a phone, the big wing was flopping around a bit and that probably put a lot of pressure on the simple Velcro connection.
Mile 2: 16:05
Off the backroads and through World Showcase we go! I tried to make sure my costume was all in order before each PhotoPass opportunity, so I didn't have any fails caught on camera. In this, I was successful. I kept getting snapped at bad angles, though, where the wings aren't really visible. It was a wonky and difficult costume! I got a lot of compliments from fellow athletes and cast members, so that was nice. Bring the Star Wars races back!
Mile 3+: 17:16, 4:03
I found the lines for characters incredibly long again, and I didn't stop for any. Slim from A Bug's Life was a very cool character that I'd never seen before (spoiler: he was out for the 10-Miler two days later!). Also on the course were Edna Mode, Dug with Russell, Jessie (who I completely missed even seeing), Joy and Sadness, Pluto at the finish line, plus a marching band and a choir. It was a good mix of entertainment.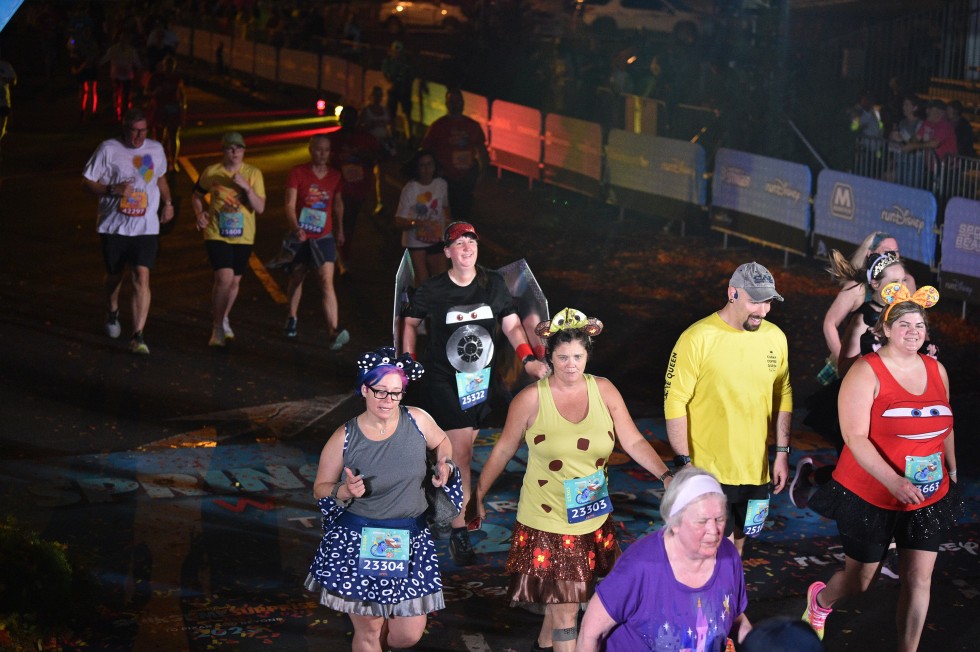 After the Race
Oh man, as soon as I crossed the finish line I took off the armbands and wings and stowed them in a big plastic garbage bag I had been carrying in my pocket. I picked up my medal, water, Powerade, snack box and banana and went looking for the finisher photographers, who I've missed the last few races.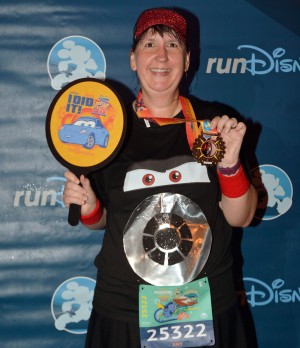 I got my picture and then headed to my car, done at Disney for the day! 10K tomorrow and 10-Miler on Sunday!
Recommendation
Even though I'm much slower than I used to be, and I'm not able to stop for characters as much as before, I still have fun at these events. The cheering castmembers, the enthusiastic volunteers, the characters and entertainment, the jovial fellow runners and their crazy and creative costumes are always fun to see.
Garmin time: 53:43
Race Amenities: Nice themed medal and Cars race shirt
Cost: $479.70 for the three race challenge!