runDisney Race Recap: Springtime Surprise Toy Story 10-Miler 2023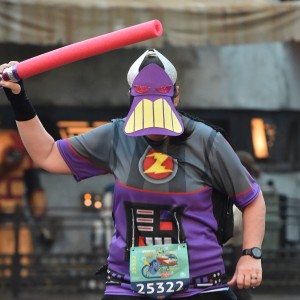 I participated in the second annual Springtime Surprise race weekend at Walt Disney World. Here's my recap of the third and final event of the weekend, the Toy Story 10-Miler.
Training & Goals
So I'm still struggling with my arthritic knees, plus I suffered a very painful case of bursitis in my left knee about 6 weeks ago. The bursitis has mostly cleared up with PT, stretching, and strength work. It was scary, though, and that's been tough on my motivation -- I'm afraid I'll feel that sickening pop and pain again.
I took it very easy for the Cars 5K and the Monsters 10K, and planned to take it easy for this race as well. I was able to stop for some photo ops during the 10K and I was hoping to be able to enjoy this course as well, though worrying about my knees did give me some doubt about finishing at all.
Costume
I'm always going to try to do Star Wars mashups for these races. I miss those runs so much!
For the Toy Story 10-Miler I mashed up Darth Vader and Zurg to be Darth Zurg. I sewed a sparkly black cape onto a custom costume sport shirt like this one paired with a black Sparkle Skirt. I carried a DIY lightsaber made from a cut pool noodle and different colors of duct tape. And I made a Zurg helmet costume hat out of craft foam hot glued onto an old Headsweats visor.
Race Day: April 16, 2023
I was able to sleep! After the 10K on Saturday, and spending a few hours at Typhoon Lagoon afterwards, I was bushed. I had pizza and beer for dinner and then went to bed around 7PM. It took me a little while to fall asleep, and I woke up before my alarm went off, but when I got up shortly before 1:30AM I actually felt somewhat rested. I left home at 2:02AM and had the car parked just before 3AM. It had started to rain so I found a disposable poncho in the back seat pocket (such a handy thing to keep in the car!) and wore it over my costume while heading to the race area.
Once I was past security and into the race area, I dropped off a bag at Gear Check and disposed of my poncho since the rain had stopped. I headed over to the photo ops and saw that the Monster for the day was George Sanderson, and the Toy Story characters were Woody with Buzz, who naturally had an extremely long line.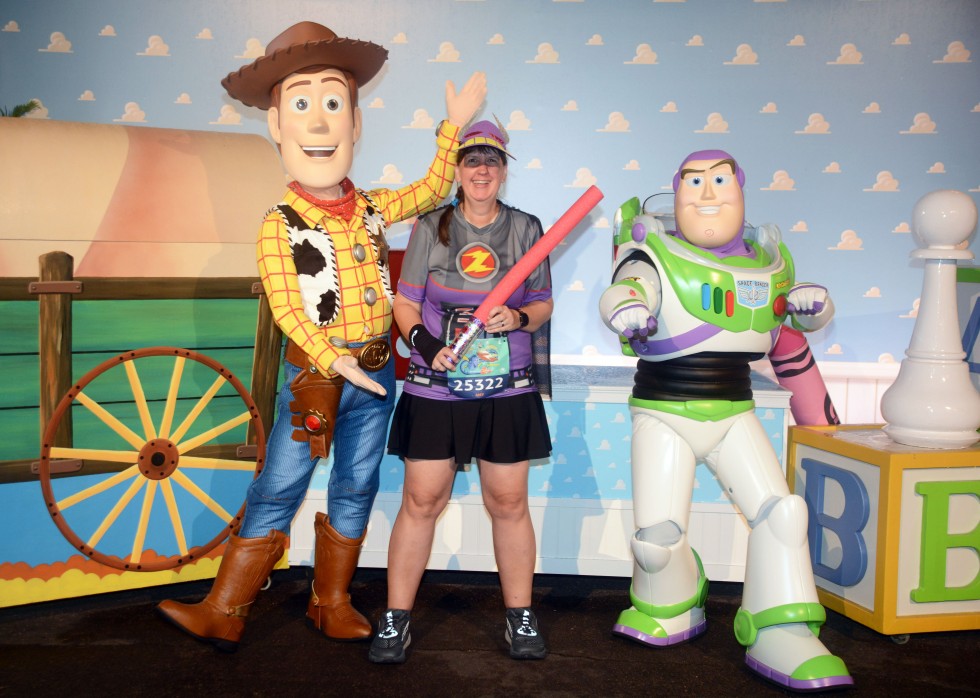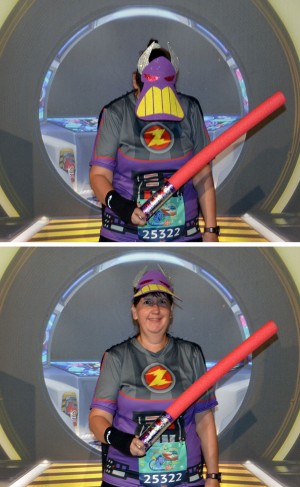 By the time it was my turn, cast members were no longer taking cellphone photos in order to move runners through the line more quickly. The PhotoPass photograher would only take one photo per person or group, which I was totally okay with... until I walked towards Woody and Buzz and they both freaked out! Woody ran away and covered his face with one hand while pointing at me with the other. Buzz started to make blaster motions at me. It was so funny -- even the photographer and cast member were laughing, so I was kind of bummed that the photographer didn't capture any of this.
Woody and Buzz composed themselves and came back to pose for my one and only photo.
In the meantime, Wall-E had some technical difficulties and was no longer by his backdrop. The photographer was still there, though, and there was no line, so I went over to get a pair of shots. I wanted to see how my visor looked when I had it up, and when I had my face down. It looked good to go! I headed over to the corrals at around 4:20AM for a long wait in corral E.
It was about 70°F with 94% humidity when I started in the first group of corral E at 6:02AM.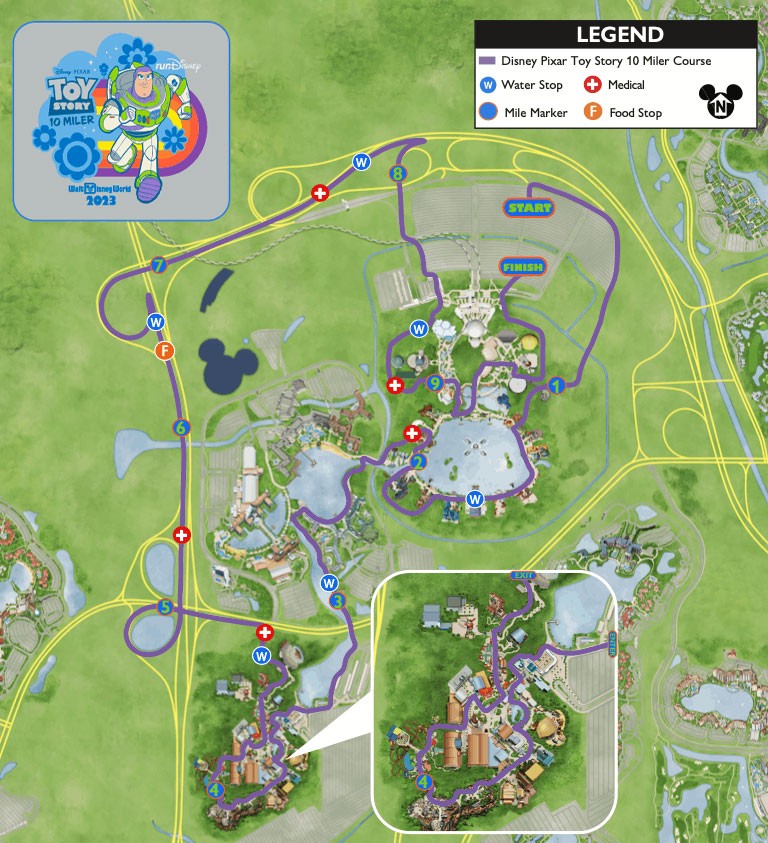 Mile 1, 2, 3: 15:55, 15:38, 15:18
I started out with a walking warmup, then did the slow run/walk of 15 seconds running, 45 seconds walking, for most of these first three miles. I didn't stop for any character photos; we passed several: Lotso was backstage, Miguel from Coco was in Mexico, Carl from Up was backstage, and Russell from Up was by the Dance Hall.
Since they helped me so much during the 10K, again I carried a bunch of SaltStick FastChews. They work really well to help replenish salt since I always sweat a lot. I did my best to take a couple of tablets every 30-45 minutes. They helped so much with recovery and minimizing hand swelling.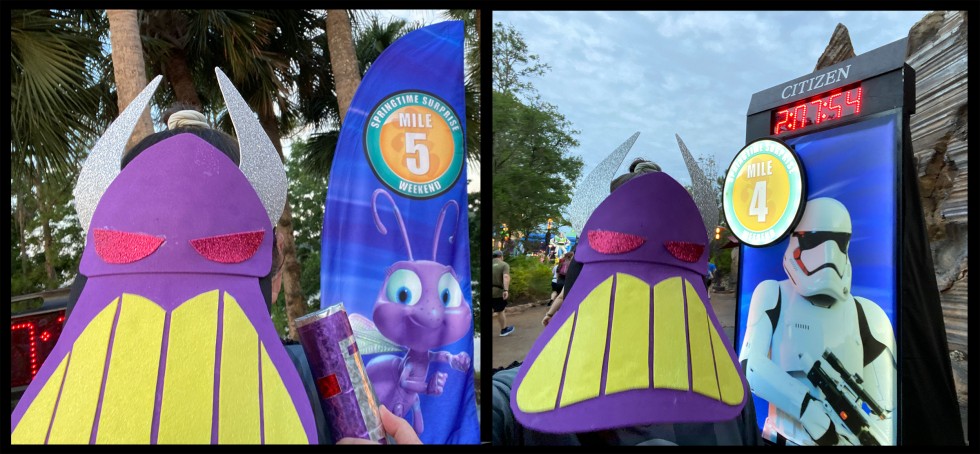 Mile 4, 5: 16:13, 17:57
These miles took us through Hollywood Studios (the best part of the race!). I stopped for a photo with Daisy before reaching the park.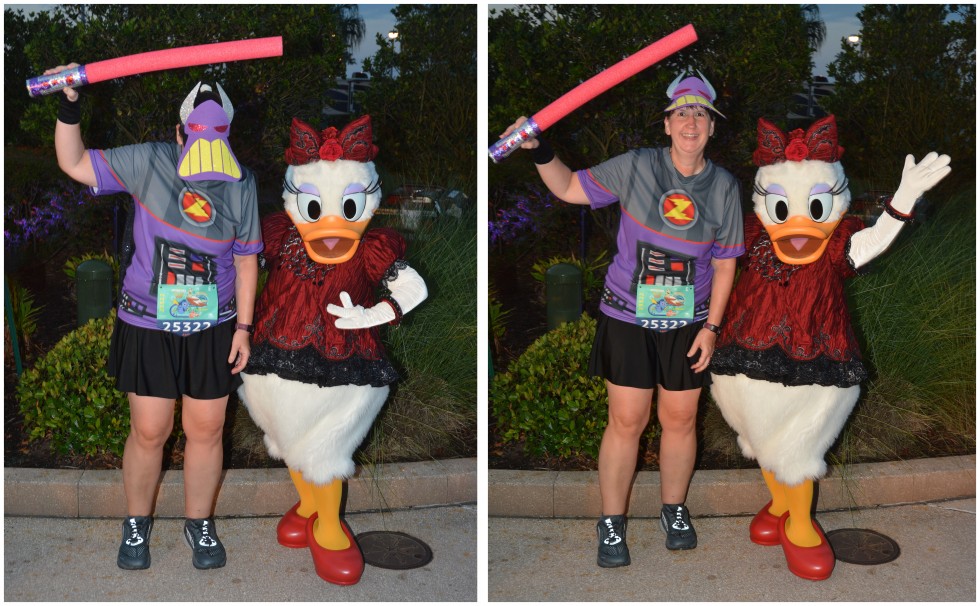 Just as I turned onto Hollywood Blvd (the main street of Hollywood Studios), a runner behind me clipped my heel and my right shoe came completely off. Luckily there was a bench a few steps away, so I was able to hobble over, sit down, and put my shoe back on.
Continuing through the park, Edna Mode was posing by Holiday Fun.
Then we went past Star Tours, followed by Galaxy's Edge. Just like last year, I felt a little bit emotional in this part, really missing the Star Wars races. I was excited to see Stormtroopers out in Batuu -- a very pleasant surprise for a Pixar-themed race!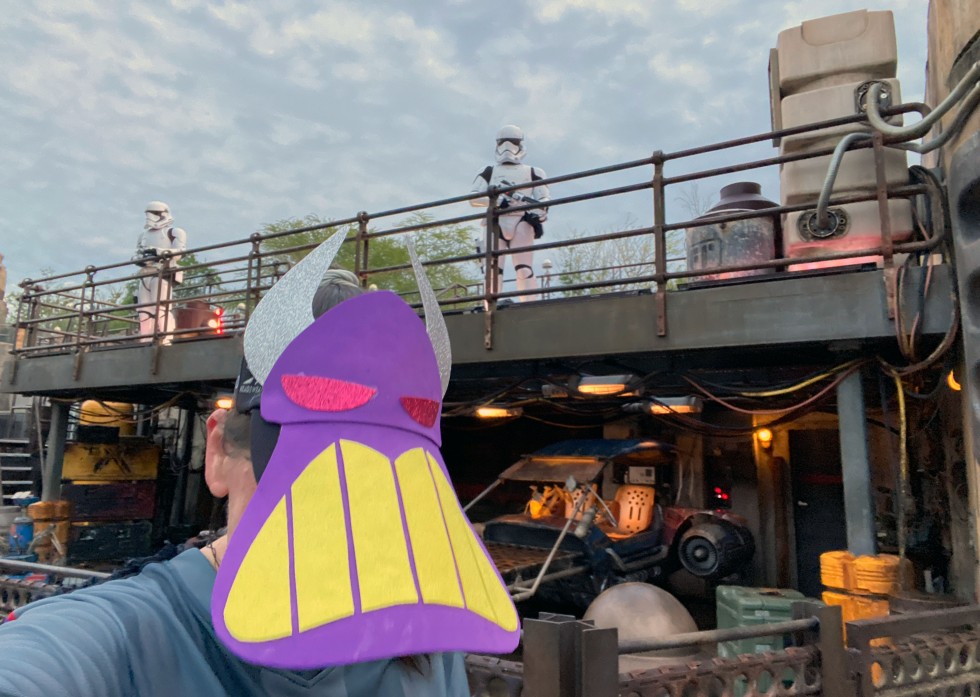 Running the streets of Batuu / Galaxy's Edge was great. I got my best on-the-run photos here, including my favorite below!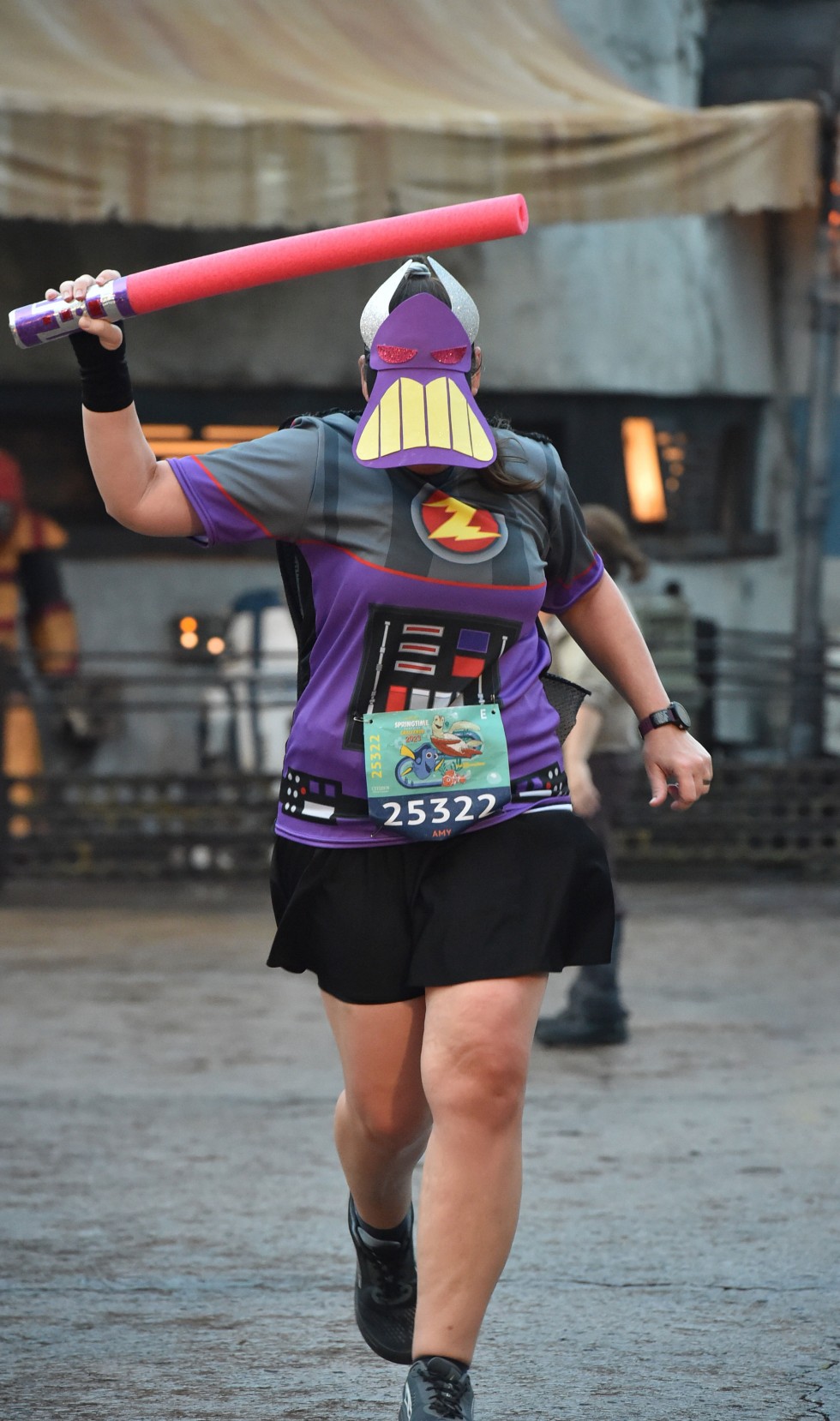 Next was Toy Story Land, the star portion of this Toy Story 10 mile race. I was very excited to see Slim from A Bug's Life out again. I had to stop to pose with him!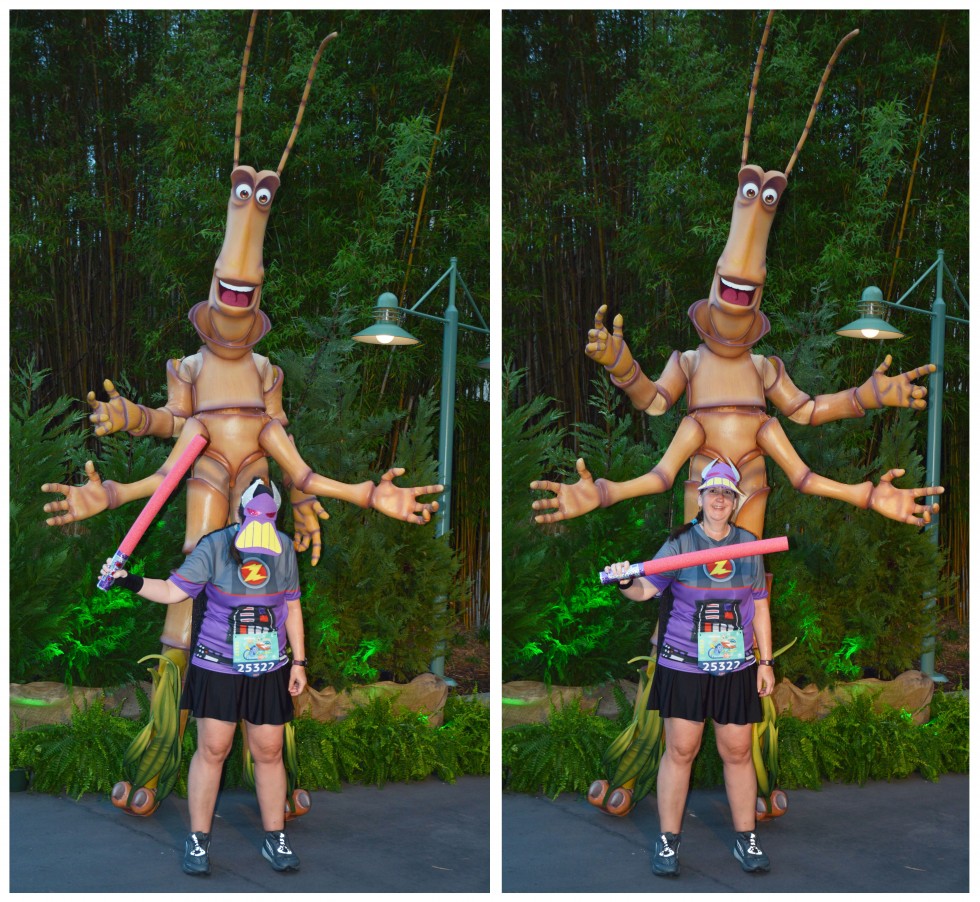 Other photo ops as we continued through Hollywood Studios and beyond included Minnie & Mickey in front of the Chinese Theater, Mr. and Mrs. Incredible by Fantasmic, haunted Bellhops by the Tower of Terror, and Flik backstage.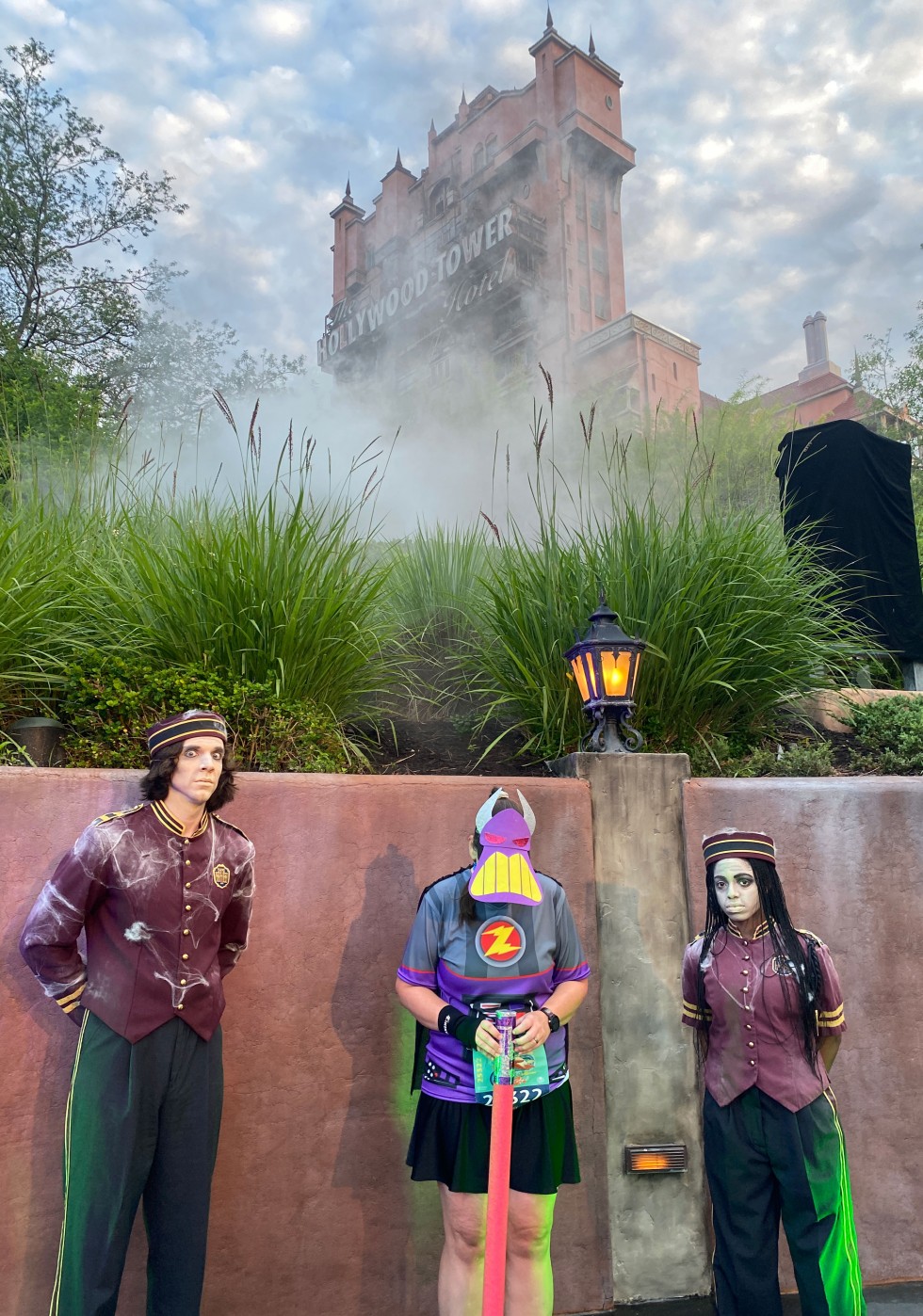 Leaving Hollywood Studios, all that was left to run was five and a half mostly highway miles, including the dreaded three overpasses. My knees were feeling just fine, after mostly walking the miles through Hollywood Studios (I did jog when I saw PhotoPass!). Going over and under the overpasses, it was easy to see my position relative to the Balloon Ladies (effectively the last runners before race staff starts to pick up those who fall behind pace). I kept up a brisk walk for most of the rest of the course.

Mile 6, 7, 8, 9: 15:43, 15:51, 15:41, 16:19
While these were strictly highway miles, there were several characters out for photos, and other entertainment to keep runner spirits high.
Mile 6 had Atta, Jessie, and the Lightfoot brothers from Onward. These last two are particularly rare; I had only ever seen them when we attended a free Disney Parks Blog sneak preview of Onward back at Disney Springs in early 2020.
Mile 7 had a Jessie-themed country band singing live music, and a Toy Soldier encouraging everyone as we trudged up an overpass.
Mile 8 had the Dreadnaught Marching Band from Lakeland, and Chip & Dale on the road.
During mile 9 we passed by Goofy in a dapper outfit, and Mike (who maybe alternated with Sulley?) from Monsters Inc, both outside of Epcot.
Mile 10+: 17:05, 5.32 (Garmin recorded 10.38 miles)
This last mile took us through Epcot to the finish line. Here we could take photos with Frozone and Bo Peep. We were also treated to a choir on our way to the finish chute. And Mickey dressed as Woody alternated with Minnie dressed as Buzz at the finish line.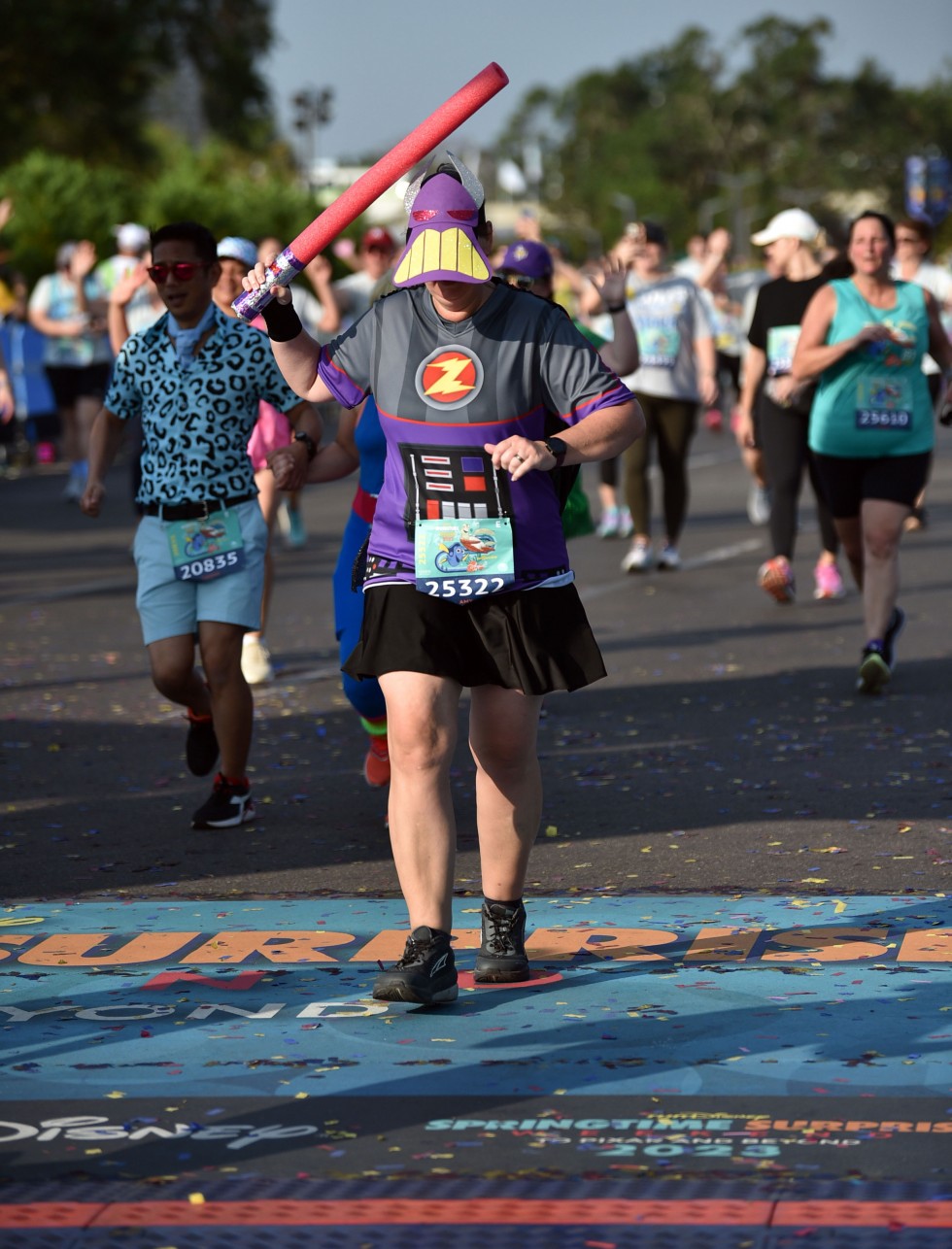 After the Race
I picked up my finisher and challenge medals, cooling towel, snacks and drinks, and walked over to pick up my gear bag. I took off my running shoes and put on my Oofos and headed over to the finisher backdrop for a photo with all of my bling! I checked out the merch tent but didn't see anything I wanted. The beer line was way too long so I decided to head home after a really fun race weekend!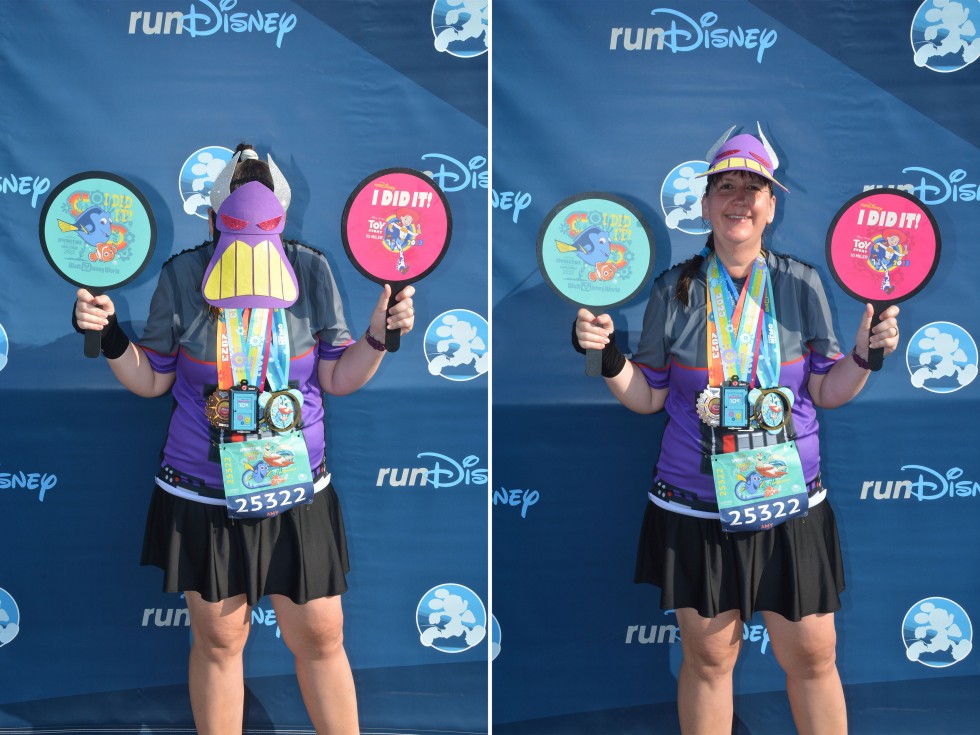 Takeaways From a Great Race Weekend
There were some great improvements made by runDisney that I and others noticed during this race weekend. I haven't run a lot of rD races in the past couple of years so I don't know when all of these things were first implemented, but they were all firsts for me.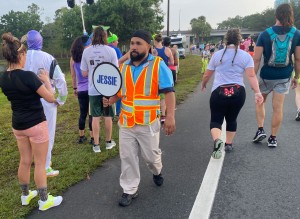 End of Line Character Name Paddles
The cast member managing the end of character lines during the races held a paddle with the name of the character for which the line was! This prevented people from dangerously doubling back on the course and wasting time standing in a line without knowing who the line was for. Hands down this was my favorite race improvement and I hope they keep it! I let several paddle-holders know how much I appreciated them.
Gloves for Biofreeze!
I don't know when was the last time I used Biofreeze during a race, but I remember having to use my bare hands and asking for a napkin to get the stuff off of my hands, only to find they didn't have anything. So now I have to run with a numb hand?! I thought it was really strange. During this race, when I stopped at a medical tent to get some Biofreeze for my knees, I was offered a latex glove! Genius!
Caution Runners Messaging Changed to Be More Inclusive
Approaching hazards and sharp turns, we heard the recorded message now addressed us all as "athletes" instead of "runners".
Starting Corrals Adjustments
The corrals were rearranged to put A closest to the start line, then E, D, C, and B. It helped move the corrals out faster with less shuffling of runners from place to place. This was especially great for A and E.
Recommendation
Even though I'm much slower than I used to be, and I'm not able to stop for characters as much as before, I still have fun at these events. I was very happy to be able to stop for some character photos during the 10K and 10-Miler, and generally enjoy the courses. I was also really happy to finish without any significant knee pain!
Chip time: 2:47:15
Placement details: 508/721 in Age Group; 9180/11768 overall
Race Amenities: Nice themed medals and race shirts
Cost: $479.70 for the three race challenge!