runDisney Race Recap: Princess Half Marathon 2022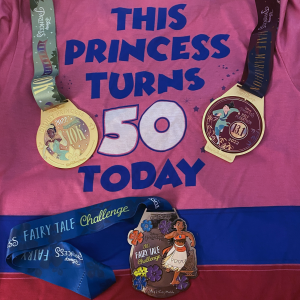 If I'm not into princesses, why did I run the Fairy Tale Challenge this year? With my big birthday travel dreams quashed by the pandemic, I decided to celebrate 50 years a little closer to home by running a half marathon at Disney World.
I last ran Princess in 2017, when it was close to my 45th birthday. 5 years later, the half took place on my 50th birthday.
I registered for the challenge ridiculously late. Team Muscle Makers for UCMD hooked me up less than a month before race weekend, waiving their fundraising requirements in order to get rid of excess bibs.
In solidarity with others mourning and protesting the loss of the Dark Side Star Wars race weekend, I dressed as mashup characters for both races. For the half marathon I was Princess Fennec Shand, a mashup of the Star Wars character with the race princess Mulan. My custom shirt also had text on the back that read "This Princess Turns 50 Today".
A big draw for Princess weekend is the half marathon course that takes runners through the Magic Kingdom. The course for 2022 was very similar to the one I ran back in 2017.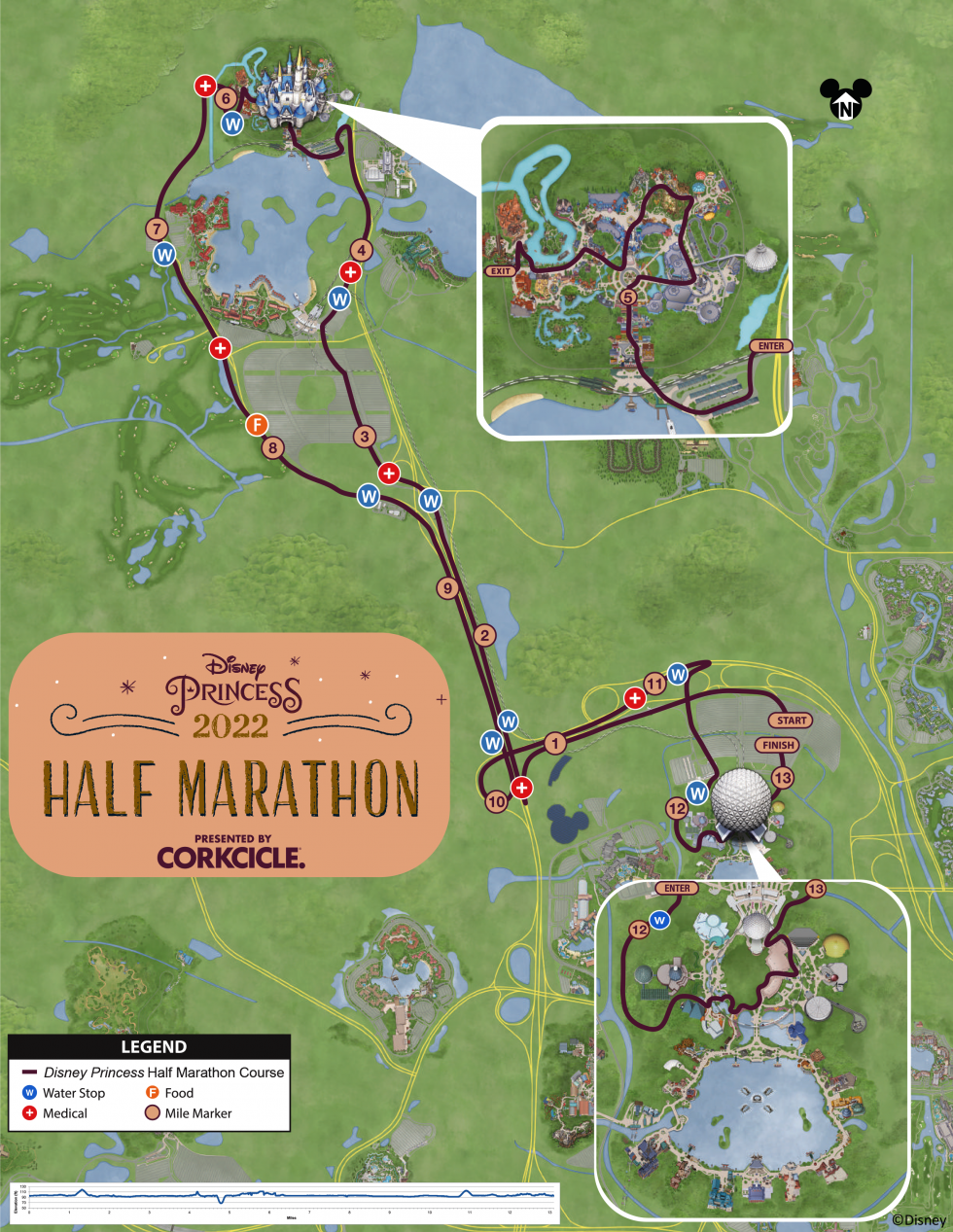 Training & Goals
In July 2021, persistent but manageable knee pain became acute. Following a stint in PT, continued stretching and strength training is helping to mitigate the pain, along with cortisone shots.
Since the start of 2022 I've been actively trying to get back into running shape while also working to lose a bunch of COVID weight. My intervals still have me walking more than running, but I've seen slow improvements. For this race weekend I knew I was going in under-trained for the half, having only completed one 8-miler as my longest run. I also only managed to run back-to-back once, two weeks prior to race day, with 3 miles followed by 6 the next day. It wasn't ideal.
So while it's easy to take it slow and steady during runDisney events, being slower means less time for character visits, photos, and other shenanigans.
My plan for the half was, as always, to have fun! I had some serious anxiety about finishing the half, but I was feeling good the morning of, with little residual knee pain from the 10K the day before, which was great.
I planned to follow my run:walk intervals on the road, stop for selfies at the mile markers, and mostly walk in the parks to enjoy the entertainment, characters, and atmosphere.
I joined a Facebook chat group where rockstar faster runners posted upcoming characters on the course. Others posted updates on the location of the balloon ladies (effectively the last runners before sweepers pick up participants who are not maintaining the required minimum pace) throughout the race. Being a part of this was a great comfort to me as a slower runner.
Race Day: February 27, 2022
Arthur joined me race morning. We left our nearby Flamingo Crossing hotel at about 3:16AM to head to Hollywood Studios. Runners and spectators had to park at Hollywood Studios and take bus transport to the start/finish at Epcot.
The roads were a bit backed up and we ended up in a slow traffic jam getting into Epcot on our bus. The race start was delayed by 15 minutes due to traffic issues. Once we arrived at Epcot, I went straight to the corrals to find a good spot close to the front. I think I ended up starting in the second or third wave of s4.
It was clear and about 61°F with 100% humidity when I crossed the mat at 5:51AM.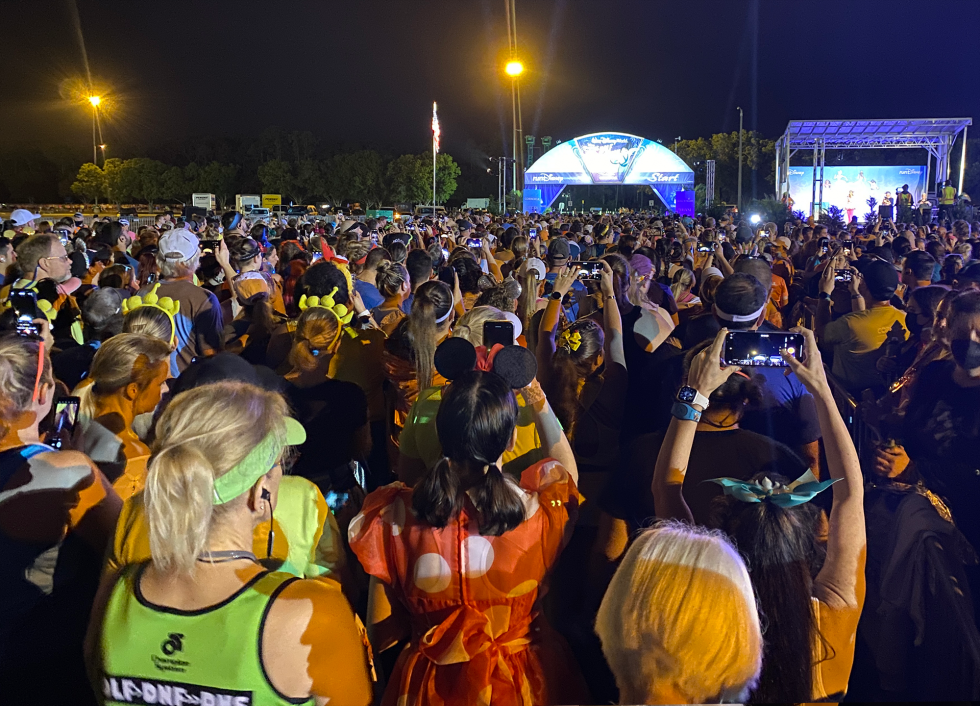 Mile 1, 2, 3, 4: 14:48, 14:42, 14:43, 14:38 (mile splits from Garmin)
Consistent easy run:walk miles here, hoping to bank some time for walking through the park and the inevitable slowdown I'd experience in the later miles.
This was a long slog from Epcot to the Magic Kingdom with some photo ops, including Merida with Pocahontas in the first mile, and Moana with Mulan in the second mile. Mushu was in the median in the third mile; we'd see him again on the way back. Soon we ran through the Magic Kingdom auto kiosks on our way to the park itself.
With the sun starting to peek through the hazy humidity, it began to feel seriously sticky, but not too hot just yet.
The atmosphere was full of excitement and anticipation for the fun that was to come!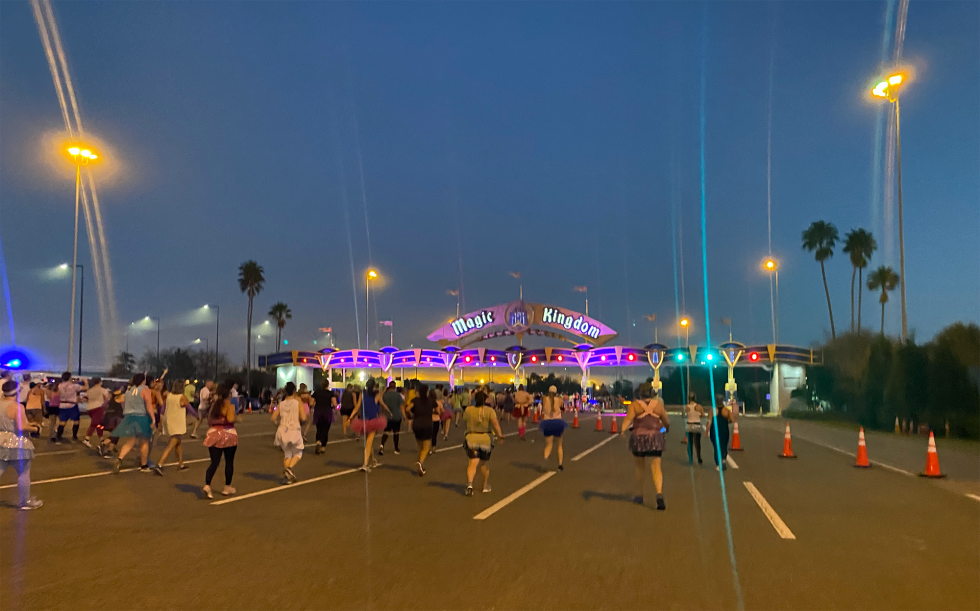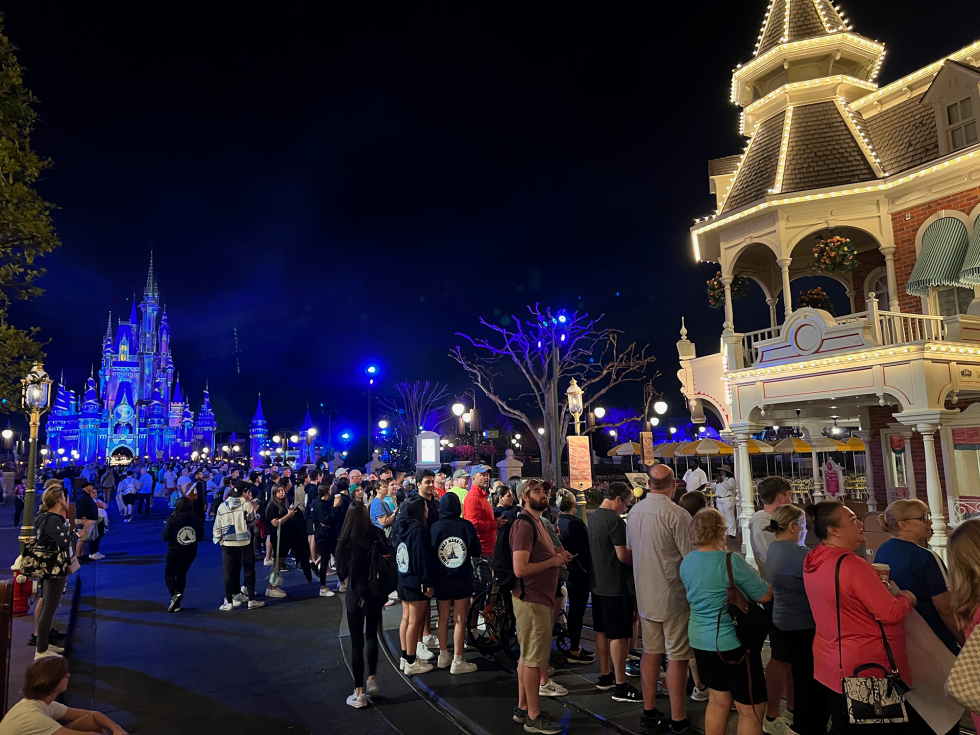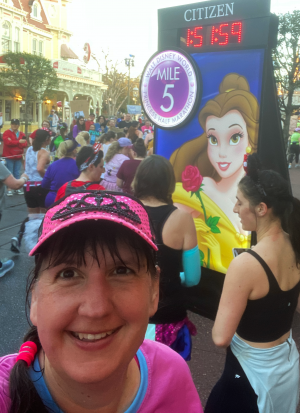 Mile 5: 15:25
This mile took us into the Magic Kingdom, down Main Street to the hub at the center of the park.
Before heading inside the park itself, 50th Anniversary Mickey Mouse and Minnie Mouse greeted us from the train station over the entry gate as we ran on towards Main Street and the castle.
I managed to find Arthur spectating along the side of Main Street for a quick hug before moving on. It's so great to see all the cheering spectators inside the park, and it was a great boost getting a kiss from Arthur.
Running in the parks is the best part of any runDisney event, and I took it all in. I was still feeling pretty good, happy to slow down my pace and enjoy this part of the race.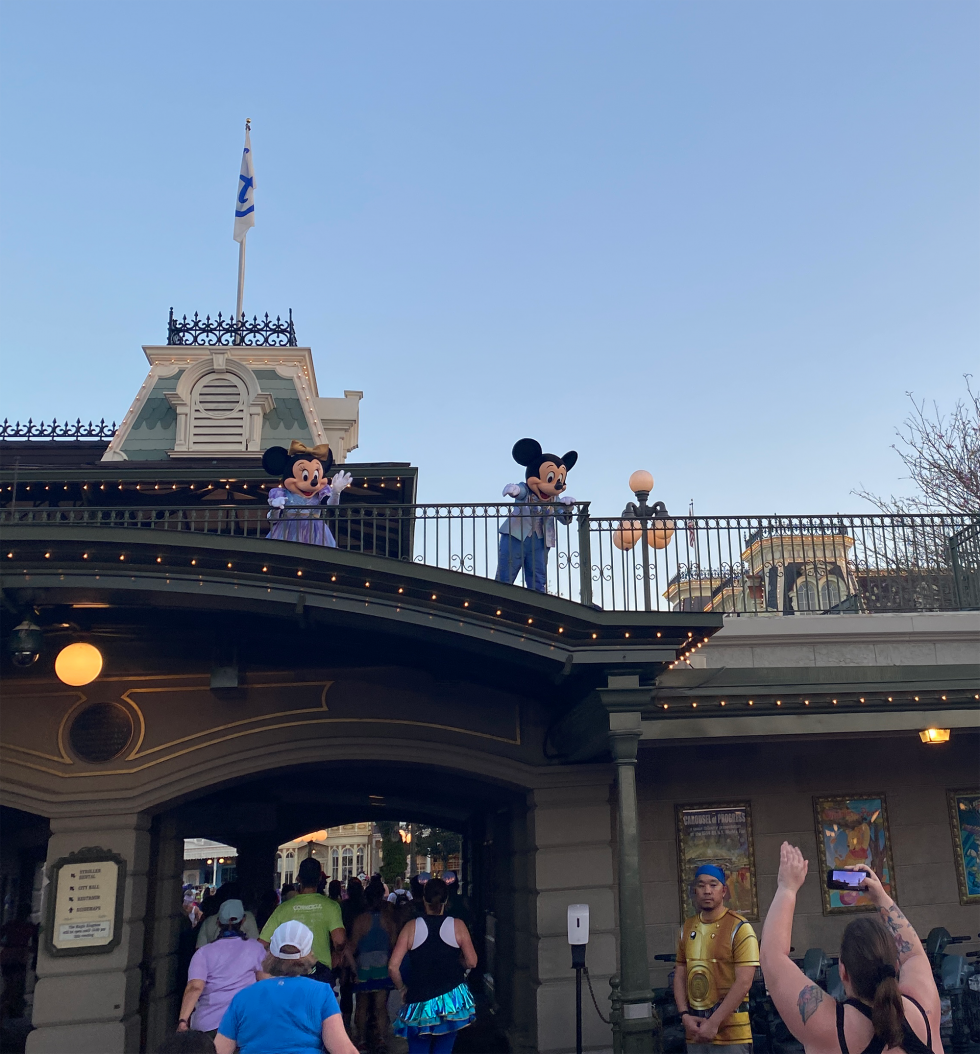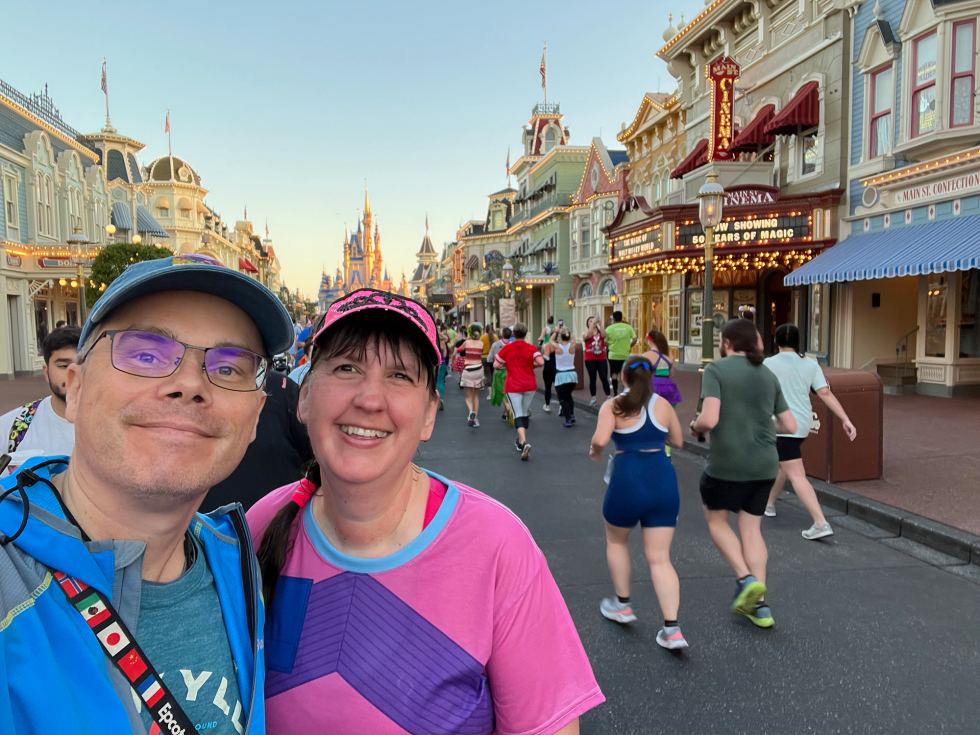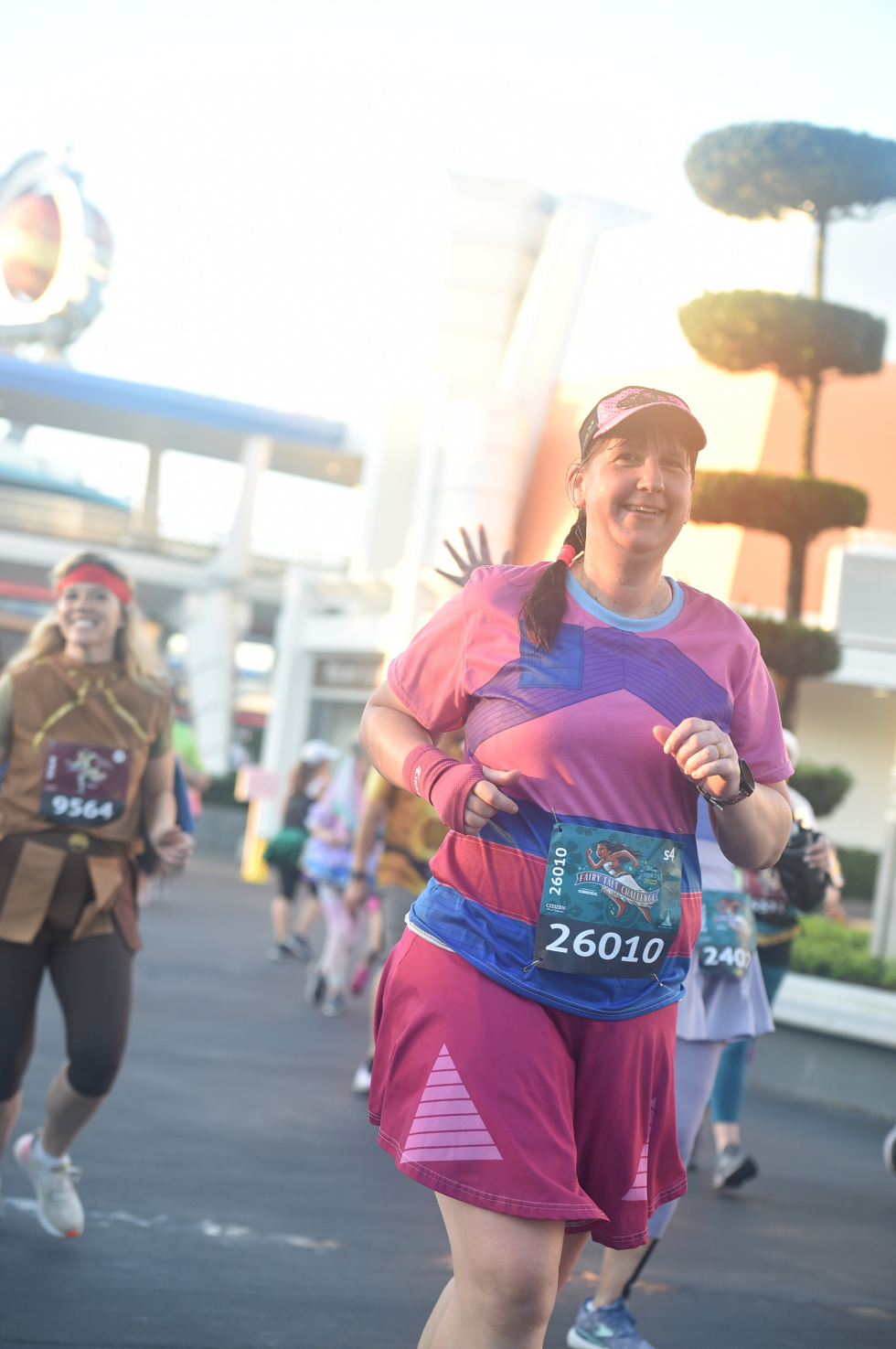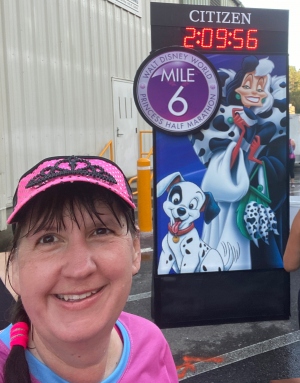 Mile 6: 17:25
Another mile mostly in the Magic Kingdom, with close up looks at the castle from the front before running though from the back.
Characters in the park included Sebastian with Ariel, Gaston, and Snow White with Rapunzel. Back stage, Cruella de Vil stood on a set piece obviously designed for Maleficent (the characters switched out).
There were plenty of PhotoPass photographers in the park, but I missed a lot of opportunities. Sometimes runners stopped in my way, or straight up cut me off to get in front of the cameras. My castle photos are all pretty comical, with objects and people blocking my face or my share of the image is about 10% with no castle background. I don't mind, but it made me laugh. By the time we passed the final PhotoPass tents inside the park, I was sure I didn't get any shots at all inside the Magic Kingdom, but there was one okay photo, posted above.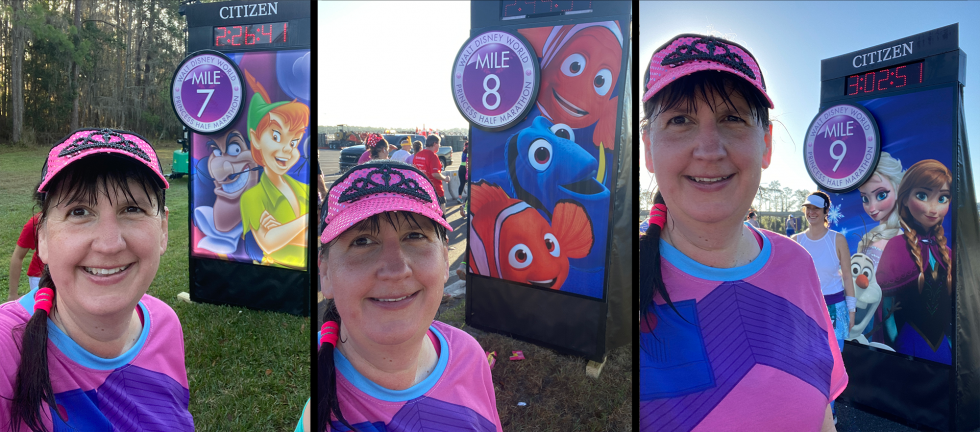 Mile 7, 8, 9: 16:52, 17:03, 18:35
After leaving Magic Kingdom, I felt like my whole body just didn't want to run anymore. First I tried skipping every other run interval, but this soon turned to an all-out walking death march in the increasingly hot sun. At least I wasn't alone. I don't know if ever heard so much complaining during a runDisney event before: about the heat, the boring stretch of road, our poor life choices as runners, etc etc.
We did have some characters through these miles. In the 7th mile we had Elsa with a snow sled and Tinker Bell with Silvermist.
In the 8th mile we had Cinderella with Prince Charming and Princess Atta. Also in mile 8, there was a nutrition stop where volunteers were handing out Honey Stinger Energy Chews. I took a pack of Fruit Smoothie and snarfed them down pretty fast.
Mile 9 was a stretch with no entertainment, just hot sun.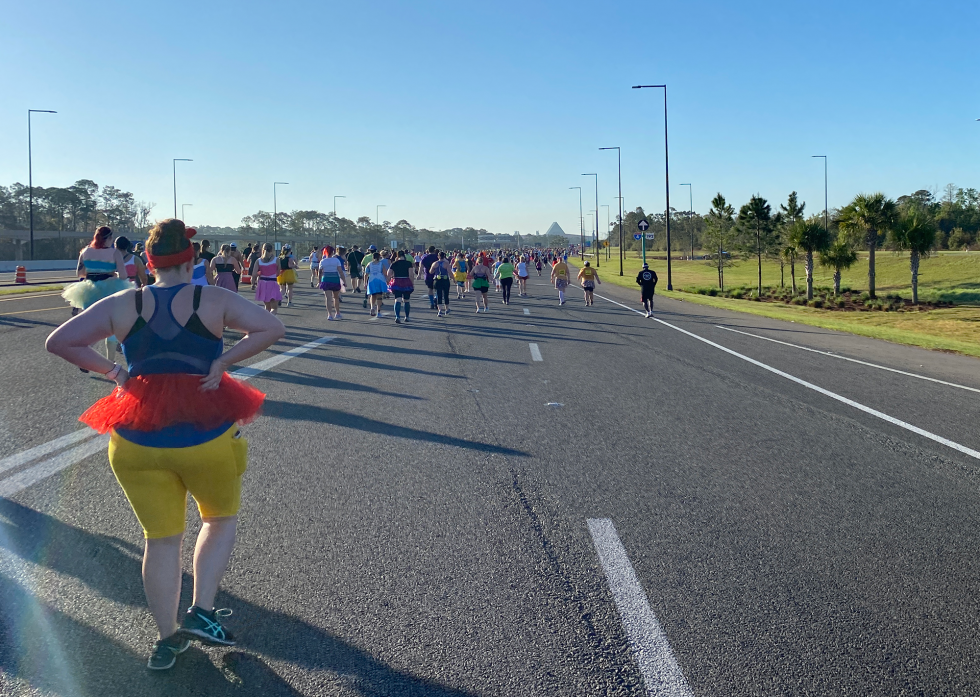 Mile 10, 11, 12: 18:16, 16:24, 18:04
More hot sun. I stopped for a photo with Mushu in mile 10. No characters in mile 11.
In mile 12 we could stop for a photo with Genie from Aladdin. Later, approaching Epcot, Aladdin was out with Abu.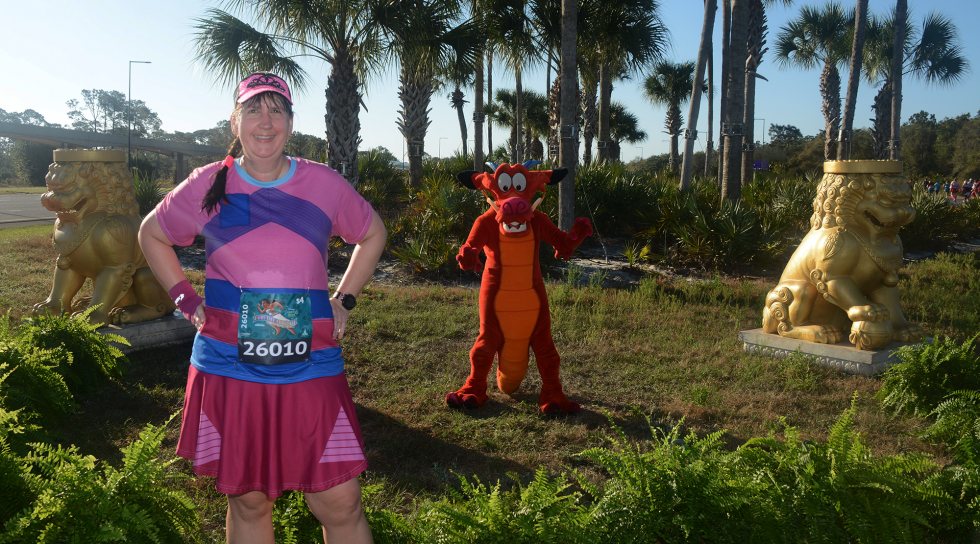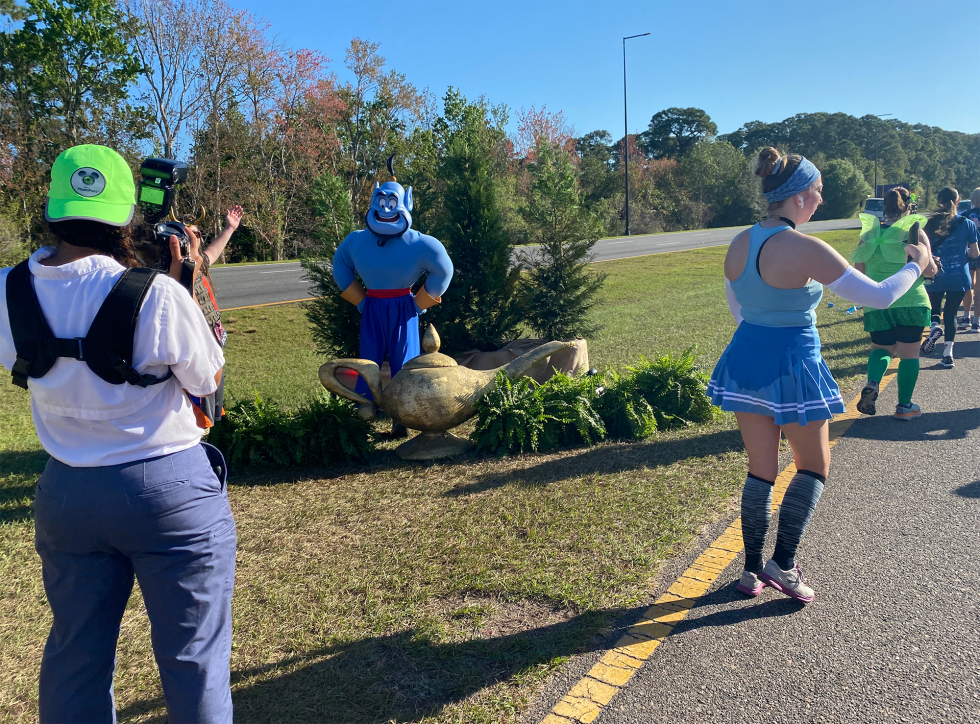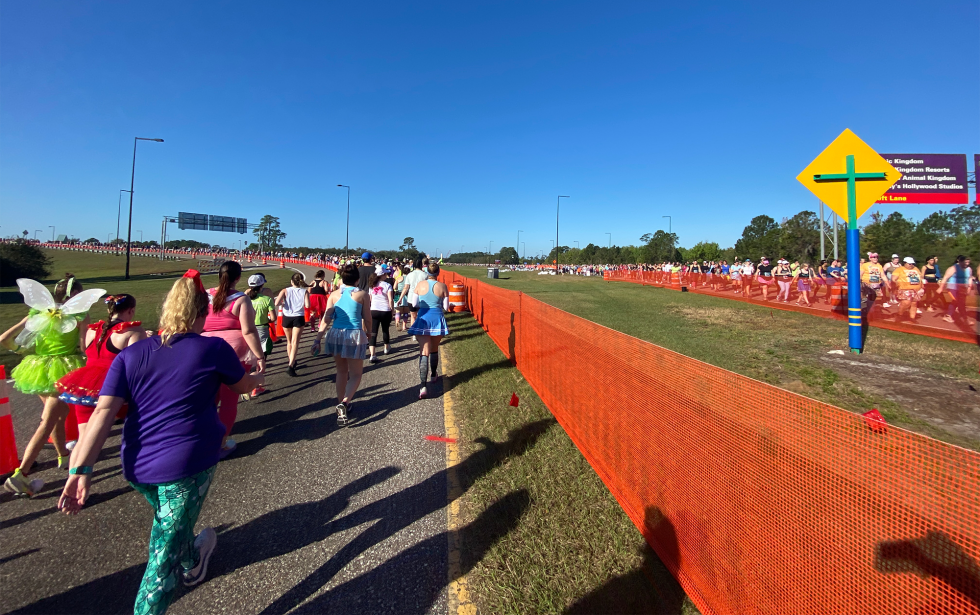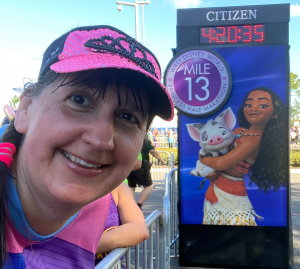 Mile 13+: 21:57, 8:01
We were back stage at Epcot for the first part of the last mile, and I took some photos of flowers and plants staging for the upcoming Flower and Garden Festival.
Just outside the park, colonial Mickey and Donald were a photo op. I got in line but when it was my turn, Mickey was out for a break.
Just a short bit through Epcot and then it was over the finish line for another completed runDisney event!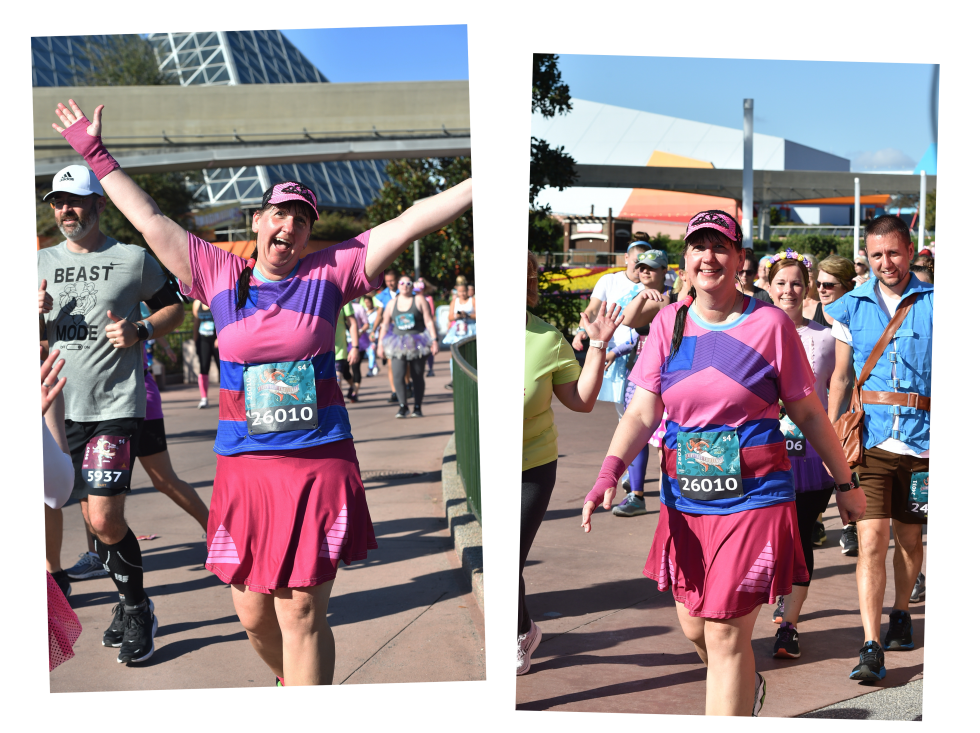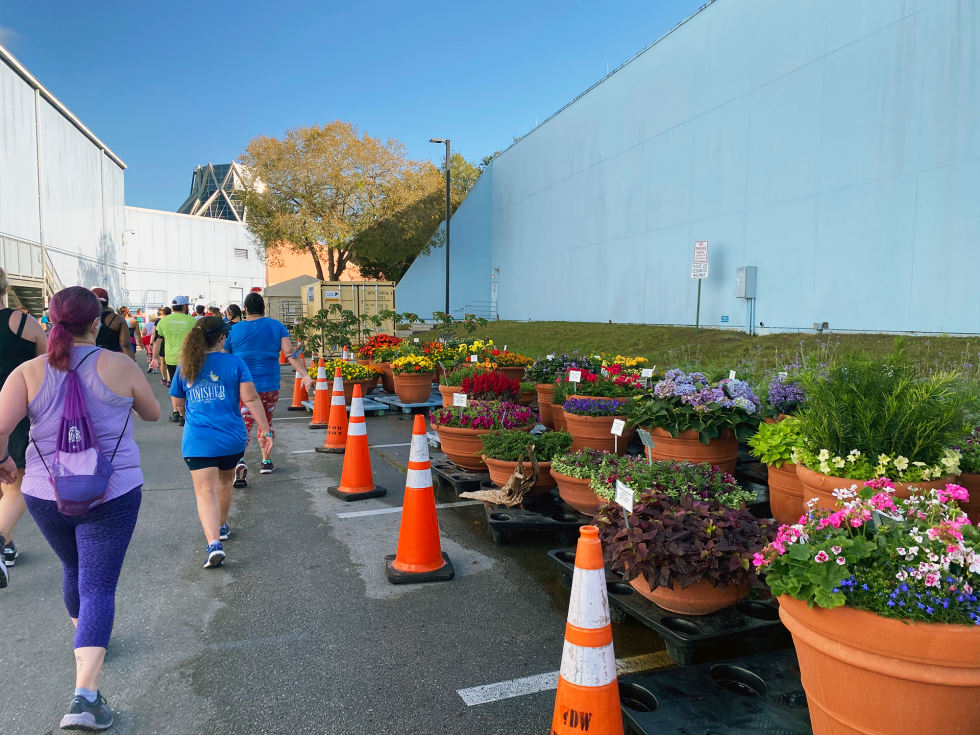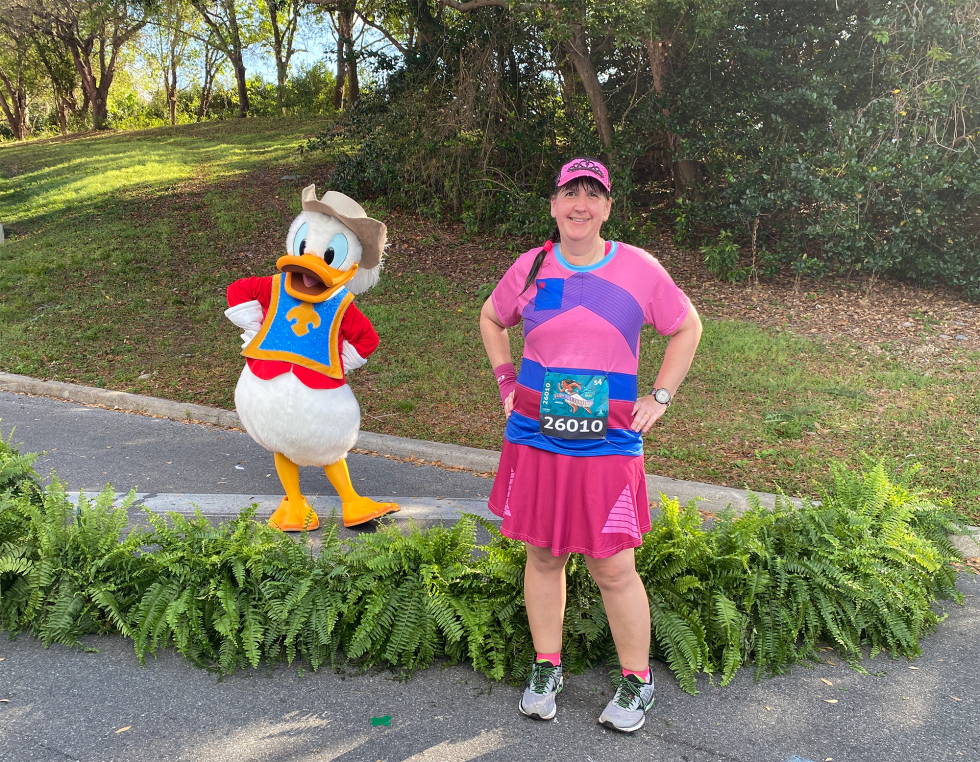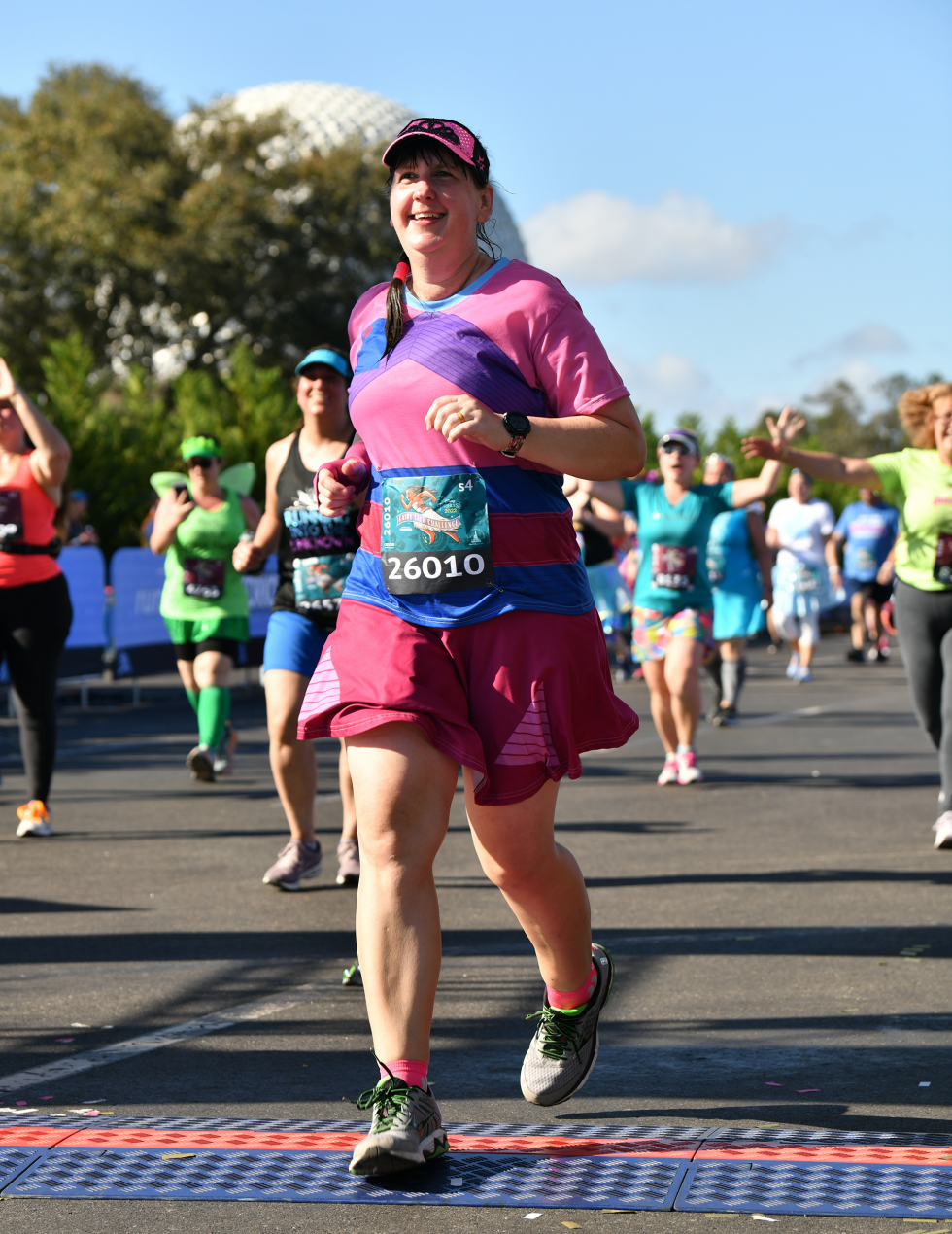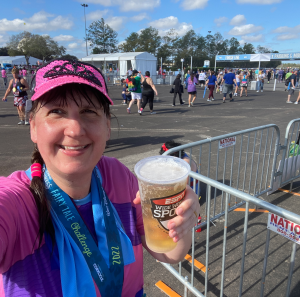 After the Race
Through the long finisher chute, I picked up my medal, cooling towel, snack box, water, PowerAde, and banana.
I met up with Arthur for a celebratory beer before heading back to the hotel for a quick clean up.
Lunch was at Ale & Compass and then Arthur treated me to a spa visit, with a pedicure and massage.
Dinner was at my favorite spot to have my birthday meal: Hollywood & Vine at Hollywood Studios. It was a very good birthday!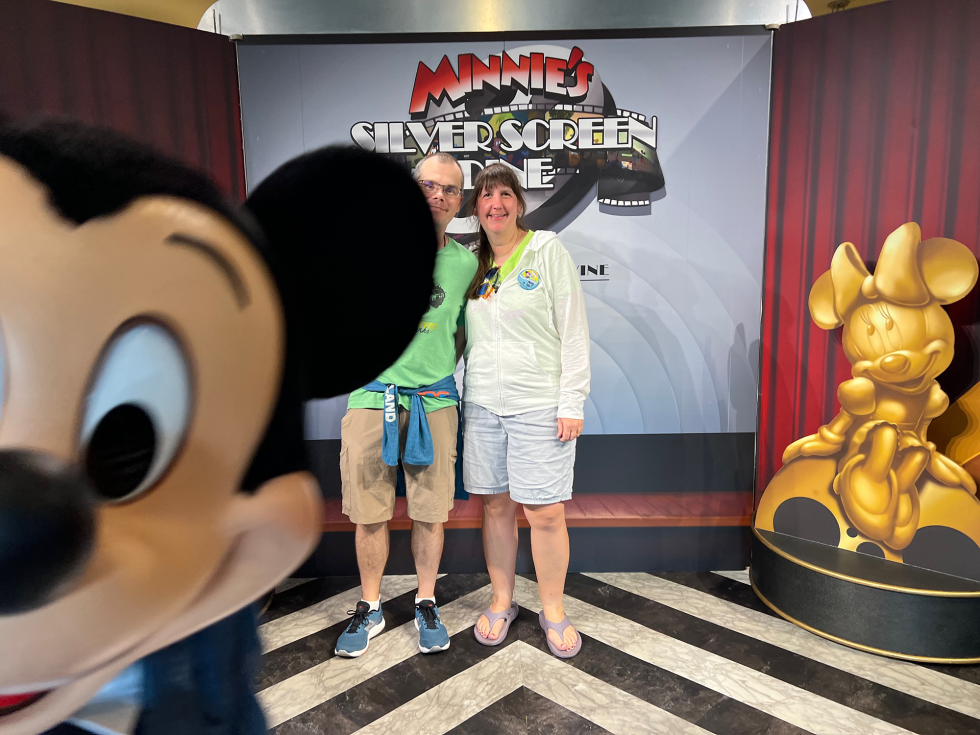 Recommendation
runDisney is back, and I'm so happy! A Disney race is always a great time, even if you're not the biggest fan of the theming.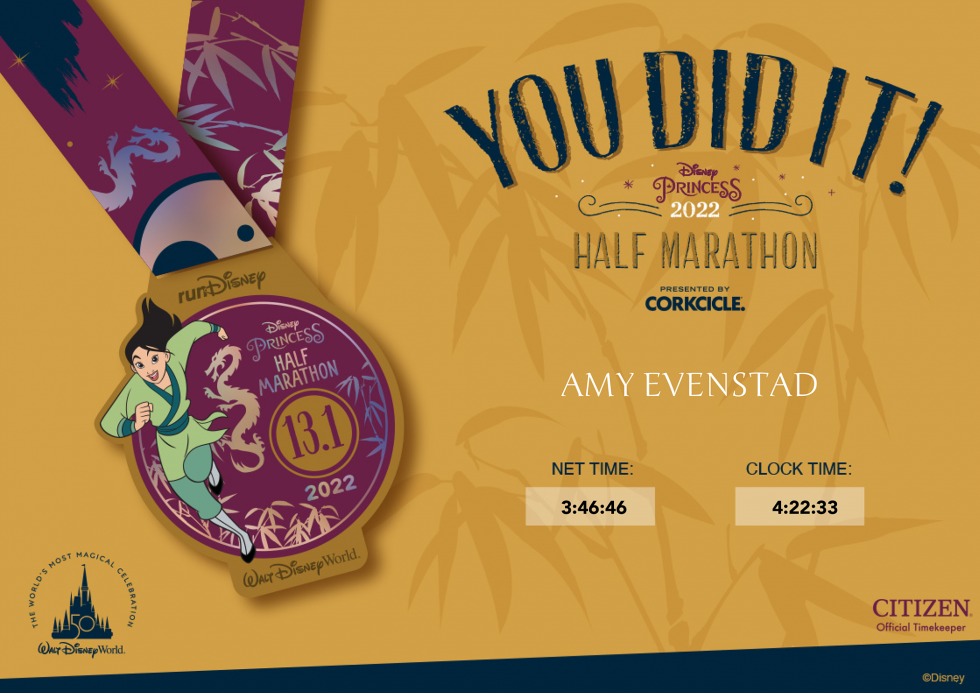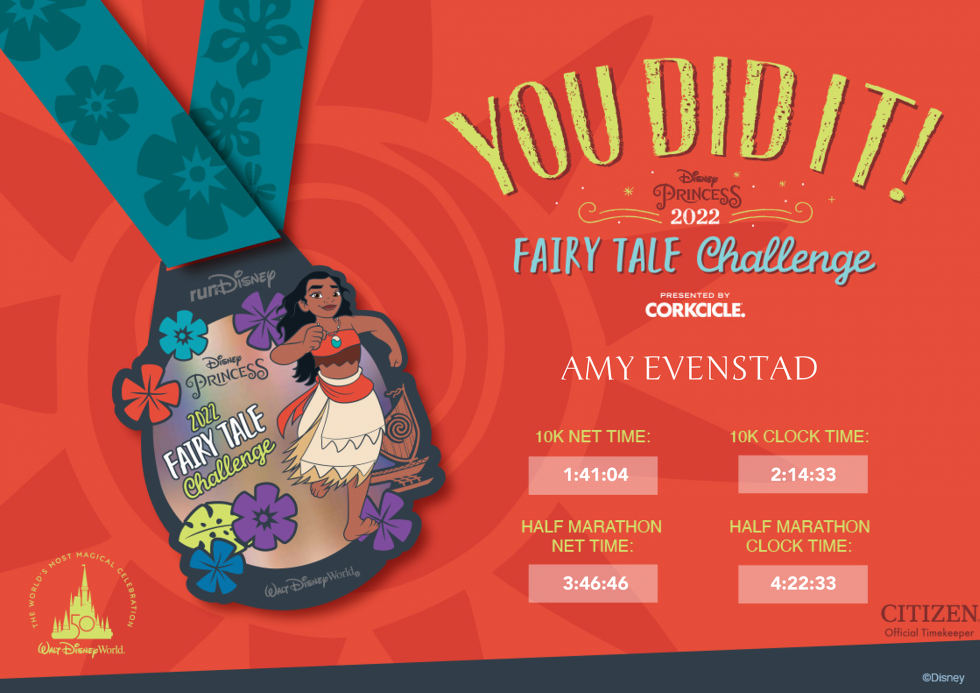 Chip time: 3:46:46
Placement details: 757/840 in Age Group; 11786/12766 overall
Race Amenities: Really nice medal and improved tech race shirt, bonus medal and shirt for completing the challenge
Cost: $355 for the challenge