Race Report: Wine & Dine 10K 2017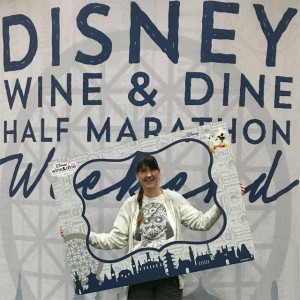 I had wanted to run all of the Wine & Dine races, but I kept putting off registration. As the dates for the race weekend approached, some charities and travel agents began to offer their bibs at a discount. I ended up getting a challenge bib from Sparrow's Nest without a fundraising obligation. I saved about $30 off of regular registration and Sparrow's Nest wasn't stuck with an unsold bib.
Figment is always a mascot for the Food & Wine festival and he's a popular costume choice for these races. For the 10K I decided to run as Chef Figment. I made a pair of orange Figment horns out of felt and attached them, along with a cheap kid's chef hat, to a purple cap. I got a chef jacket and wore that over light purple running clothes for my Figment-inspired outfit.
I went to the expo on Thursday afternoon to pick up my bib, look at the official merchandise, buy a race challenge magnet, and meet Chef Mickey.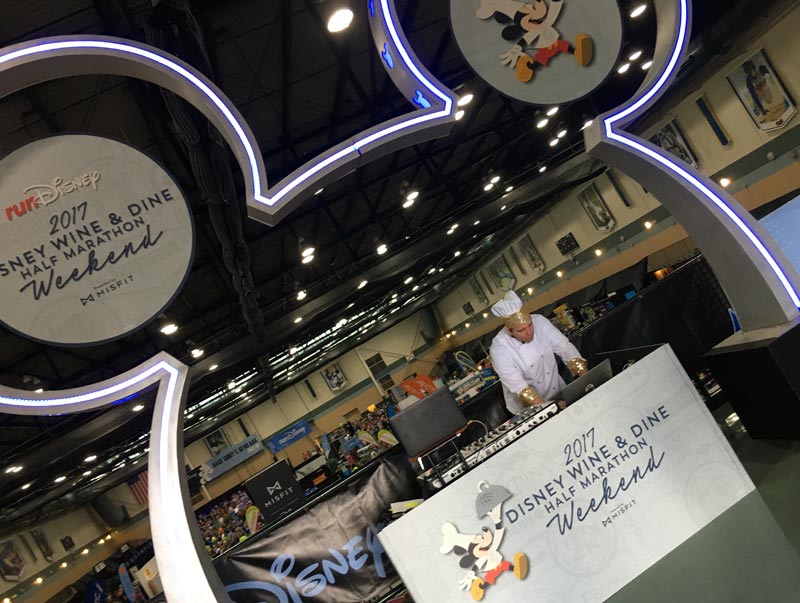 The course this year was different than last year's inaugural Wine & Dine 10K run. This time we started in the Magic Kingdom parking lot and made our way down to run through Hollywood Studios and the Boardwalk area before a standard Epcot finish.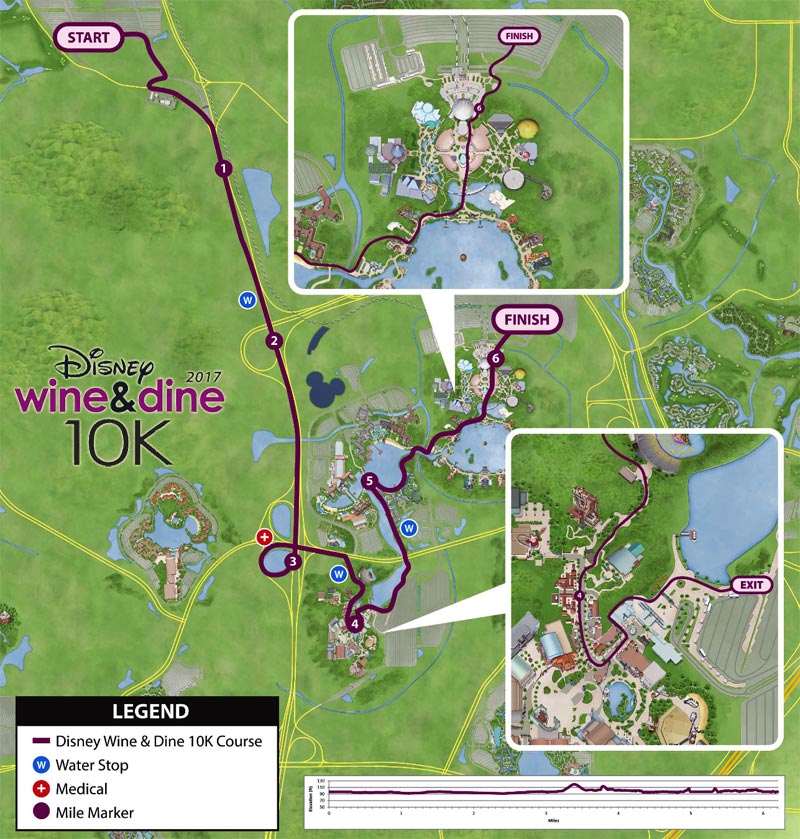 Training & Goals
Both races fit nicely into my continuing training plan for Dopey. As usual for Disney races my goals were to have fun and finish healthy.
Race Day: November 4, 2017
The race started at 5:30 which called for the usual ridiculous pre-Disney race wake-up call and commute on dark and deserted I4. I arrived in time to use the portapotty and get a good spot to wait at the front of the corral (C for the 10K this year).
The weather was exactly the same as for the 10K last year! It was 66°F with clear skies and 94% humidity.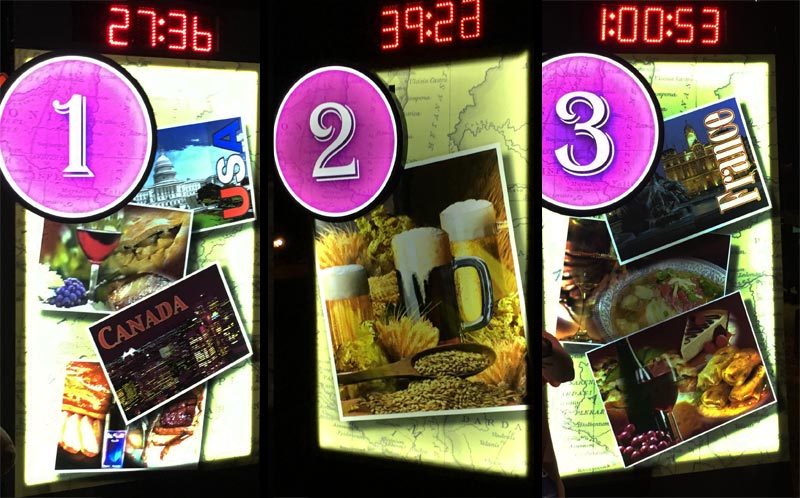 Mile 1: 11:45
This mile took us from the parking lot out to World Drive. Right as we got onto World Drive there was an awesome school marching band playing music as we ran by.
Mile 2: 11:50
This was another highway mile along World Drive. I don't think there were any character stops in this mile.
Mile 3: 21:07
Another highway mile on World Drive before looped around the exit onto Buena Vista Drive. I stopped to meet the 3 Little Piggies. There was also a DJ along this highway stretch.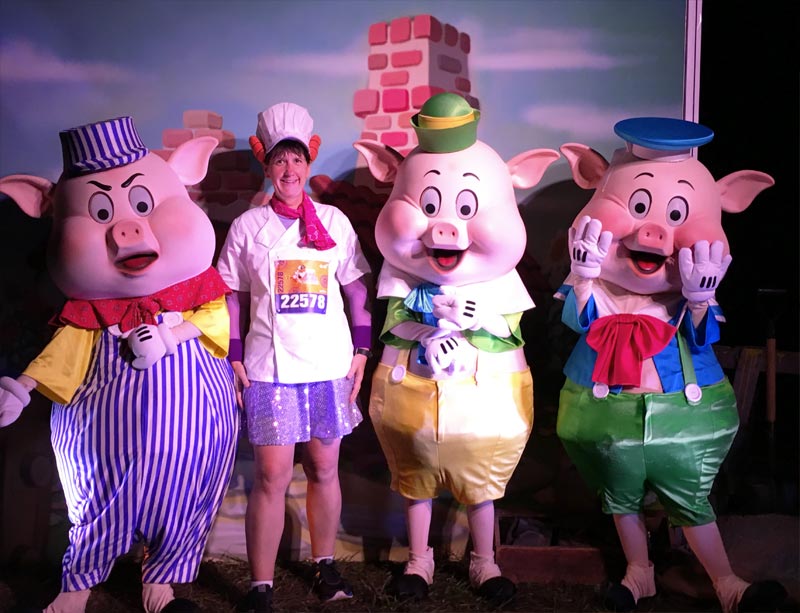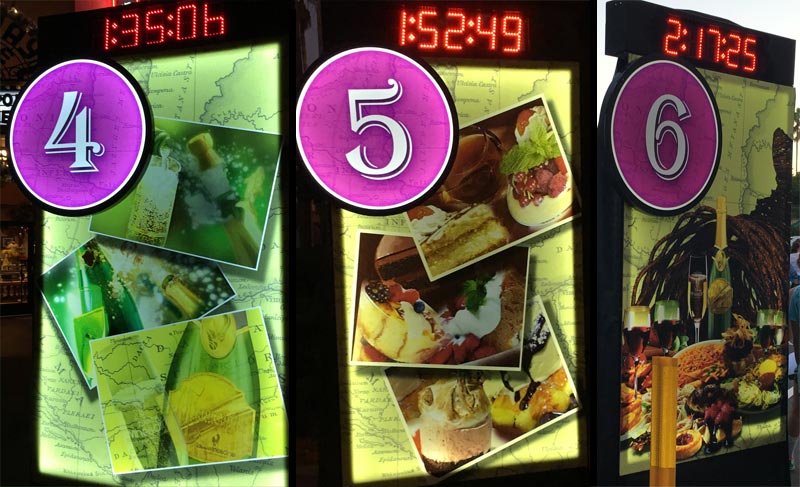 Mile 4: 19:51
This mile took us through part of Hollywood Studios. As we took the uphill onto the overpass a green toy soldier motivated us along. And then right inside the park was an awesome character stop with a huge line: Oswald! I got in line first and asked questions later. I saw a ton of runners turn around to get in line after they saw it was Oswald.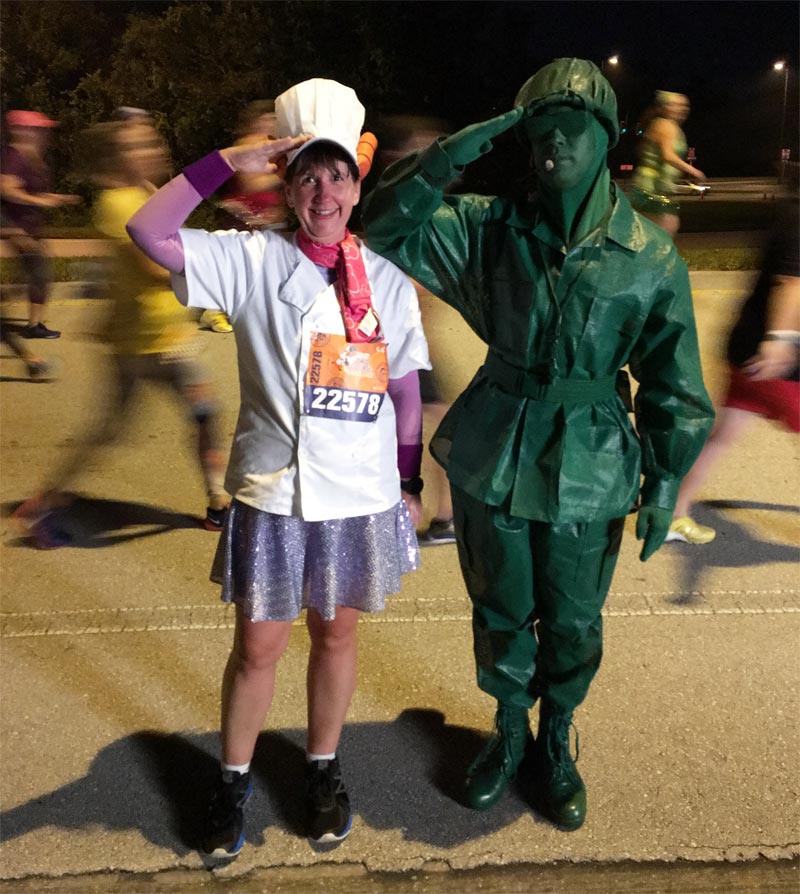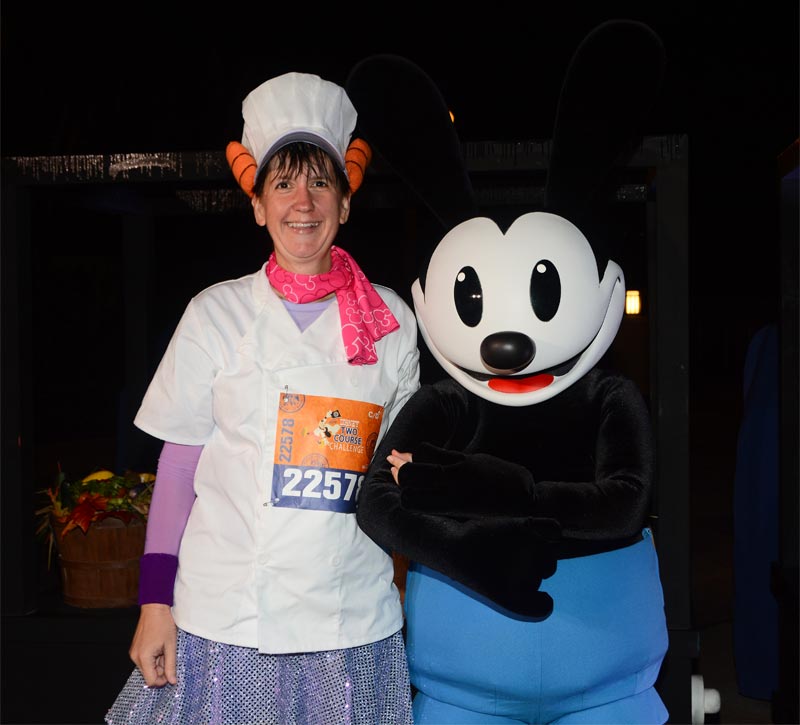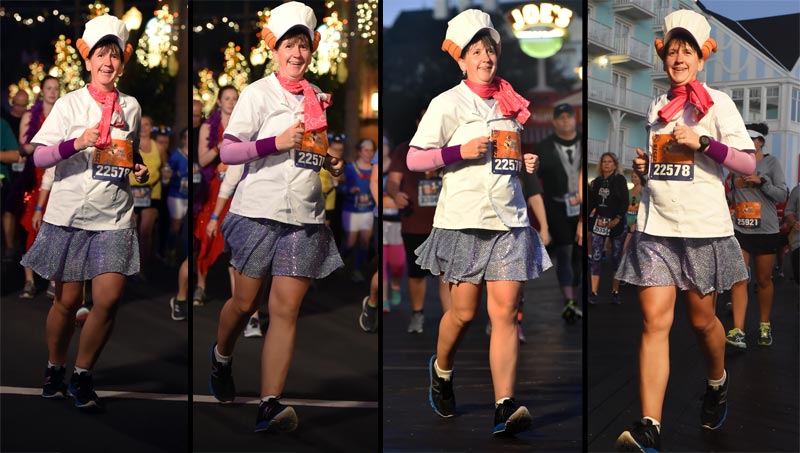 Mile 5: 29:28
We ran from Hollywood Studios to the Boardwalk. There was a full moon and huge traffic jam of runners trying to photograph the moon over the Tower for part of this stretch. I tried too but my phone couldn't handle it.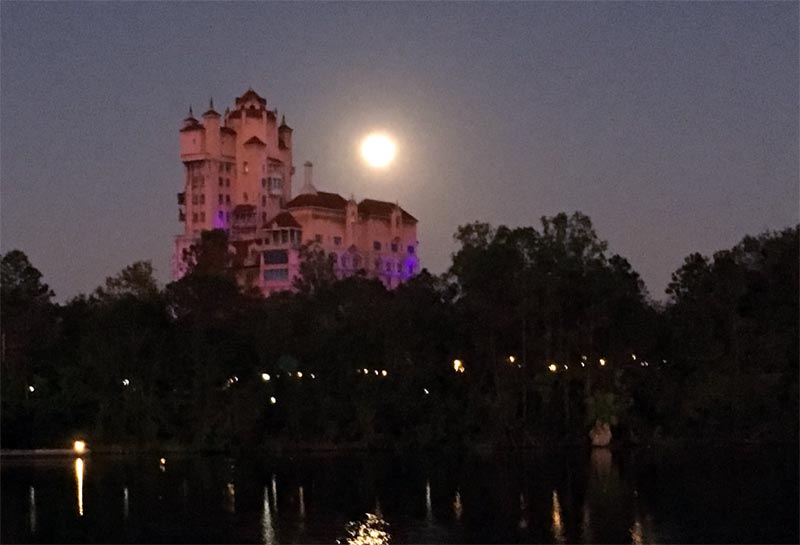 Mile 6+: 16:58, 14:01*
The last mile took us from the Boardwalk area to Epcot for the finish in the parking lot. There were a few photo ops here: grape stompers; vacation Genie in front of ESPN; Brother Bear in Canada.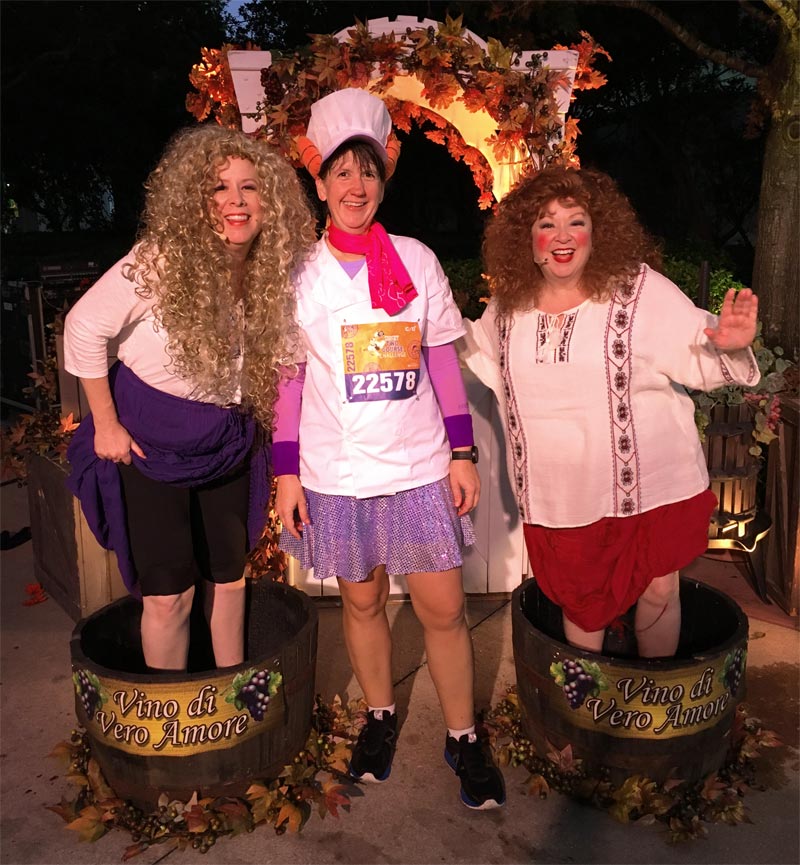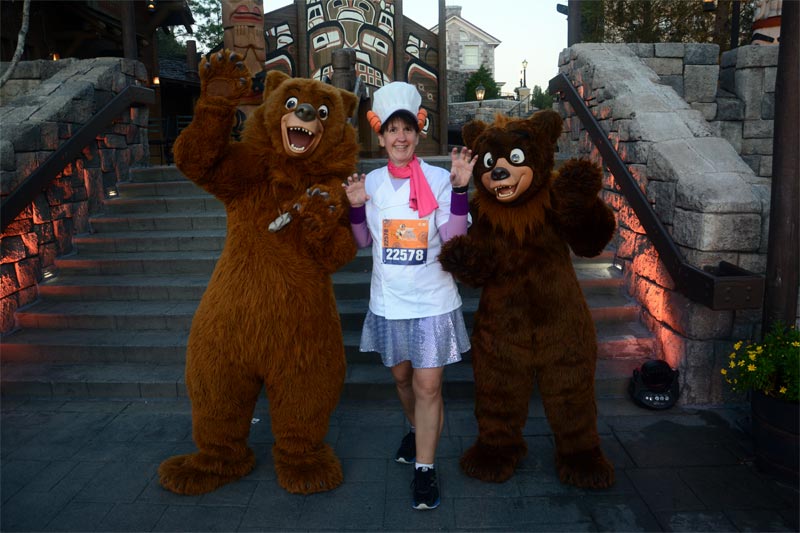 There were several photographers in front of Spaceship Earth too.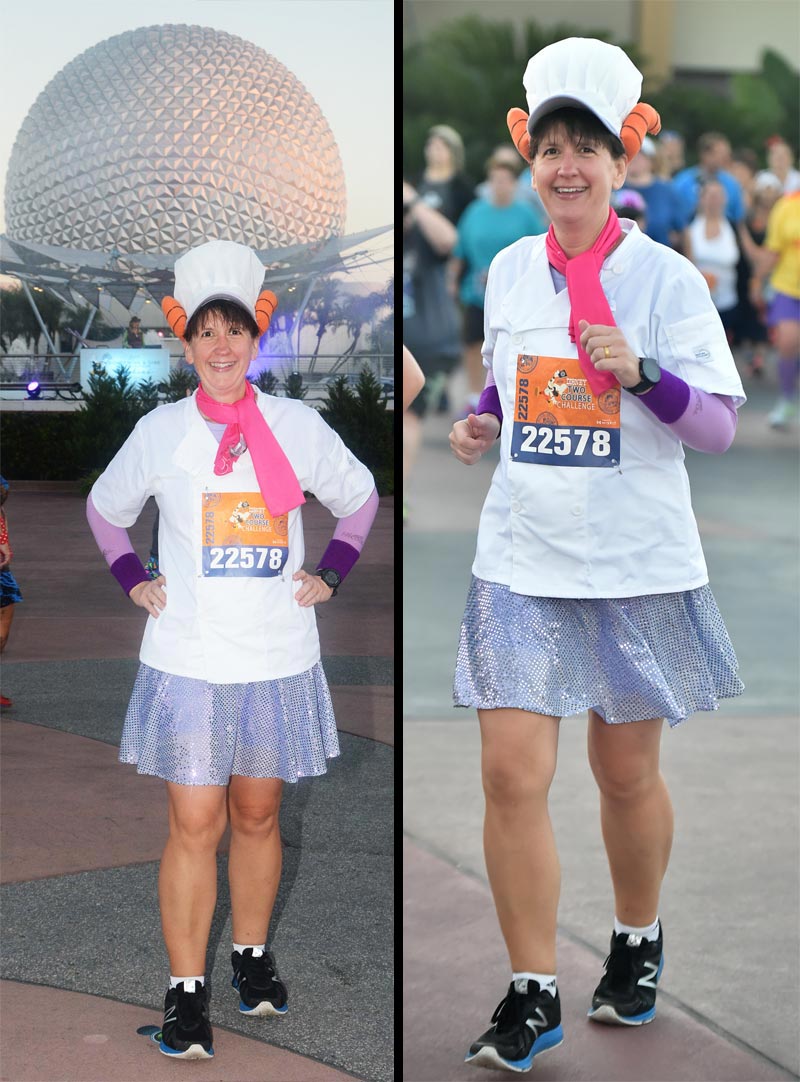 Before running into Epcot we went through a big backstage construction area where they are building a Skyliner station. I took out my phone and took a bunch of photos but a cast member admonished me "NO PHOTOS BACKSTAGE"! Eek!
Then we were running past the choir, out of Epcot, and racing towards the parking lot for the finish. Like last year I stopped a lot and though I started among the first half of runners (corral C out of F) I ended up coming in among the last 100 or so runners.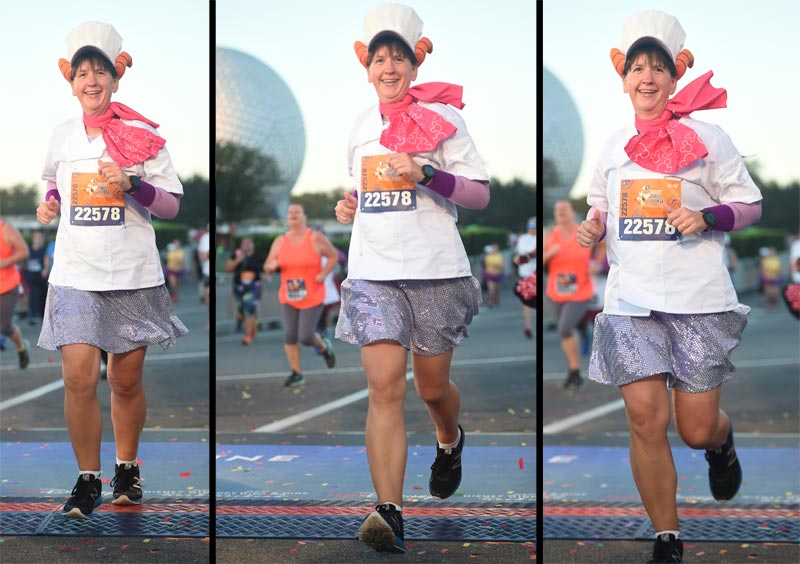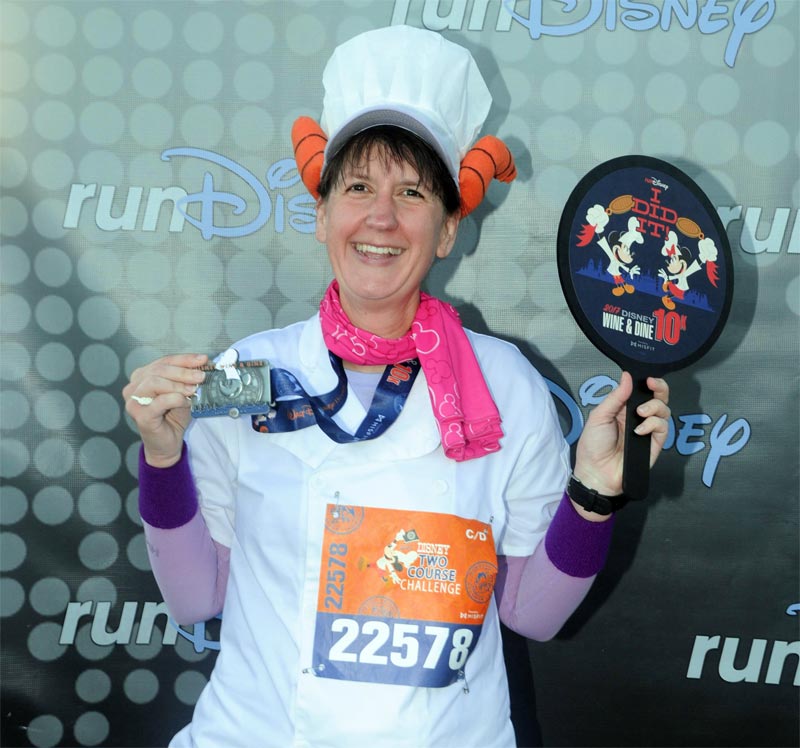 After the race I stood in some epic lines for character photos with everyone dressed up as chefs.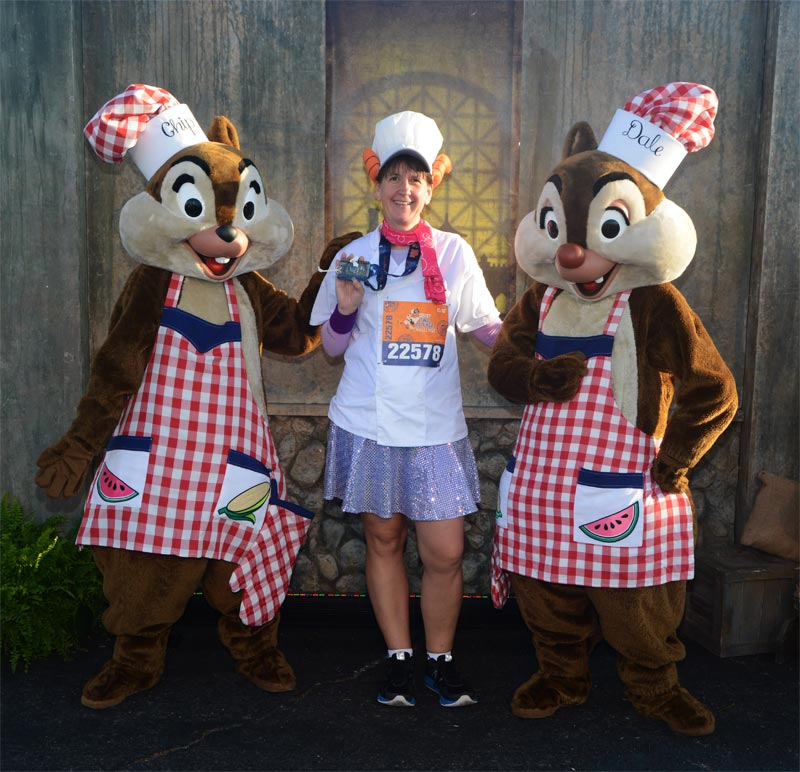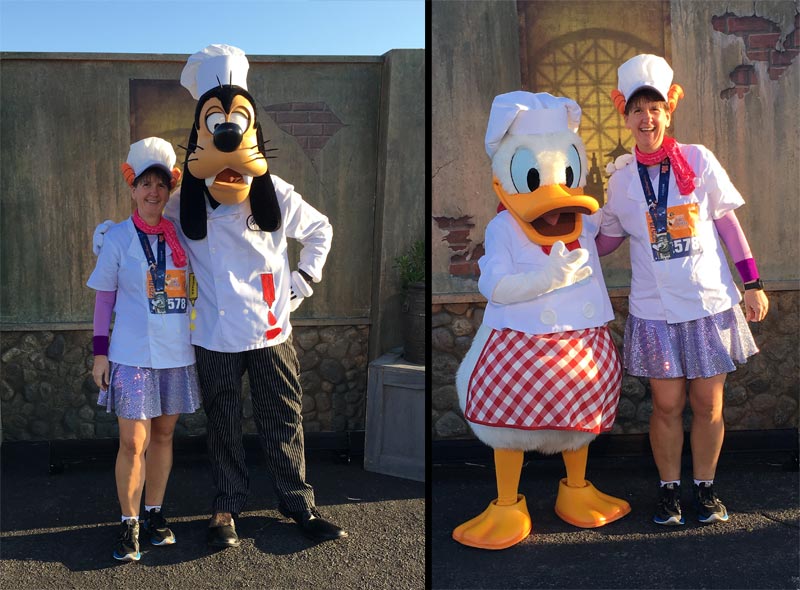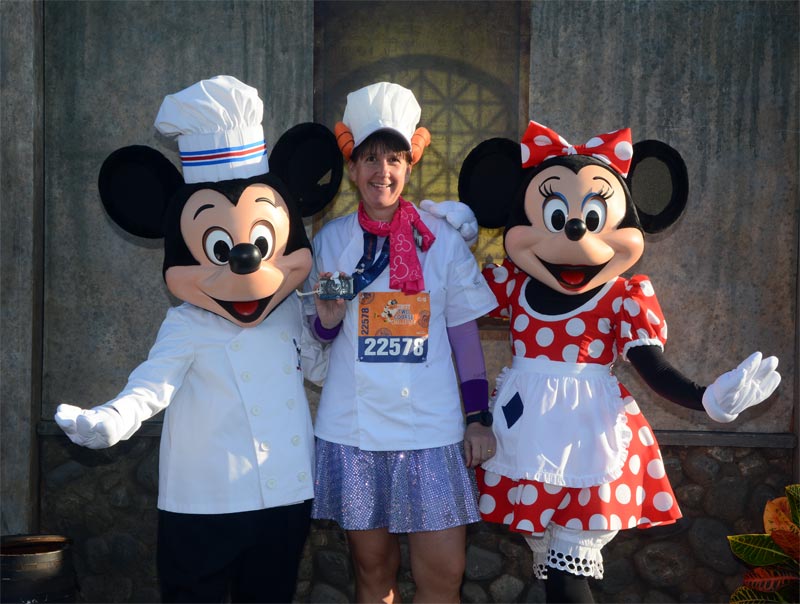 I went to Epcot for a little bit to get some more photos before heading home.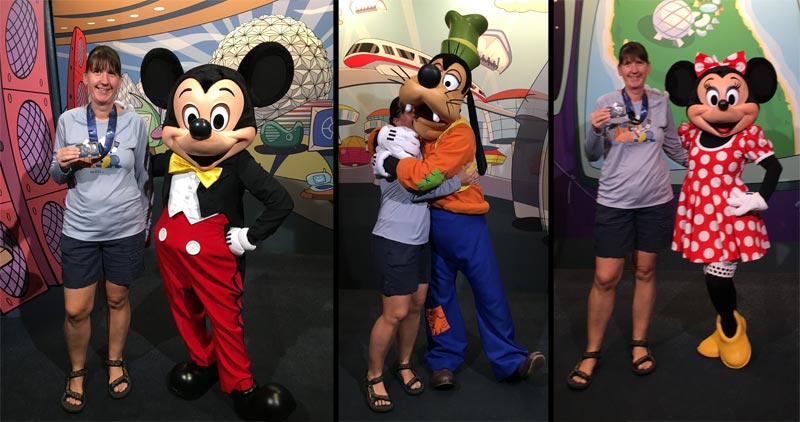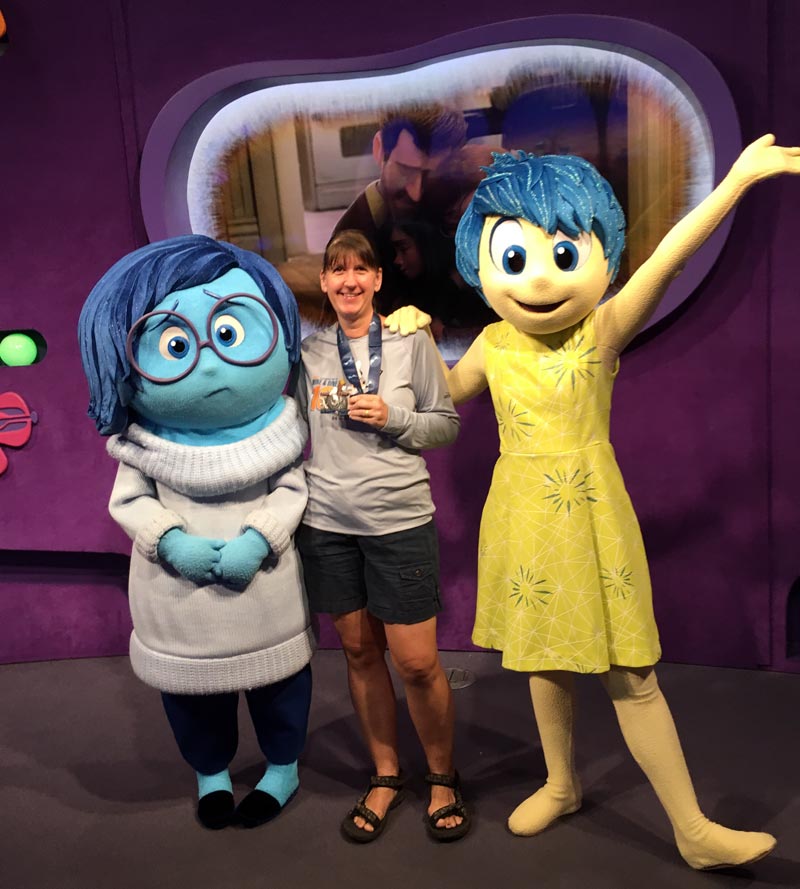 Recommendation
A+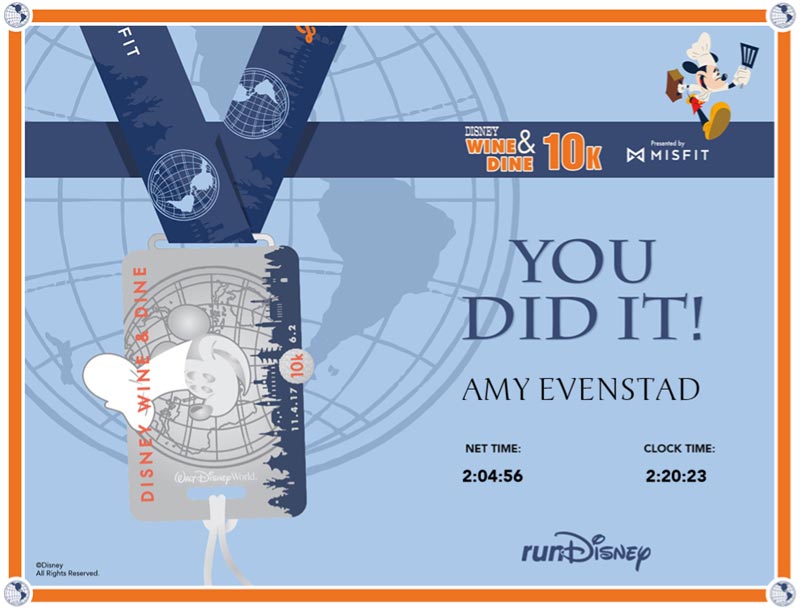 Chip time: 2:04:56 (about 15 minutes longer than last year!)
Placement details: 788th of 795 in Age Group, 11010th overall out of 11118 finishers
Race Amenities: Long sleeve tech shirt and sweet travel themed medal.
Cost: $319.30 for the 10K & half marathon challenge.
*I often forget to turn off my Garmin after a race, so the final time is skewed.
Report written December 9, 2017