Race Report: Inaugural Star Wars Dark Side Half Marathon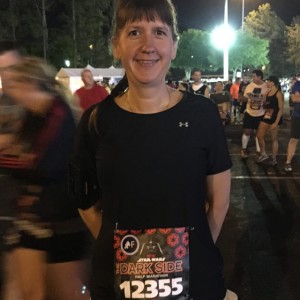 I had registered for the Star Wars Dark Side 5K back in September 2015, and soon after regretted not registering for the 10K, and then later for the half marathon. The races all sold out quickly so I was out of luck. Or was I?
On February 18th, Arthur and I visited the expo for the Disney Princess Half Marathon Weekend. I wanted to see what the expo for the Star Wars races would be like and become acquainted with the layout of the venue, ESPN's Wide World of Sports complex at Walt Disney World. We were fairly shocked at how crowded the expo was, but it was really fun to see all the vendors and merchandise.
As we were leaving the expo, we saw that the Star Wars Dark Side medals were on display, so we stopped to have a look. And that's when we learned there were some bibs available for all of the Star Wars races, if we signed up right away. It didn't take me too long to decide to run the half marathon. Arthur would be back from his conference so he could come cheer me on (and carry around all my stuff). Of course in time I regretted not signing up for the Dark Side Challenge (running both the 10K and the half), haha! Maybe next year!
Some proceeds from the Star Wars Half Marathon Dark Side races benefitted Noah's Light Foundation, which supports pediatric brain cancer research.
This was a point-to-point USATF certified course starting in the Epcot parking lot and finishing at the Wide World of Sports.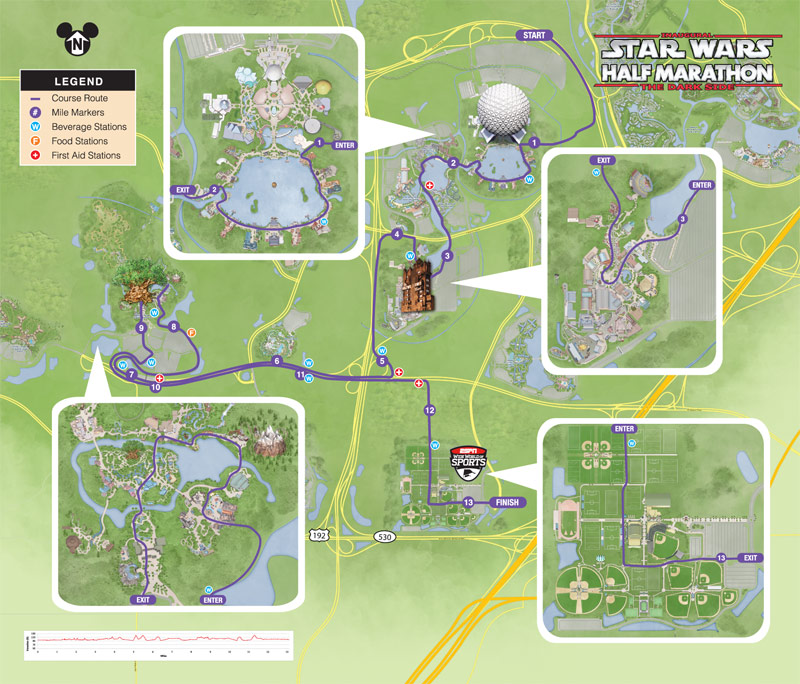 Training & Goals
I looked at some half marathon training plans and put together my own schedule based on Hal Higdon's Novice 1 plan. With just eight weeks from registration to race day, I jumped in at week 4 of the plan. It wasn't too difficult as I was already training on my own for my first 10K -- which was coming up in mid-March.
For both the 5K and the half marathon I had aimed to stop at as many photo opportunities as possible, but after Friday's 5K I realized that stopping and standing in line wasn't really for me. I also abandoned my planned costume, a cotton blend C-3PO shirt and gold sequined skirt, for a traditional running outfit of tech shirt and lightweight shorts.
I had registered for the race past the deadline for submitting proof of time. This put me, by default, in the last starting corral. I had read that it might be possible to get a new corral assignment by begging and pleading at race relations during the expo. I printed out proof of time from my 10K race and brought it to the expo. I think I was the first visitor to race relations for the weekend, and I lucked out in getting a corral reassignment by simply asking nicely. I was put in corral F, right in the middle of the pack (I was previously in L). This good fortune solidified my desire to race the race, though I figured I would stop for selfies at the mile markers and maybe some other spots if there was something special to see. I was also planning on running my usual race intervals of 4 minutes 30 seconds running with 30 second walking breaks (during training I typically run 4/1 intervals). I didn't have a goal time in mind, though based on my 10K time I hoped to finish in about two and a half hours.
Race Day: April 17, 2016
Arthur and I left home at about 3AM in order to get me to the starting line in time for the 5AM start. I had read horror stories of the traffic situation for the 10K the previous day, also a point-to-point race, but I didn't heed the advice of many to plan on arriving up to 2 hours before race time. I didn't need to take pictures before the race and it wasn't fair to Arthur to leave too insanely early. 3AM was insane enough. Traffic, however, was pretty intense once we reached WDW property and a couple of slow traffic bottlenecks gave us a bit of a panic before we ended up parking in a perfect spot at a very reasonable time.
Arthur accompanied me into the secure area briefly before it was time for me to head to the corrals. I waited in a very long portalet line before the trek towards the starting area.
5AM came quickly and the corrals moved up in rapid succession, with about 4-5 minutes between mini-fanfare starts for each group. I discarded my throwaway hoodie and was pleased to see it was collected along with other discarded clothing items, hopefully all on their way to be donated.
According to my Garmin we were off at 5:22AM, which wasn't too bad at all. I had read that the later corrals can start up to an hour after corral A. Now that is a lot of waiting around!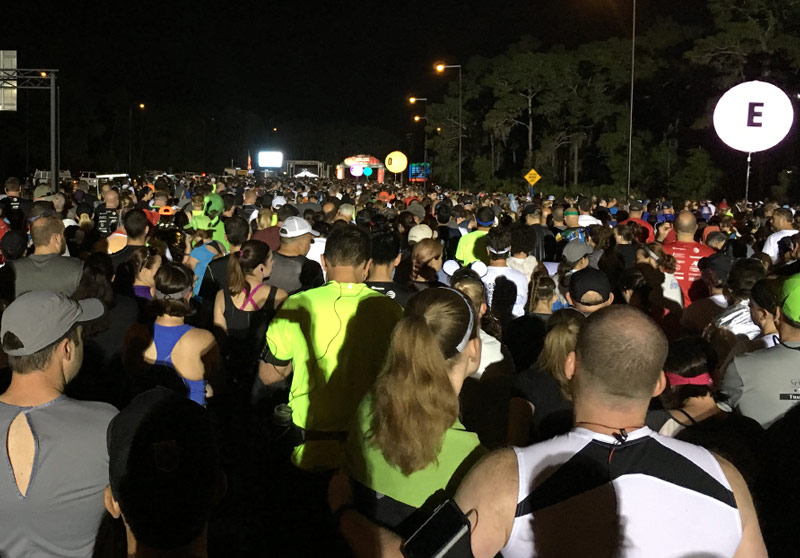 Waiting among a sea of people in corral F
Racing conditions were very good, with a temperature of 64°. Humidity wasn't too bad at 73% and there was a pretty good breeze which made it feel quite pleasant. I think we really lucked out with the weather for this half marathon!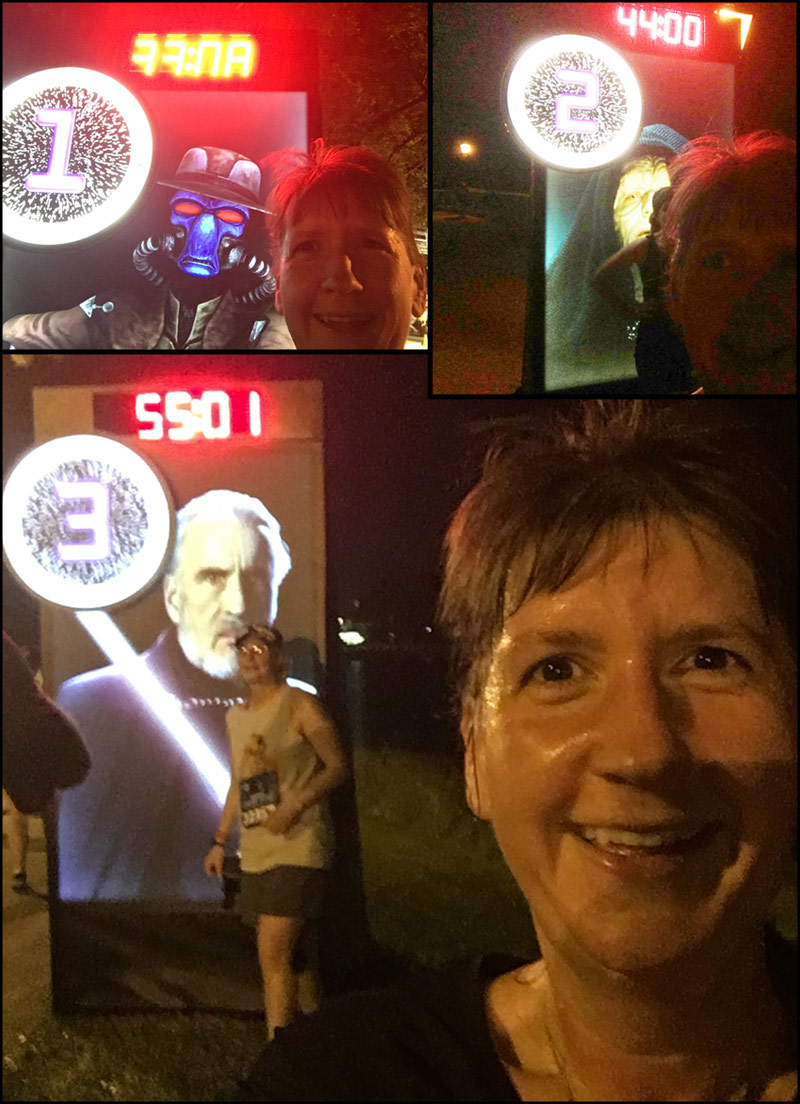 Cad Bane (Clone Wars) at Mile 1 | Emperor Palpatine / Darth Sidious at Mile 2 | Count Dooku at Mile 3
Mile 1, 2, 3: 10:20, 10:32, 10:58 | 5K split: 33:59
I am so impressed with people who can write up race reports that include details of what they were thinking and how they were feeling during each mile of the run. For me, much of this half marathon was a big happy blur. I had so much fun and I can't believe how fast it went by. Especially the first three miles -- yikes I went out fast!
These three miles in the dark took us through Epcot, past the Beach Club, Yacht Club, and Boardwalk hotels, and towards Hollywood Studios. The flames around the lagoon were lit up and Star Wars music was blasting as we ran around part of World Showcase in Epcot. A lot of people complained about course congestion around the Boardwalk area but I didn't find anything worth complaining about. Sure, there were a lot of people, but I could hop onto the grass to pass walkers and I didn't mind slowing down where the course narrowed. The tunnel under the Buena Vista Drive overpass was themed as Darth Vader, with his creepy breathing sound, red lights, and a fog machine.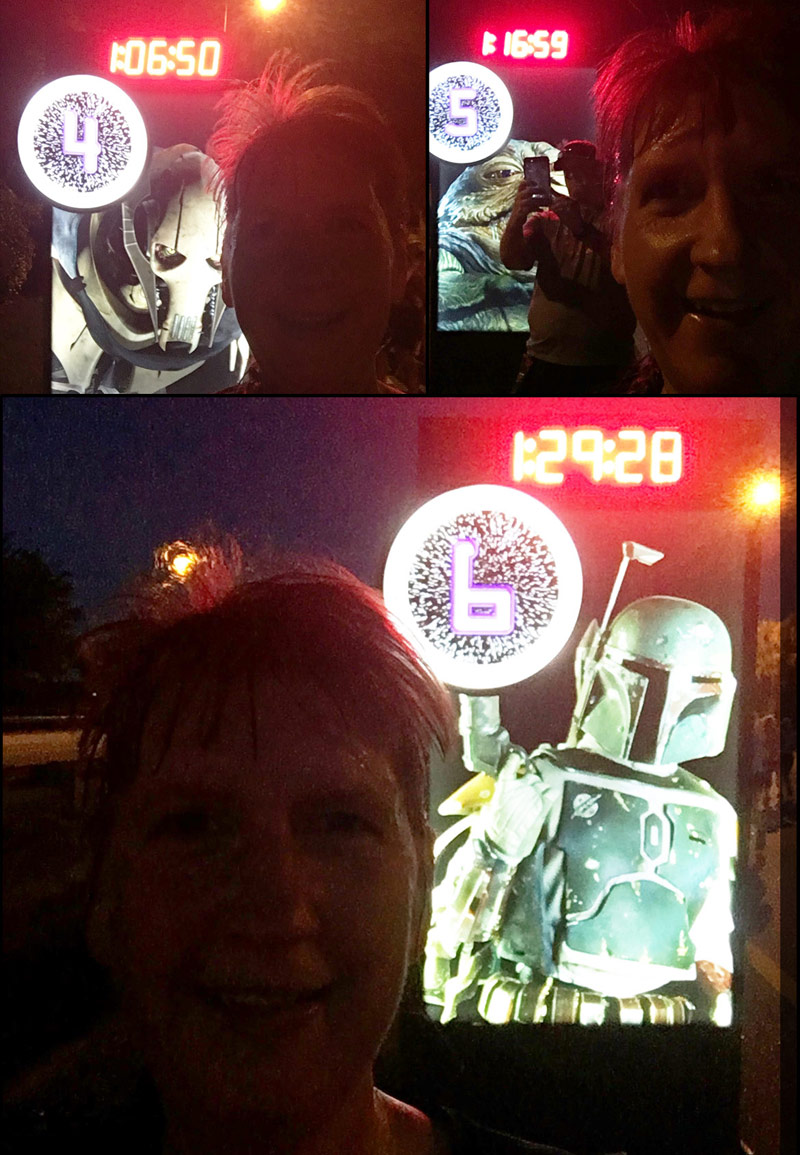 General Grievous (Clone Wars, etc) at Mile 4 | Jabba the Hutt at Mile 5 | Boba Fett at Mile 6
Mile 4, 5, 6: 11:17, 11:07, 11:17 | 10K split: 1:09:56
Throughout the race I hardly looked at my watch and as I went on I couldn't believe how quickly each mile marker seemed to come up. I also couldn't hear my watch beeping at all, so my normal intervals were all screwed up. I missed seeing most of my splits. I did stop at each mile marker for a quick selfie and took sporadic short walking breaks throughout. If you look at the pace data on my Garmin race summary you can see that walk breaks increased after the first few miles.
These miles (still in the dark!) took us through Hollywood Studios and then some highway miles on World Drive and Osceola Parkway on our way to Animal Kingdom. It was fun to run by Kylo Ren who was holding court on stage in front of the Chinese Theater in Hollywood Studios. As we ran out of the park, a big bunch of characters from the 501st Legion were available for photos.
As soon as we hit World Drive we were greeted by the Timber Creek marching band playing the main Star Wars theme -- very cool! Somewhere around Mile 6 we could see the leading runners already heading back on the other side of Osceola.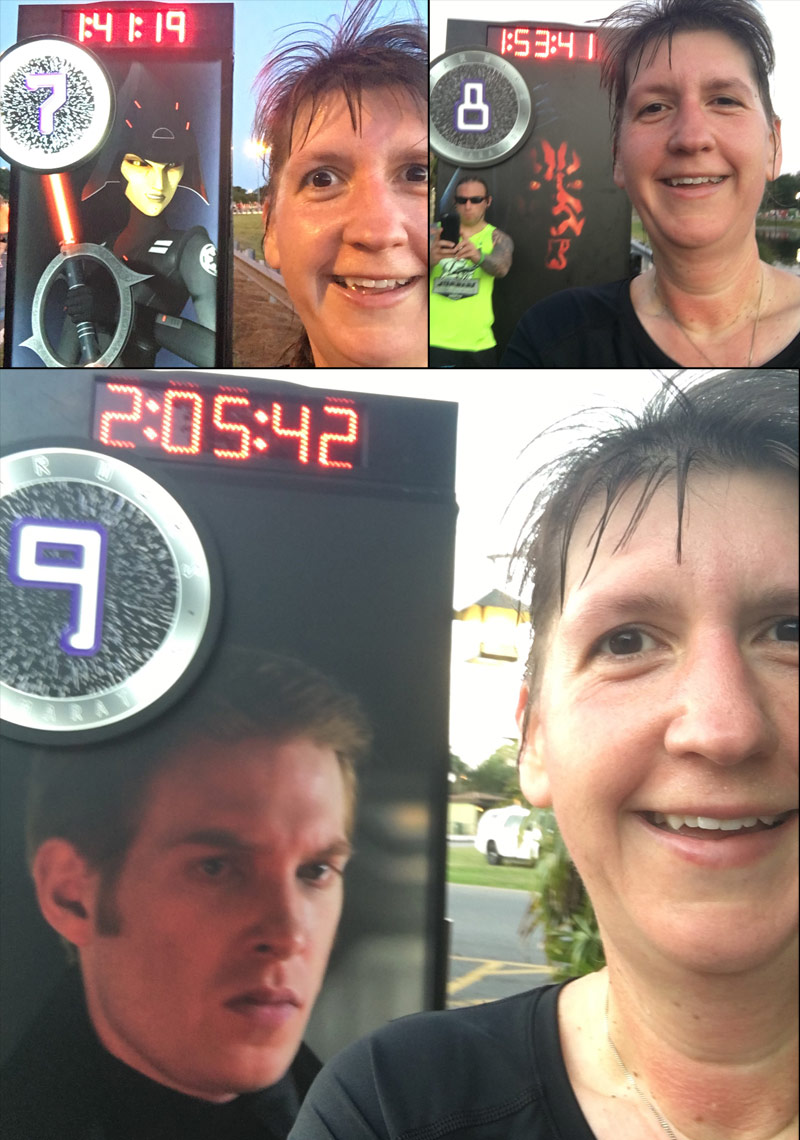 The Seventh Sister (Rebels) at Mile 7 | Darth Maul at Mile 8 | General Hux (The Force Awakens) at Mile 9
Mile 7, 8, 9: 11:46, 11:50, 12:06 | 15K split: 1:47:36
Here we ran a bit more on Osceola Parkway and then all the way around Animal Kingdom's massive parking lot on our way into the park. We ran in via DinoLand U.S.A., through Asia and past the Tree of Life before exiting the park and heading back out on Osceola Parkway. Leaving this park there was another large group of characters from the 501st. I high-fived a Stormtrooper as I ran by. Disney PhotoPass photogs captured a couple of shots of me running through Asia... and for some reason they don't have watermarks. Win!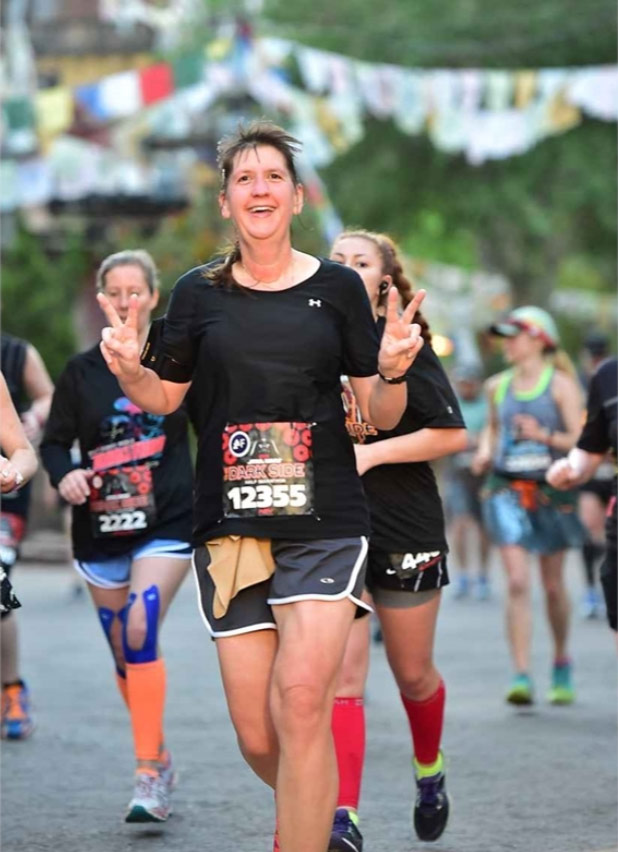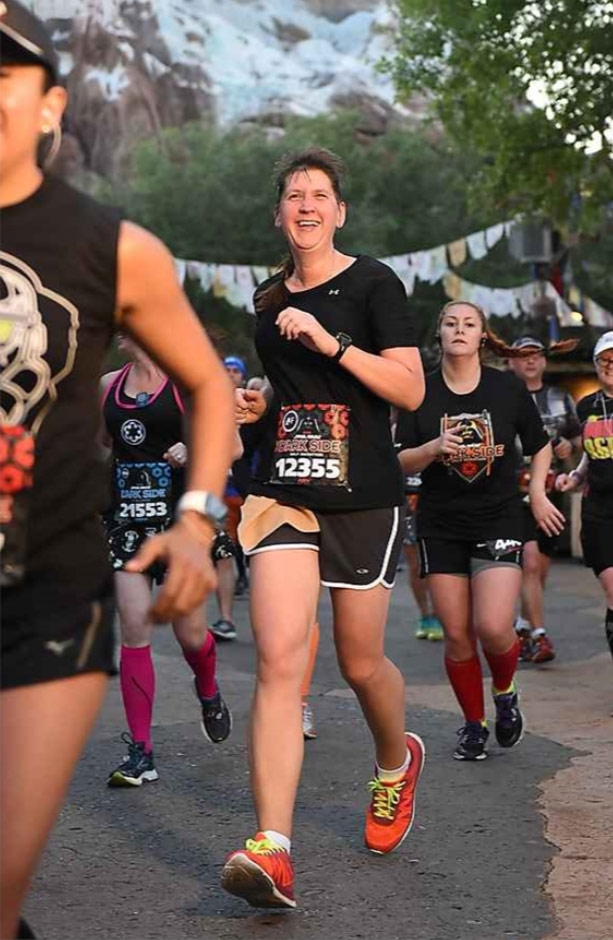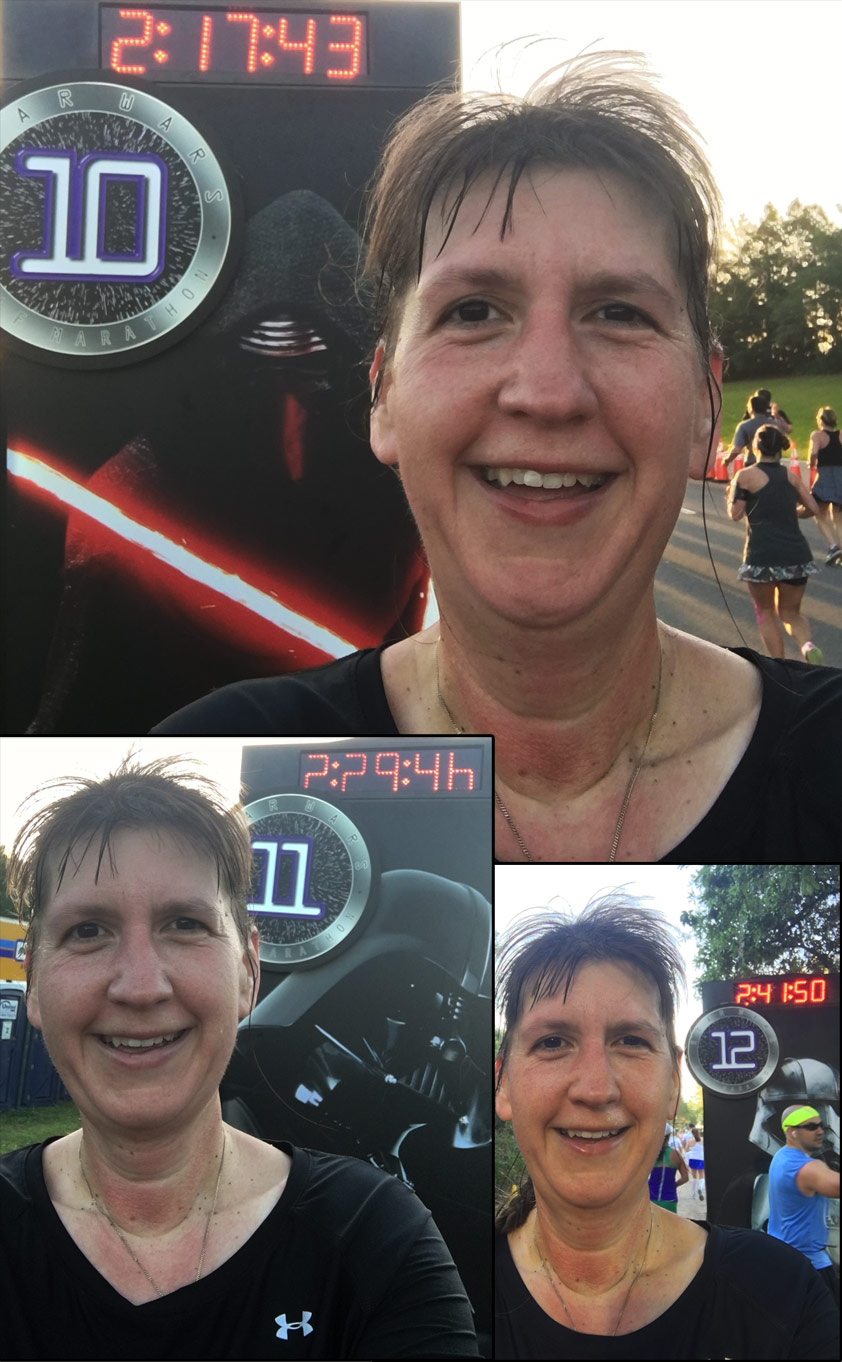 Kylo Ren at Mile 10 | Darth Vader at Mile 11 | Captain Phasma at Mile 12
Mile 10, 11, 12: 11:42, 11:53, 12:00
We ran through another big chunk of the Animal Kingdom parking lot on the way back to Osceola Parkway. In a couple of spots along the way there were big screens showing scenes from the various Star Wars movies, and a DJ in the middle of the highway pumped us up playing pop and rock tunes.
At Mile 11 runners on the other side of the highway were at about 5.75 miles. There were portalets in the middle of the highway here and I saw a couple of people who started in a much later corral come out of the stalls and resume the course on our side. I'm pretty sure they cut the course and I just looked on in shock without saying anything. There were timing mats at every 5K so they would have skipped two, which is clear to see in the results. Mile 12 took us to a dirt road to access the finish area at ESPN's Wide World of Sports (WWoS).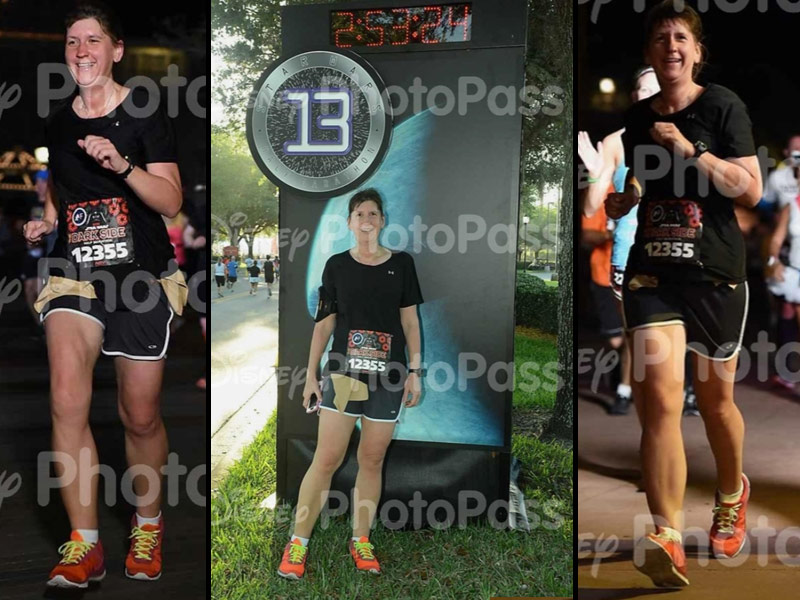 Mile 13+: 11:41, 3:49*
This is the only marker where I didn't take a selfie. I let a Disney Photopass photographer snap me and since I'm not springing for any downloads, the photo I'm sharing here still has Disney's watermark on it. The other two shots are also from Disney photogs on the course (in Epcot, I think).
The course narrowed along the dirt road into WWoS. During some later walking breaks I had texted with Arthur to see if he had arrived at the finish. He let me know he was at the Final Mile viewing area, where we saw each other! That was a great motivator for that last half mile.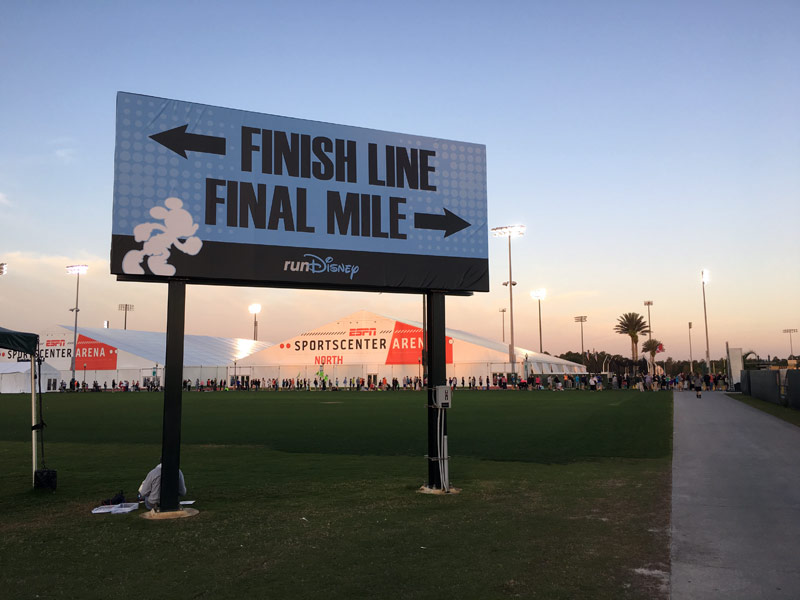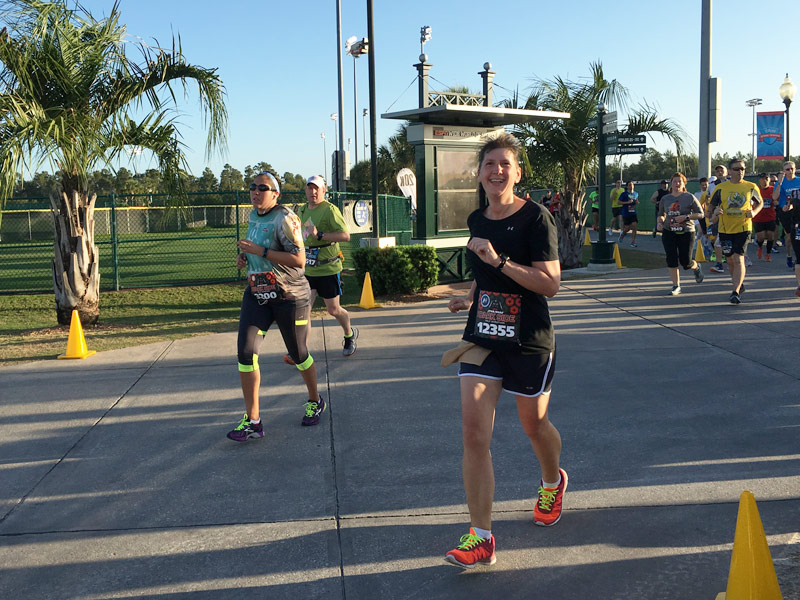 And then, before I knew it, I passed under the finish line, over the last timing mats, and through the chute. I got my medal and grabbed a water, a couple of bananas and RunDisney's standard snack box on my way to reunite with Arthur. I did it! :D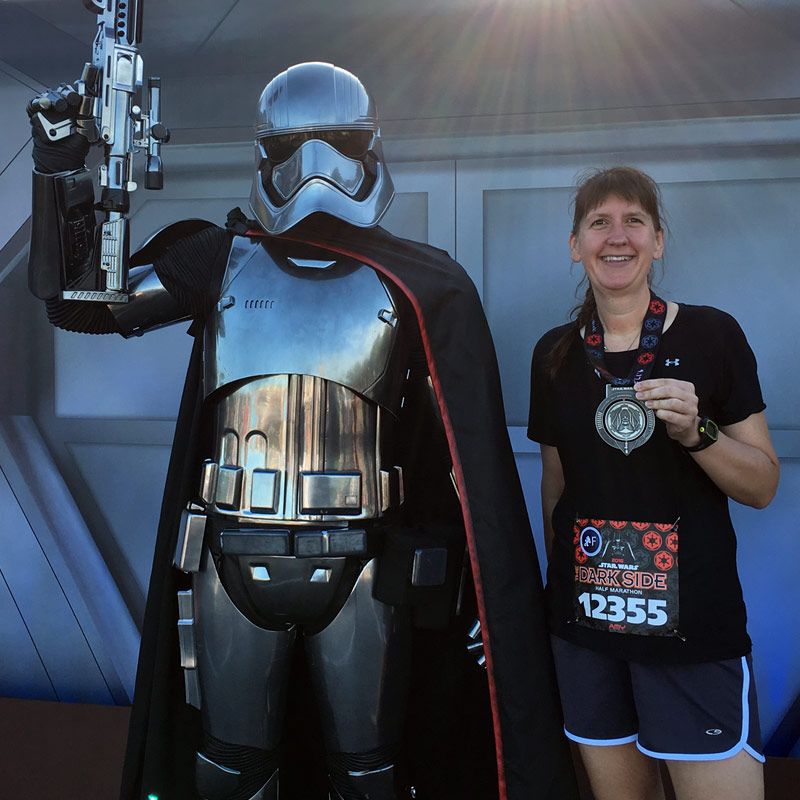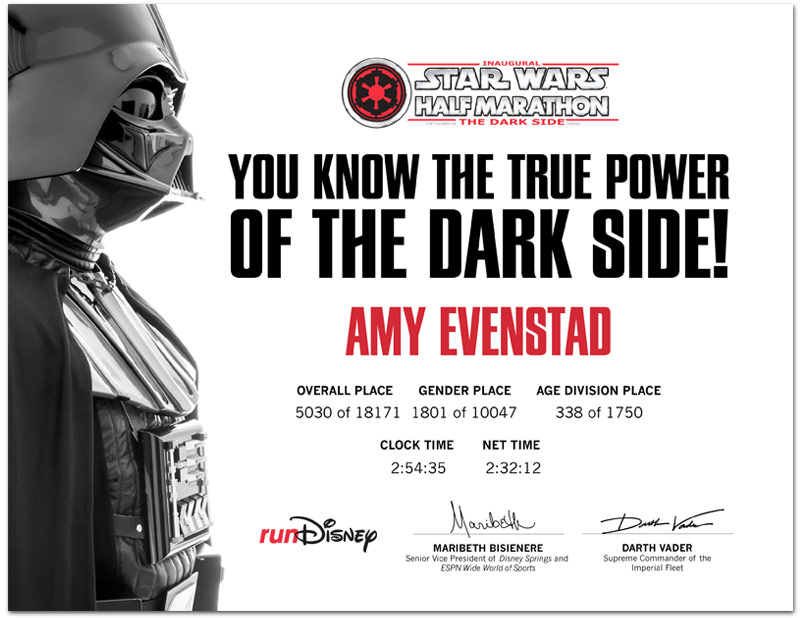 Take-aways:
I can't believe how fast this race went by. Though I was a bit sore afterwards, and the stairs onto the bus that shuttled us back to Epcot were no fun, I feel like I had a lot of "gas left in the tank" after this race. I am really glad that I decided to run it rather than bounce from photo op to photo op. I am looking forward to running more half marathons. I'm signed up for the inaugural Lumiere's Two-Course Challenge in October and I'll do the WDW Half Marathon in January, but I'd really like to run a small local half for time -- I think a crowded Disney race is always going to be part parade. :)
Chip time: 2:32:12
Placement details: 338th of 1750 in age group, 5030th overall out of 18171 finishers
Race Amenities: Swag included a short sleeve ladies tech t-shirt and a neat medal. Big fun race weekend expo. And the course of course! Running through Epcot, Hollywood Studios, and Animal Kingdom with Star Wars characters, music, and theming!
Cost: $199.00 (no Active.com fees since I registered at the expo)
*I often forget to turn off my Garmin after a race, so the final time is skewed.
Report written April 28, 2016