Race Report: Disney Princess Half Marathon 2017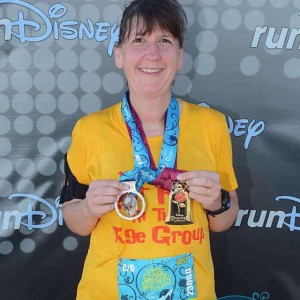 Disney's Princess Half Marathon Race Weekend concluded with the big half marathon on Sunday. Since I ran the Glass Slipper Challenge, I had an extra challenge medal to look forward to at the completion of the 13.1 miles.
For this race I wore a custom t-shirt Arthur designed for me. The front read This is My Last Race in This Age Group in a Lilo & Stitch style font. The back read This Princess Turns 45 Tomorrow using text styled after The Princess and the Frog. As an early birthday gift from my parents I got my first SparkleSkirt, CalcuttaJoy in CapriSkirt style, which I paired with the t-shirt for the half marathon. I broke a big running rule -- "nothing new on race day" -- and did not live to regret it. I love my new gear and am looking forward to more running skirts from SparkleSkirts.
Princess race weekend is known as a women's event. Men aren't discouraged from running or participating, but there are no awards given to men and they must start in Corral B or later. For the half there were 18,504 female finishers and 2,097 men.
The course for the half is well-known to run through Cinderella Castle in the Magic Kingdom. Actually it's kind of notorious because this part of the course is known as a bottleneck. Anyway, this would be the first time I would run in the Magic Kingdom (it should have been during the 2017 WDW Half Marathon). The start and finish were back at Epcot and between the parks was a bunch of road running.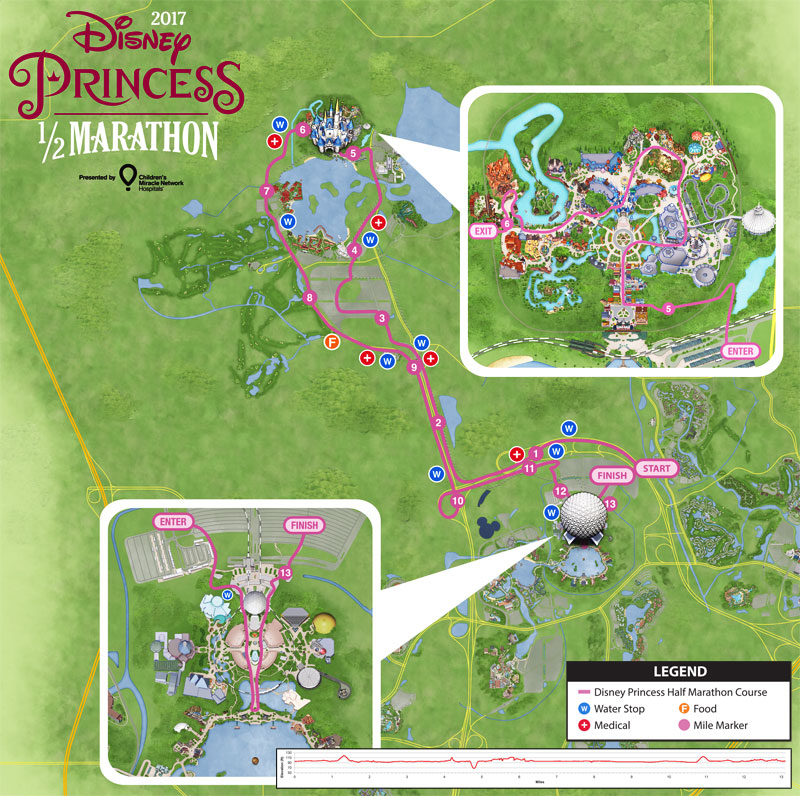 Training & Goals
I'm focused on weight loss for now and staying "half marathon ready" with my modest weekly running base. Going in I wasn't sure how I would run this, though I was certain I wouldn't PR. I like to stop for photos and enjoy these Disney runs so I was going to just wing it, though with Arthur waiting on me I didn't want to dawdle too much.
Race Day: February 26, 2017
Arthur and I stayed at a Disney Springs hotel the night before the race so we could set our alarm clocks a bit later than usual for the early 5:30AM start. We thought we had the right route to Epcot but soon found ourselves in a traffic nightmare along with dozens of others that had taken a wrong turn and were forced to make a U-Turn at a painfully slow crawl. We saw several princesses get out of their cars and start to run towards the starting area in a presumed panic, but they had a really, really long way to go (a couple of miles, probably). It took us a long time to get to the parking lot but we made it with time for me to trot to the starting corrals and even make a very quick stop at a portapotty before it was time to run.
It was about 59°F at the start with near 100% humidity. Once I got into the corral (G for the half), runners were already starting to creep forward towards the starting line. I arrived just in time! Moving towards the start did take a while in the early morning cold so I was happy to have a throwaway fleece sweater on that I left in a clothing recycle bin just before our wave was released to run.

Mile 1, 2, 3 | 5K split: 38:57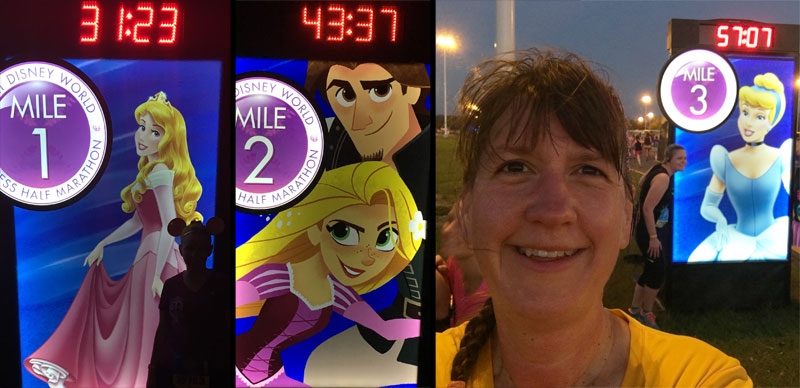 I don't have Garmin GPS data for my splits, but we did cross timing mats three times during the run. These first three miles were uneventful road running. For the third time during the weekend, the course felt more crowded than other Disney runs to me for most of the race.
I loved hearing "happy birthday" from other runners during the race. It was a nice boost each time I heard it. Two guys were confused though. The one who asked "when is your birthday? tomorrow? oh cool" and the one who asked "who's birthday is it? yours? oh cool."
Between the markers for M1 and M2 there was a photo op with Jack Sparrow and Captain Barbosa that I elected to skip due to the very long line. Later during the race I was very happy to have made this decision (read on). Next up was a photo op with several Disney Princes (Phoebos from The Hunchback of Notre Dame; Prince Eric from The Little Mermaid; Flynn Rider from Tangled; and John Smith from Pocohontas) that I also decided to skip. Next we hit the entrance road to Magic Kingdom and had some more road running before we actually got into the park.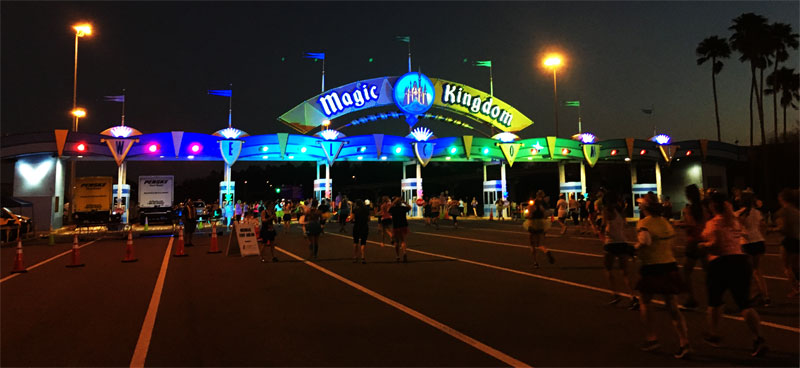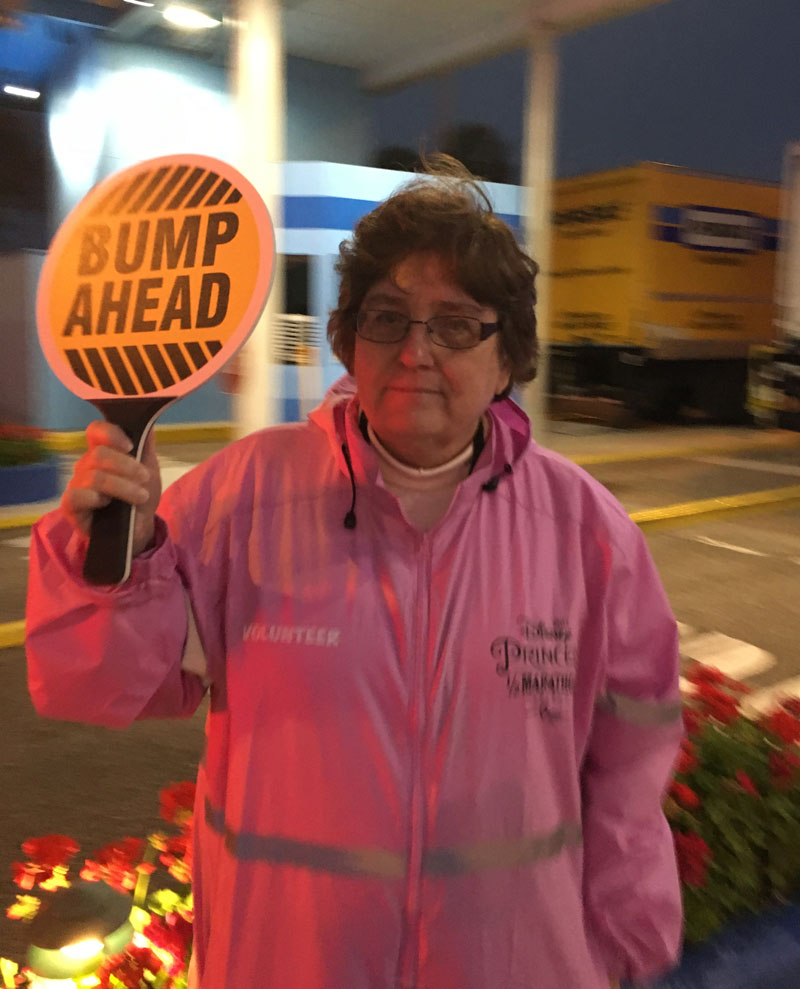 Mile 4, 5, 6 | 10K split: 1:26:03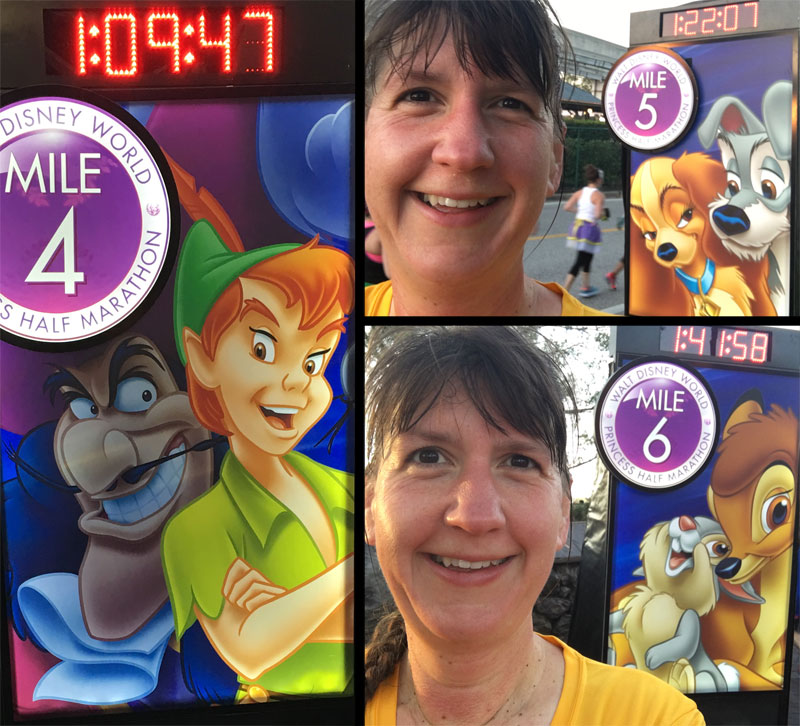 I passed up the next two photo ops as well -- lines continued to look way too long. Mrs. Incredible was followed by a double opportunity (two photo ops with one line) of Maleficent and The Evil Queen with her mirror.
Next we ran under an aqueduct with a funny guy wearing ridiculous huge character hands. He was cheering us on and saying funny stuff and gesturing with his huge hands and it was hilarious.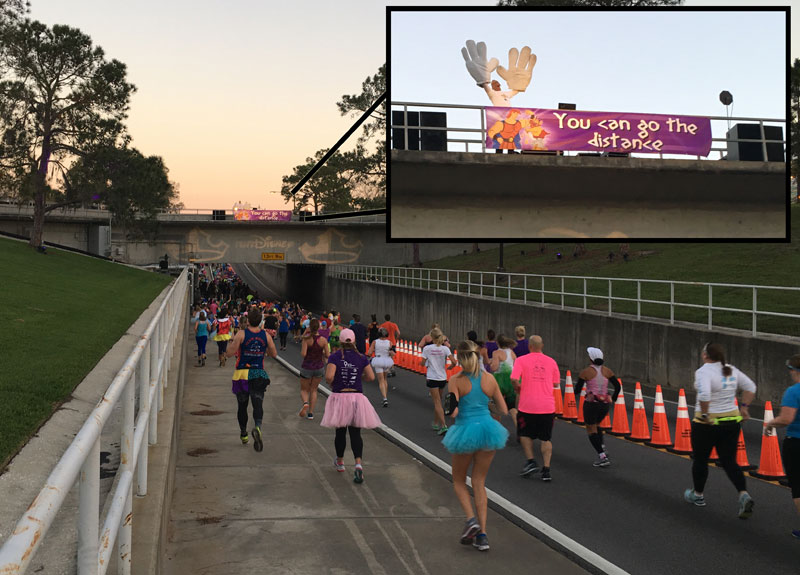 Mile 6 was some slow, crowded fun. We ran through the Magic Kingdom and there were cheering crowds lining Main Street and all around Cinderella Castle. I was able to find Arthur and grab his hand as I ran towards the castle. There was a lot of congestion all over but it didn't bother me. It was a lot of fun to run by the spectators and through the park. Arthur took the following two photos while waiting for me to arrive.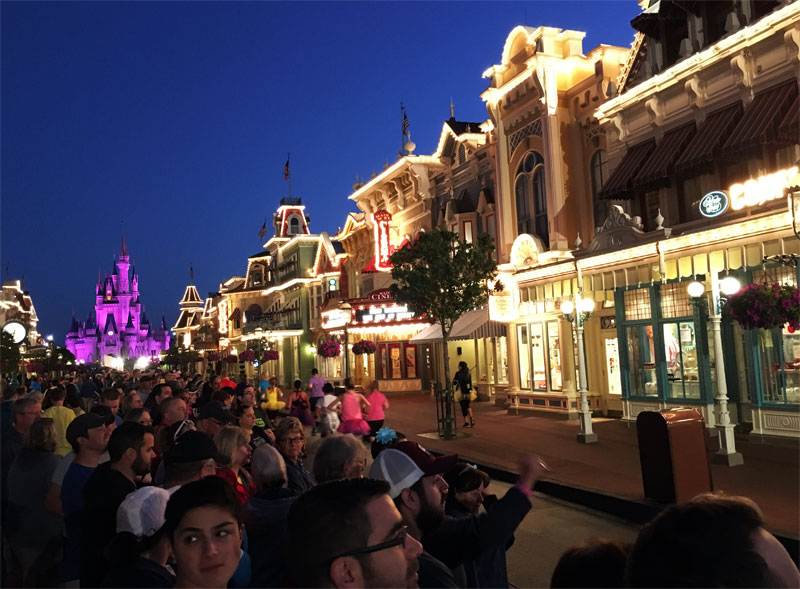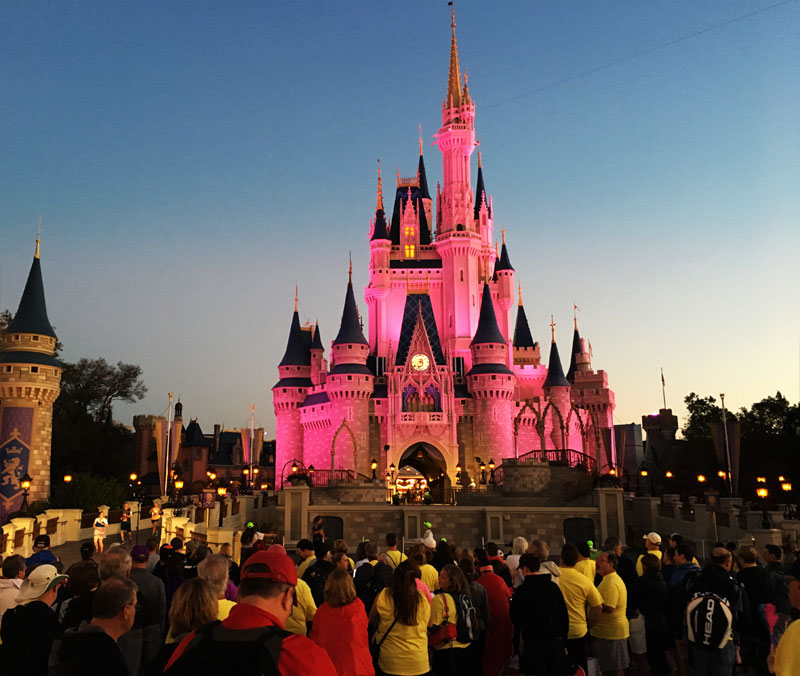 There were a ton of characters out for photos in the Magic Kingdom: Buzz Lightyear; The Queen of Hearts; Gaston; Beast; and Woody. As we ran under the castle from behind, Anna, Elsa and Kristoff from Frozen cheered us on.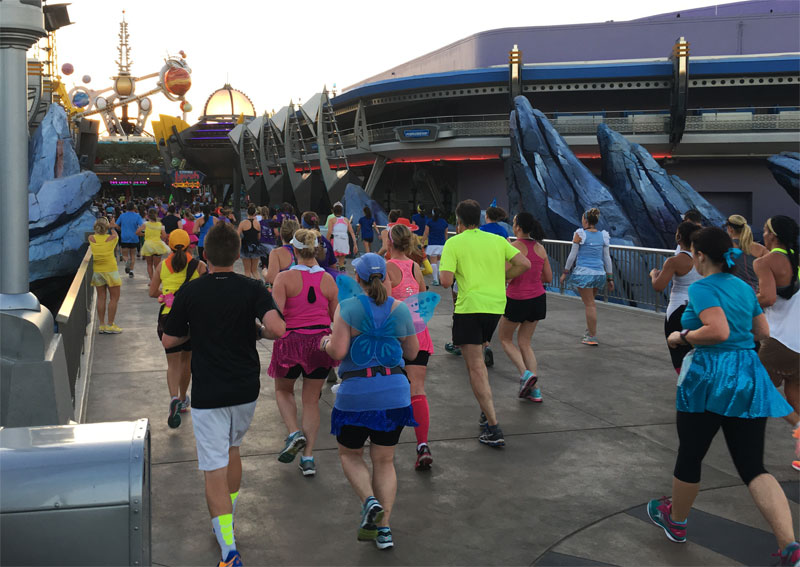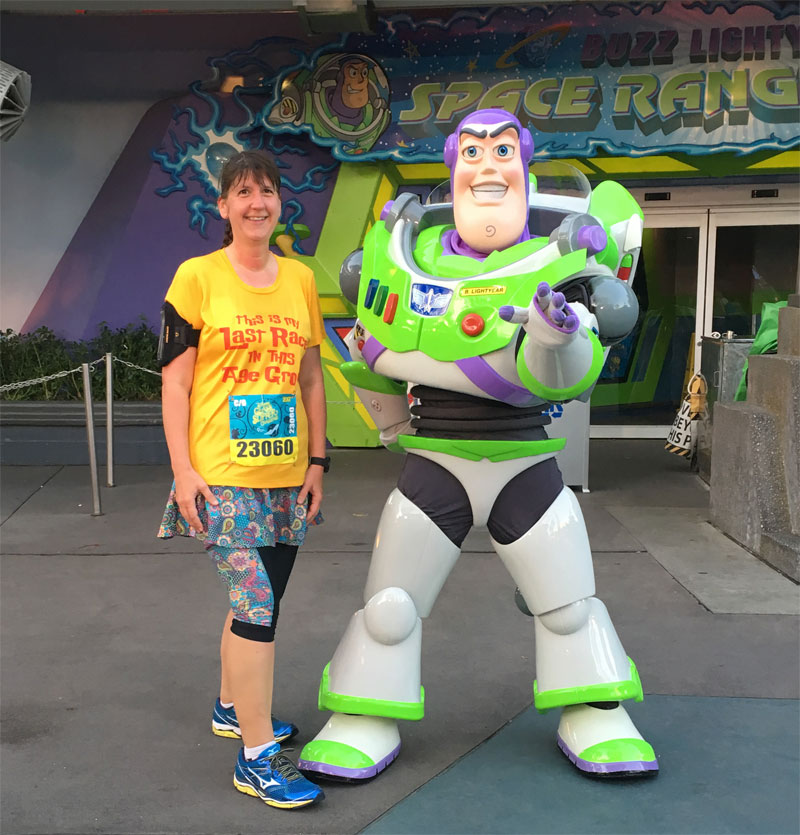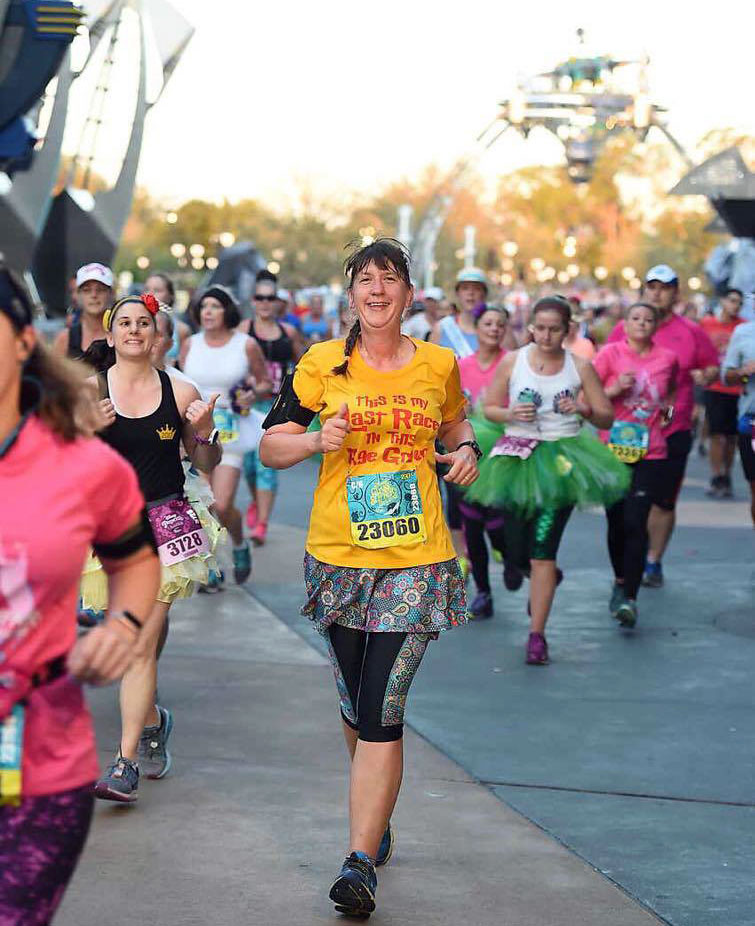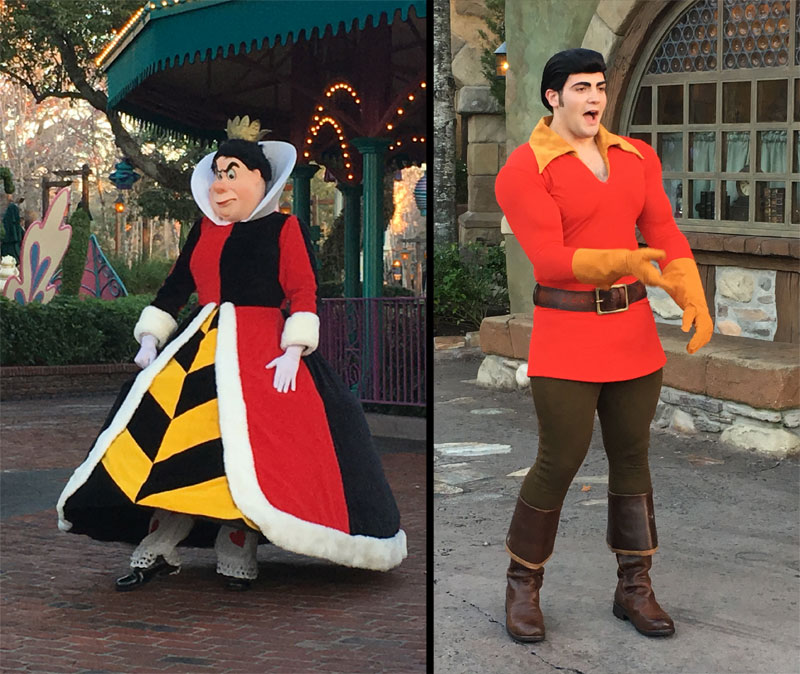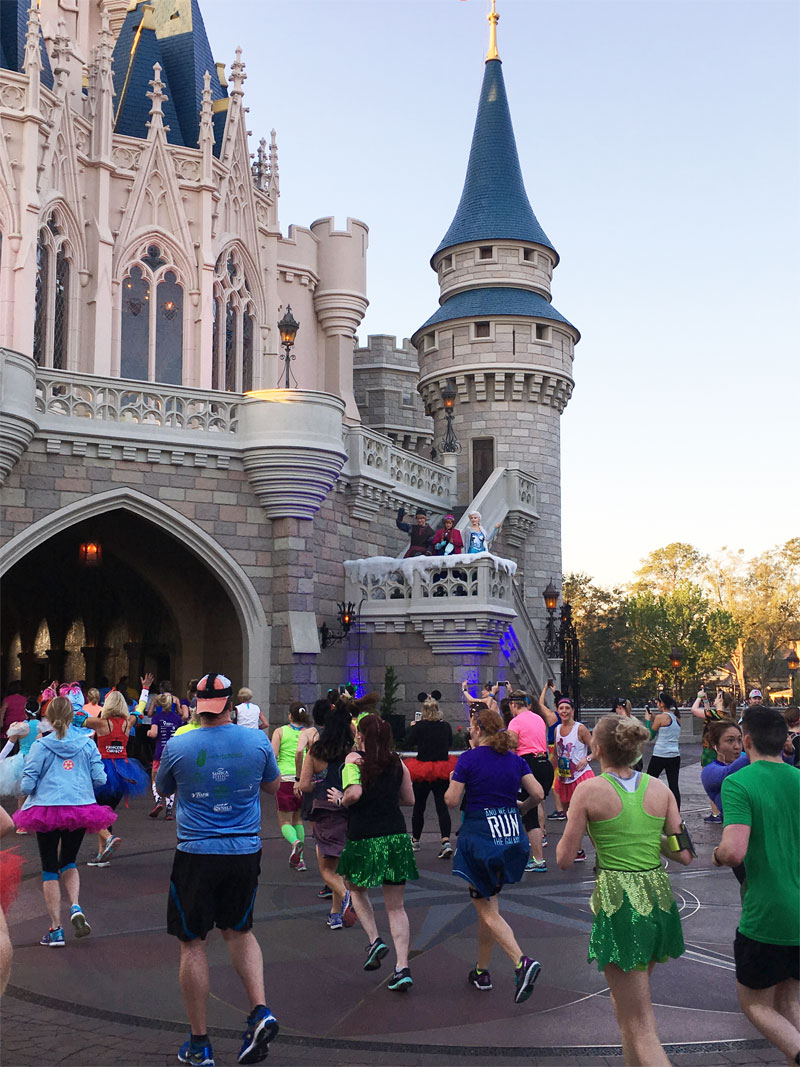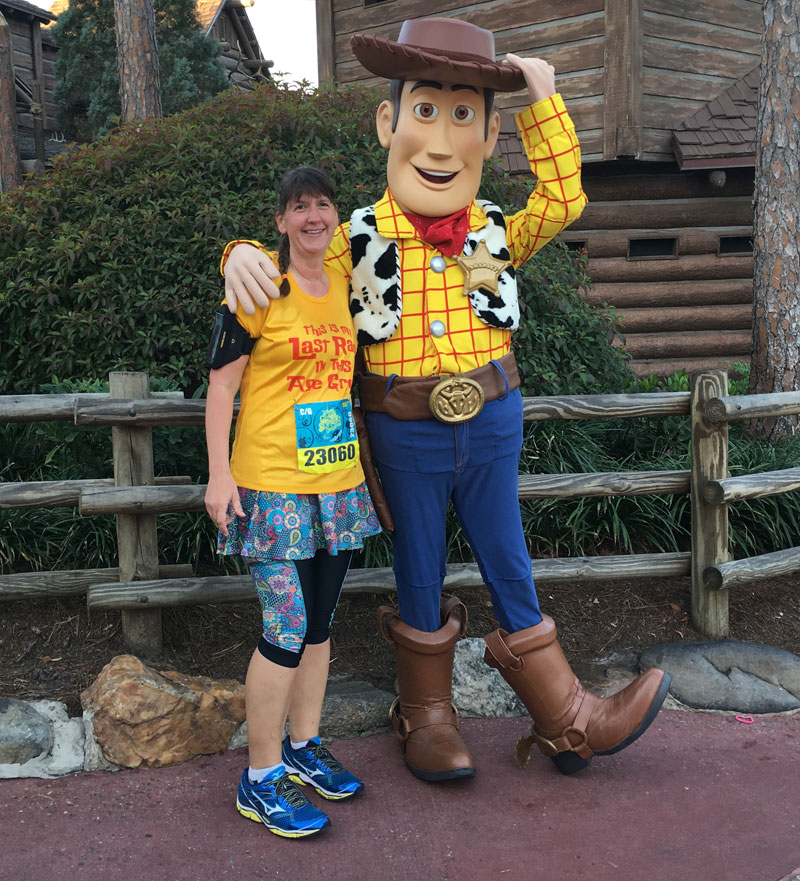 Mile 7, 8, 9 | 15K split: 2:06:36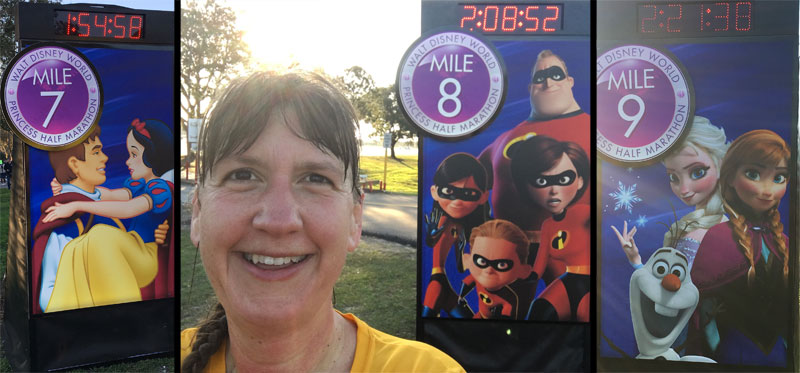 We ran back out through some backstage areas and then it was back to the road to run back to Epcot. There was an elaborate castle backdrop set up with another set of two-for-one photo ops with Cinderella & Prince Charming and Snow White & the Prince. Then we ran by a big fire truck with a DJ blasting loud music and informing us that we were halfway done!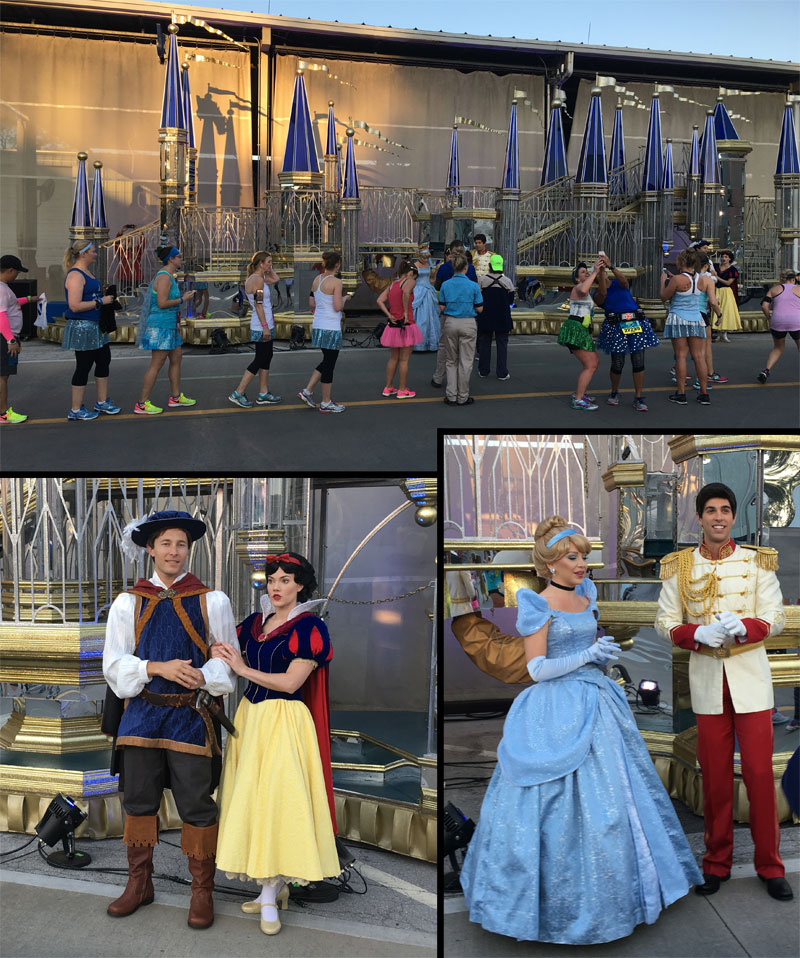 The 8th mile was jam-packed with photo ops. Runners could stop for the penguins from Mary Poppins; Richard the Grand Floridian Greeter; some dapper gentlemen with a Glass Slipper, and holiday Genie with a golf cart.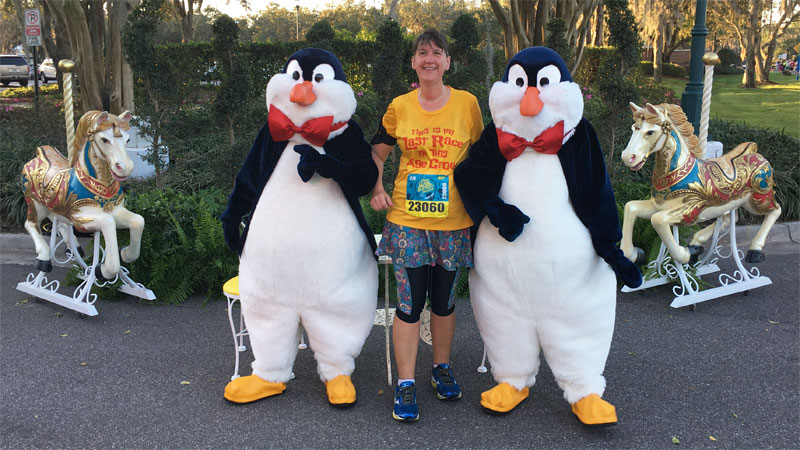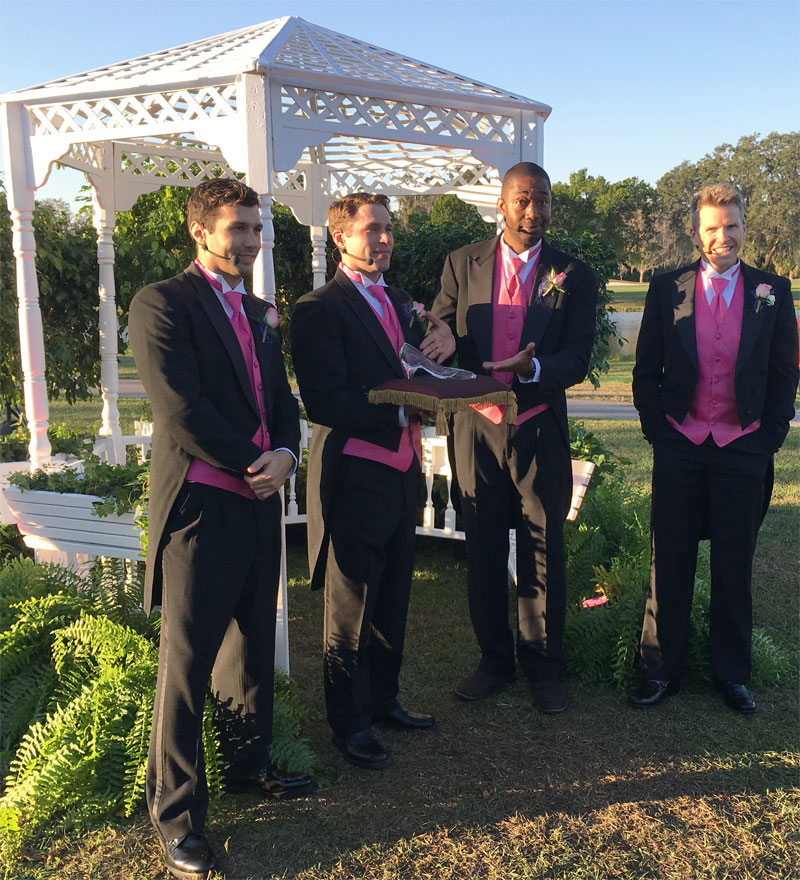 Mile 10, 11, 12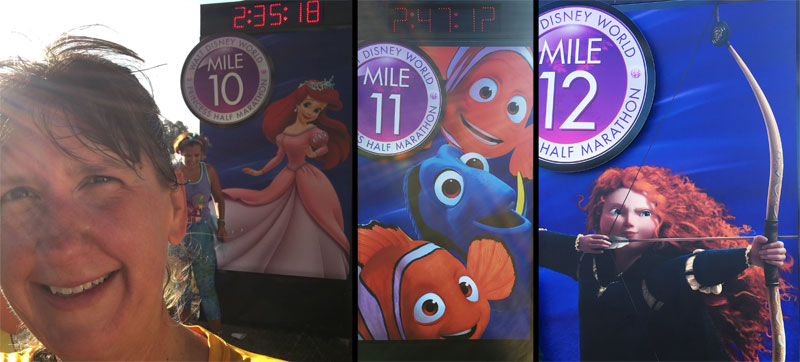 We were back on World Drive for Mile 10. I was surprised to see two repeat character stops: the Princes and the Pirates. The line for Jack & Barbosa was very short so I hopped over. I expressed confusion on seeing them again and a castmember said that they were out before but the PhotoPass camera "broke" so I guess they moved to the other side of the road for the runners? I wonder if the same happened with the Princes? Stopping for the pirates only took about 70 seconds. Cool.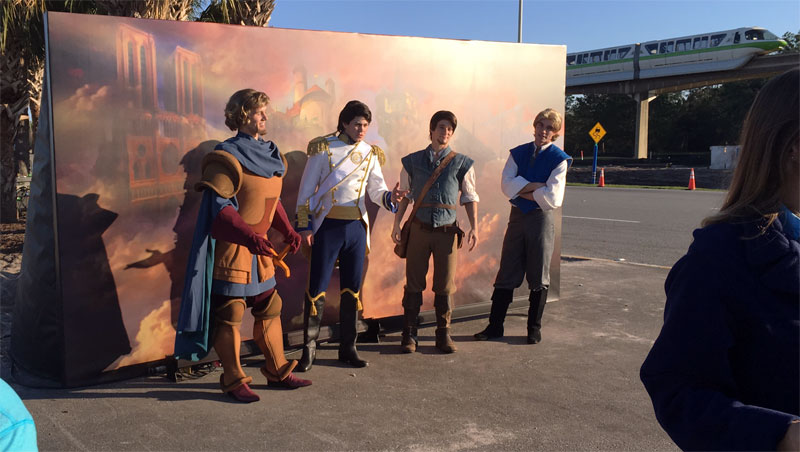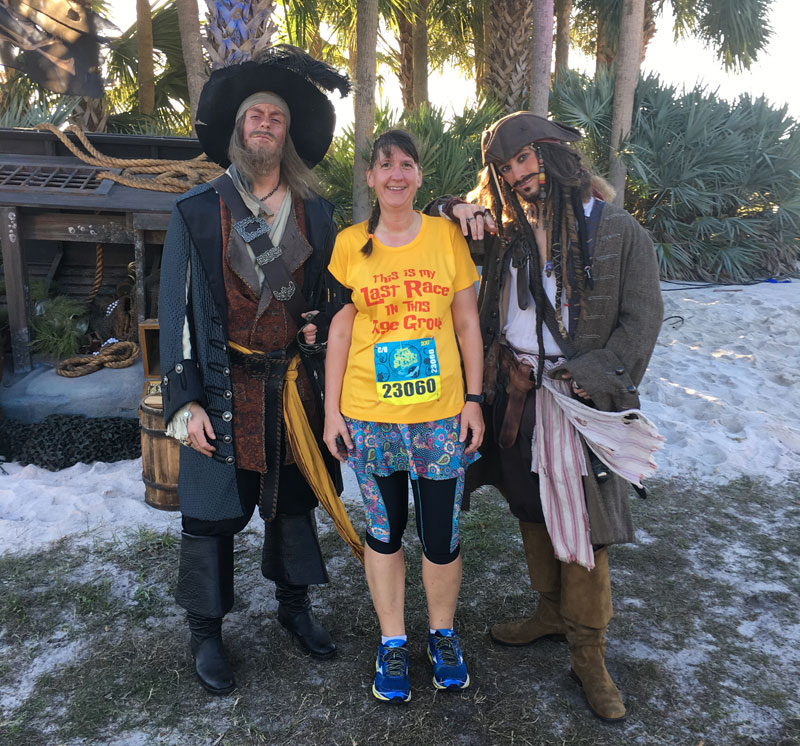 Running up an overpass, a Green Army Man was a welcome sight. His hilarious motivational shouts of encouragement were a great distraction to the elevation. Hill? What hill?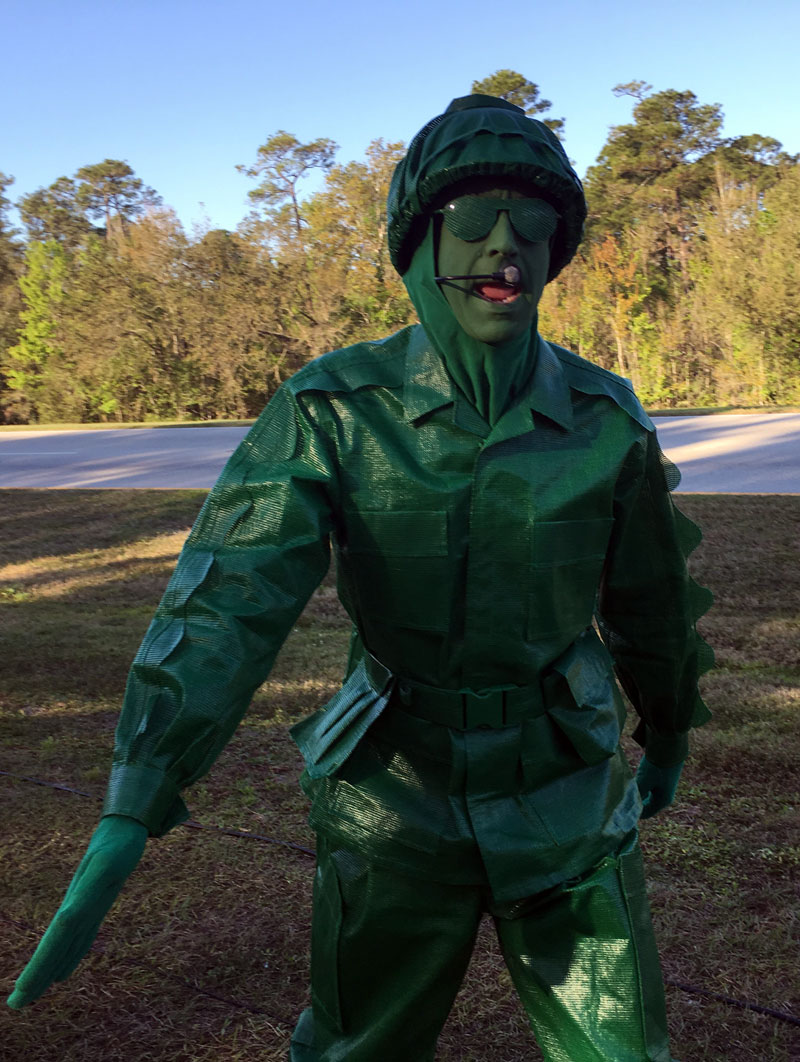 Around this time I found myself playing leapfrog with the #PrincessMen. I was happy to get a photo of them a bit later.
Mile 13+
Just outside of Epcot runners could stop to have a photo with Mushu. Here are those #PrincessMen!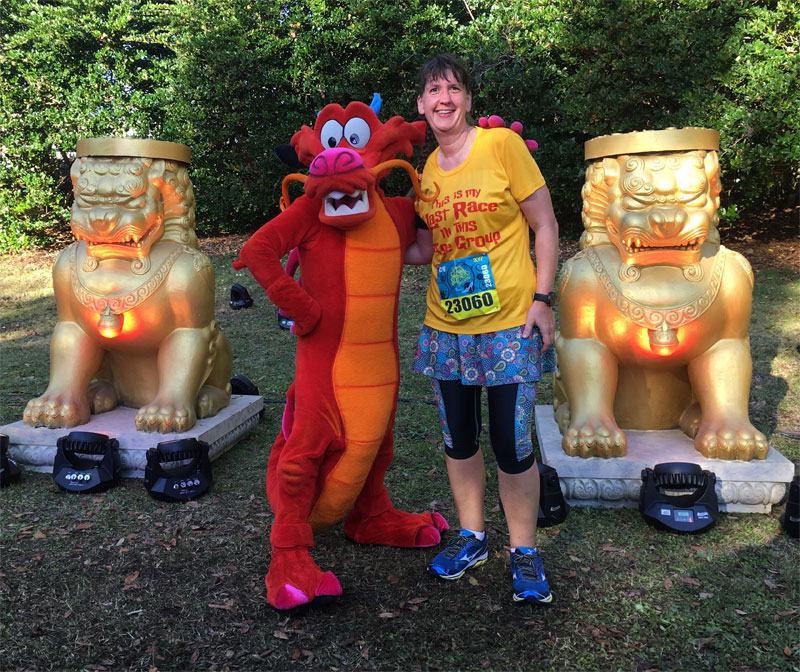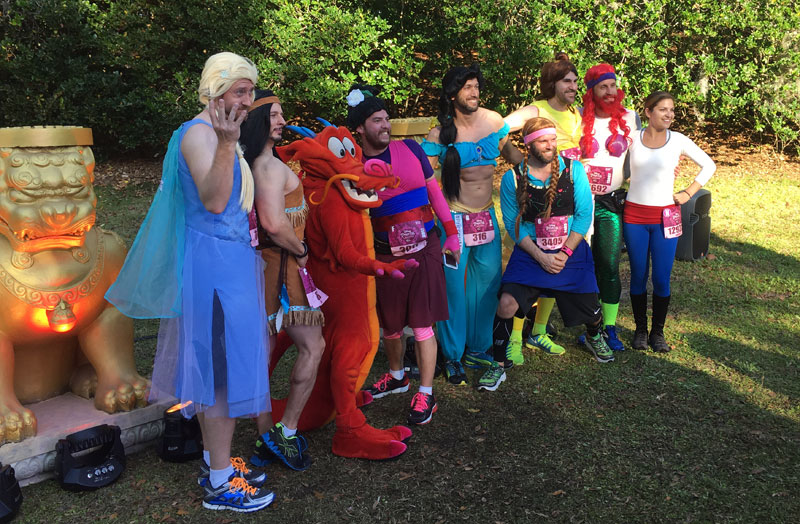 Inside Epcot, Daisy was a very quick character stop. She coincided with my watch telling me to take a 1 minute walking break. After I got my photo with her I started to run again... and about 20 seconds later my watch told me to run. So that was a very short line indeed!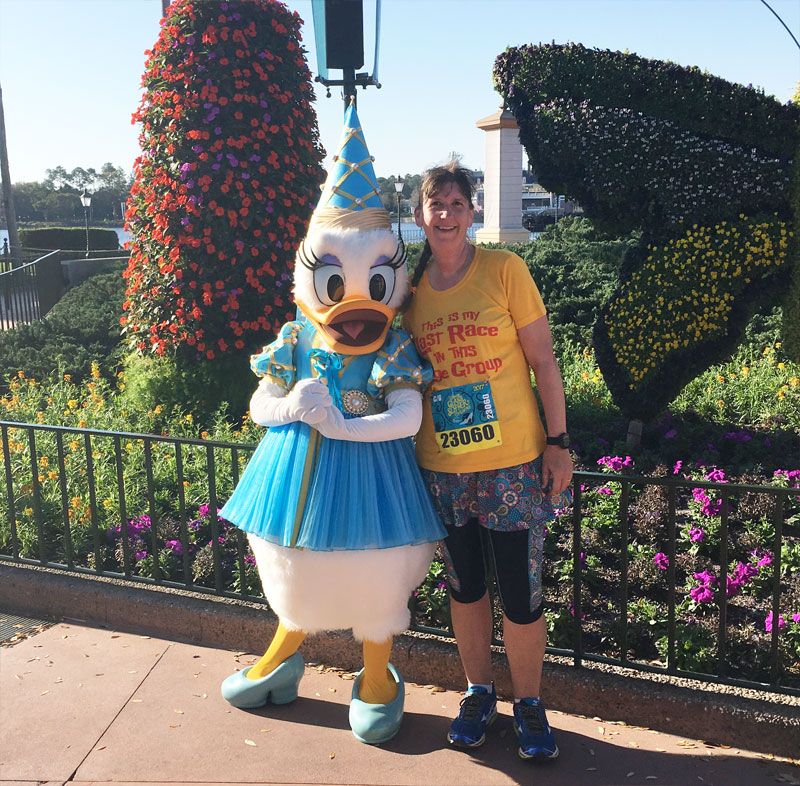 It's typical to have a gospel choir singing at the end of a Disney half. When you hear the angels singing, it's almost all over, one way or the other!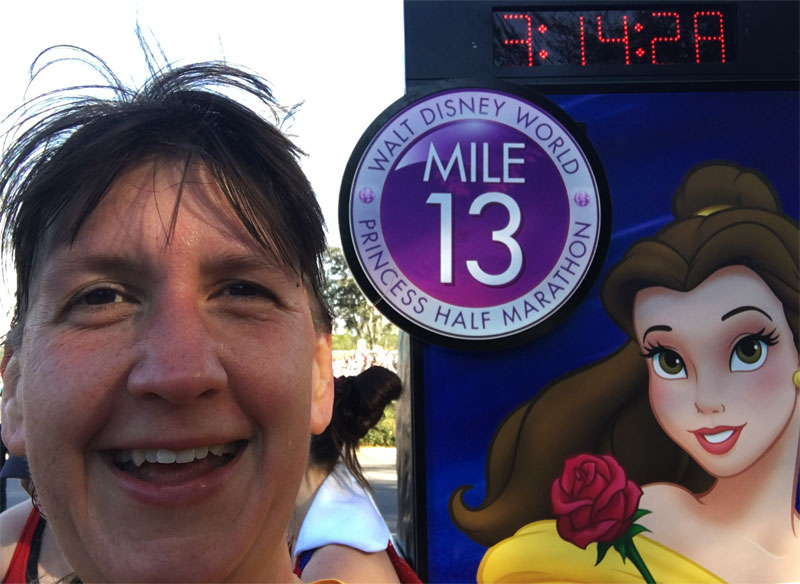 During the Pro Bowl 5K in January I had qualms about stopping for a photo right before the finish line. But Mickey got me over that worry this time -- I stopped for a quick pic with The Mouse before crossing the last timing mat and picking up my medals.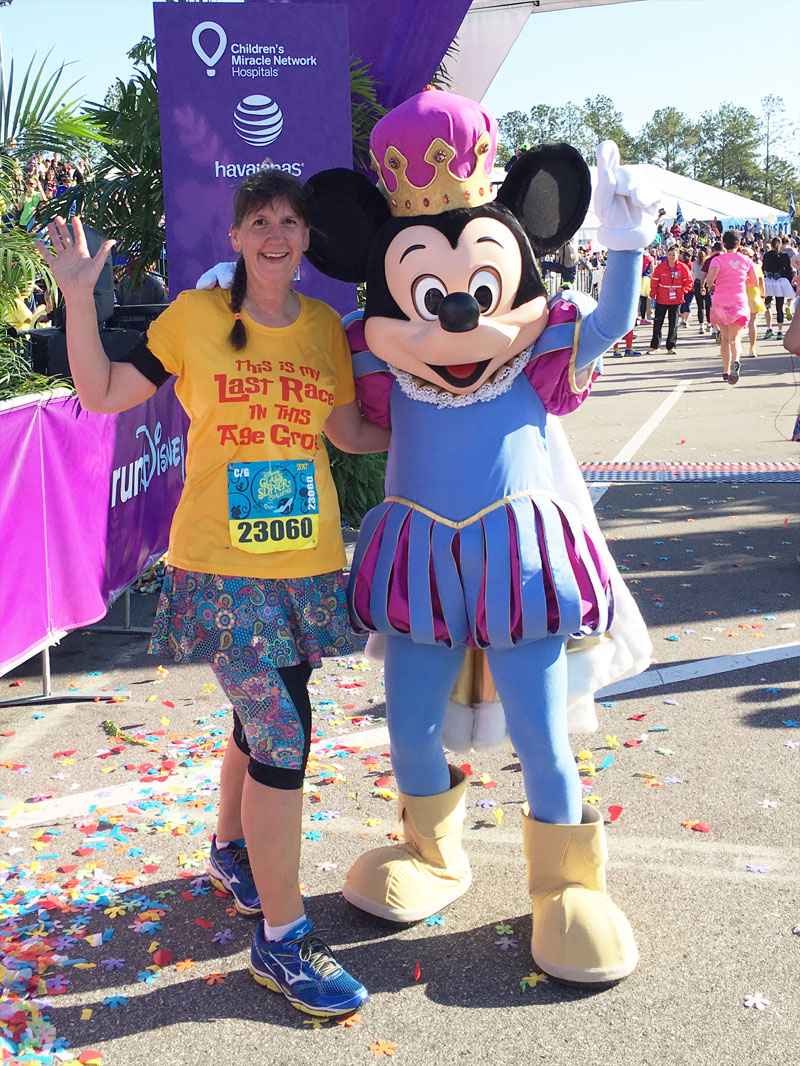 After getting my medals, water, and banana, I met up with Arthur and we stood in line for a celebratory finisher photo with Merida, plus a couple of backdrop pics showing my shirt & medals.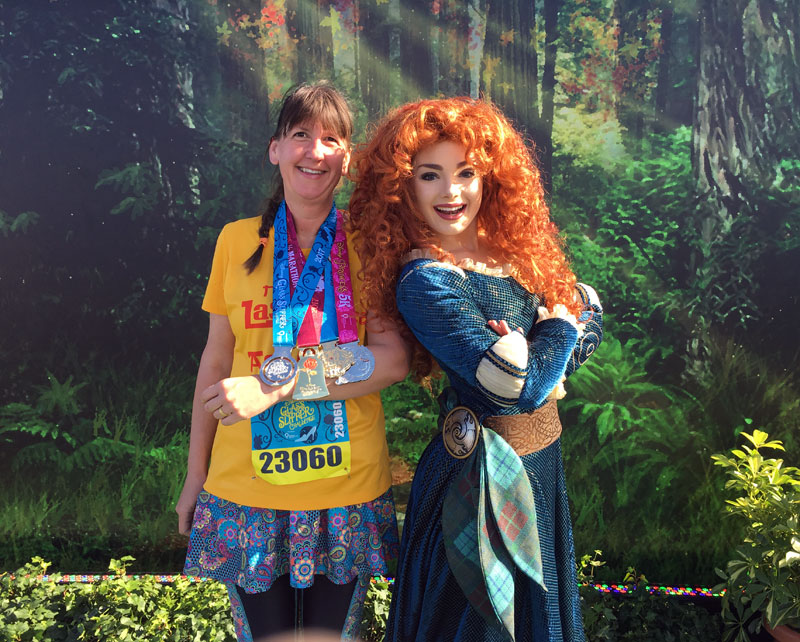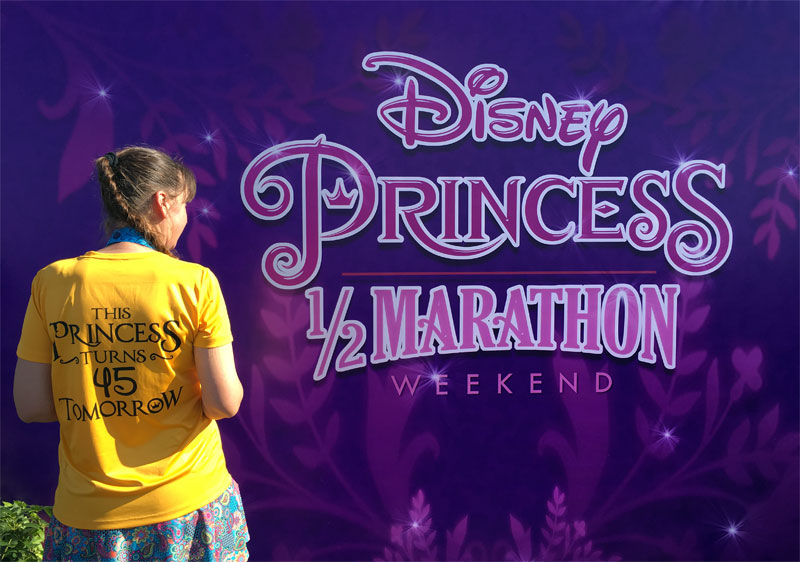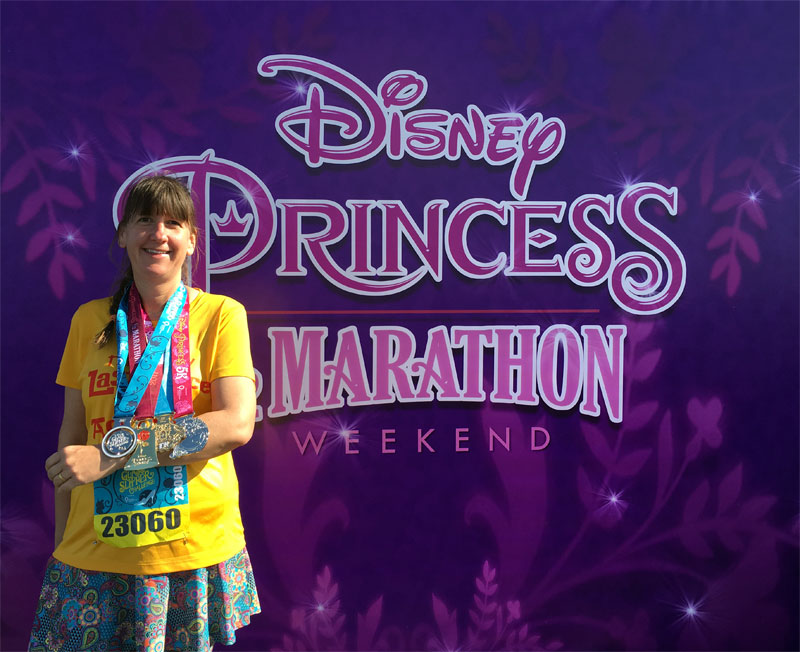 Recommendation
If you like Disney princesses and don't mind crowded courses, you'll love this race. I started in the middle of the pack and found it crowded. Starting corral and desired pace play a huge role in a runner's perception of course congestion. The amount of characters out on course was great -- there were a lot. Plus it was a ton of fun running through Magic Kingdom.
Chip time: 2:56:39
Placement details: 854 of 2166 in Age Group; 8956 overall out of 18504 female finishers
Race Amenities: All the fun Disney stuff, including a tech t-shirt and a cute medal, plus one extra shirt and one extra medal for the challenge
Cost: $331.11 (the cost of the Glass Slipper Challenge, which is the 10K and the half)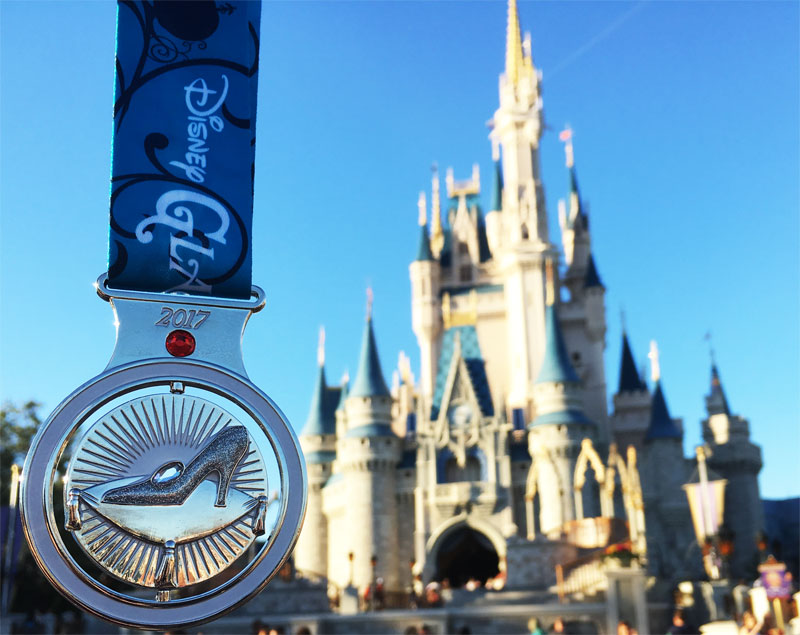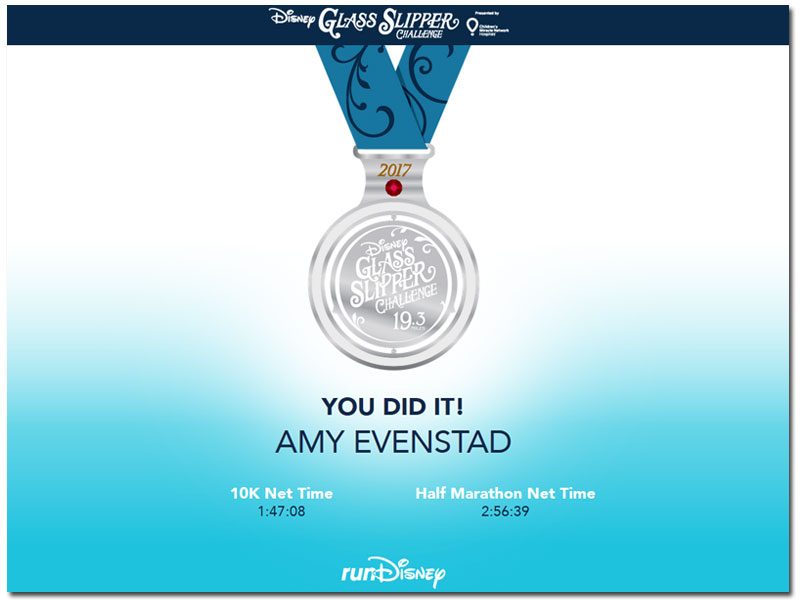 Report written March 9, 2017