Race Report: Red Ribbon Half Marathon 2017: or, That Time I Ran 11:11 on 11/11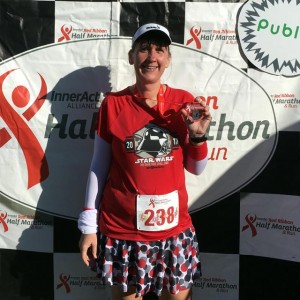 I ran the Red Ribbon Half Marathon in Lakeland Florida on Veteran's Day, November 11, 2017. The race is a fundraiser for the drug abuse prevention group Inneract Alliance.
The pretty suburban course runs through Lakeland in central Florida, on roads and multi-use trails, through neighborhoods, and along several lakes.
Training & Goals
My training had been focused on getting miles on my feet for the four back-to-back Dopey races in January. Since our long trip over the summer I had felt like I was struggling with running in training and races, though the Wine & Dine half went fairly well the week before this race. Prior to race day I didn't have any particular goals except to remain injury-free. I felt really good race morning and decided to give it my best shot and actually race, hopeful for a sub-2:40 finish.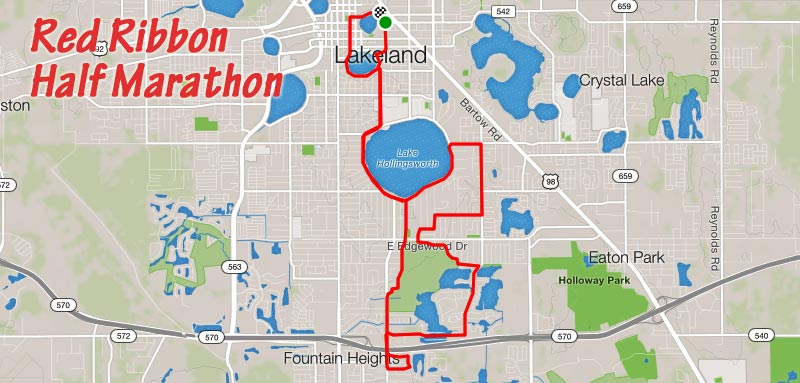 Race Day: November 11, 2017
Arthur and I left crazy early to get down to Lakeland in time for packet pickup before the 6:30AM start. We found a parking spot and walked over to the start. I had time to use the restroom before heading out to the start, with Arthur there to cheer. We noticed a crazy amount of runners in Sparkle Skirts as I got ready to run, which is unsurprising when you realize that Sparkle Skirts HQ is in nearby Plant City.
It was a pleasant 59°F at the start with clear skies. My weather app tells me it was 100% humidity at the start but I don't remember it feeling so humid.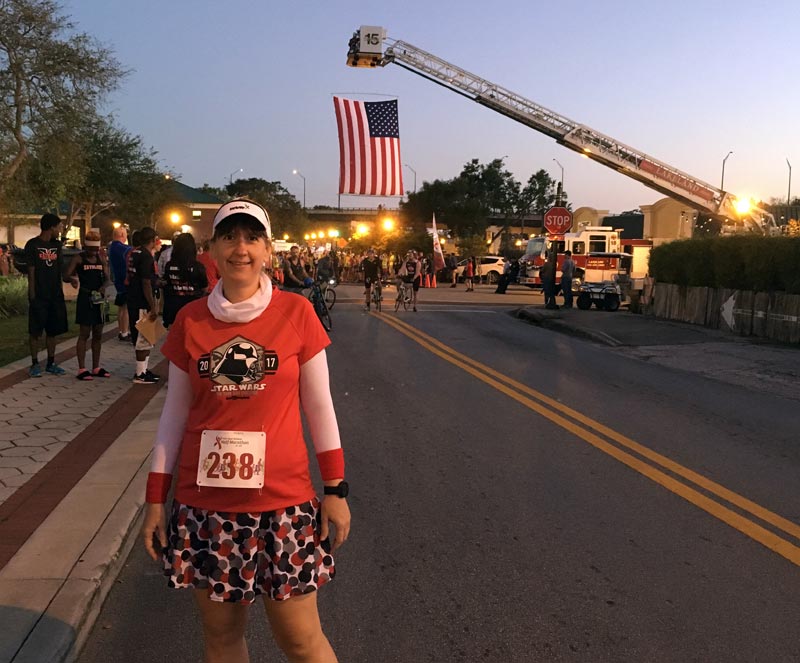 Mile 1, 2, 3: 10:32, 10:11, 10:49
For some reason I decided to hold off starting intervals, and ran the first two and a half miles straight. I felt good. There was a nice long downhill run at the start that I knew would be no fun on the way back.
Right from the start the on-course volunteers were awesome. There were plenty of course marshals and pointers and the water stops were well-staffed.
Mile 4, 5, 6: 10:39, 10:34, 10:37
I started to split my run with my regular walking interval, running 4 minutes and walking 1. I was still feeling pretty good.
The on course support continued to be impressive. Water stations with sport drinks were clearly marked with signs ahead of time to indicate where we would find water vs. drink -- so handy.
Mile 7, 8, 9: 10:51, 10:57, 11:11
Feeling good but slowing down, I realized I was on good pace to run a sub 2:30.
At the 5th water stop I had a total cup fail and dropped water, hopefully not splashing too much on the volunteer. I felt really bad about it. The volunteers were super nice though and I managed to get a cup from another volunteer.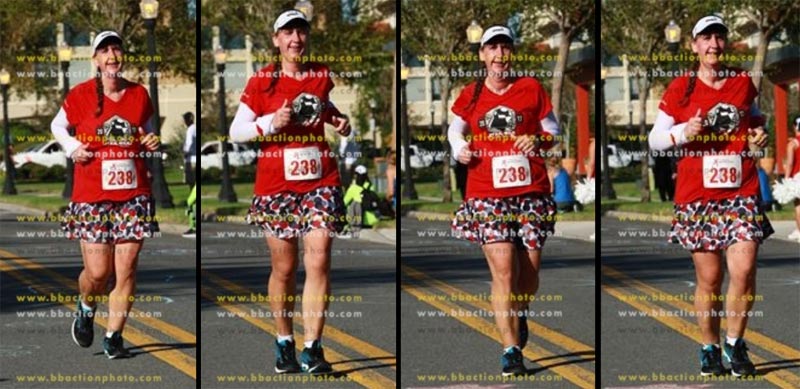 Mile 10, 11, 12: 11:25, 11:37, 12:07
We ran around Lake Hollingsworth, which was full of ducks, geese, and pelicans. The nice scenery here was a great distraction when my hamstrings started aching. I tried hard to keep up my pace. I ran by a Purple Gallinule and started laughing -- normally I would stop to take a photo of a PUGA.
There was a 70 foot elevation gain in mile 12, which isn't a lot but for a flatland runner like me it was a mountain! I power-walked up as best I could, trying not to lose too much time. Course marshals and spectators here encouraged us back-of-the-packers to keep moving.
Mile 13+: 12:01, 2:49
For this last mile we circled around Lake Morton before another uphill climb to the finish. Arthur saw me on the course somewhere here and cheered me on. I knew a PR was just out of reach but sub 2:30 was still possible if I could make it up the last little hill without a total crash and burn.
We ran past downtown and towards the finish line. I did my best to run in and finish strong, beaming that I was coming in under 2:30. I finished at 2:26:19, my second fastest half marathon, 2:12 off of my PR. When I checked my results later I was amused to see that my overall pace was 11:11. On 11/11!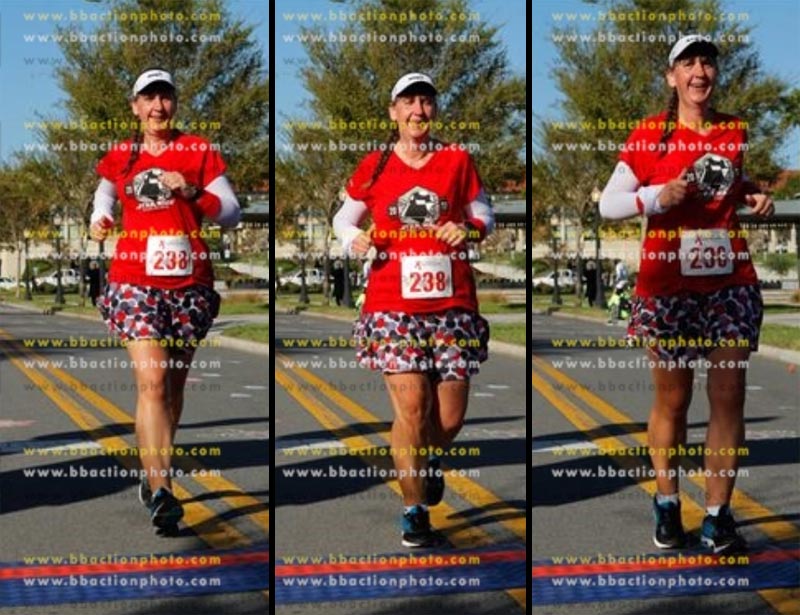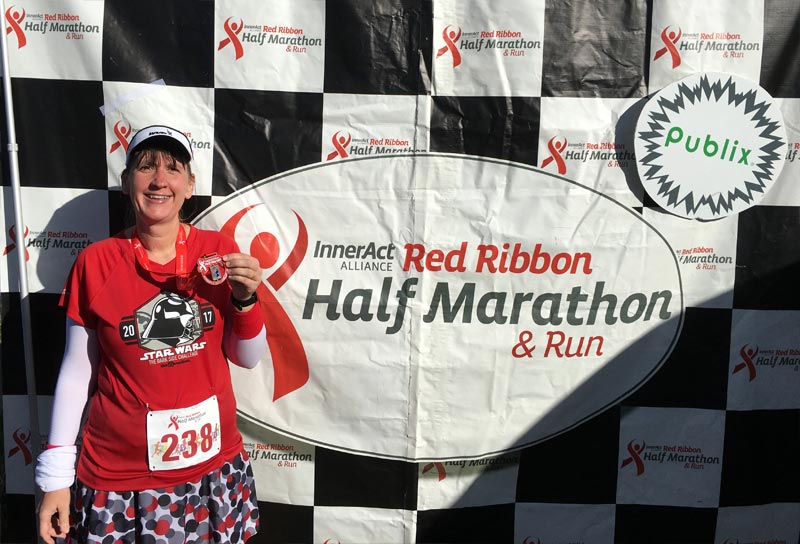 After Party
The runner village after this race had a lot going on. Title sponsor Publix was giving away chocolate milk, lunch boxes, tote bags, and treats. Runners got bananas and water too, of course. It was a nice atmosphere and we only saw a little bit of everything because there was more going on by the 5K and kids run finish lines.

Recommendation
This was one of the most well-organized races I've run. The volunteers on course were amazing, cheering us from start to finish. It was a great scenic course with pretty good swag. Highly recommended.

Chip time: 2:26:19
Placement details: 14th of 29 in age, 215th overall out of 330 finishers
Race Amenities: Really nice soft t-shirt and spinner medal. Various freebies at the runner village after the run.
Cost: $54.38
Report written December 11, 2017
Professional race photos (c) BB Action Photo