Race Recap: Chimpathon 16K 2018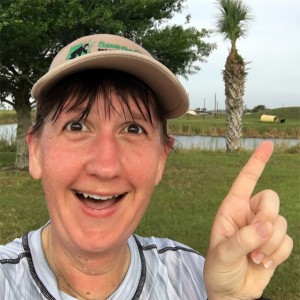 I ran my first Chimpathon in 2017. This year, instead of driving down on the day of, Arthur and I got a hotel close to the race so we could make a little weekend getaway out of it. We arrived in the area Saturday night for the Sunday morning race.
Chimpathon is a special 16K race that takes place in Fort Pierce, Florida. The course takes runners from the St. Lucie County Fairgrounds to the Save the Chimps sanctuary, normally closed to the public, and back to the fairgrounds. The 2018 run was the fourth annual.
Training & Goals
I hurt myself the day before Chimpathon while running a trail race at Colt Creek State Park. I had to modify my already low expectations (time-wise) for this race, considering my badly bruised knee and aching chest, later determined (self-diagnosed) to be a bruised or fractured rib or ribs. My plan all along was to do pretty much what I did last year, only slower -- run the approximately four miles to the sanctuary, walk through Save the Chimps, and then run a bit slower on the way back.
Race Day: April 15, 2018
Our hotel was close to the fairgrounds and I was able to get my bib on the way down on Saturday so we didn't have to get up too early for this race (winning!). After we got the car parked Arthur and I looked around the starting area and before too long it was time to run! It was about 75°F with 94% humidity at the start of the race.
Mile 1, 2, 3, 4: 12:33, 12:08, 12:10, 11:49
I fully expected my knee to give me trouble, but from the time I woke up to the time I started running I felt no problems there. It wasn't until I started running that my chest started bugging me, especially when trying to take in deep breaths (classic symptom of bruised or fractured rib). I tried to keep my pace nice and easy.
These miles take us over a pedestrian bridge and then along Okeechobee Road before turning north along S Header Canal Road to the sanctuary. It was a nice distraction to hear Eastern Meadowlarks and Towhees singing along the way. I also saw a couple of Loggerhead Shrikes.
At about mile 3.5 I could hear the chimps calling. Before hitting the sanctuary sometime during mile 4 the lead runners were already coming back. That always gives me a boost somehow -- cheering them and marveling at their speed makes me happy.
Mile 5, 6: 15:31, 18:59
Strolling through Save the Chimps is the best part of Chimpathon. Seeing the chimps and their wonderful sanctuary is so much fun, and a bit emotional.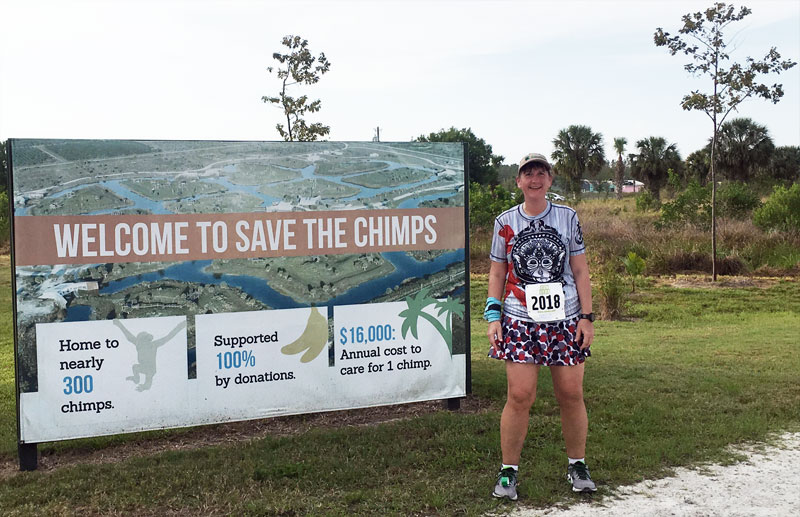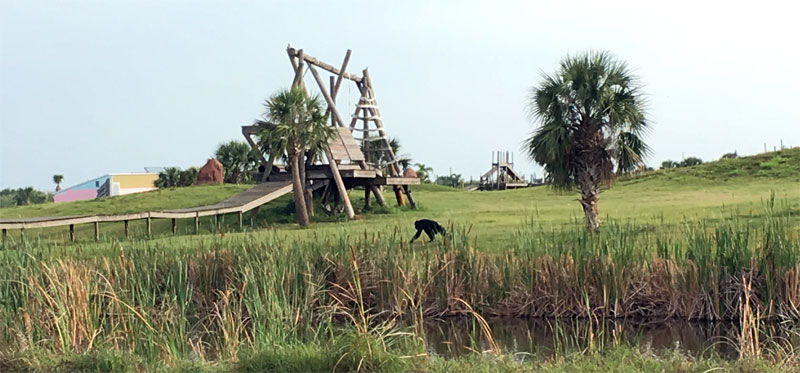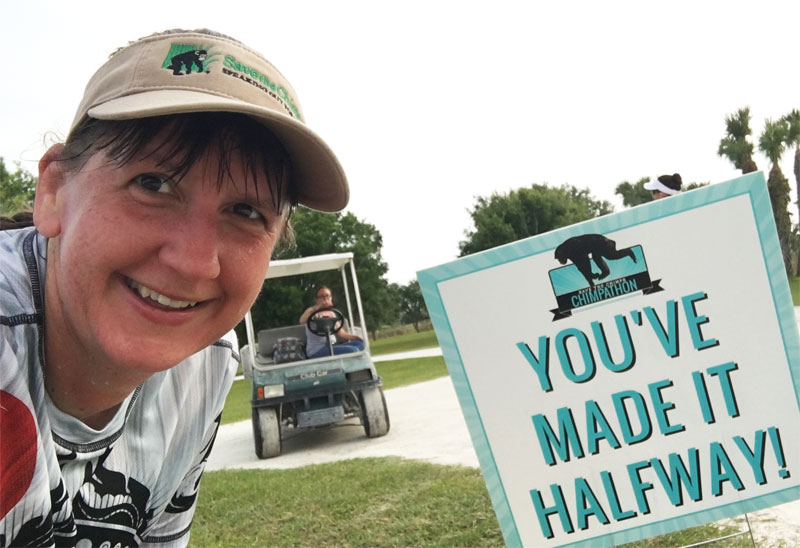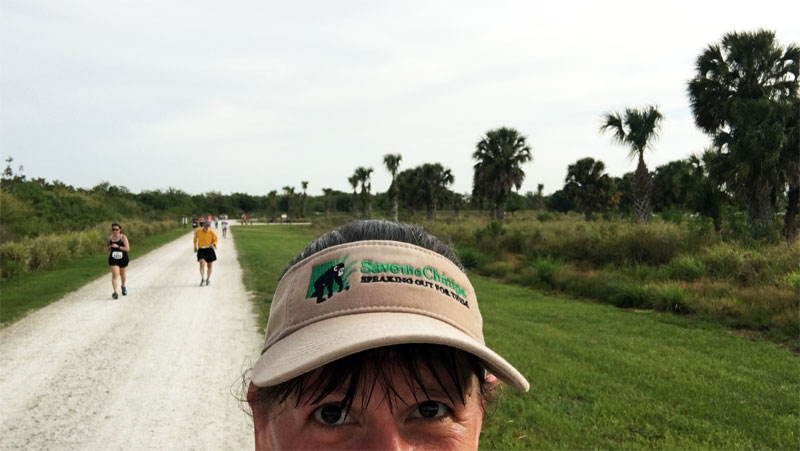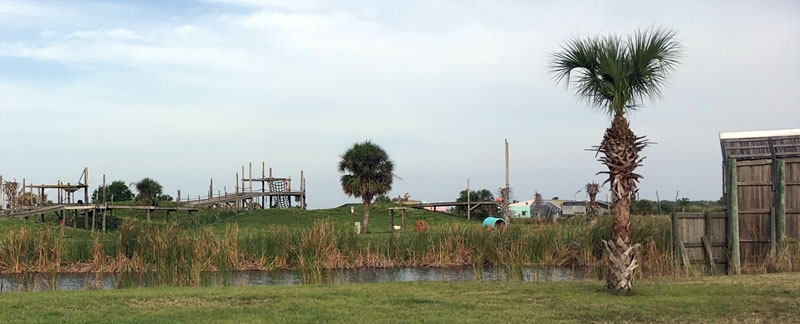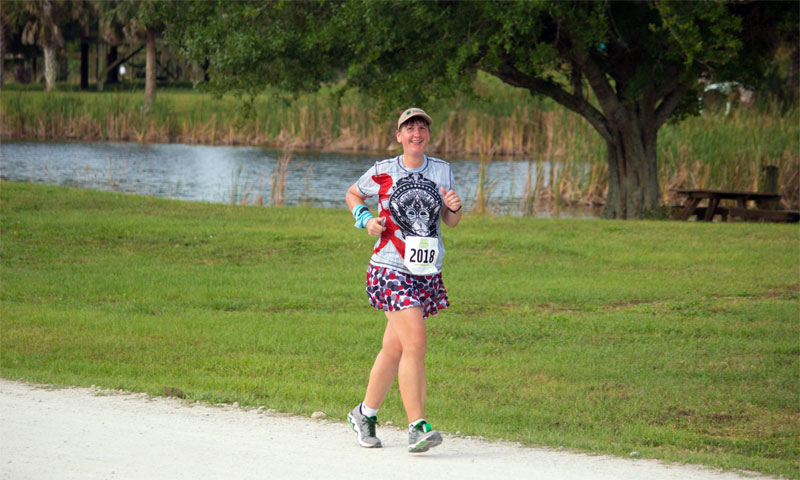 Mile 7, 8, 9, 10: 12:58, 14:18, 15:11, 15:19
On the way back the sun was higher than the trees so there wasn't much by the way of shade. It felt hot, and then there was a strong headwind that was tough. I walked a lot. 16K is 9.94194 miles; this time my GPS gave me exactly 10 miles for the race. I was glad to get back to the fairgrounds and finally cross that finish line.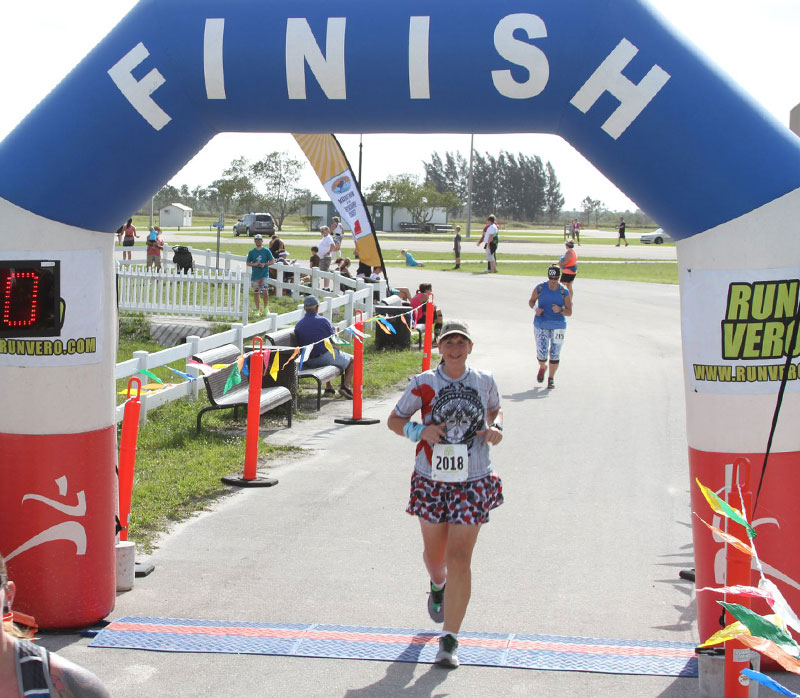 After the Race
Like last year, there was a nice spread of treats, including chocolate milk. Unfortunately there was no water left by the time I finished, and there were plenty of runners who came in after me. This was extremely disappointing. Arthur and I didn't linger too long. We had a late checkout at our hotel so there was time to go back and shower before hitting the road back home.
Recommendation
This is still a favorite race of mine, and I will be back. The website is great, swag is above-par, and the unique course through the sanctuary can't be beat. Course support, water stops, traffic control and pointers were all excellent. The missing water at the finish line was a huge disappointment that I hope will be rectified in future runs. Mistakes happen.
Chip time: 2:20:55
Placement details: 40th of 69 in Age Group, 238th overall out of 409 finishers
Race Amenities: Nice cotton t-shirt, finisher medal, drawstring backpack, Save the Chimps sunglasses & shoelaces, free race photos
Cost: $64.10
Report written April 24, 2018
Sanctuary running photo and finish line photo (c) Figleaf Photography