runDisney Race Recap: Tower of Terror 10-Miler 2022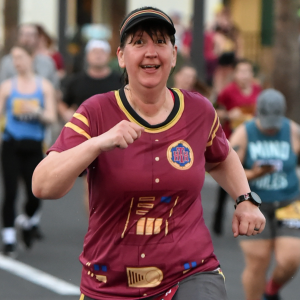 The inaugural Springtime Surprise race weekend concluded with the Sunday event: the Tower of Terror 10-Miler.
Training & Goals
My plan for the weekend races was to have fun and finish before the sweepers. I aimed to start towards the front of my corral to have an extra buffer for photo stops and other shenanigans. I planned to follow my run:walk intervals on the road, stop for selfies at the mile markers, and mostly walk while in the theme parks to enjoy the entertainment, characters, and atmosphere.
Costume
There were lots of bellhops running Sunday morning. I dressed as a Star Wars style bellhop: Darth Bellhop. I matched the printed costume shirt with a Tower of Terror bellhop headband, attached to a Headsweats visor, and a Tower of Terror bellhop skirt.
Race Day: April 2, 2022
Arthur and I left home at about 2:35AM, and had the car parked at about 3:35AM. During the drive down on I-4, overhead signs indicated to look out for a reported wrong-way driver! Yikes! That kept us on extra high alert as we sped down the highway.
We got the car parked and headed to the morning's photo ops before I made my way to the corral.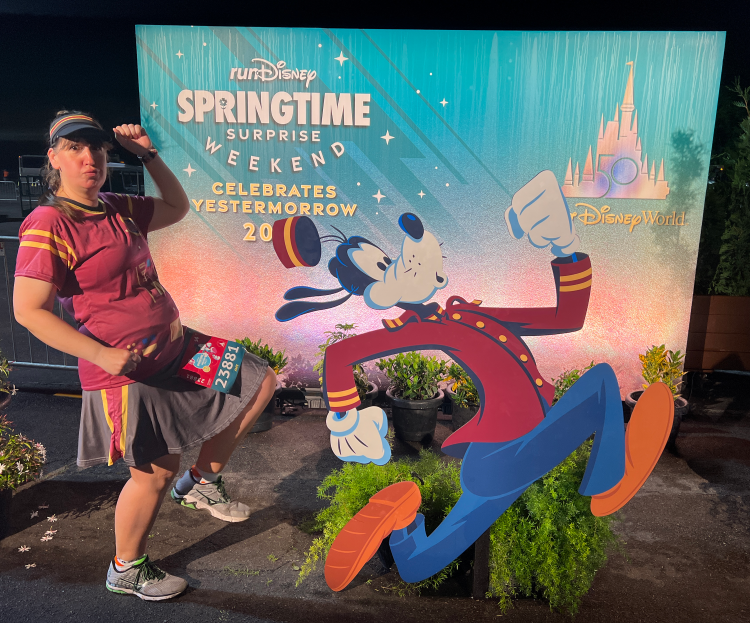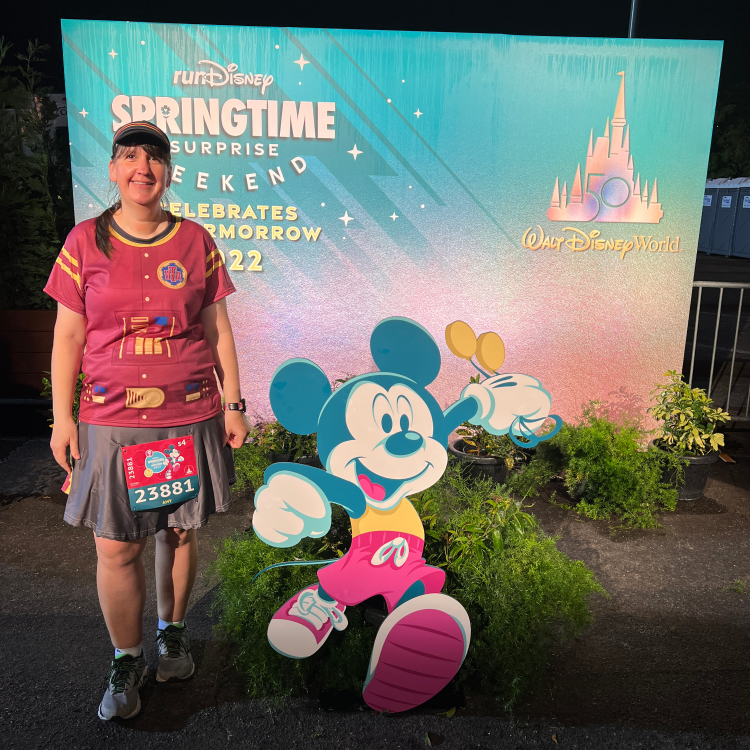 I tried to make my way toward the front of the corral, but as we started moving forward I must have mis-calculated my tangents, because at the last turn I looked back and there were hardly any runners behind me! I did not want to DLS (Dead Last Start)!
With the release of each ever-shrinking wave, I tried to improve my position. The second half of corral 4 was released in many very small waves, my guess is due to congestion other runners were experiencing on narrow parts of the course.
When I got to the front, I was just behind the 2:30 pacers. When I crossed the line with them at 6:10AM it was 64°F with 100% humidity and I was feeling 100% insecure about my position in the race.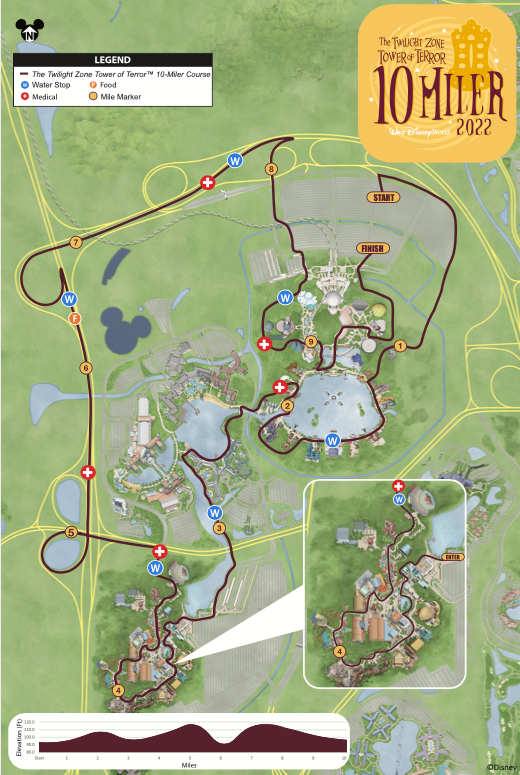 Mile 1, 2, 3: 13:55, 13:56, 14:30
I ran with the pacers for a bit, trying out their :15/:30 ratio as we navigated getting out of the parking lot. At this time they were a little ahead of pace, anticipating course congestion later on, and maybe banking a little time for the three overpasses on the course. While the pace was comfortable, the run:walk ratio was not, so I decided to run ahead. One of the pacers loudly announced each interval change, so I figured I would hear them when they caught up to me. In the meantime I'd be able to stop for some photos.
Shortly after I left the pacers behind, I felt some weird chafing on the underside of my upper right arm. I looked and there was a pale red patch forming. What the heck? I'd been wearing the same brand and size of shirt for all races with no issues. Ugh. I kept my hand on my hip during my walk breaks to keep my arm from rubbing on my shirt. I stopped at the first medical station to get some Vaseline to smear on the area. This helped tremendously and I ended up quickly stopping at every medical tent for the duration of the race to slather on some more Vaseline.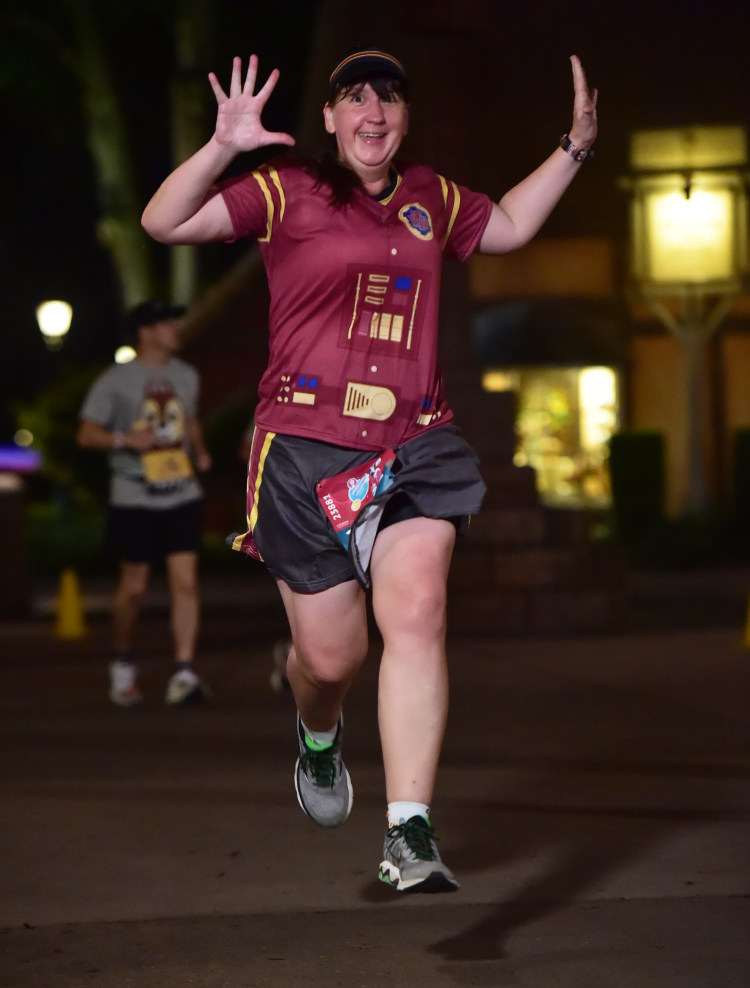 While the elongated corral mini-wave release process was annoying at the start, I experienced zero course congestion around the Boardwalk, and in the narrow path between Boardwalk and Hollywood Studios, which was actually pretty awesome.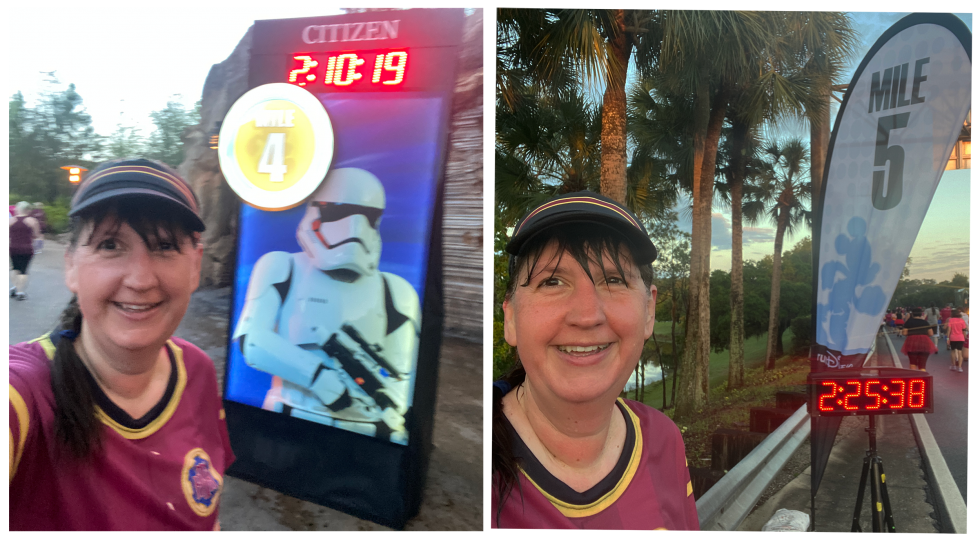 Mile 4, 5: 15:09, 15:09
These miles took us through Hollywood Studios, the best part of this 10 mile race.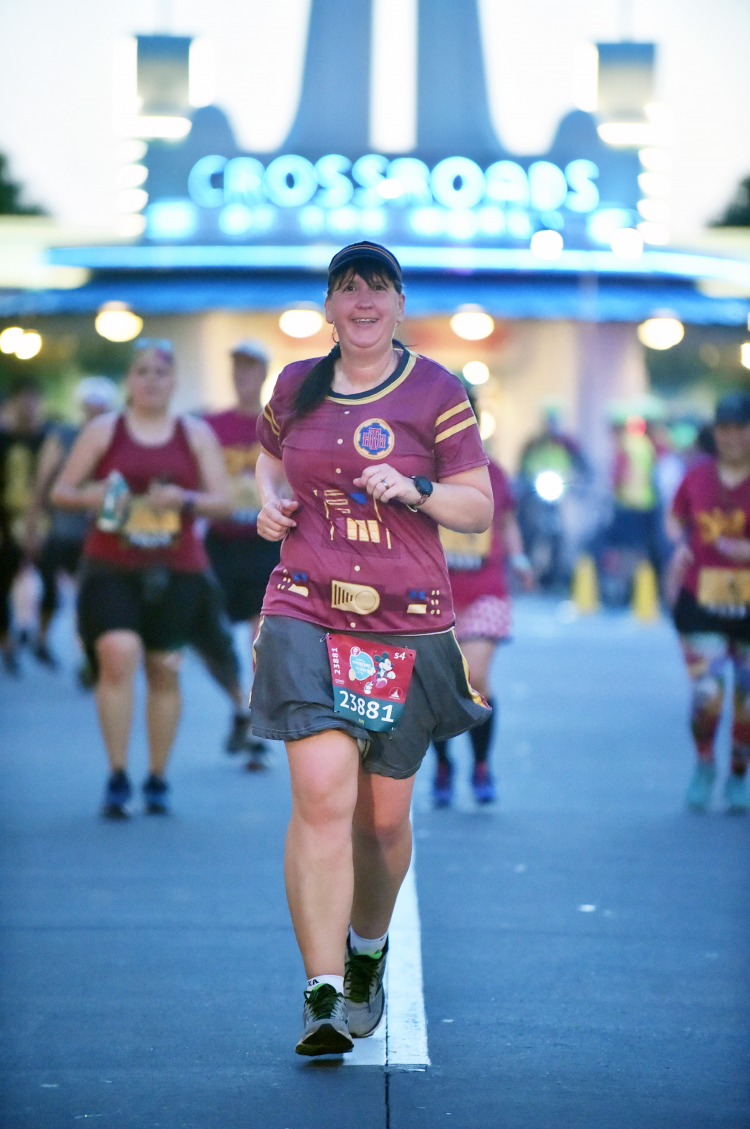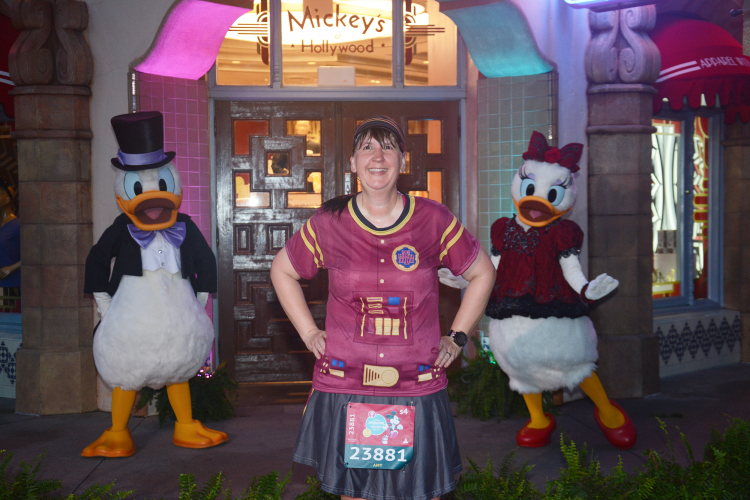 We ran past Star Tours, and then through Galaxy's Edge. I felt a little bit emotional in this part, really missing the Star Wars races and thinking this run through this part of the park should have been for Dark Side runners. *sniff*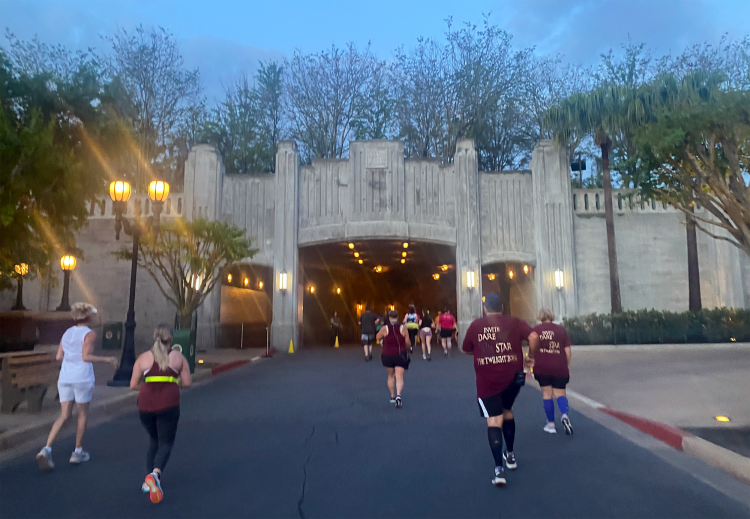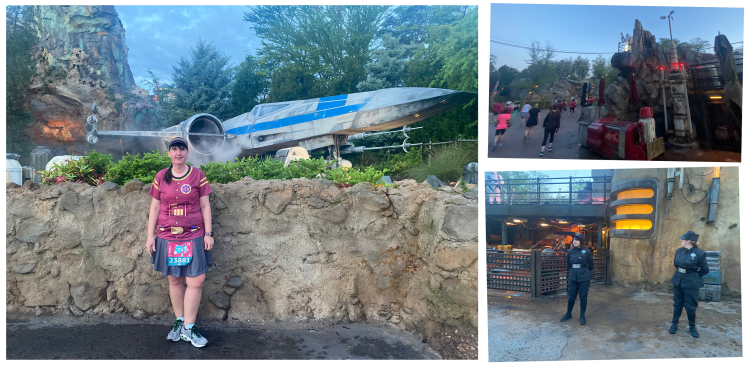 Next we ran through Toy Story Land before heading down Sunset Boulevard to the star attraction, the Tower of Terror.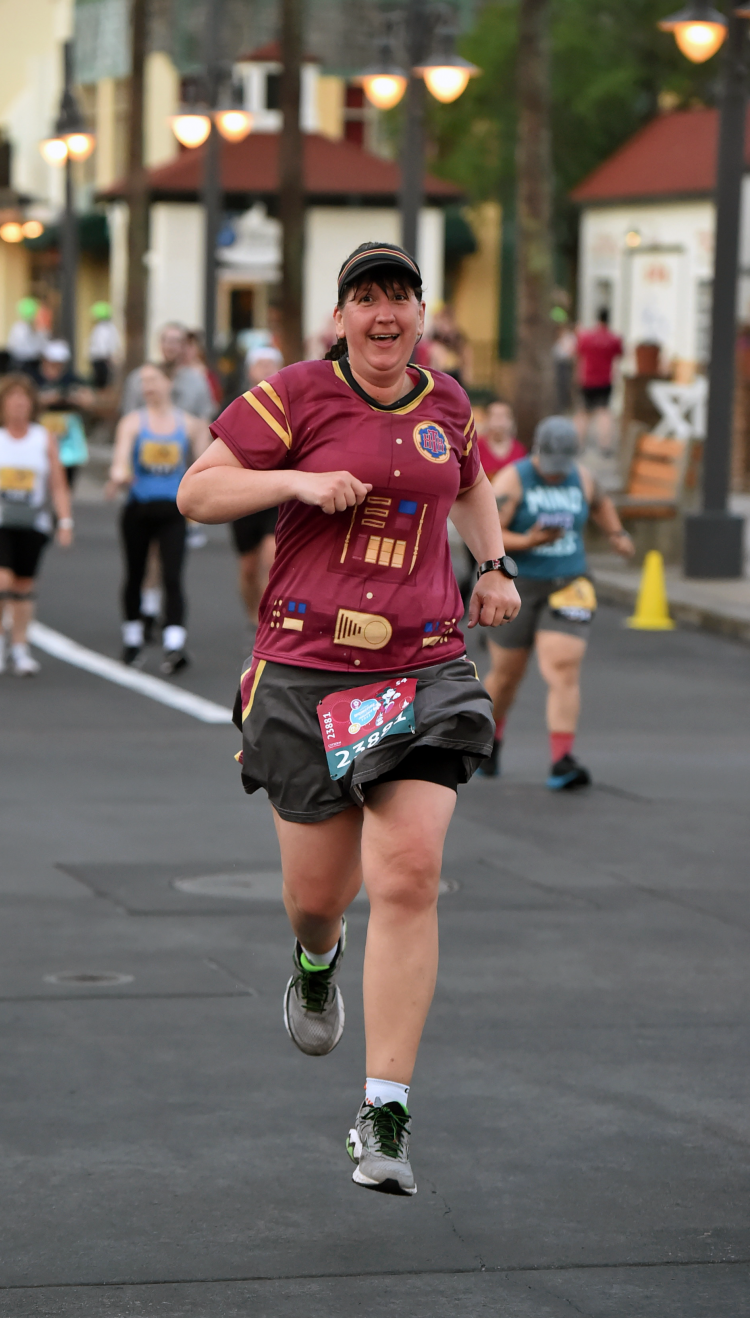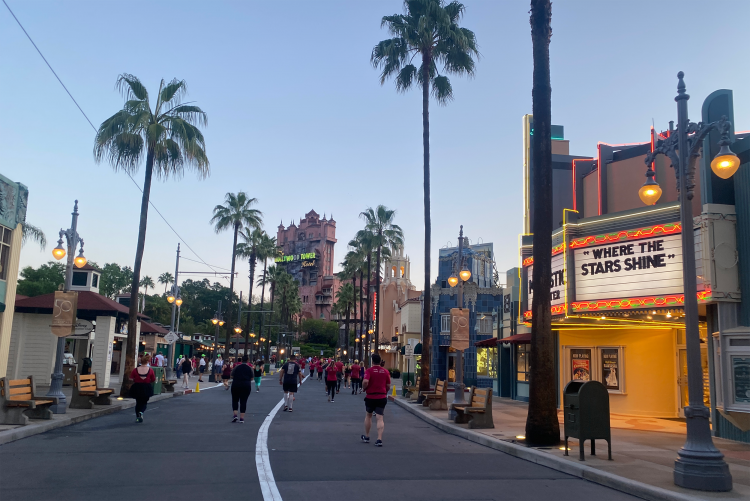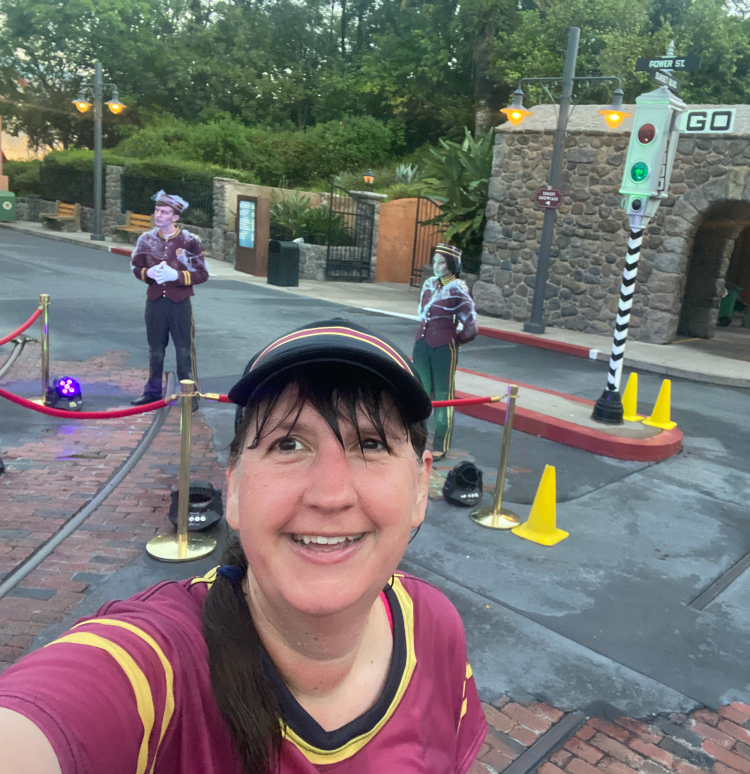 Leaving Hollywood Studios, all that was left to run was five and a half highway miles, including three (!) overpasses. Around here the 2:30 pacers passed me, and I was fine with that. I knew I had the cushion of the 2:40 pacers behind me, before the Balloon Ladies would bring up the rear.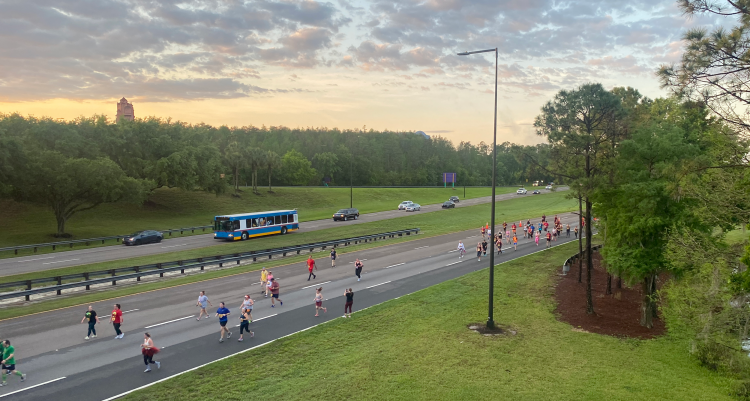 Mile 6, 7, 8, 9, 10+*: 15:30, 16:04, 16:11, 16:24, 17:28, 3:28*
There were a few characters on the course for this part of the race. Four from the Adventurer's Club were out, along with a big camel prop.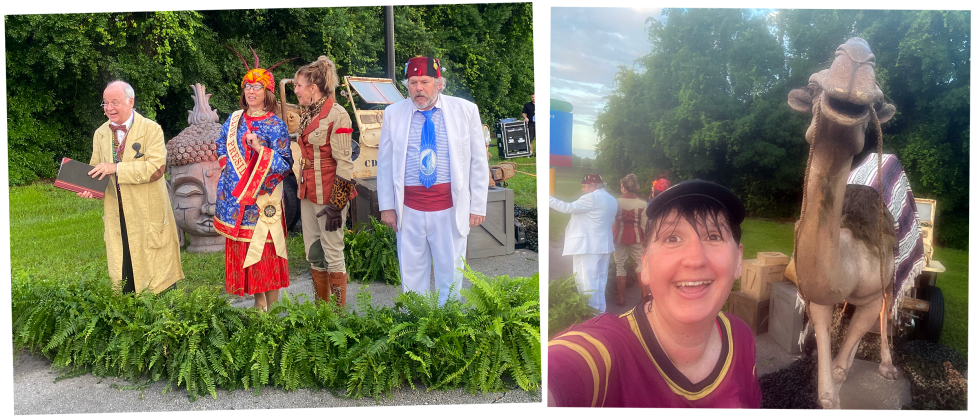 And some haunted hotel guests in full makeup, including popular Disney host Mark Daniel.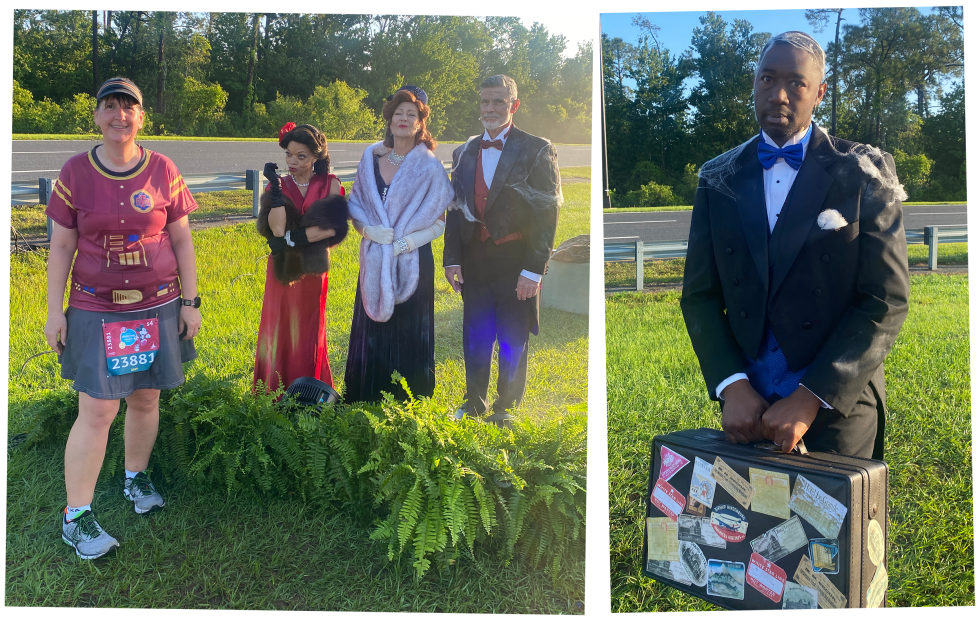 Other characters that I skipped were formal Goofy, Scrooge McDuck, and Bowler Hat Guy.
The final mile was back through Epcot.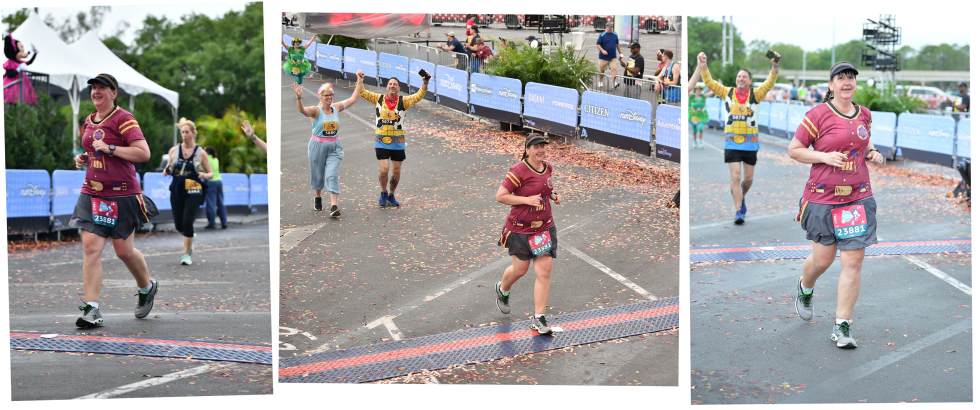 After the Race
I met up with Arthur, had a celebratory beer, and headed to Caribbean Beach for a quick wipe-down and change of clothes before heading to the Magic Kingdom for lunch at Skipper Canteen. I'm so glad I noticed the weird arm chafing early on, and could treat it with Vaseline, thanks to the medical volunteers on the course. It could have been painful!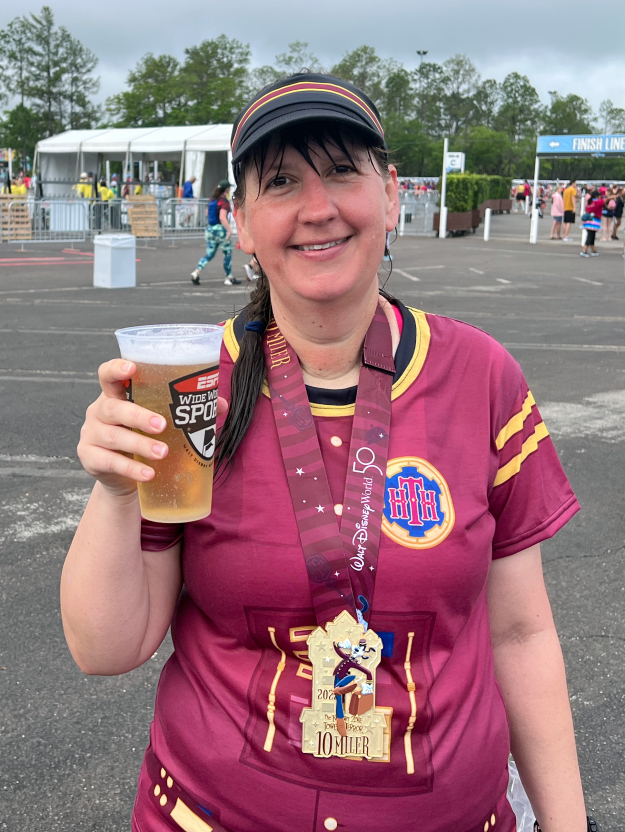 Recommendation
It was awesome running so much in Hollywood Studios. The second half of the course was kind of a slog, and I wish the course could have been run in reverse (with the boring stuff first). Otherwise it was another fun runDisney race!

*Garmin data: my watch always shows a little bit extra mileage
Chip time: 2:37:40
Placement details: 392/622 in Age Group, 7317/10819 overall
Race Amenities: Nice tech shirt, awesome Tower of Terror finisher medal, plus challenge medal and shirt
Cost: $474.37 for the challenge