Race Report: Wine & Dine Half Marathon 2016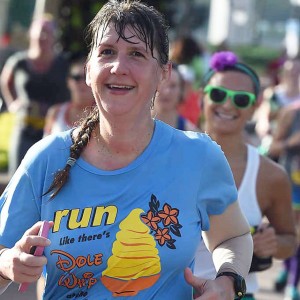 Disney's Wine and Dine Half Marathon Weekend concluded with the half marathon on Sunday. I ran the 10K as well so I had an extra medal for Lumiere's Two Course Challenge to look forward to.
I wore a Wine & Dine race-appropriate food-related tech shirt for the race along with my favorite running shorts. And the right shoes -- no blisters today!
The course took runners from ESPN Wide World of Sports to Animal Kingdom and Epcot. We ran a lot of backstage areas, including by a waste water facility and along a bunch of greenhouses.
Training & Goals
This was it! My second and last half marathon of the year. My performance at Lighthouse Loop the previous week was so disappointing. Going into this race I wasn't sure if I would run it or stop for all the photo ops or something between. I just hoped to finish fit rather than unwell. I didn't feel tired from the previous races since I took them both nice and slow. I was ready to run early Sunday morning!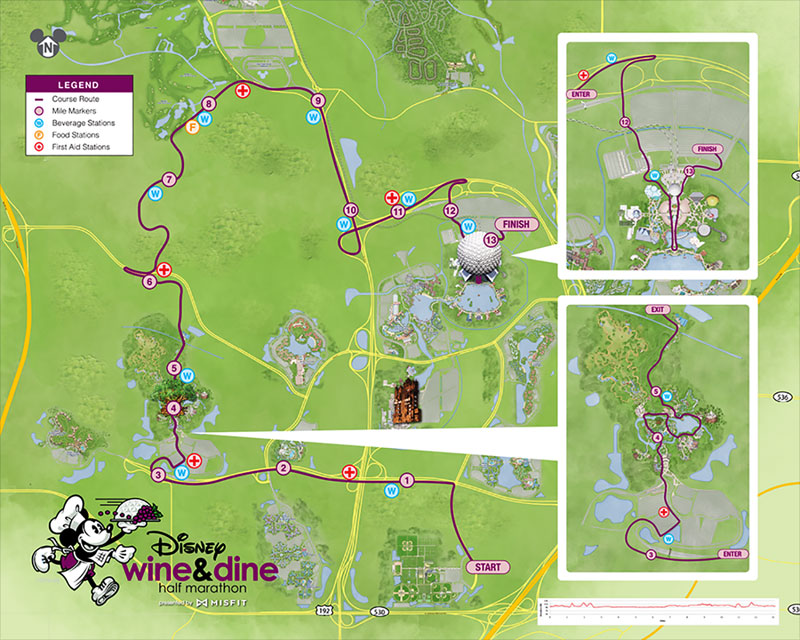 Race Day: November 6, 2016
Again this race started at 5:30. The race started at ESPN but parking was at the finish line at Epcot, which meant runners had to allow time to take a shuttle bus to the start. Arthur and I left home crazy early and arrived in plenty of time for me to get into my corral in time, which was actually shortly after the first runners took off. I was in corral F (out of L, so 6th of 12).
For this race it was 64°F with cloudy skies and 100% humidity at the start. It was a bit chilly just standing around so I brought along a hideous hoodie I had bought at Goodwill a few weeks earlier as a deliberate race throw-away. Next to the garbage bins along the starting area I was thrilled to see bins for recycling clothes.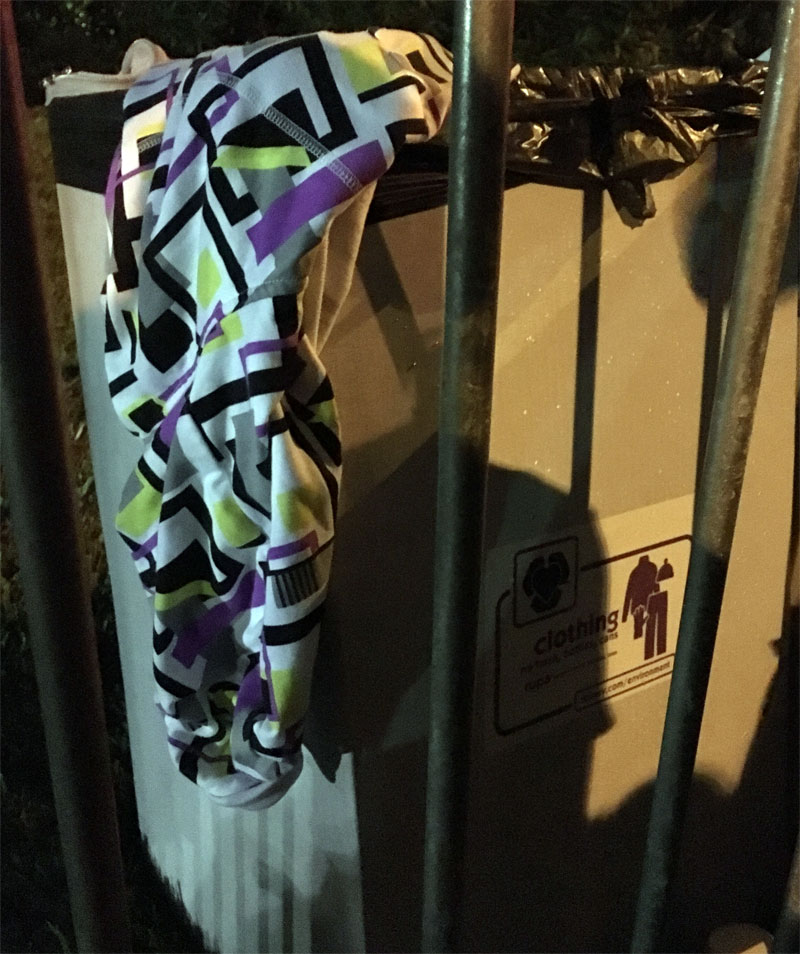 Mile 1, 2, 3: 12:23, 11:22, 11:35 | 5K split: 36:36
After the congestion at the start of the race, I concentrated on taking it slow. These were road miles along Victory Way out of ESPN, then west along Osceola Parkway towards Animal Kingdom. The first photo stop I saw was with the Country Bears along the road. I took a quick snap of the bears without getting in line and ran on. Arthur went to spectate along the overpass by McDonald's so I saw him and said hi just past the marker for Mile 2.
I had an annoying equipment problem for this race. After the 10K on Saturday I noticed that the velcro on my phone armband was about to fail. I ended up wearing two waist packs for this race: one to hold my phone and one to hold my fuel. Taking my phone in and out of the waist pack wasn't nearly as smooth as in my armband so I wasted some time fumbling with it. I wish I had been able to snap more photos on the run but it was too much of a hassle and took too much time.
Mile 4, 5, 6: 11:11, 11:20, 12:12 | 10K split: 1:13:02
We entered Animal Kingdom towards the end of Mile 4 and were out again at Mile 5. I remember seeing Rafiki and Baloo here but I didn't stop for characters I'd already visited during earlier races. We continued out of Animal Kingdom along Bear Island Way and backstage areas for the next several miles. During Mile 6 we ran by a bunch of greenhouses with large topiaries set out for photo ops. I snapped a few pictures here too but didn't really stop. There may have been more characters on the course but I don't remember what they might have been. Mile 6 included a short out-and-back turnaround where runners were high-fiving each other. Below is a photo from the official RunDisney page from this part of the race.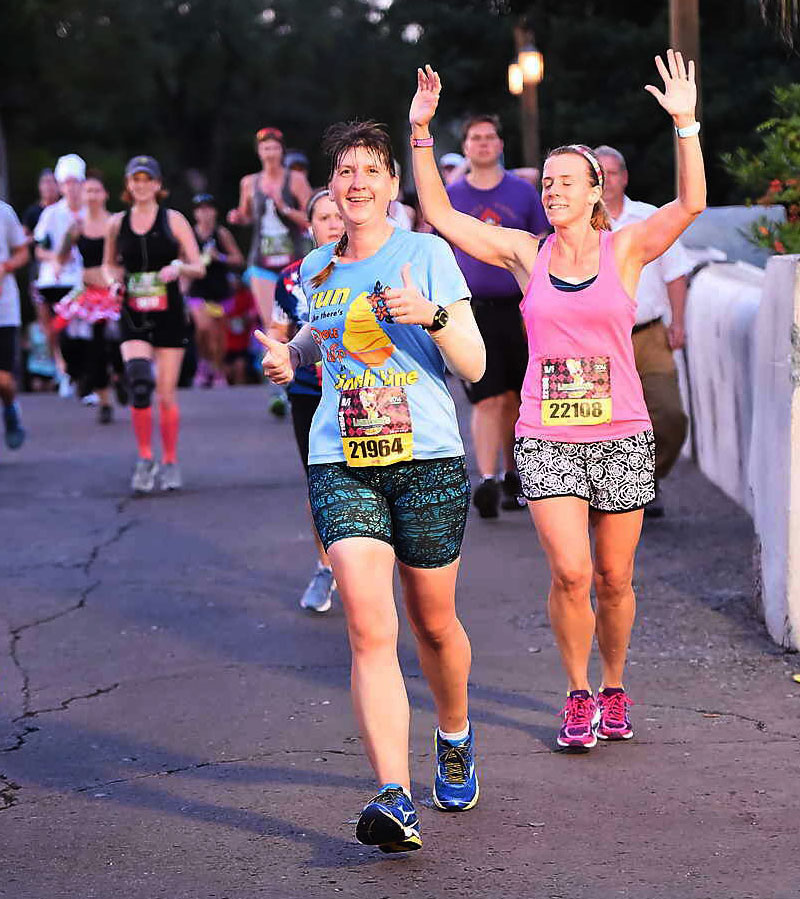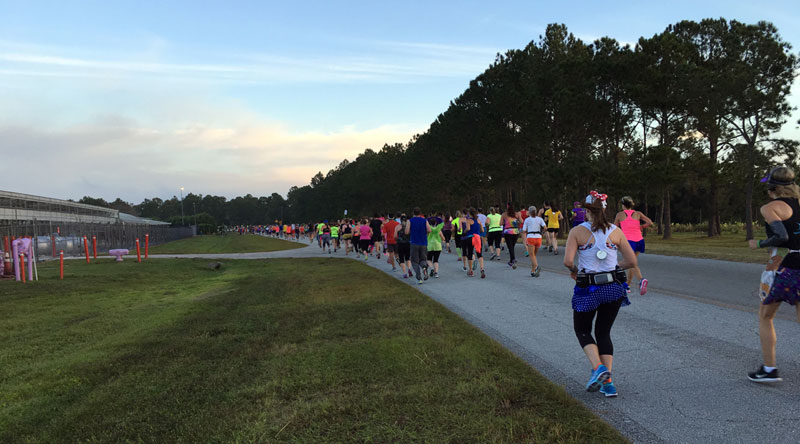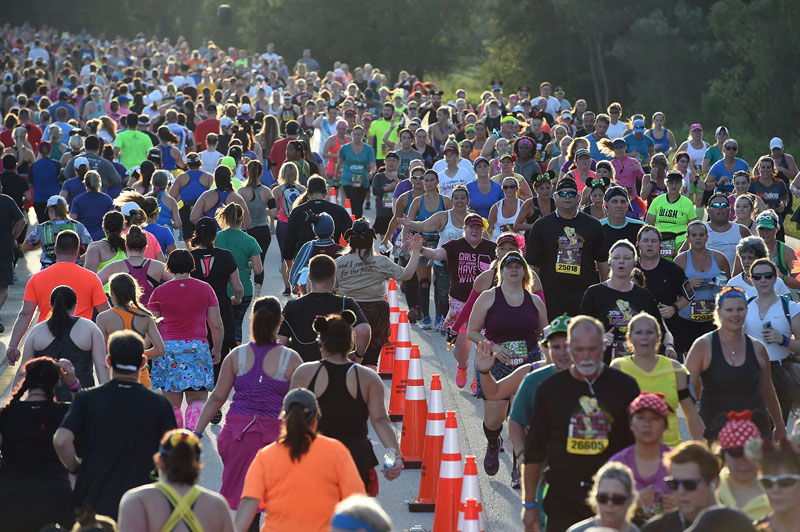 Mile 7, 8, 9: 11:14, 11:54, 15:51 | 15K split: 1:55:10
Mile 7 went by a backstage wastewater facility and then the road became wooded on both sides. It was really enjoyable but a lot of people complained after the race about stink around the water plant. I didn't notice! Also when I was running by the water facility there were suddenly many loud beeps all around me. Runner phones were sending out an Amber Alert. There was a bit of confusion for a moment - what's that alarm all about? - but someone shouted out "Amber Alert" so we knew it wasn't an alarm message specific to the race.
After the wooded area we ran past Disney's Palm Golf Course. Around Mile 8 Arthur texted me to ask if I wasn't stopping for photo ops since I was running fairly fast. I didn't see his text until sometime during Mile 9 when I stopped to stand in line to have my photo taken with Darkwing Duck and Launchpad McQuack next to an airplane. Approaching the photo op we could hear the theme from Ducktales playing so I knew something good was coming up. After this we turned onto World Drive through Mile 10 on the way to Epcot.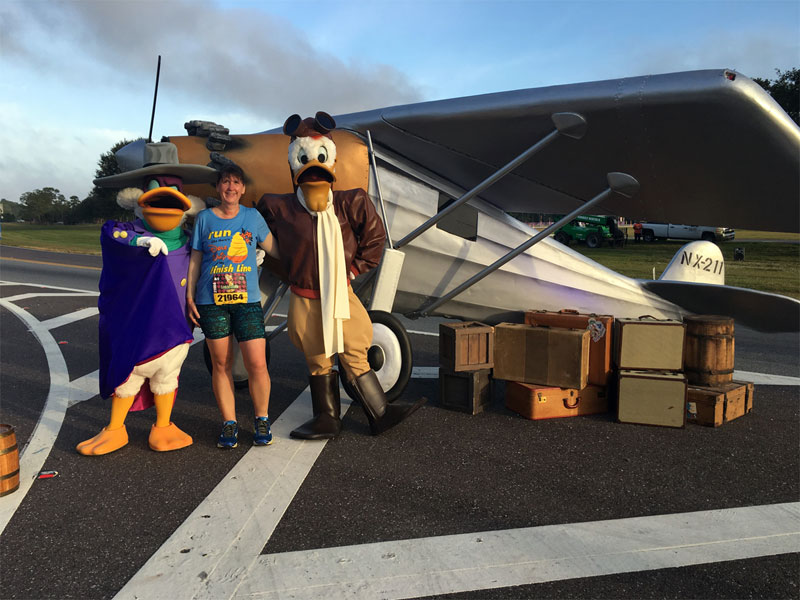 Mile 10, 11, 12: 11:44, 11:45, 12:09
The last miles were along Epcot Center Drive as we ran to the finish in the Epcot parking lot. The photo below of the balloon in the road is from the official RunDisney page.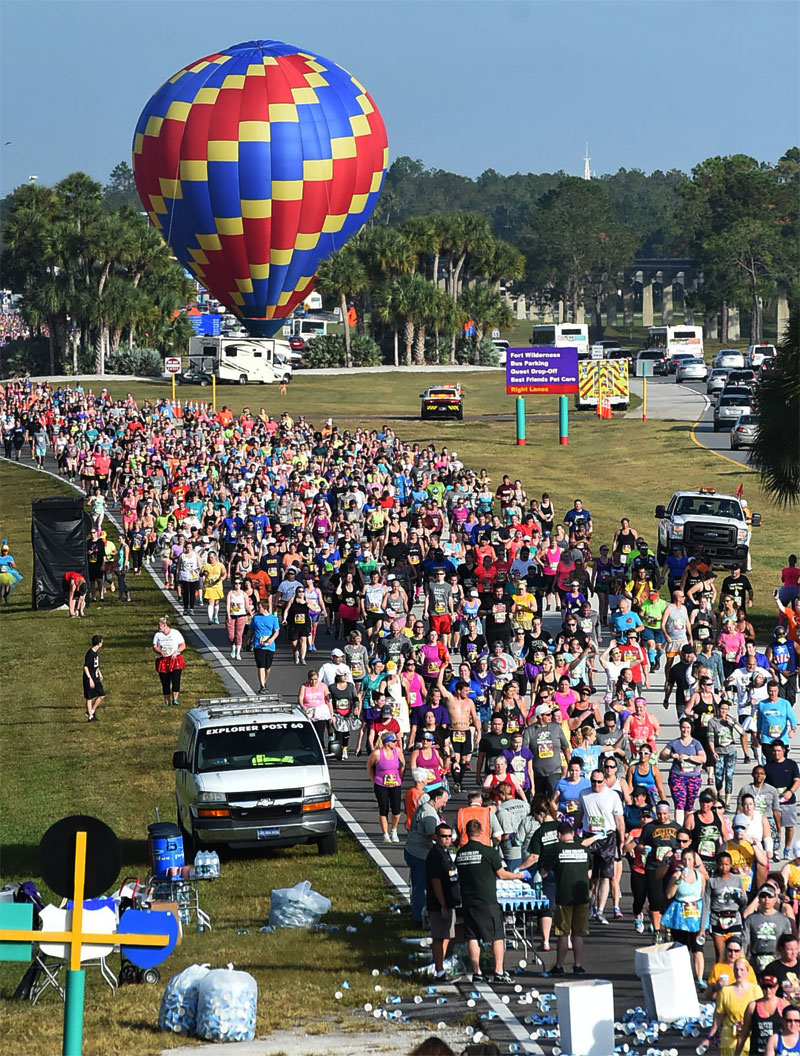 There were a lot of spectators as we ran into the bus depot area at Epcot. I got a free hug from someone wearing a T-Rex costume before I saw Arthur cheering me on.
Mile 13+: 12:12, 7:59*
The last mile took us through Future World and under Spaceship Earth before we reached the finish line in the Epcot parking lot. Before entering Epcot there was another character photo op. This one had no line so I jumped aside for a quick shot with Clarabelle Cow and Horace Horsecollar.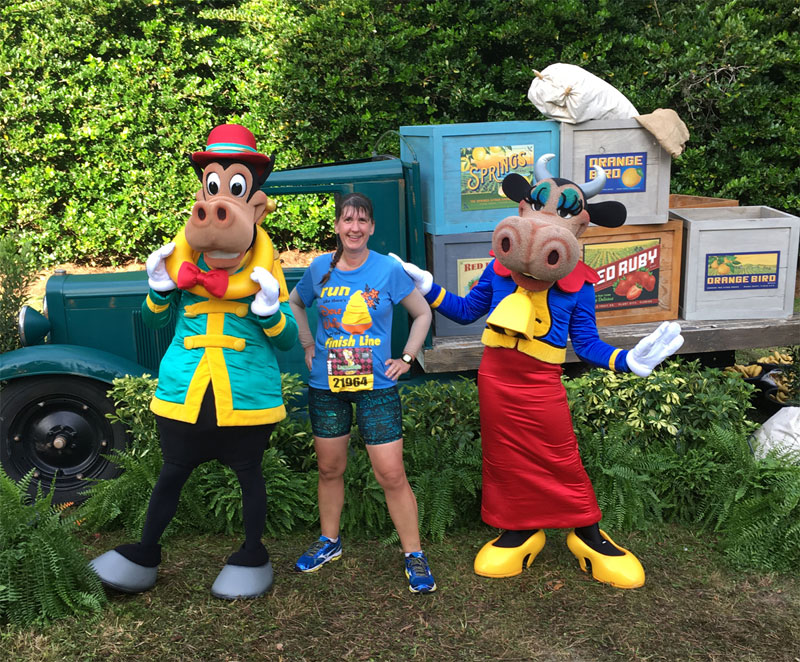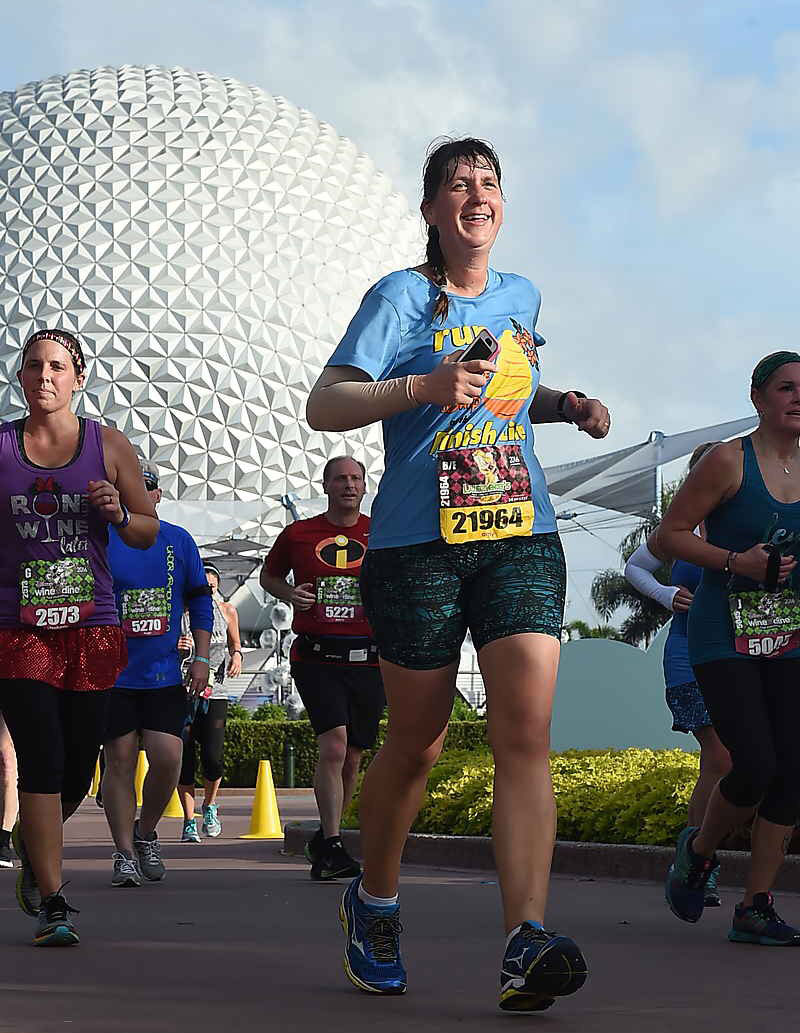 Arthur was there again at the finish line. I ran through and picked up my half marathon medal. A little further on I was directed to the challenge medal area to pick up my Lumiere's Challenge medal. This process was impressively smooth and I was able to get out and meet Arthur fairly quickly. I was extremely pleased with my finish time -- better than Lighthouse Loop and I paused or flat-out stopped for a couple of photos!! And I was pleased with how I felt -- really great! Tired but not exhausted. Happy to be done and ready for more Disney fun! It was a big boost in my confidence and just what I needed after Lighthouse Loop.
Arthur brought my other race weekend medals to me so I could have some photos taken with all of them.
Finally we caught Emile together with Remy. I had arranged my medals in chronological order but Remy moved the 10K race with his image to the front. Sneaky rat!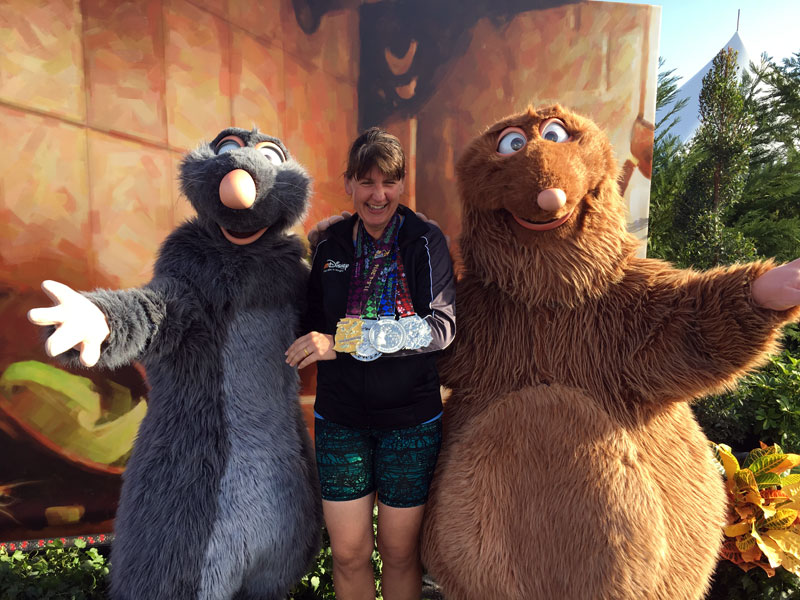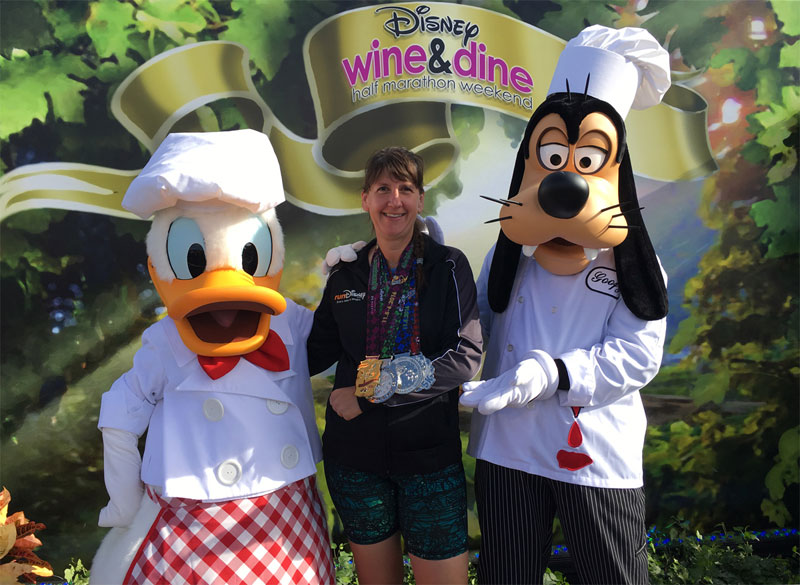 Chip time: 2:41:07 for 13.52 miles
Placement details: 368 out of 1174 in Age Group; 4728 out of 12651 total finishers
Race Amenities: All the great Disney stuff including long sleeve tech shirts for both the half marathon and the challenge, plus a bonus glow in the dark Lumiere challenge medal
Cost: I did the challenge which included both the 10K and the half marathon, which cost $351.95 total (YIKES).
*I often forget to turn off my Garmin after a race, so the final time is skewed.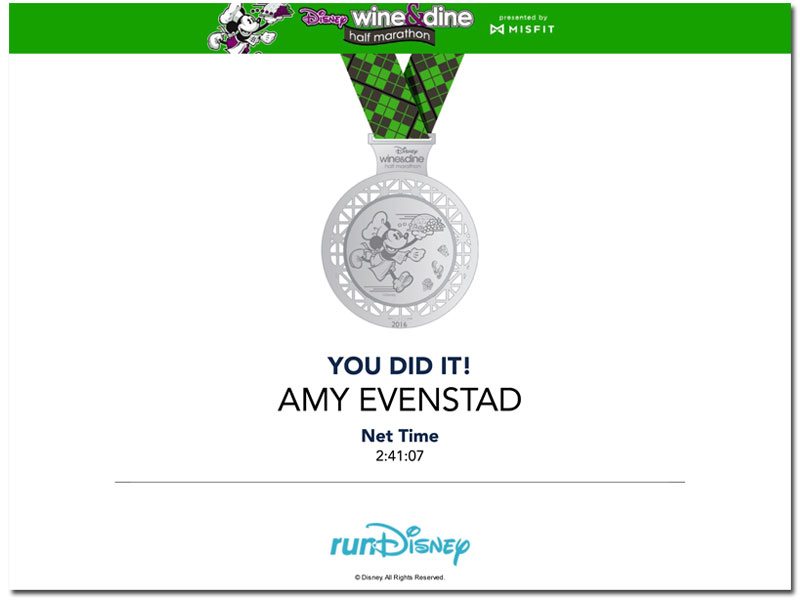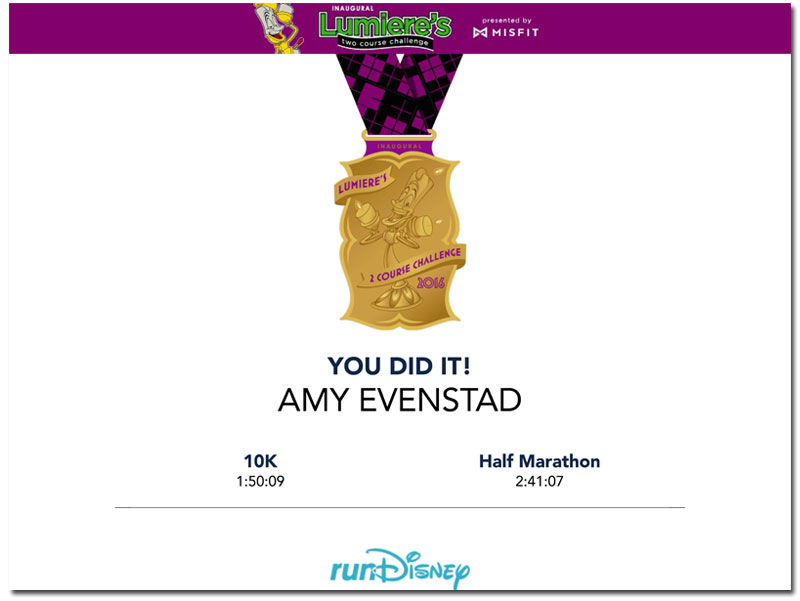 Report written December 12, 2016