Race Recap: Star Wars Rival Run Half Marathon 2019
Yay, it's time for my 4th consecutive Star Wars Half Marathon at Disney World! You can read my previous race reports here: 2016 Dark Side Half Marathon; 2017 Dark Side Half Marathon; 2018 Dark Side Half Marathon. This year's race weekend was rebranded as the Rival Run, with runners choosing to run for the Dark Side or the Light Side upon registration.
For this race I ran in a simple kit with a REBEL hat and an old Light Side "Run Like a Rebel" runDisney tech shirt with a trusty old SparkleSkirt.
Training & Goals
Still struggling with an achy Achilles, I took almost three full weeks off from running prior to the 5K on Friday. I fully expected to walk much of the weekend and had fears and doubts about completing the half marathon. I was very glad to have a middle corral (D of H) for an extra buffer but I expected to be unable to stop for many or any photo ops. The usual Disney race goal for me is to have as much fun as possible, and that was still the main focus, despite my fears.
Race Day: April 7, 2019
I woke up before my alarm for the third day in a row. Arthur and I left home at 3:33AM.
First World Problem Update: On this day I would be running with the third device in three days. First, for the 5K, I had an old iPod Touch with a front-facing camera only, after finding my daily driver iPhone 6S had completely died. For the 10K I ran with my old iPhone 4. My new iPhone 7 arrived Saturday afternoon and I had a few hours to play around with it before going to bed Saturday night. I didn't have a protective case for it but the battery case I had bought to save my iPhone 6S fits the 7 so I used that.
On the drive down we passed a terrible accident with a jackknifed semi truck twisted around on the side of the road so we had a bit of delay. We had the car parked at Epcot by 4:56AM. Arthur walked with me towards the buses before kissing me goodbye and wishing me good luck. At the start area I used a portapotty and got into my corral with time to spare.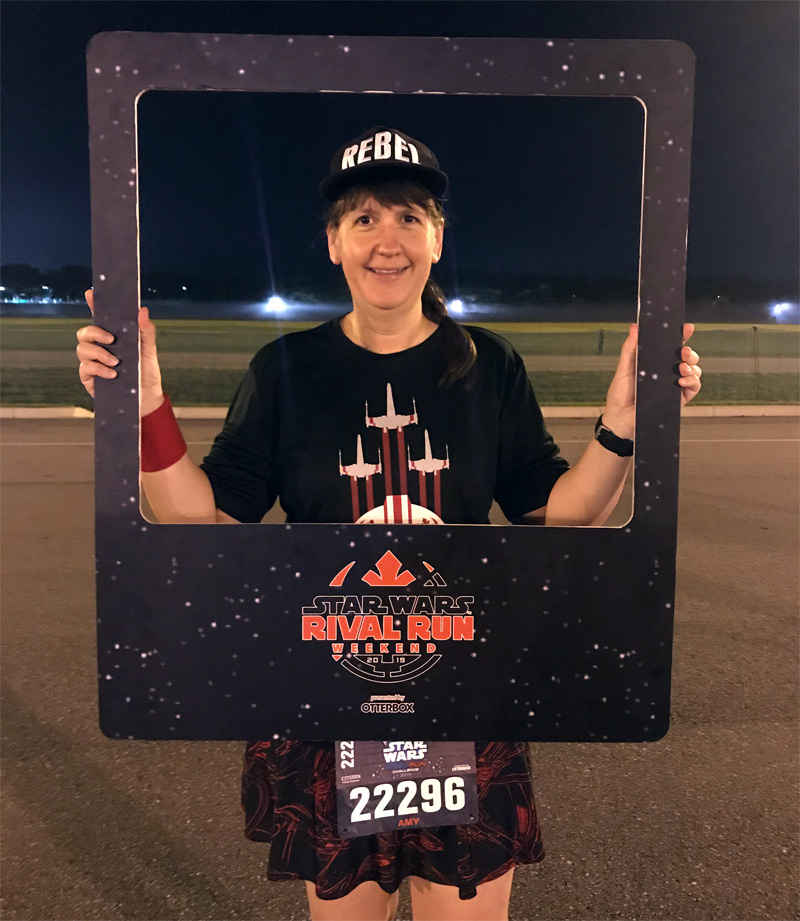 The course was very similar to the previous three Dark Side races.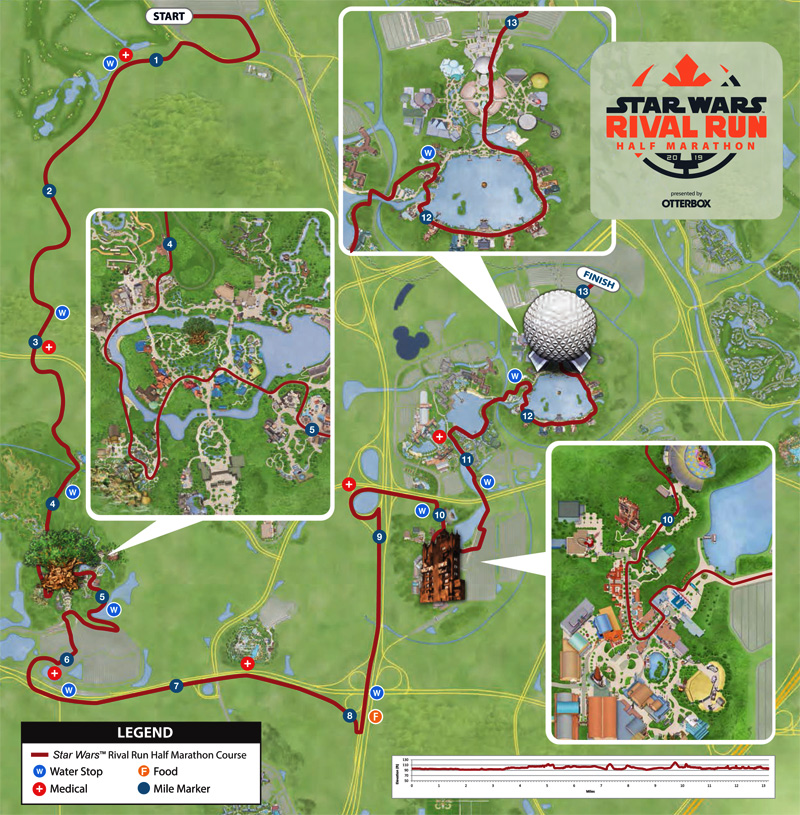 It was about 70°F with 100% humidity when I started the race at 5:46AM.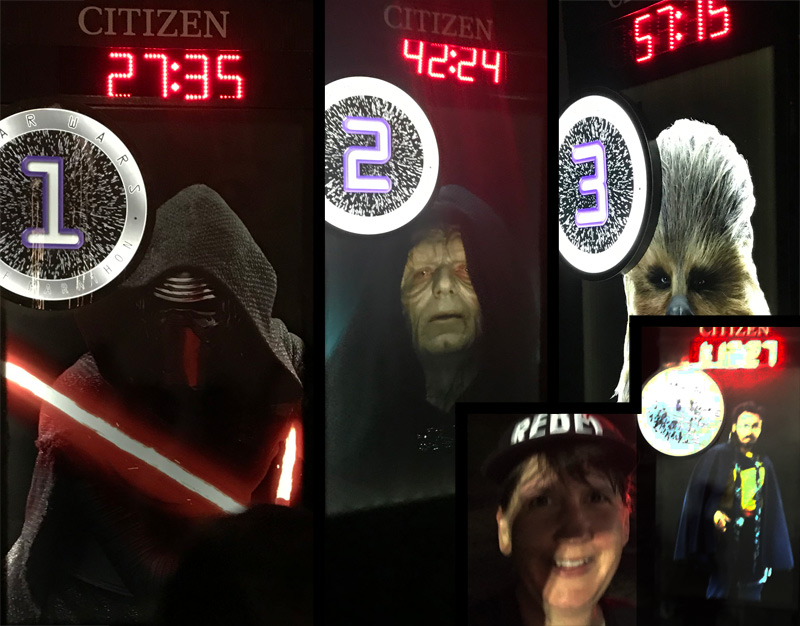 Mile 1, 2, 3, 4: 14:03, 14:37, 14:28, 14:53
I didn't really know what was going to happen in this race. I wanted to be able to stop for photo ops but I was worried about finishing in time. For these early miles I stopped to snap the photo ops that were set up just to have a record. I saw Rey, the Emperor's chair, Ewoks, and the trash compactor before reaching Animal Kingdom just after mile 4. I also stopped at each mile marker (at Disney, I always do). For these miles I did a slow 2:1 run:walk interval, to save my energy but bank a little time if I could.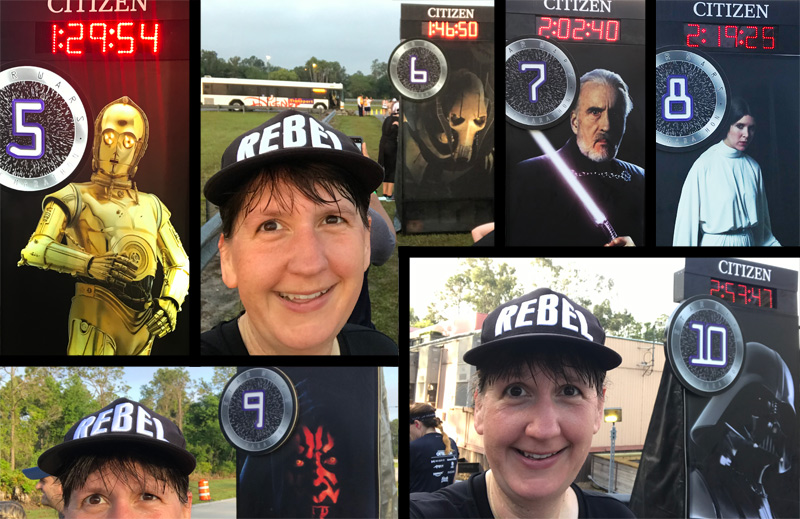 Mile 5, 6, 7, 8, 9, 10: 16:34, 16:10, 16:07, 16:31, 16:23, 16:31
I was feeling alright but my legs were pretty heavy at the halfway point. Makes sense, since I didn't train at all and had extremely low miles for the last several months. I slowed down further, knowing I had the buffer of a few corrals and the early 14-15 minute miles at the start. I switched to a slow and easy 1:2 run:walk interval most of this part. Outside of Animal Kingdom I stopped for some photos with the 501st that was out there.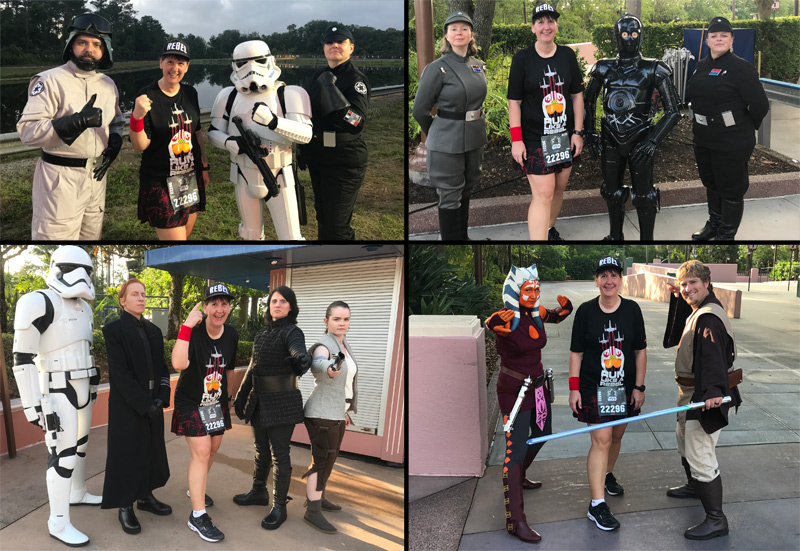 Arthur was waiting to see me in the Animal Kingdom parking lot, close to the Hoth Wampa photo op. I stopped for a selfie and a hug with Arthur but skipped Hoth. After leaving World Drive and crossing over at Buena Vista Drive runners could look back on the course as we went over the bridge. There was still a sea of runners behind us with no balloon ladies (effectively the last pacers before the course closes down and runners are removed from the course) in sight.

I think everyone with that view on the bridge breathed a sigh of relief, me included. I felt a lot more relaxed about taking photos and taking my time for the remaining four or so miles of the race.

Mile 11, 12, 13+: 18:04, 17:04, 18:08, 9:05
My legs were feeling really heavy. For this part of the race I was mostly walking, with sporadic little bursts of jogging here and there when course congestion allowed (and when there were photographers on the course). Entering Hollywood Studios there was another group of 501st around the Fantasmic queue and I stopped for some more photos. I saw Arthur again inside Hollywood Studios on Sunset Boulevard and again shortly just outside of the park.
There were fewer spectators than usual through the Boardwalk area, and that was a little bit of a bummer. The spectators that were there were awesome though, and put a smile on my face that stayed plastered there until I reached the finish line.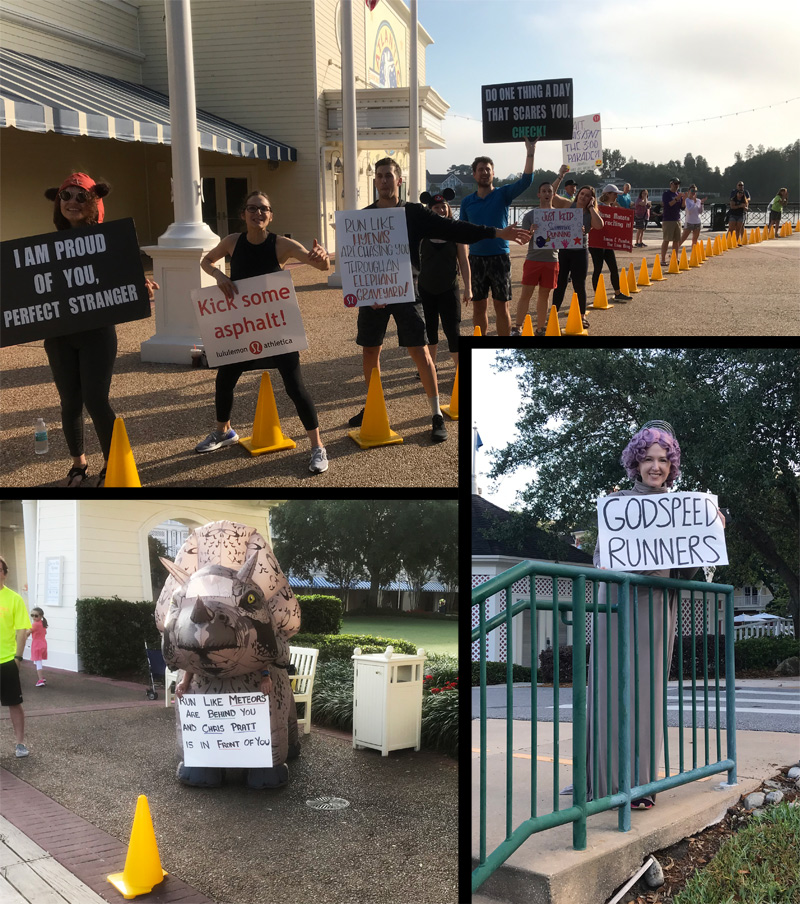 Like last year, I made a quick pit stop at Joffrey's in Epcot to purchase a fruity iced adult beverage to enjoy for the last mile of the race. It was super yummy.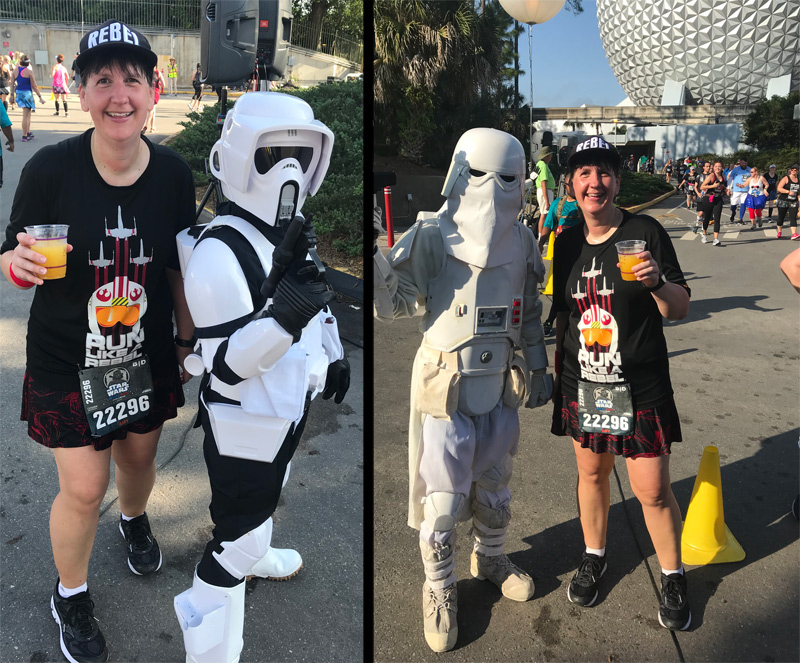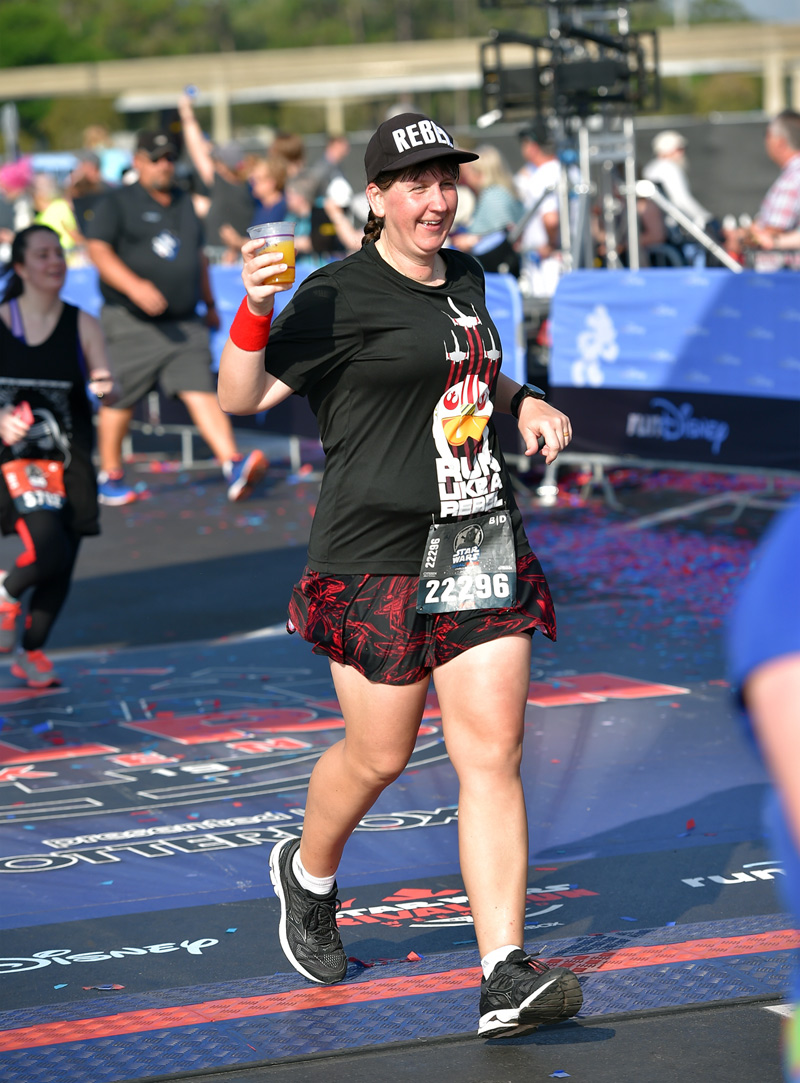 It was pretty crowded at the last 501st area after leaving Epcot. I took a few photos but didn't linger too long as I knew Arthur was waiting for me. I was so extremely happy to cross that finish line! I learned what it meant when runners say "sure, you can finish a half marathon with little or no training, but it won't be pretty". My legs were not happy with me but I got it done and (hopefully, ha!) learned my lesson.
Afterwards
I saw Arthur just after the finish line and he handed me my 10K and 5K medals so I could take a finisher photo with all of them. Then we met up and he gave me my Oofos sandals to change into. We waited in the short line for K-2SO so I could have one more medal photo. I got a celebratory beer as well before heading back to the car.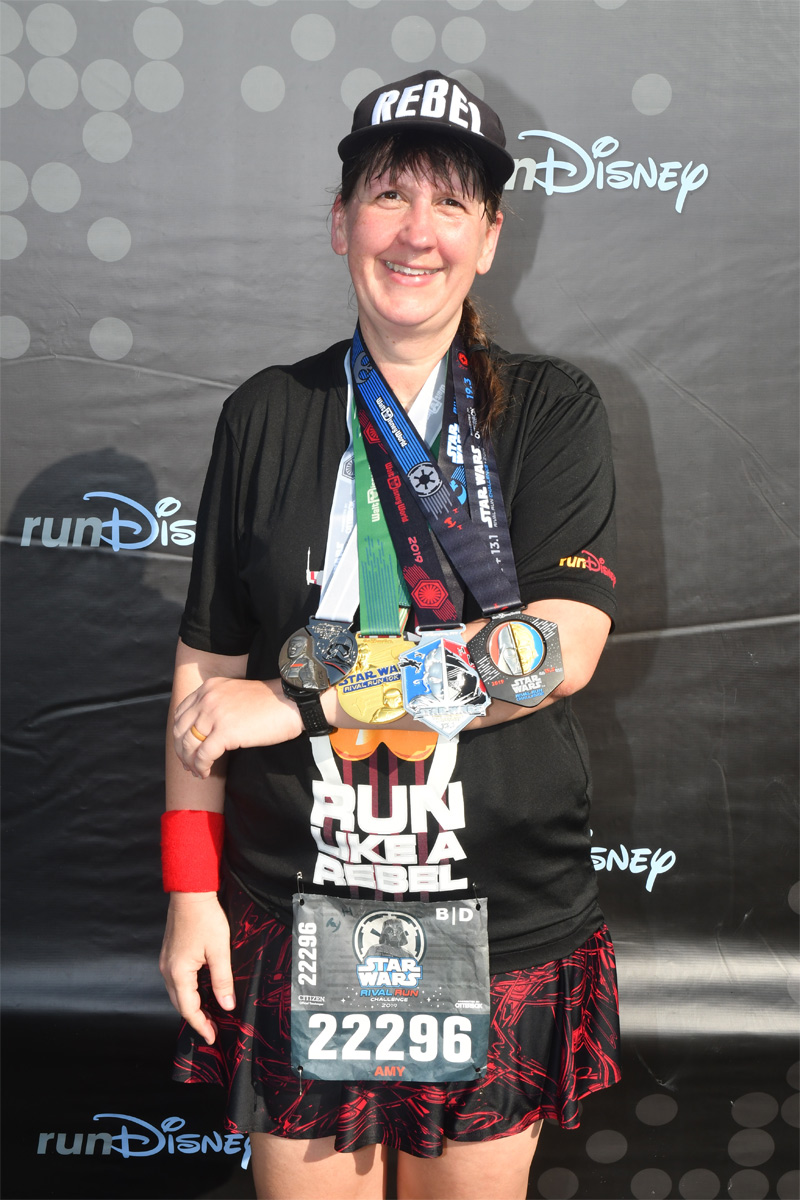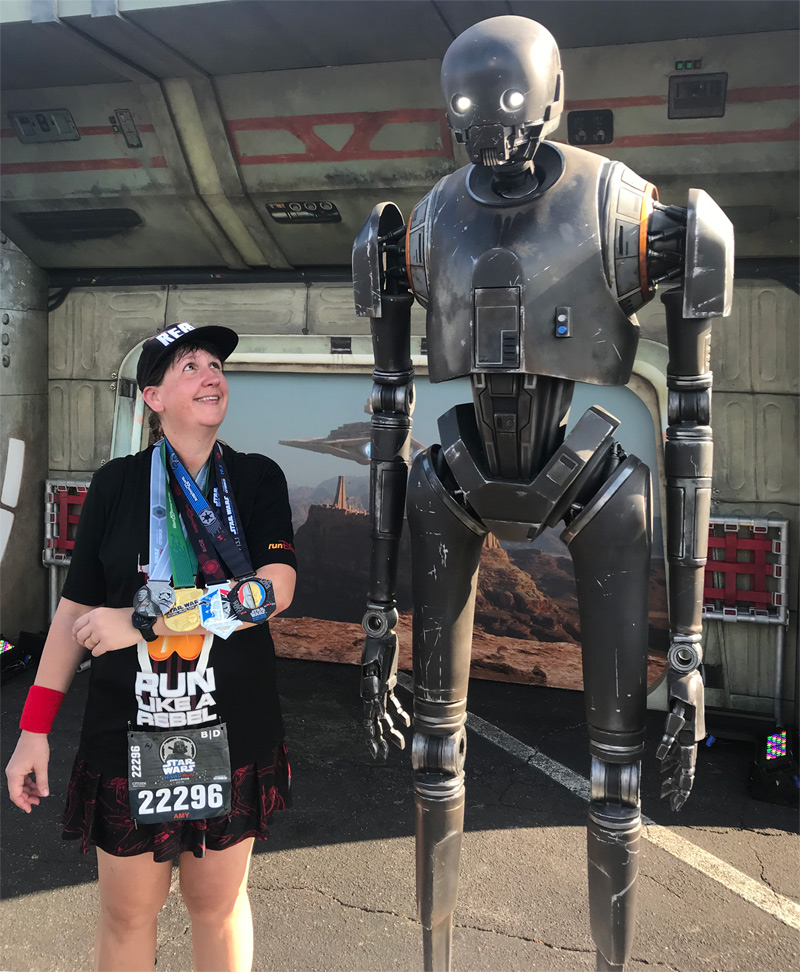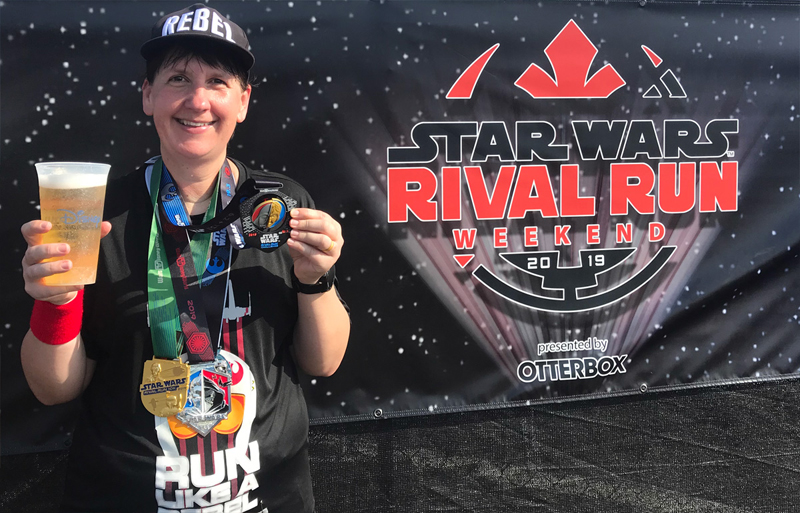 After a quick change of clothes and a yummy late breakfast at Centertown Market at Caribbean Beach we headed to Magic Kingdom and Epcot for the rest of the day. Walking was very slow but good for recovery!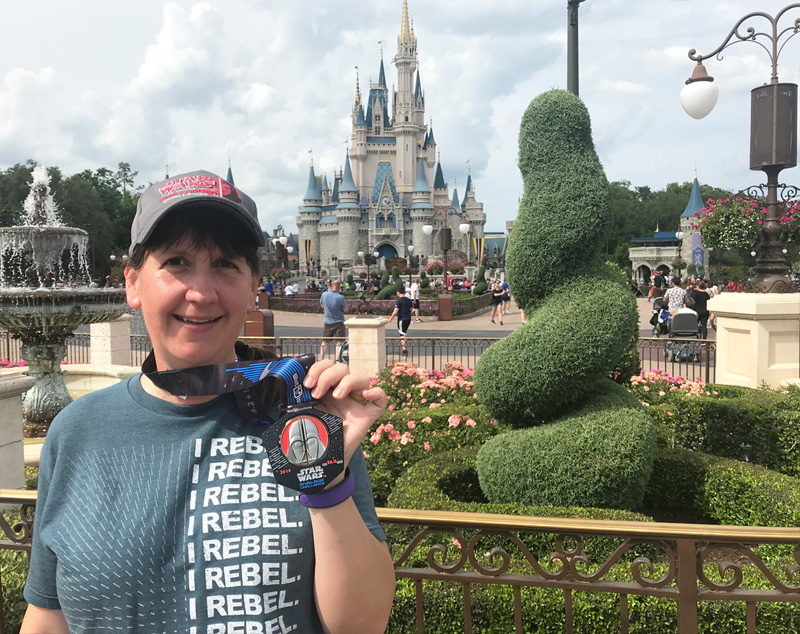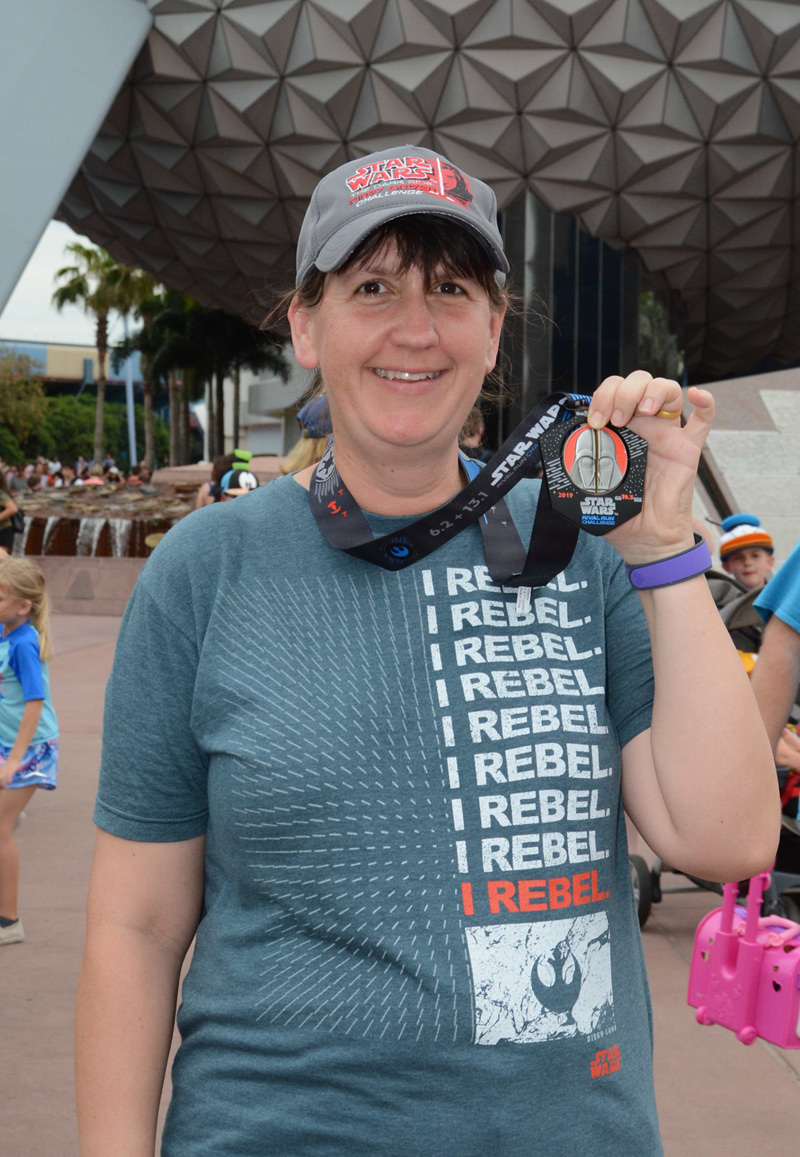 Chip time: 3:38:31
Placement details: 648/772 in Age Group; 10856 out of 12113 finishers
Race Amenities: Tech shirt, finisher medal and challenge medal, all that Disney good stuff
Cost: $357.11 (the cost for the Rival Run Challenge which includes the 10K and the Half Marathon; about $42 more than last year)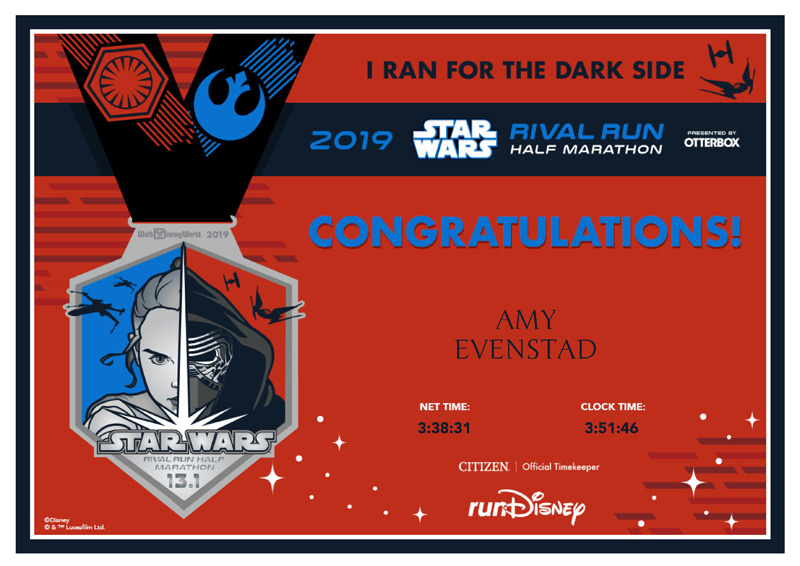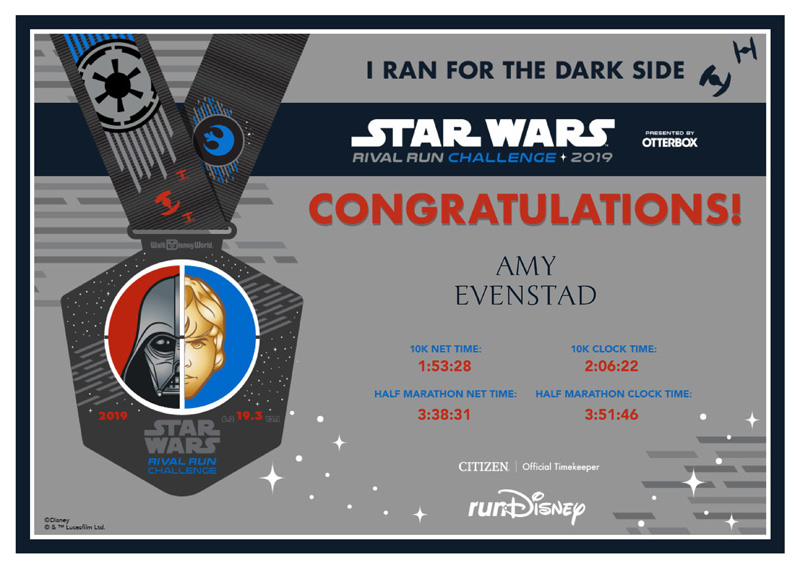 Report written April 12, 2019