Race Recap: Star Wars Dark Side 10K 2018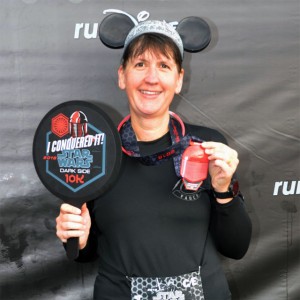 Woo hoo, it's 10K time in my favorite race weekend! This was my third year participating in the Dark Side races and my second consecutive Dark Side 10K.
I ran this race as a generic Dark Side nerd, with a Death Star Mickey ears hat, a Darth Vader tech shirt from Under Armour, and a black and red Sparkle Skirt.
The course was the typical WDW 10K run from the Epcot parking lot with some highway miles before finishing through World Showcase and Future World.
Training & Goals
Training was a whole lotta nothing for this weekend. All of my runs in April have been races! And after my fall and suspected fractured/bruised rib(s) at Colt Creek on the 14th, I was going to take it really easy.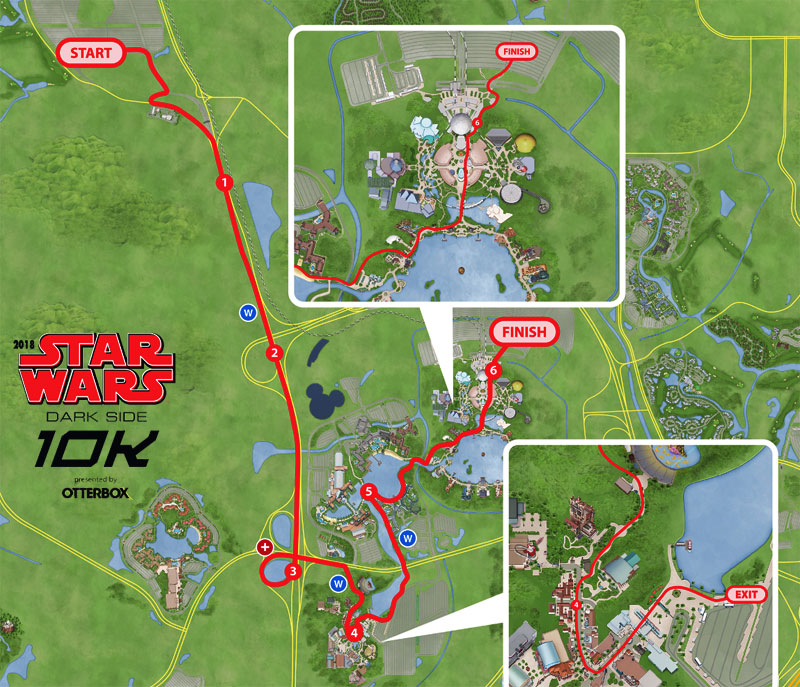 Race Day: April 21, 2018
I left home at 3:15AM and had the car parked at Epcot by 4AM. I got on a bus to the start at the TTC. Once there, I only had time to stand in line for a photo with Vader before getting to my corral. It was about 70°F at the start with 88% humidity.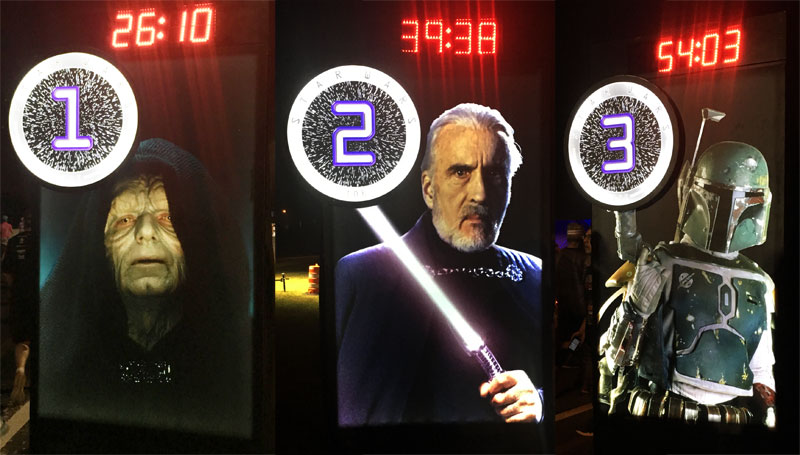 Mile 1, 2, 3: 12:42, 13:25, 14:17
My chest really ached around my cracked rib, so I took it slow. I think the only photo op in these miles was R2D2.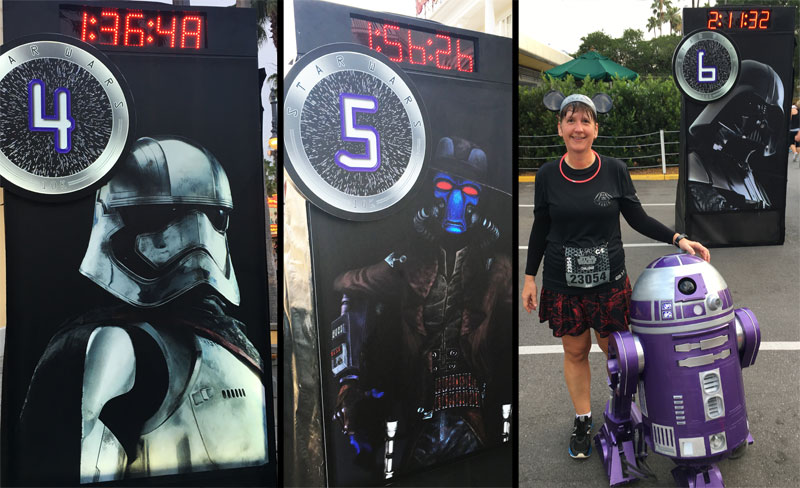 Mile 4: 30:43
Before hitting Hollywood Studios, I ran by the Emperor's Chair and Darth Maul without stopping. The 501st was out in full force just into the park and I stopped to have my photo with everyone.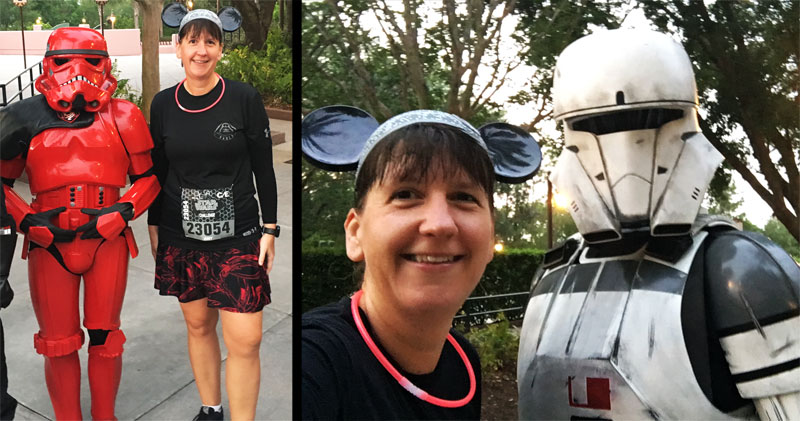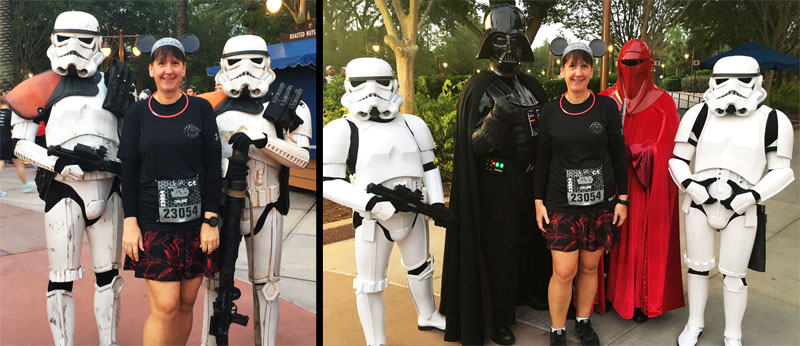 Mile 5: 25:21
runDisney had Stormtroopers staged at the intersection of Hollywood & Sunset Blvds.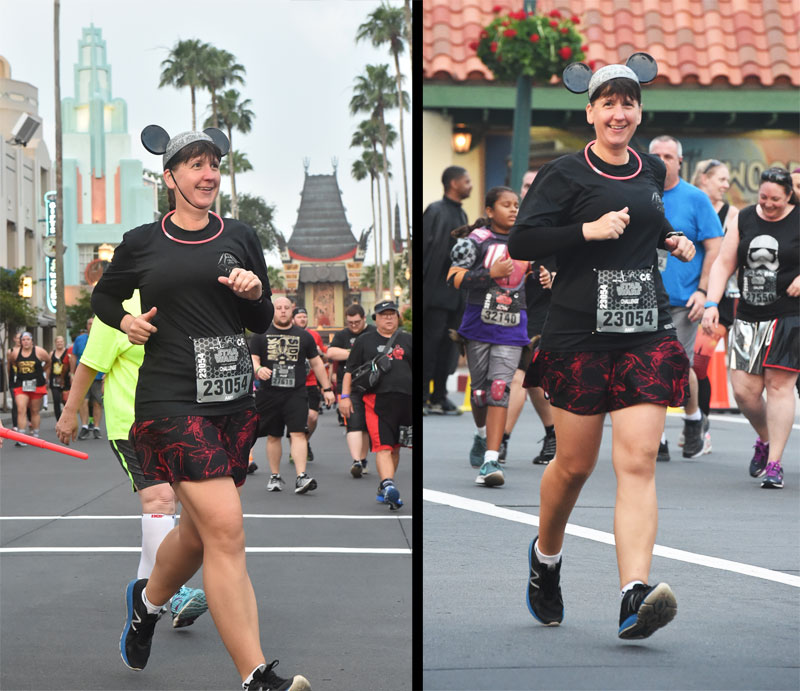 I was taking it easy on the way between Hollywood Studios and Boardwalk. It got really crowded and suddenly I saw I was running with the balloon ladies (effectively the last pacers before the sweepers come by).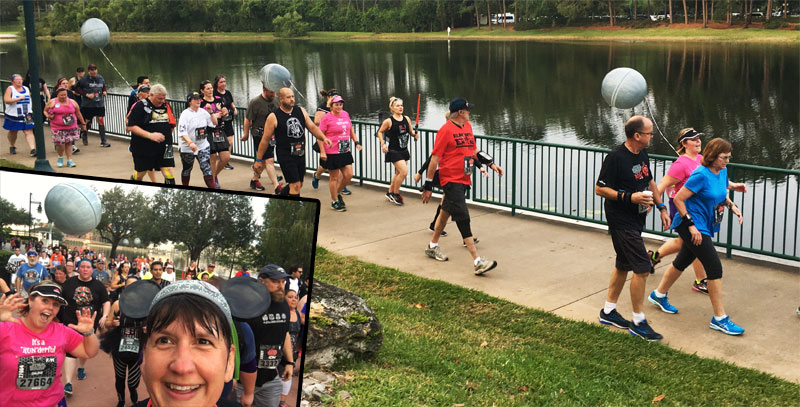 At first I thought it was kind of funny but the threat of getting swept is real and there were a lot of unhappy, borderline panicked people in this huge group struggling to keep up with them. The ladies were shouting out words of encouragement though, and it was kind of fun to run with them for a bit.
The speeder bikes were set up before the underpass going into Boardwalk but I ran by. There were lots of spectators along the Boardwalk, some handing out treats.
Mile 6+: 14:23, 14:27*
Somewhere around the beginning of mile 6 I heard a young woman who sounded like she was struggling to breathe. I stopped to walk along with her for a bit, along with another runner. We asked if she needed help but she refused. She was having an asthma attack (??) but didn't want us to help get her inhaler. The other runner ran ahead and I stayed a bit longer, offering help. After a while I thought I might just be a bother so I wished her well and ran ahead.
Before we hit Epcot, Sabine and Ezra were out for photos, and Chewie was there just before we entered the park. I ran a bit faster through World Showcase to build up a buffer on the balloon ladies. I knew the 501st would be out again out of Epcot and I wanted to be able to stop.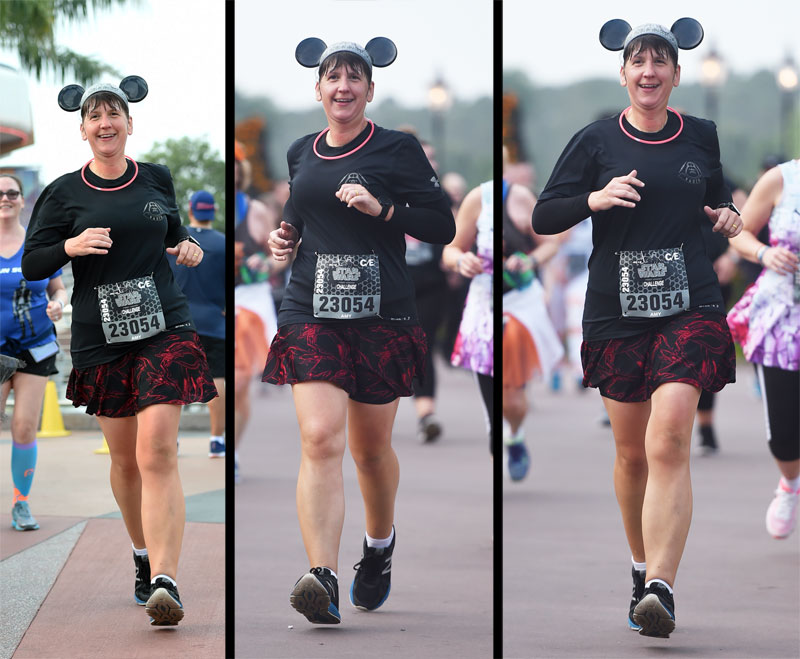 I took a few photos with the characters outside of Epcot. While I was in line for a photo, the balloon ladies passed us. I called out that they were coming and the person behind me in line panicked and took off. This was about .2 miles from the finish line, with no bike marshals in sight. LOL aww, really?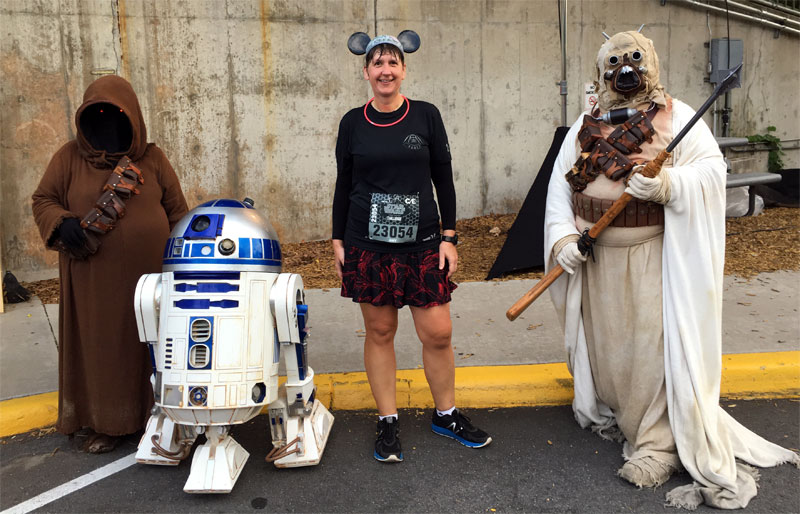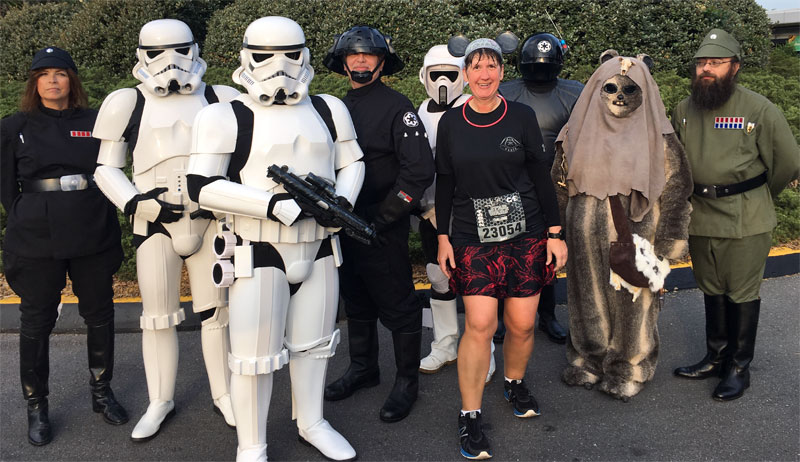 I took a selfie with one of the finish line Stormtroopers before running over the mats. Looks like I was happy to cross that line, huh?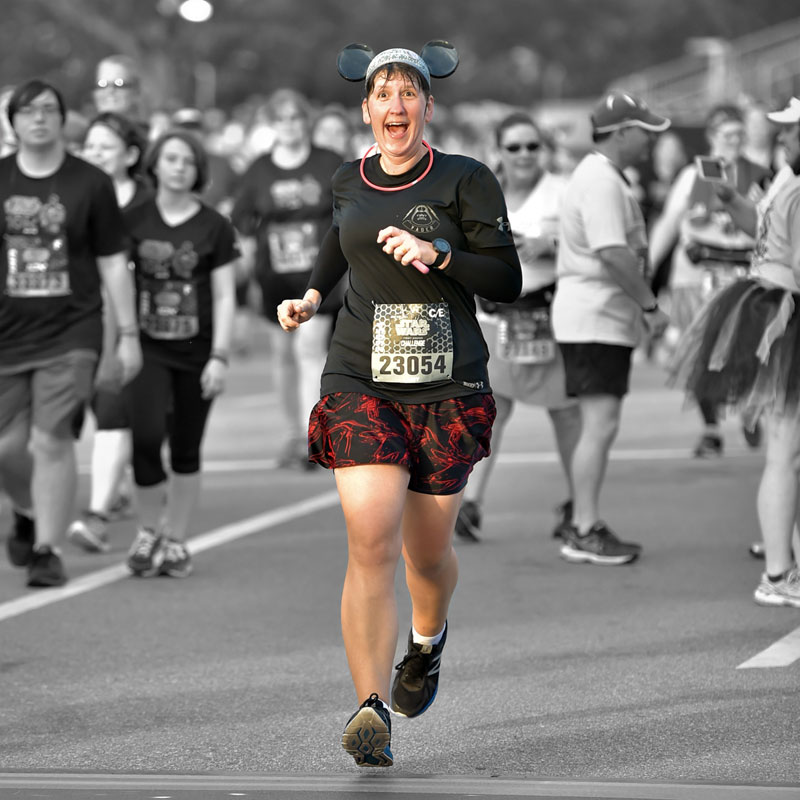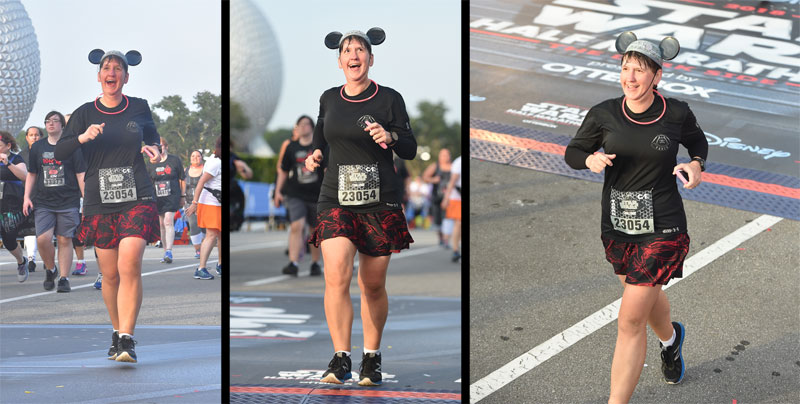 I stayed to watch the last runners come in. I was hoping to see asthma girl but I didn't find her. I hope she passed me along with everyone else when I was waiting in 501st character lines. I ended up staying until the very last runner crossed the finish line, along with a Stormtrooper escort. This was pretty cool to see.
After the Race
I saw the last runner get a lot of attention from photographers and volunteers as I progressed through the finish chute. Volunteers handed me extra waters and I feel like I got a lot more "congratulations" than usual. After I got out I headed home. Just a half marathon to go!
Chip time: 2:05:13
Placement details: 723th of 728 in Age Group, 10823th overall out of 10922 finishers
Race Amenities: Women's short sleeve tech tee, Elite Praetorian Guard medal, usual Disney goodness
Cost: $315.13 for the 10K and half marathon challenge
*With all the bobbing and weaving of a runDisney race, my GPS usually ends up going significantly over the race distance. For this 6.2 mile race my Garmin gave me 6.77 miles.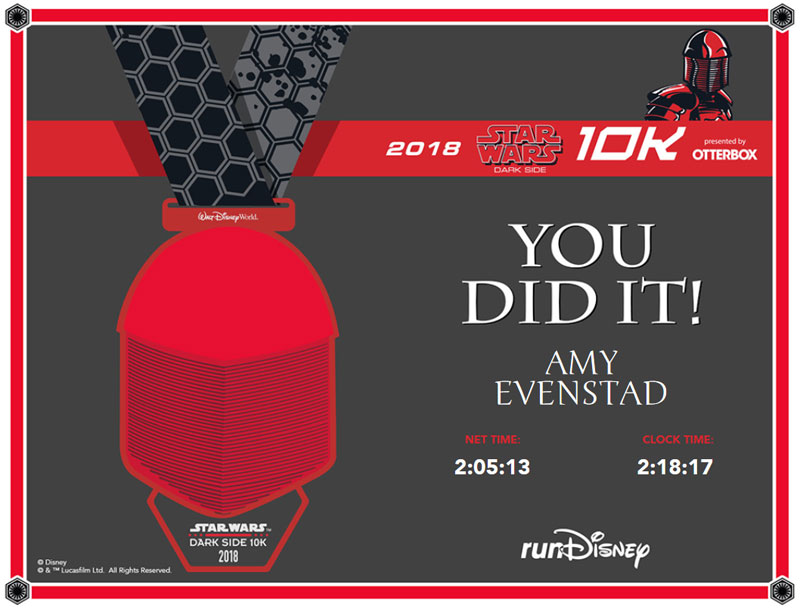 Report written April 28, 2018