Race Report: Space Race 4 Miler 2017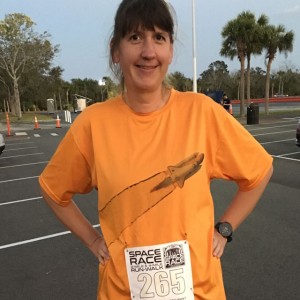 The inaugural Space Race 2 Mile & 4 Mile Walk-Run took place at the Kennedy Space Center Visitor Complex on Febuary 3rd. The race was originally scheduled for January 20th but a scrubbed rocket launch postponed the race to two weeks later. United Way of Brevard was the beneficiary.

Training & Goals
The rescheduled date put this race two days before the Daytona Beach Half Marathon. This was my first race of this distance (4 miles) which meant an automatic PR (Personal Record). Because I've been more focused on weight loss than running fitness I didn't have any particular expectations for this race except to avoid injury and have fun.

This was my also first night race. I've never enjoyed running in the evening and I had a hard time figuring out my meals for the day. I ended up eating several peanut butter sandwiches throughout the late afternoon and that worked out okay (just okay).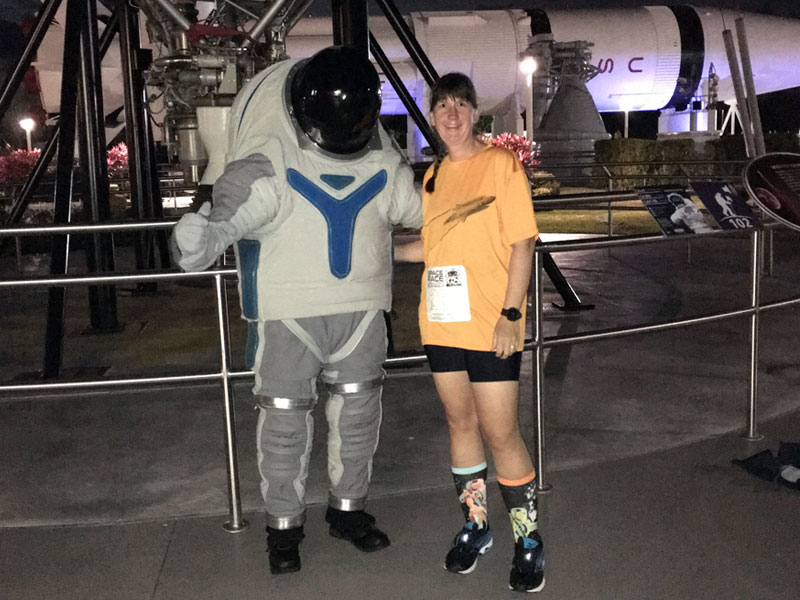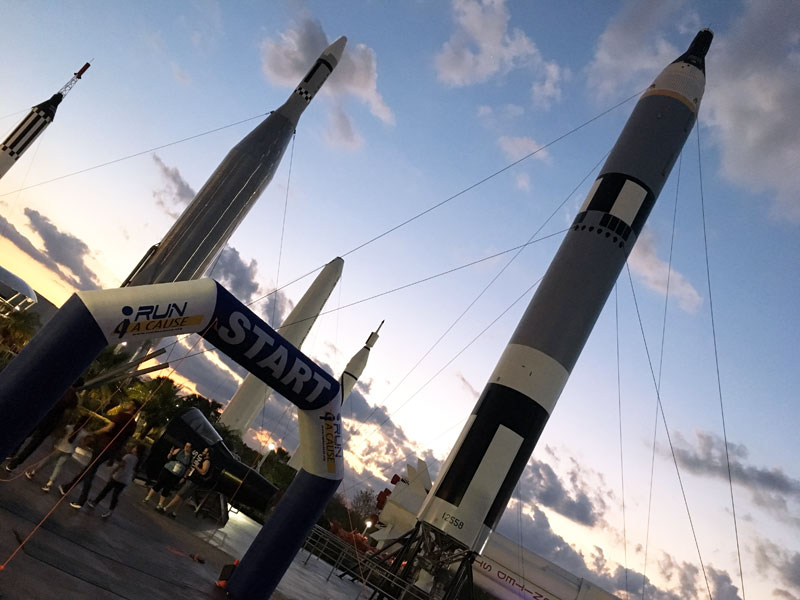 Race Day: February 3, 2017
I had expected to go to this race alone but my mom texted me at the last minute offering to come along. That was a nice surprise. We drove out to the coast in the early afternoon so I could do a bit of birding at the beach before heading down to Kennedy Space Center.

I wore a tech shirt with a Space Shuttle on the front that I picked up from Goodwill. My compression race shorts were a bit too snug (fit me fine last year -- yikes) and rode up my thighs in the first part of the race. I broke the "nothing new on race day" rule with my space-themed socks and as soon as I put them on I knew they were a mistake. They ended up riding down but luckily didn't give me any blisters or other problems.

It was clear and 61°F at the start with 94% humidity.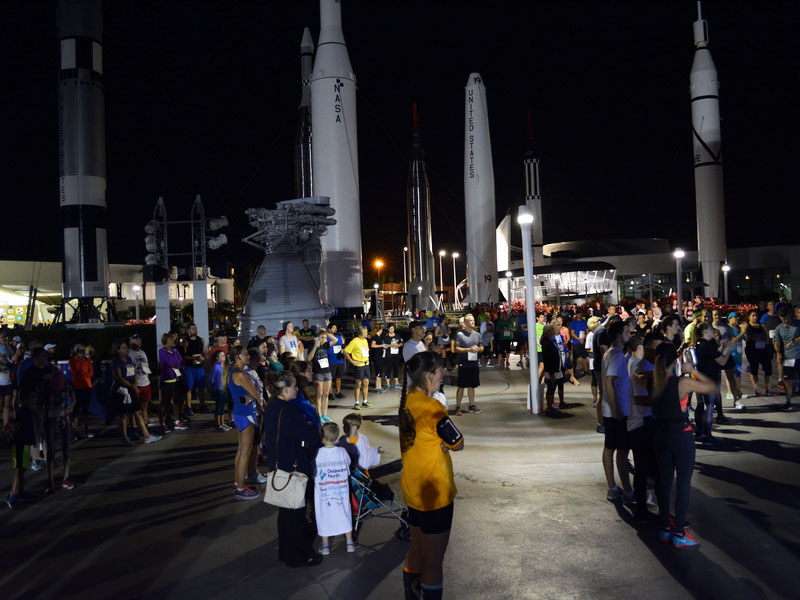 Mile 1: 10:07
The course was a two-mile loop through the visitor complex, starting and ending on either side of the Rocket Garden. Four-mile runners ran the loop twice. The first half mile was through the complex and most of the rest of the loop was around the parking lot at the facility.

I've had a season pass for KSC for several years so I am familiar with the complex, but it was still neat to run through the visitor area, around the rocket garden, and past Atlantis and the astronaut memorial.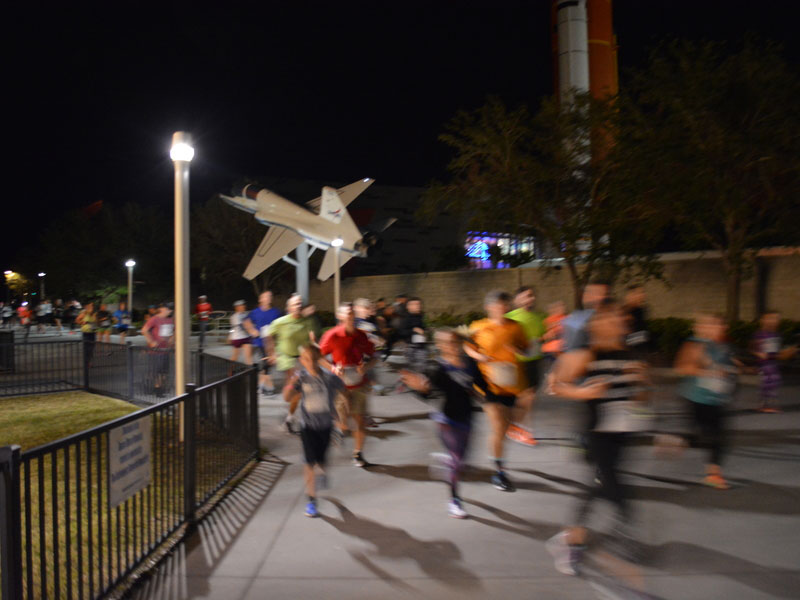 Mile 2: 10:24
Running through the parking lot was a lot less exciting. The course changed surface a few times as we went from concrete paths to asphalt parking lot and transition areas. I thought the lighting wasn't adequate in some places and really had to be careful about my footing. I wished I had brought my Knuckle Lights.

Mile 3: 10:36
4-milers turned right before the finish line to pass a water stop and head out for a second loop.

Mile 4: 10:47*
I felt good during the race and was glad to finish slightly better than my more recent 5K pace has been.

After crossing the finish line I looked for water. I got into the beverage line where they were selling beers for $3 and soft drinks or water for $1. With a ticket on our race bib we could get one free drink. It seemed like everyone was getting a beer so I tried to get a water and a soft drink but one ticket = one drink. I took my water and grumbled about the situation to my mom (sorry for being a crab, mom!). I've never been to a race where unlimited water wasn't free for all runners. I think they were selling food as well (no free bananas, grumble grumble).

Mom and I waited to watch most of the awards being given out to the top runners by retired shuttle astronaut Jon McBride.

The water thing along with the fact that I'm not a fan of night races anyway means I don't think I'd run this one again -- especially with no finisher medal.

Chip time: 41:06
Placement details: 8 out of 16 in Age Group; 50th overall out of 123 finishers
Race Amenities: Runners received a unisex cotton tee, a drawstring backpack, and a collapsible water bottle. No finisher medal.
Cost: $36.00 including $3.50 registration fee and $2.50 spectator ticket
*I often forget to turn off my Garmin after a race, so the final time is skewed.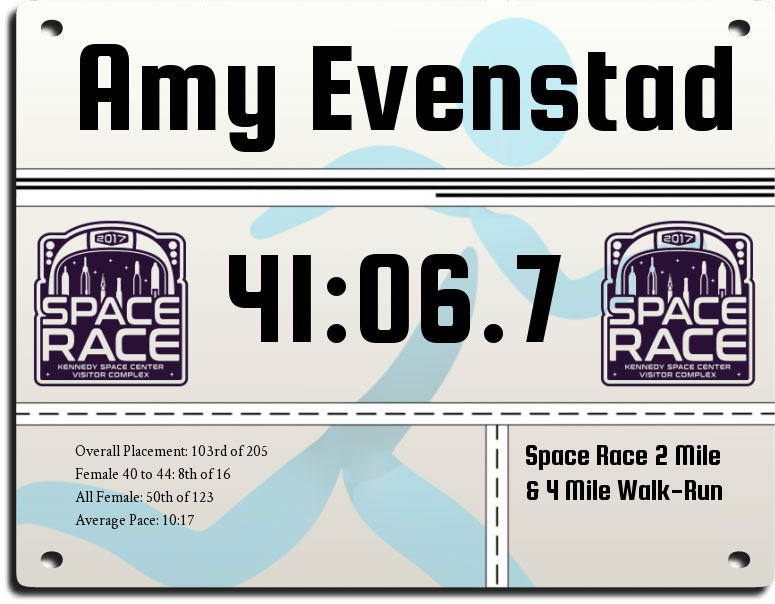 Report written February 14, 2017