Race Report: Krispy Kreme Doughnut Dash 5K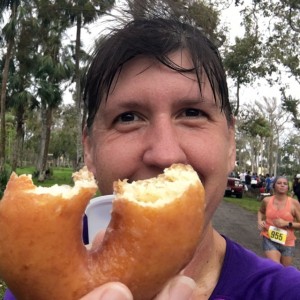 The Daytona Beach Krispy Kreme Doughnut Dash took place at Tuscawilla Park on Sunday, October 1st. Competitors could run in teams of two, consuming a dozen doughnuts between them at the halfway point of the race. Individuals could also participate in the competitive class, eating a dozen doughtnuts halfway, or in the casual class, stopping halfway to have a doughnut or five or none before completing the distance. I won my entry to the race in a club raffle and elected for the casual class.
Training & Goals
I ate a dozen doughnuts mid-run for about a month prior to the race.
You know me... no particular goals. I just wanted to get a little run in and pick up a shirt and medal for my trouble. The doughnuts were a sweet, sweet bonus.
Race Day: October 1, 2017
Smooth sailing race morning. I arrived in time for one of the better parking spots and picked up my shirt & bib. It was about 79°F and overcast at the start with 84% humidity.
Mile 1: 11:49
The first loop in and around the park was on a mix of roadway, sidewalk, and dirt path.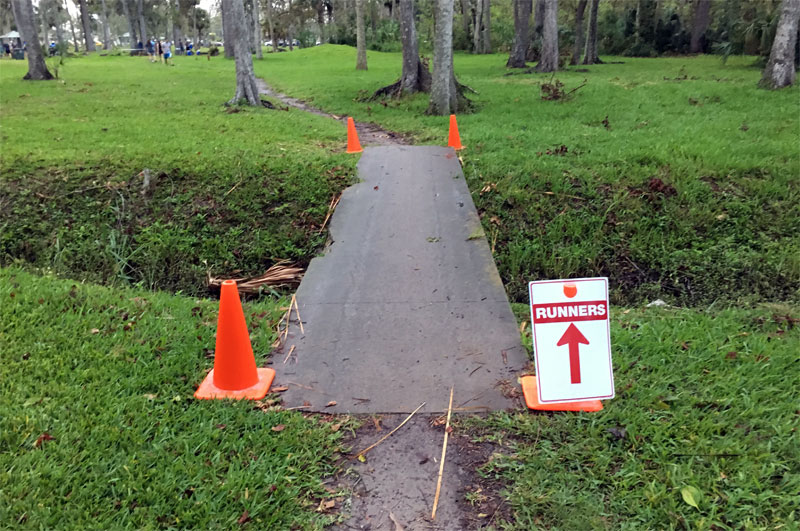 Mile 2: 14:56
At about the halfway point, back near the starting line of the double-loop course, everyone stopped at the doughnut station for some serious nomming. I had two Krispy Kremes before heading back out with another one to go, along with a cup of water.
Mile ~3: 11:15*
The doughnuts settled nicely. I could have had a few more. Maybe the competitive team run could be a possibility. I don't know if I could do the full dozen; I don't like Krispy Kremes that much. Dunkin, on the other hand...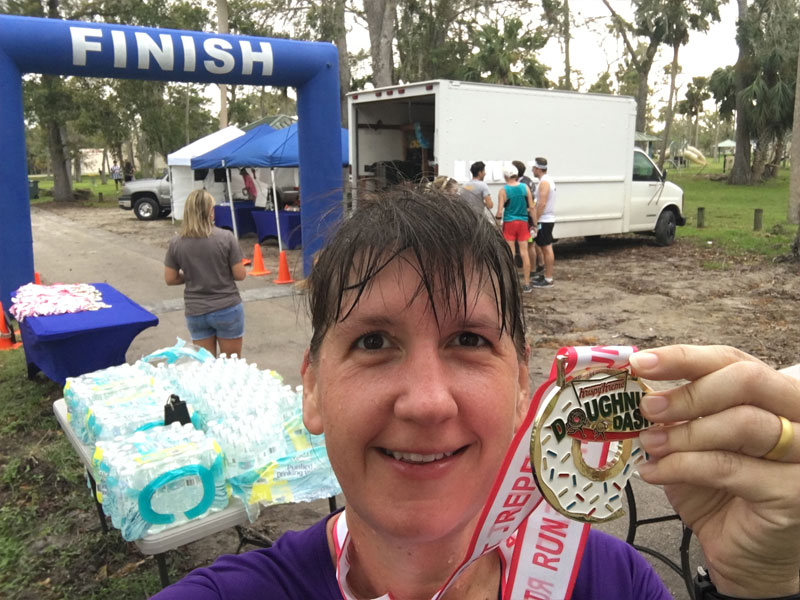 Recommendation
This silly race offered a nice course, fun t-shirt and cute finisher medal. Plus it was timed. And we got doughnuts. I'm not a big fan of eating contests but this was kind of fun. I'm glad I won the raffle.
Chip time: 37:52
Placement details: Casual Runner category: 11th female runner out of 48; 18th overall out of 72 casual finishers
Race Amenities: Up to a dozen doughnuts, nice cotton t-shirt, cute doughnut medal
Cost: $0 (I won a raffle!)
*I forgot to turn off my Garmin right afterwards; GPS gave me a short course
Report written October 25, 2017