Race Recap: 2023 WDW Marathon Weekend 5K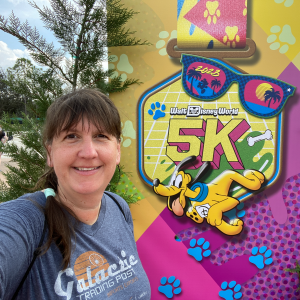 Five years ago this week, I was running my first Dopey Challenge at Walt Disney World, getting ready to run my first Marathon as part of the race weekend. This year I took part in the 5K (and volunteered for the half marathon and marathon).
The Walt Disney World Marathon Weekend typically takes place in early January. Four events are offered: 5K on Thursday; 10K on Friday; Half Marathon on Saturday; and Marathon on Sunday. (Kids Races have not returned since the pandemic.)
For this race I decided to dress up as Train Conductor Mickey Mouse. I had the hat in my collection already and asked Arthur to design a skater dress inspired by the character. The Walt Disney World Railroad recently re-opened (12/23/22) after a long hiatus due to the construction of TRON Lightcycle, so it was good timing to dress up as this character.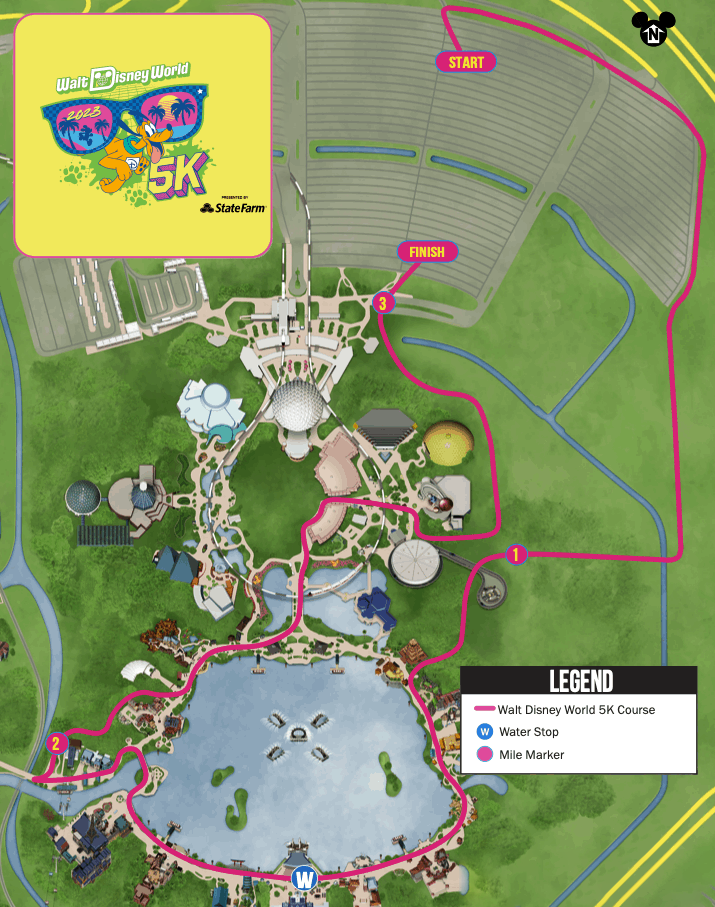 Training & Goals
My knees continue to be a big problem, with pain hindering any progress I try to make in getting back into running. Regular steroid shots lose their effectiveness before I'm eligible to get a new one and they take longer to provide any relief. So it's not great. But I keep trying.
In the weeks before race day I didn't get out much -- Arthur and I were on a cruise and I only managed to get in one cruise ship run.
I had no goal in mind; runDisney races are for fun and the 5K is the most casual distance, with no timing and no hard sweeps (within reason). I just wanted to have a little fun!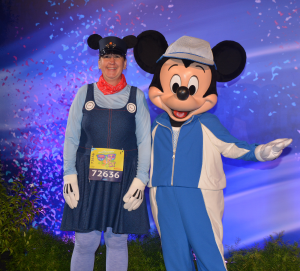 Race Day: January 5, 2023
I left home at 2:32AM and had the car parked at Epcot by 3:23AM. The reunion area was already extremely crowded. I got into a very long line to have my photo taken with Mickey and had to head right to my corral as soon as I got my picture.
The character lines in the reunion area were very long; other characters were Minnie Mouse, Donald Duck, and Daisy Duck.
The first runners started the race at 5AM. I was in corral C (out of A-D) and I guess I started in the second half of the group. It was 70°F with 100% humidity when I crossed the start line at 5:48AM.
Mile 1: 15:02 (untimed; Garmin data)
I expected I'd mostly walk this 5K, but I mixed in a few short jogs here and there as the field was so crowded. I was just trying to keep out of the way from other participants.
I saw one character stop here, Tarzan with Kala (switched out with Kerchak) just outside of Test Track.

Mile 2: 16:55
After little over a mile of running through the parking lot and back entrance roads, we passed under Test Track and entered World Showcase between Mexico and Norway. This mile took us around World Showcase with a quick exit via International Gateway.
I saw two character stops in this mile: Mushu in China; and Genie with Abu in Morocco. I've never seen such long character lines in a race before. It was unreal.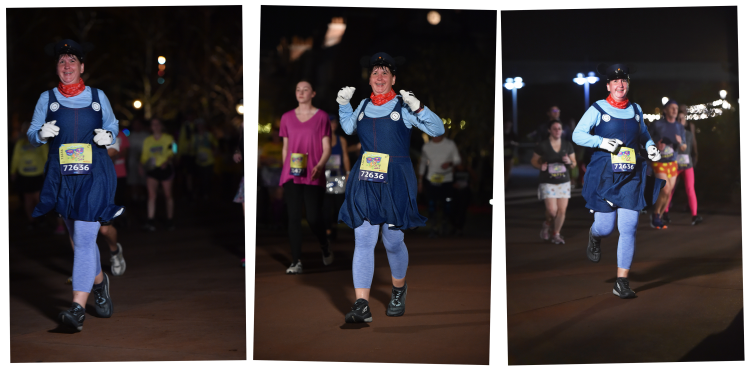 Mile 3+: 17:03, 4:13
For mile 3 we entered World Showcase again, between the UK and Canada. The course headed towards Future World where we exited at Test Track. Here we ran by a backstage part of Test Track I'd never seen before. Somewhere around here we could hear a choir singing a medley of Queen songs. After turning under part of the Guardians of the Galaxy ride building, the choir was revealed, which was super cool.
Max Goof was a character stop backstage during this mile. I've never seen this character before but the line was so crazy long I didn't stop. Chip 'n Dale as Rescue Rangers were stationed between International Gateway and the UK.
Sport Goofy was cheering on the runners as we approached the finish line.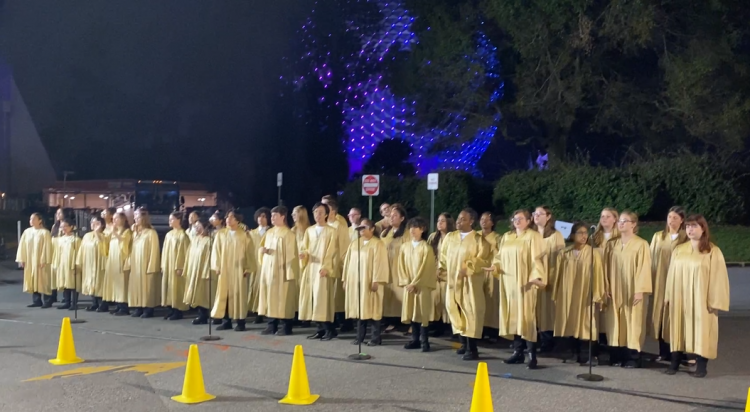 After the Race
After collecting my medal, drinks, and snacks, I headed to Gear Check. I had dropped a bag with a change of clothes. I intended to head to my volunteer shift at Audubon Center for Birds of Prey after the race, and dropping the bag saved me some time. I headed over to the restrooms by the bus drop-off and changed into my volunteer clothes. I was able to head out by around 7:30AM or so.
Recommendation
With a good amount of characters, a fun theme park course, and ample perks, I always find runDisney races a lot of fun. Recommended.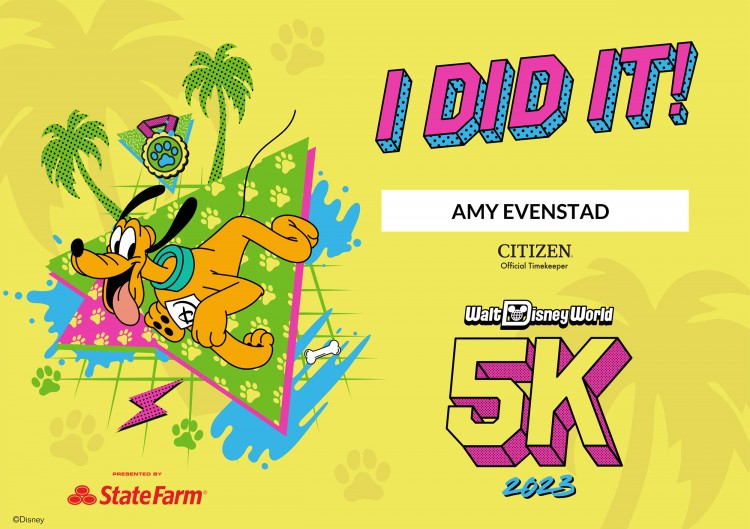 Race time: 53:13 (Garmin data)
Race Amenities: Long sleeve tech shirt, finisher medal
Cost: $103.40