Race Recap: Lap the Track 5K 2020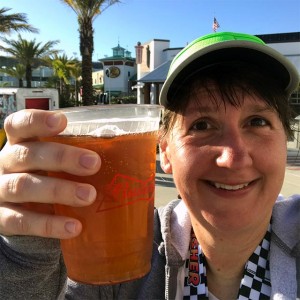 Following the Beachin' It 5K Saturday afternoon, next up was the Lap the Track race on the famous Daytona Beach International Speedway. Running both races earned finishers a third challenge medal.

Training & Goals
I'm still slowly easing back into running following a chronic Achilles issue that resulted in a loss of fitness and increase in weight over the last year or so.

I didn't know what my plan was for this race. I met up with a couple of girls from my run club and we would maybe run together, but I waffled about being too slow. I ended up staying with one friend for a little while but we split up after taking some fun photos on the course. I figured I might need to walk a bit more, especially on the pedestrian bridge crossing.

Race Day: February 9, 2020
I left home around 5:55AM and had the car parked at One Daytona by about 6:35AM. I had to hustle to the hub to meet up with my club. The plan was to walk over to the start line together for a group photo. I made it to our tent just in time.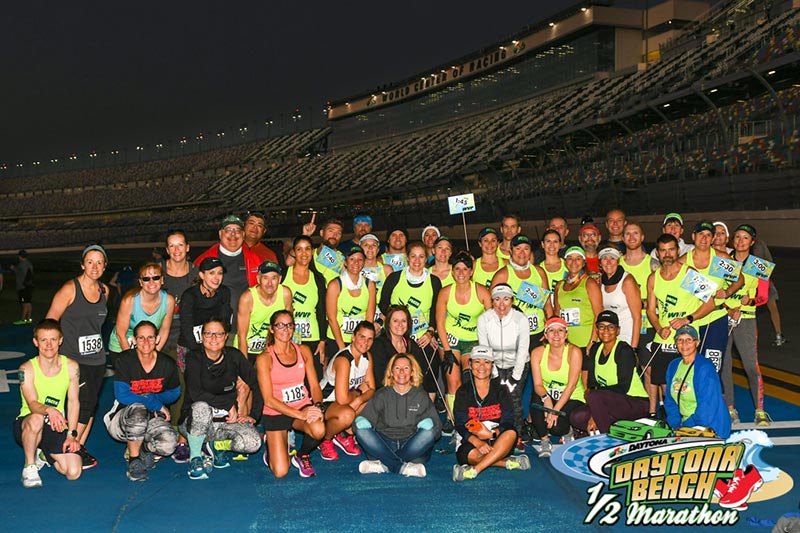 Both the half marathon and the 5K start on the race track and finish across the street at One Daytona, a relatively new shopping and dining complex. We walked over a pedestrian bridge to cross International Speedway Boulevard and met close to the start arch for a group photo. The half marathoners took off shortly after 7AM. I watched the lead runners leave the speedway before making my way to the 5K start at around 7:30AM. It was about 55°F with 100% humidity and partly cloudy skies when I started my race.

Mile 1: 13:53
I ran a bit with my friend Christine. We stopped to take a couple of fun photos on the track.

Mile 2: 13:03
The first two+ miles are entirely on the Daytona International Speedway. It's always pretty cool to run in this famous place, even though I have no interest in Nascar.

Mile 3+: 13:29, 2:39
The last mile has runners cross International Speedway Boulevard via the pedestrian bridge. It's no fun and I walked a bunch here.

After Party
This race has a great after party, with unlimited beers for the runners, and vendors with treats like muffins, hoagies, fruit, and more. I stayed for a while to watch half marathon finishers come in.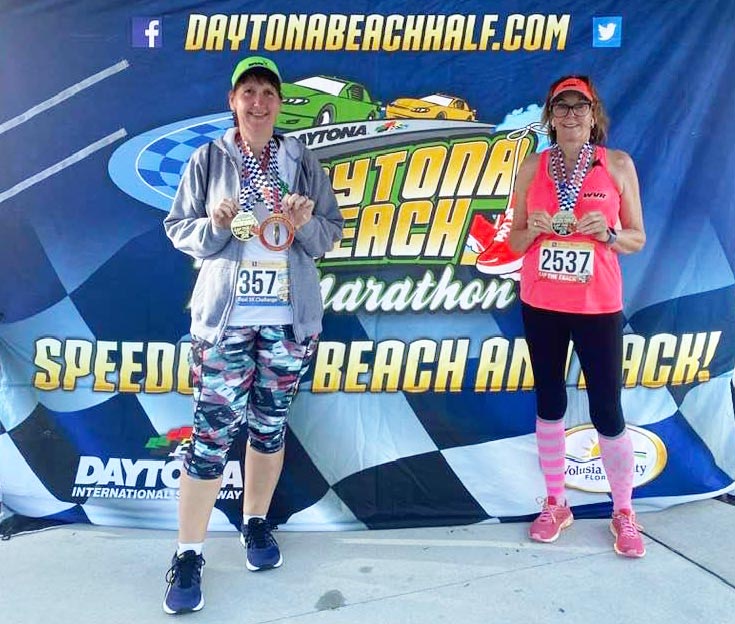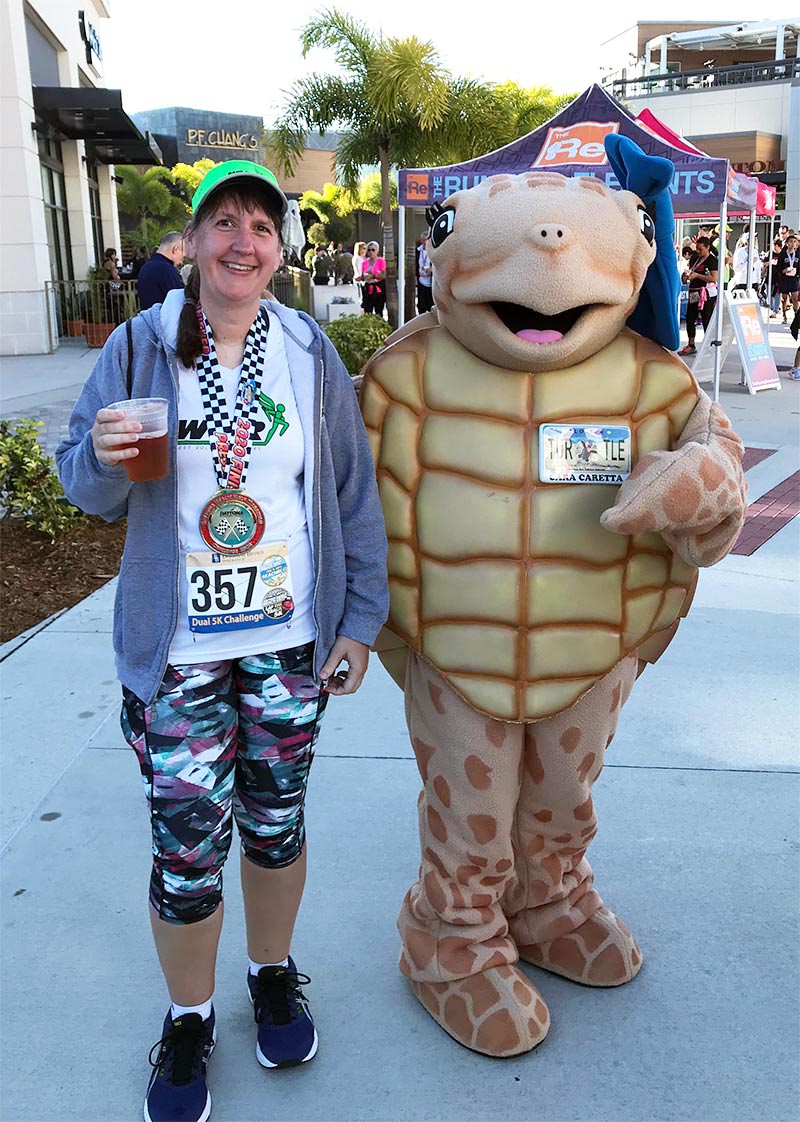 Recommendation
So, this is tough, because I can't help but think about some amenities that this race no longer provides. The half marathon used to start off with a race car whizzing by on the track, which was pretty thrilling. We used to be able to park in the middle of the track and the races used to finish on the track instead of across the street. Using much of the track area for the start and finish meant runners had access to real toilets instead of porta potties.

Having said all that, the race organizers do a fantastic job of putting everything together. I can only speak of the 5K this year, but course support was great and the after race provisions are very good. The medals this year were better than last year, as were the shirts, though they are still not as nice as the all-over print tech shirts they had in the past. It's overall a great experience, especially if not comparing it to the past. Recommended.

Chip time: 42:57
Placement details: 29/49 in Age Group, 407th overall out of 695 finishers
Race Amenities: Gender-specific tech shirts (mediocre but much better than last year's simple thin cotton shirts that ran small), finisher medal for all, plus bonus medal for completing challenge.
Cost: $51 for both 5K races in the challenge.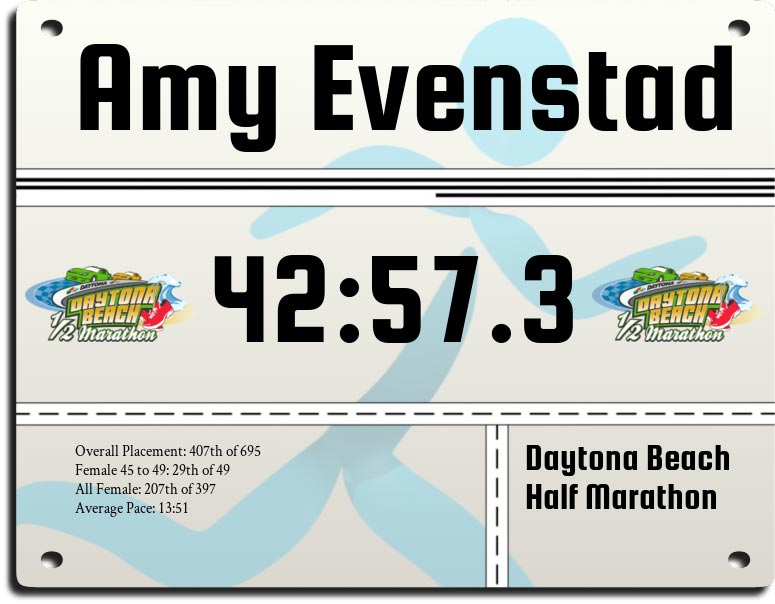 Report written February 11, 2020

Team photo (c) Almost There Photography