How to Track a Cruise Ship Run Using Garmin Lap Feature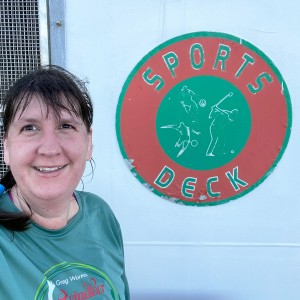 Over the Christmas and New Year's holidays, Arthur and I took an 11-night Caribbean cruise on the Norwegian Dawn. I did one 5K on the ship for a virtual race (Stress Buster), which I completed while the ship was at sea on Christmas Eve.
Garmin Set Up for Cruise Ship Running While At Sea
For this run I used my Garmin Forerunner 245. I added a custom activity, following this flow:
- Start / Stop button
- Scroll down activities to ADD and select
- Scroll down to Other and select
- Name your new activity (Cruise Ship Run) and save
At this point it's possible to customize the new activity. I customized my data screens to have the following options. On my first screen I had Laps (Other), Timer (default), and Heart Rate. My second screen showed Battery Percentage (Other), Lap Time (default), and Total Calories (Other). I left Heart Rate (default) as the last screen.
I also turned off Auto Lap (because I would be manually clicking the Lap button for each lap). My last step was to turn off GPS for this new, custom activity. You can customize other options as you wish, like Auto-Pause on/off, Auto-Scroll on/off, etc.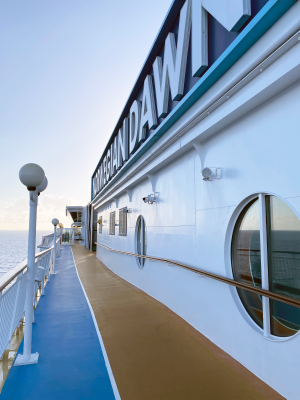 Tracking a Run on a Moving Cruise Ship
During the run, it's important to click the Back (lap) button on the watch each time a lap is complete. On the Dawn I did this every time I passed the bar.
Once the run is done, it's easy to multiply the number of laps done by the distance of the cruise ship's track.
On the Norwegian Dawn, the jogging track on deck 13 is 325 yards, or about .1845 miles. So 17 laps was good for a 5K!
Cruise Ship Run Data
Once the run was complete, I double-checked my math to calculate the mileage I covered during those 17 laps. Using the Garmin Connect app, I edited the activity to add my mileage. I could also check my pace-per-lap time, and standard data like heart rate, workout intensity, and calories burned.
One thing that won't be available is a map of the run, because my GPS was not tracking. If you complete a cruise ship run while using your GPS, you might be surprised by what your map would look like. You can check out this post from DC Rainmaker to see: Fun with a Garmin GPS while running on cruise ships at sea.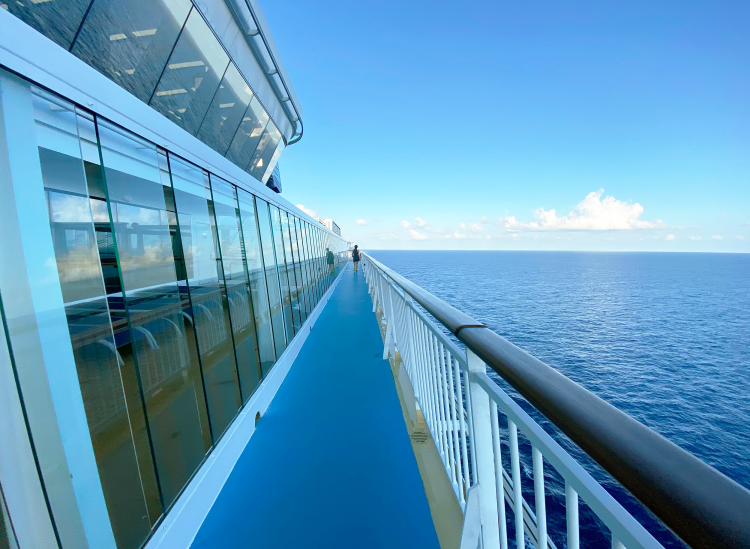 This wasn't my first time running on a cruise ship. Back in 2017 we took another New Year's cruise where I had a couple of short runs on the track of the Norwegian Jade.