Captain Carter from What If...? Costume Running Outfit Idea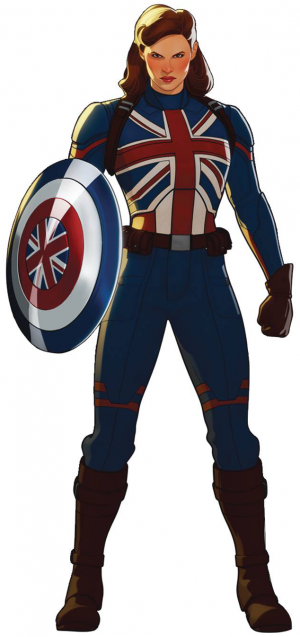 If you're looking for a non-traditional costume idea for an upcoming runDisney race weekend, or another superhero-themed race, I've got a few ideas for you, based on popular Marvel characters and featuring some unique apparel designs available in my Etsy shop.
Today I'm sharing some ideas for dressing up as Captain Carter; in coming days and weeks I'll highlight some other Marvel-inspired ideas. You can find my Etsy shop here:

Note that the costume pieces I'll be highlighting from my shop, including this Captain Carter shirt, are made to order. Printing and shipment times vary but are clearly stated on the Etsy listing. These ideas I'll be sharing require some thinking ahead, and are definitely not "quick costume ideas."
Captain Carter, a variant of the WWII-era hero known to the MCU (Marvel Cinematic Universe), was featured in the popular animated series What If...?, featured on Disney+.
In this different world, where a single decision made by S.H.I.E.L.D. agent Peggy Carter changes the course of her life, and her reality, a woman became a kick-ass super-soldier superhero instead of Steve Rogers (Captain America).
I've got a fun costume t-shirt of Captain Carter in the cartoon style seen in the series. It would be easy to match this colorful and bold printed costume top with other garments and elements to make a fun running costume.
Captain Carter All-Over Print Costume T-Shirt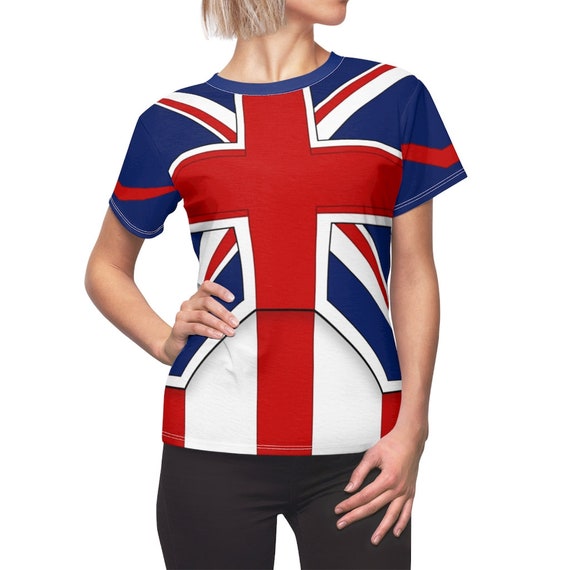 Offered in my shop, this Captain Carter all-over print costume t-shirt is made of 100% polyester, making it perfect for races of all kinds. Note that this is not made of a tech-weave style of polyester, but it is lightweight and suitable for sweaty runners (like me!). It also layers well over long sleeve tops for colder weather running.
Besides her iconic Union Jack-inspired top, Captain Carter wears a pair of tight-fitting blue pants, long brown boots, and a brown utility belt. Navy blue running pants, brown compression socks, and a brown belt would all be great fits for a running costume -- maybe you already have some of these items in your running closet?
Fashion your own Union Jack flag shield to run with (or purchase the suggested cosplay-quality shield below!), and you'll be ready to kick some serious ass on the race course.
Suggested Costume Pieces & Accessories for Captain Carter Running Costume