Hawkeye's Kate Bishop Costume & Other Hawkeye-Inspired Tops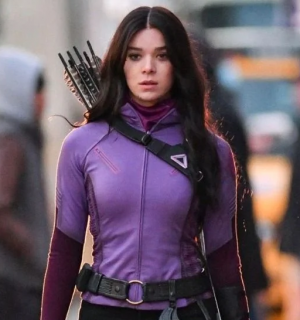 If you're looking for a non-traditional costume idea for an upcoming runDisney race weekend, or another superhero-themed race, I've got a few ideas for you, based on popular Marvel characters and featuring some unique apparel designs available in my Etsy shop.
Today I'm sharing some ideas for dressing up as Kate Bishop, as well as other running t-shirt designs inspired by the recent hit Disney+ series Hawkeye. You can find all of these and more fun pop-culture themed running gear in my Etsy shop here:

Note that the costume pieces I'll be highlighting from my shop, including the Kate Bishop costume shirt, are made to order. Printing and shipment times vary but are clearly stated on the Etsy listing. These ideas I'll be sharing require some thinking ahead, and are definitely not "quick costume ideas."
Kate Bishop was introduced into the MCU (Marvel Cinematic Universe) in the Disney+ series Hawkeye. In comic form, Kate becomes the familiar Hawkeye character.
In the series, her costume is a big part of the character, as she finds branding an important part of being a superhero. She tries to get Clint Barton to change his look and improve his recognition among the public. By the end of the series, he does change into a kick-ass costume, but also seems to hand the reins over to Kate.
LadyHawke? HawkShot? Lady Arrow? I have an idea...
Kate Bishop All-Over Print Costume T-Shirt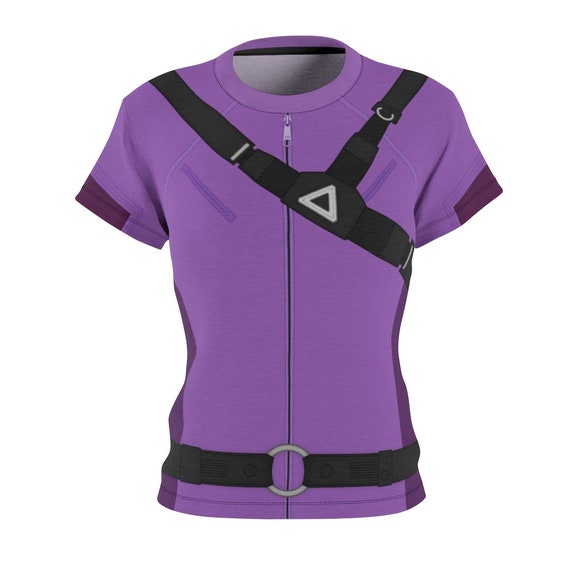 Dress up like the newest archery hero with this all-over print costume t-shirt inspired by Kate Bishop's look from the comics and popular MCU television series. The young Avenger is played by Hailee Steinfeld in the series.
The design of this Kate Bishop costume shirt uses a comic illustration style. Printed design elements on the front and back include Kate's sleek black archer's sling, badass utility belt, and zippered jacket closure.
Wear this with black pants or a black skirt to complete the costume look. In colder weather, you could layer the shirt over a plum running top. As Kate seems to always get banged up, you could wear bandages on your face just like she does. And, of course, you could carry prop archery tools to add authenticity to your look. Paint the suggested toy set below black, or fashion your own bow and arrows from craft foam.
Suggested Costume Pieces & Accessories for Kate Bishop Running Costume
Hawkeye Mantra Tops for Runners
Want to channel the focus of archers Clint Barton and Kate Bishop, but don't want to go full into costume mode? We've got some fun Hawkeye-themed shirts featuring mantras inspired by the series logo and style.