Easy DIY Disney Race Costume Idea: Judy Hopps Running Outfit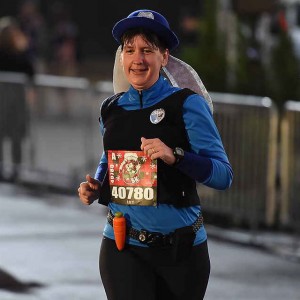 Mickey's Jingle Jungle 5K is one of the races during Wine & Dine weekend at Walt Disney World. For this run back in October 2016, I decided to dress up as bunny cop Judy Hopps from Zootopia.
Judy is an extremely optimistic character. She strives to be Zootopia's first bunny cop and succeeds despite facing constant doubt from others. Her motto song during the movie is "Try Everything." She's one of my all-time favorite Disney characters so it was easy to decide to run as her.

The photo below shows the outfit, inspired by Judy's look when she was working parking enforcement. The costume includes tech running gear as well as costume pieces I added to accessorize. I also included some very easy DIY craft elements.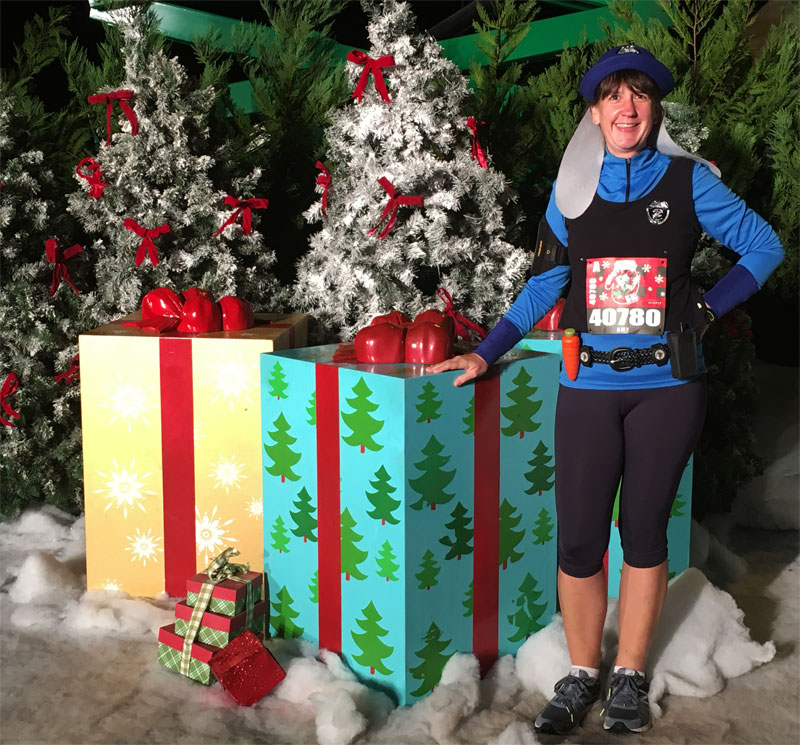 I put together my outfit using a few things I already had in my runner's closet and added some accessories to complete the look. Here are some ideas based on the pieces I used for my Judy Hopps running costume.
For Judy's cop outfit, I looked for a pair of navy blue running capris. I didn't have these in my closet already so I purchased this actual pair from Amazon. On the product page the navy blue looks black but they are a very dark (perfect for the costume) blue. They are a little bit thin but they are not see-through and I was very happy with them.
I had a blue long sleeve tech top in my closet already, so this was easy for me.
Judy wears a short very dark blue cropped vest over her blue shirt. I found a short black cropped tank top at Goodwill which worked out very well for my outfit. If you need to buy one, something like the one shown here might work.
When Judy's on parking patrol, she wears a cute little blue bowler-style hat. I picked up a very cheap one on eBay that looks just like the one shown here.
Here is one costume piece that I really fudged -- I used a thick braided belt I already had in my closet (I actually used this for my Rey costume during the Star Wars Dark Side 5K). For this piece any thick black belt should work.
Pick up some plastic carrots to act as your police pens, like this set of actual ballpoint pens shaped like carrots.
For my outfit, I got a set of plastic toy carrots from a discount store on clearance after Easter.
This is a toy police badge you could attach to your top to add to your Judy Hopps look.
For my outfit, I looked to the toy aisle of a dollar store.
You could buy high quality rabbit ears like this costume piece that features bendable ears.
For my costume, I decided to go budget and make my own ears out of felt. Each big ear is made of a piece of pink felt sewn onto a piece of grey felt. I sewed these onto the back of the bowler hat -- easy and cheap!
Judy has some type of cuffs at her wrists. I purchased a set of long dark blue sweatbands like these to wear at my wrists for this part of the costume. Bonus: I sweat a lot so these came in handy for their intended use!
Want to run like Judy Hopps without piecing together something yourself? Try this complete costume -- just beware that it wasn't designed for running. Not recommended for runs longer than 10K!