Weekends Are For Virtual Races T-Shirt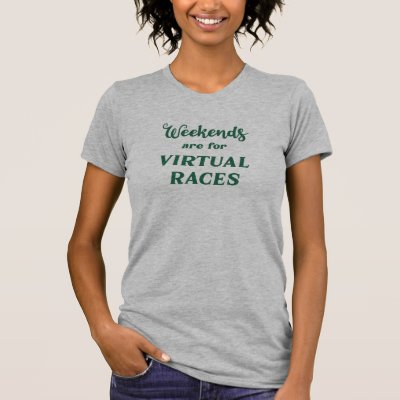 We're having quite a year, aren't we? The Covid-19 global pandemic has turned our world upside-down.
Among runners, the year 2020 will be remembered for all the cancelled and postponed race events. On a positive note, it might also be remembered as the year of the virtual race.
To fill the racing event void, many of us have turned to virtual races. In some cases, not by choice, as the social competitions we signed up for turned into virtual events.
While not everyone enjoys virtual races, they have their fans, a base that is likely growing as 2020 wears on. Virtual races definitely have some real benefits. Virtual races often support charitable causes, like the May the 4th run I did earlier this month, which sent a portion of proceeds to the American Association for Cancer Research. A number of virtual races themed to the pandemic also popped up, like the Conquer Covid-19 virtual race that benefitted local running shops and featured a medal in the shape of a toilet roll, and the #CrushCorona virtual race that sent a donation to the First Responders Children's Foundation. Virtual races also provide income to race event companies, many of which are small businesses, suffering in the collapsed economy due to the forced cancellation of in-person events.
For many runners, virtual runs also provide motivation, especially without any physical goal races lined up on the calendar.
In this time of global pandemic, for a lot of us, Weekends are for Virtual Races. This shirt for runners can be purchased in several different cuts, styles, sizes, and colors. Shown here on a Heather Grey American Apparel Fine Jersey Women's Shirt.