Keep Calm and Run Slow Tank Top & More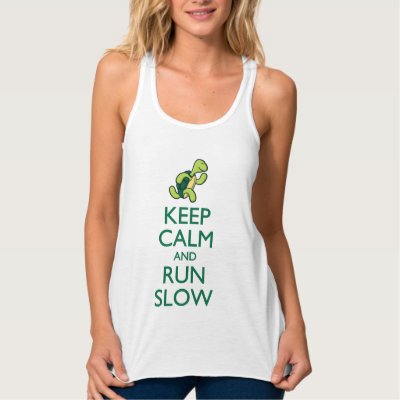 This runner design spoofs the popular catchphrase from the British government during World War II. The phrase, typically "Keep Calm and Carry On", is taken over by runners with the adjustment: "Keep Calm and Run Slow". The crown icon that usually accompanies the phrase is replaced by a running cartoon turtle.
It's good to run slow! Changing up your pace as you run and train is great for keeping fit and working different muscle groups. Even the fastest runners have recovery runs or change up their pace during training to maximize performance overall and keep strong and healthy. Of course, there are those of us back of the packers who run slow on the regular, but we should change up our pace and effort as well.
This spoof design was made for runners of all abilities and speeds. No matter the reason, it's good to channel your inner turtle. Shown here on a tank top, you can get this design on a wide variety of apparel styles and hundreds of other novelty products via our production partner Zazzle here: Keep Calm and Run Slow.
This design is also available via Amazon. See our selection below.
Keep Calm and Run Slow Funny Turtle Gift Options on Amazon