Race Report: Disney Princess 5K 2017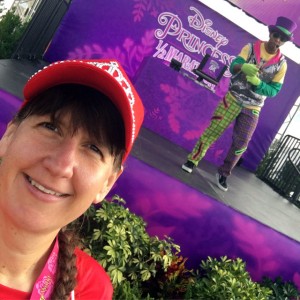 I registered for all three Disney Princess races at the WDW Marathon Weekend expo. That's rather late -- just about seven weeks out. The races were listed as sold out on the runDisney website for months so it was both a pleasant surprise and a last-minute decision to sign up. A milestone birthday was coming up so I intended to celebrate my 45th with the races and a little getaway to Disney World with my sweetie.

A Disney race weekend always starts with a visit to the expo for bib and t-shirt pickup. It's also fun to shop for official event merchandise (I always pick up a car magnet), check out the vendor booths, and pick up any freebies being offered. When I got my bib the expo volunteer seemed mildly alarmed to see my name was not printed under my number. I tried to reassure him by letting him know it was due to my late signup but he was still flustered.

Sometimes there are photo ops available at the expo as well. The race weekend theme was Beauty and the Beast so a photo op with Beast's rose was available when exiting the expo.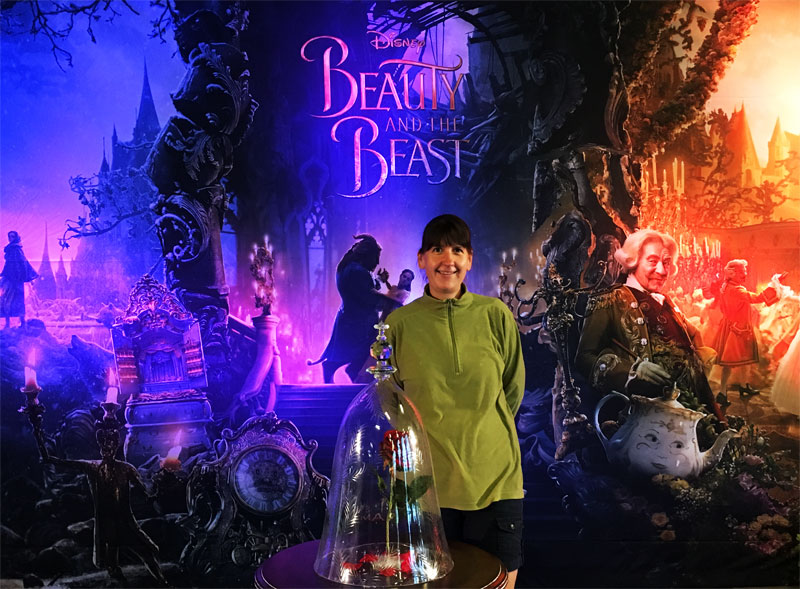 I decided to run this race in a simple Gaston-inspired costume. I wore my yellow 2017 WDW Half Marathon long sleeve tech top under a red short sleeve tech top I already had. A big ugly brown belt and a black skirt, both already in my closet, finished the look, along with a new tiara bejeweled red baseball hat.

The course took us from the Epcot parking lot through the park and back out to the parking area for the finish.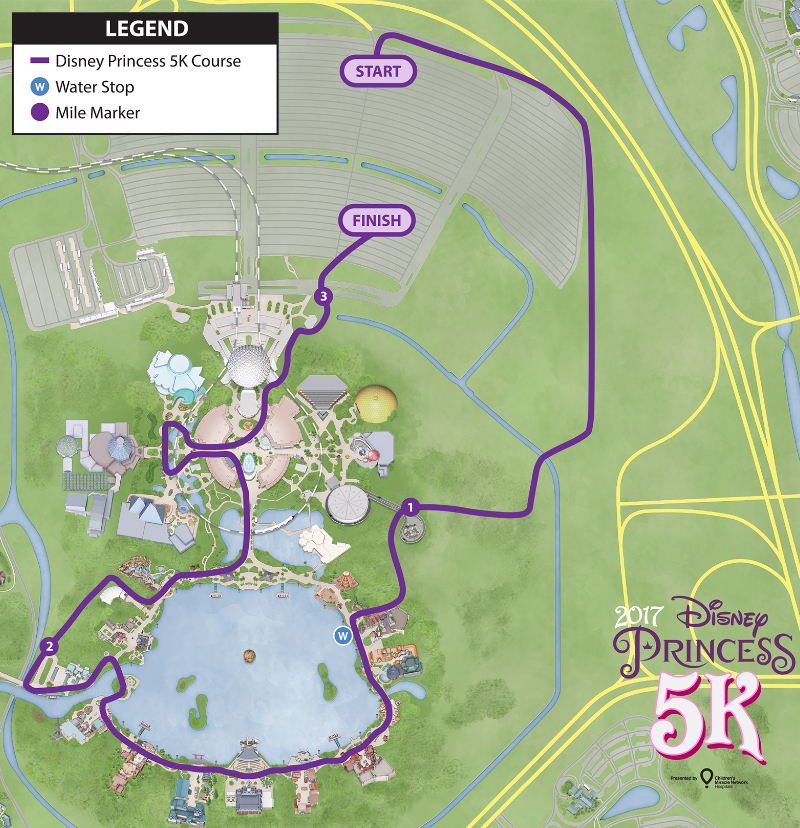 Training & Goals
Disney challenge weekend means the plan for this race was to take it easy and rest my legs for the upcoming 10K and half marathon on Sunday.

Race Day: February 24, 2017
I left home at 3:35AM and had the car parked at Epcot by 4:25AM. This left me time to get into the massive line for one of the two Princess photo ops. I had time to get my photo taken with Snow White before heading to the corrals.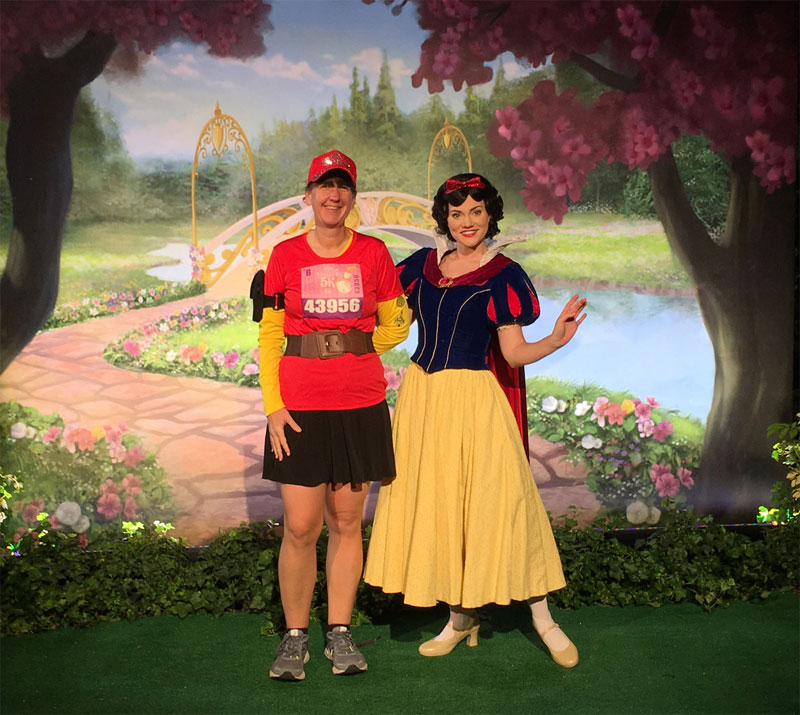 For this race I was in corral B which meant a relatively early start. They released the corrals in waves and since I was alone I managed to shuffle my way to the front of the corral to start with the first wave at about 6:07AM. It was around 66°F at the start with approximately 93% humidity.

Mile 1
Since my Garmin was having some problems during race weekend, I don't have my splits for any of the races. But this was a very slow race for me (more like a parade) with lots of stops for photos and fun. The course took us alongside Epcot via an access road before entering the park. There was a photo op with Meeko from Pocahontas before we hit the Mile 1 marker.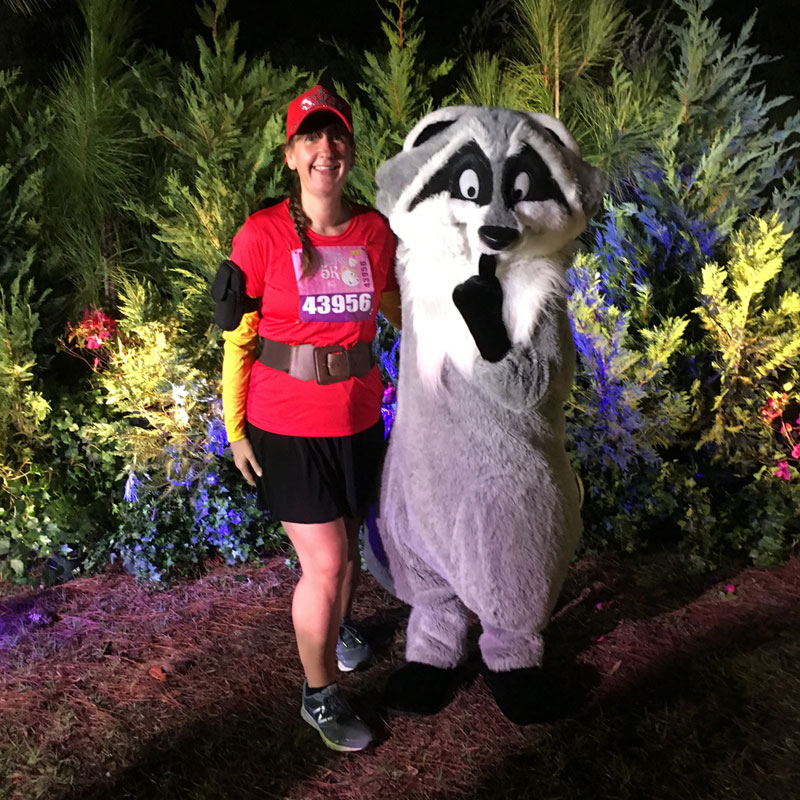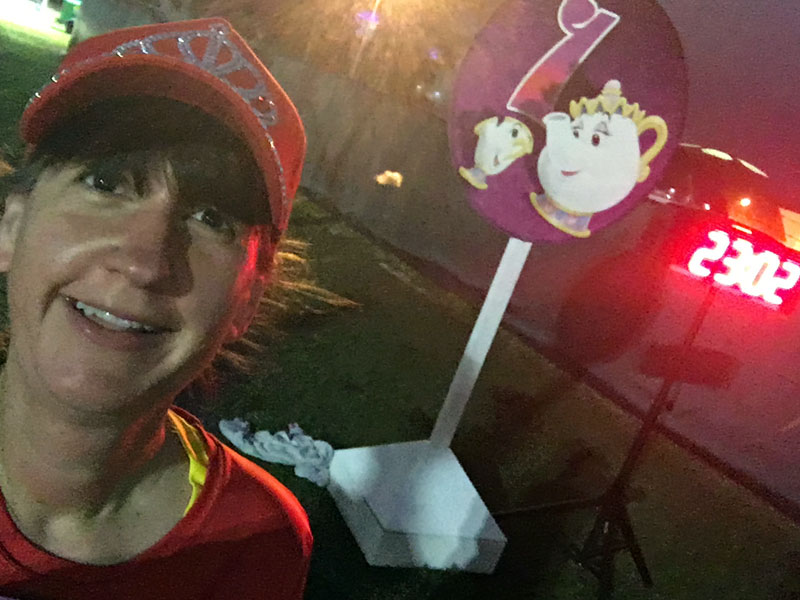 Mile 2
The first photo stop in World Showcase was a bunch of viking dudes in Norway. They were funny -- just grunting and gesturing and not really speaking actual words.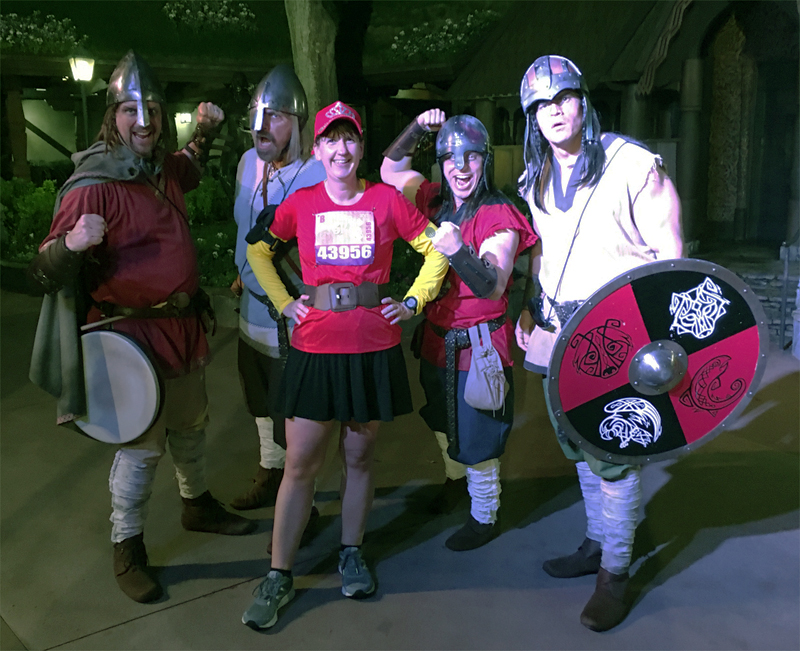 Next there was a massive line for a photo with Dopey, and then shorter lines for Abu (Aladdin) in Morocco and for the mice Suzy and Perla (Cinderella) in France.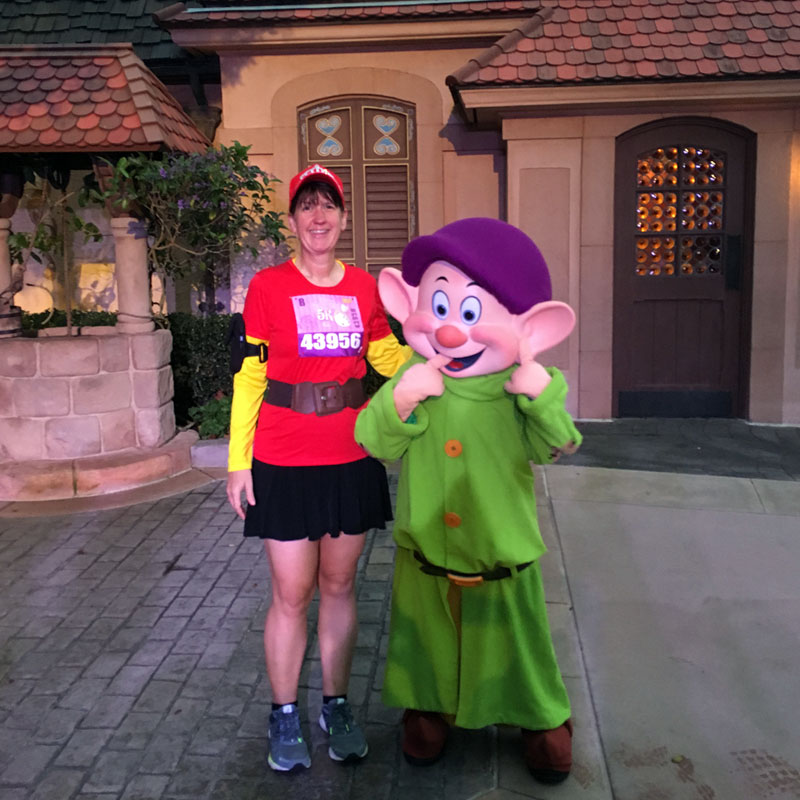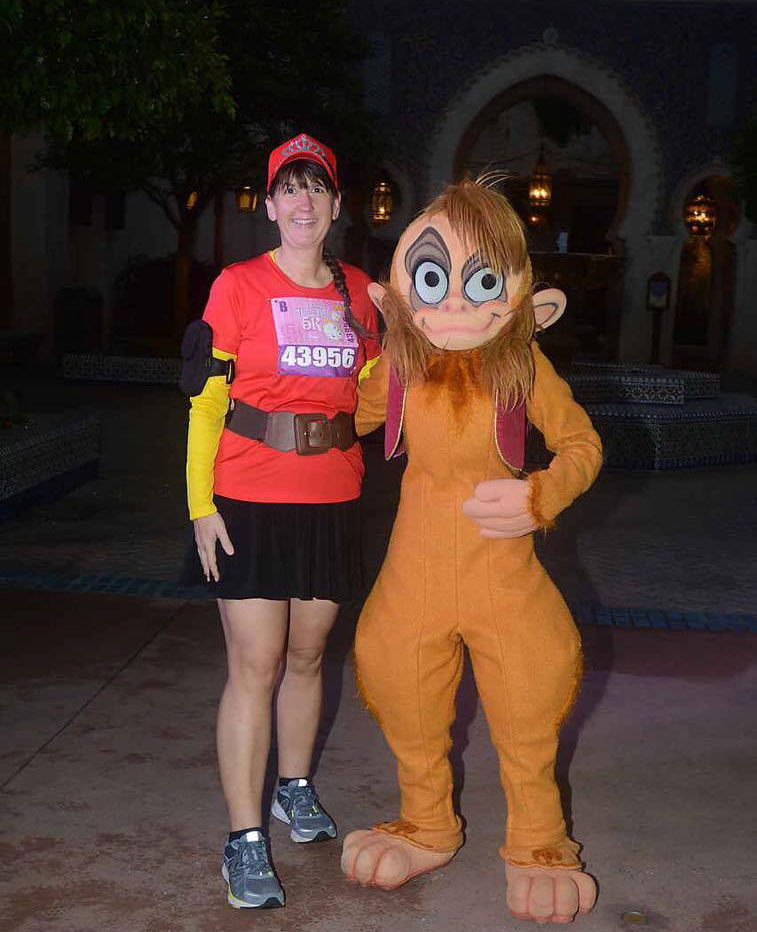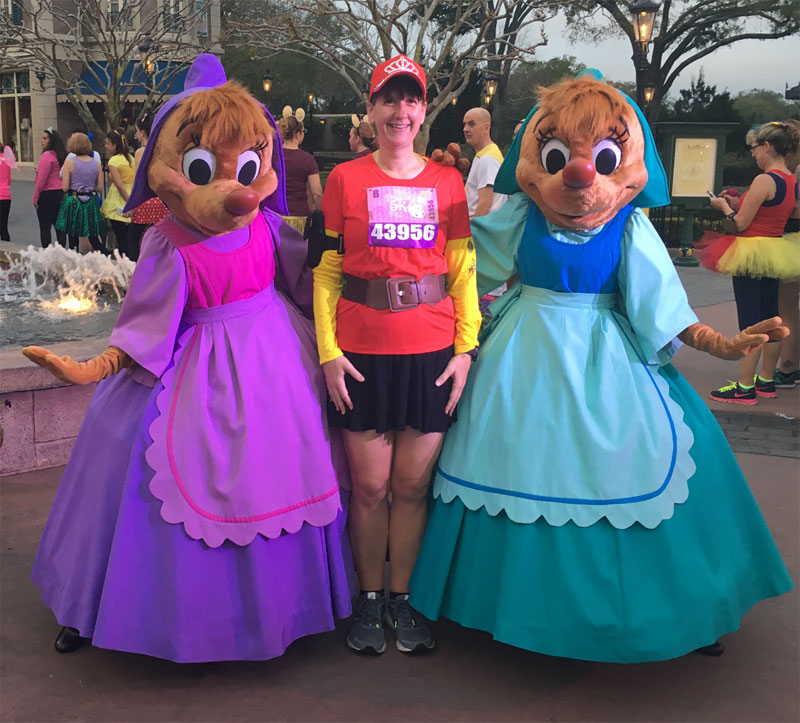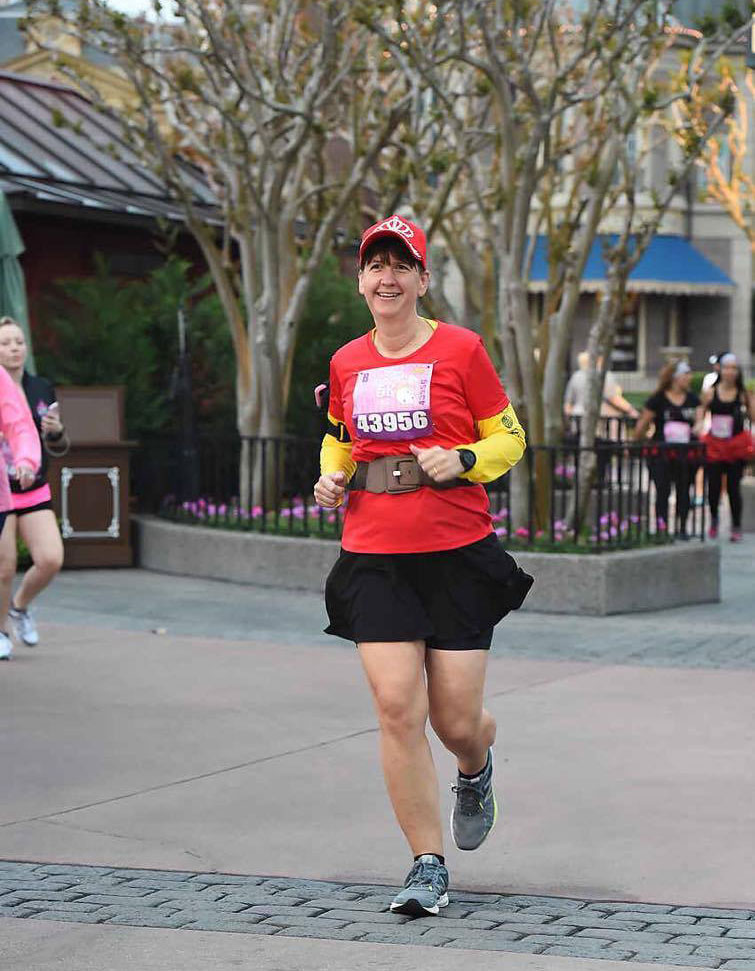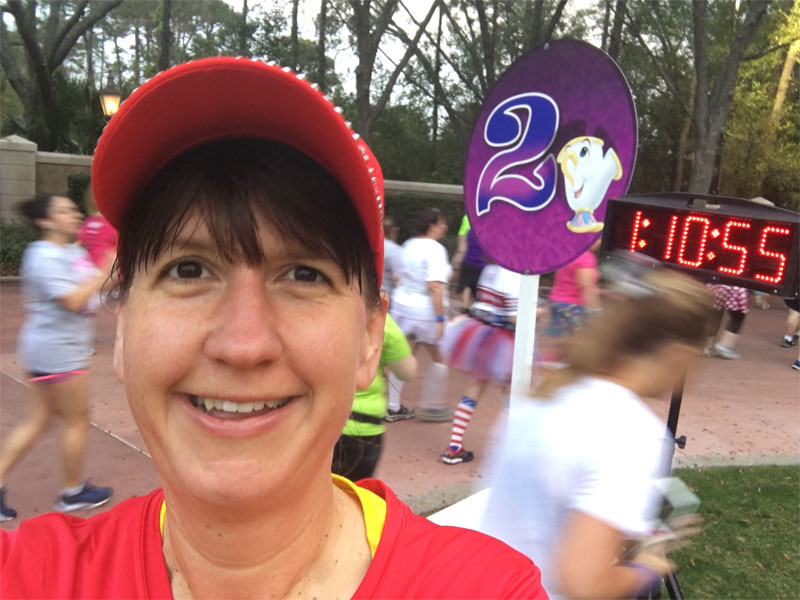 Mile 3+
Mile 3 started in a backstage area where we ran shortly before heading back to World Showcase via Canada. In Future World we ran by The Seas where there was a photo op with pretty costumed sea characters.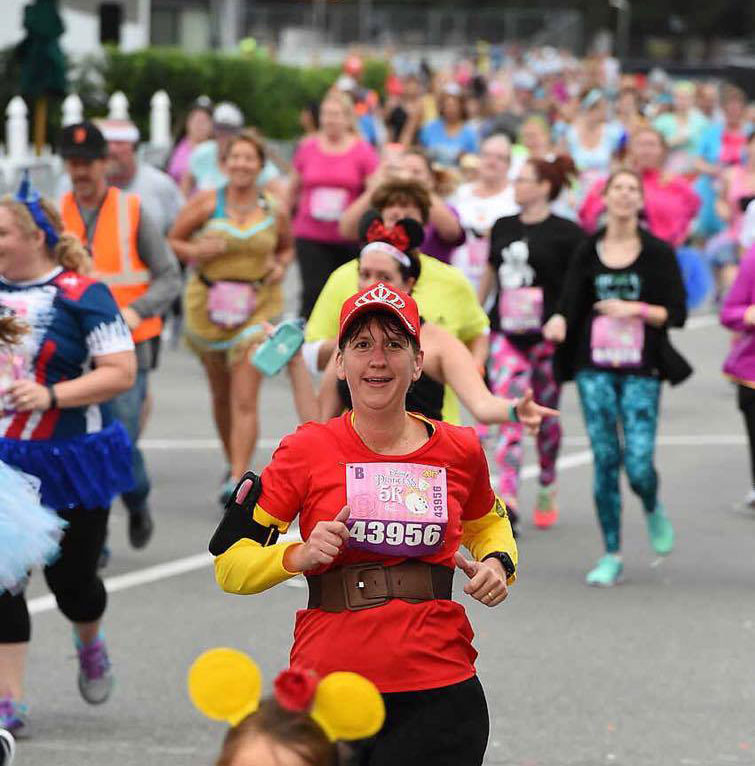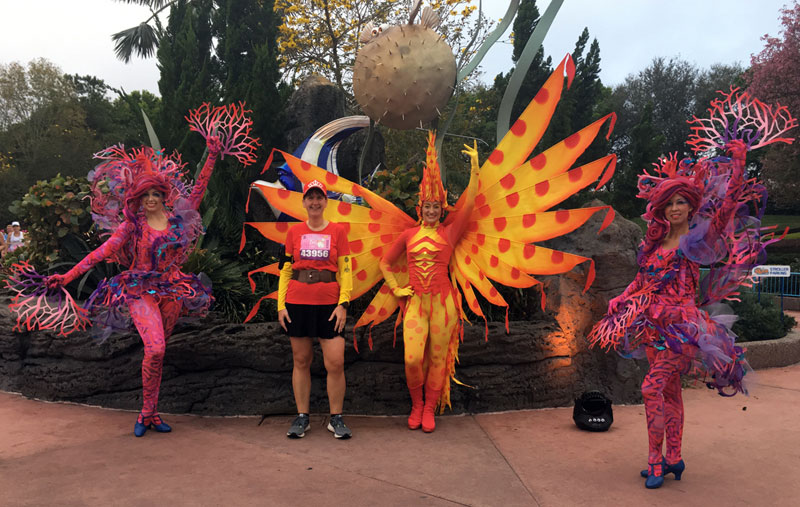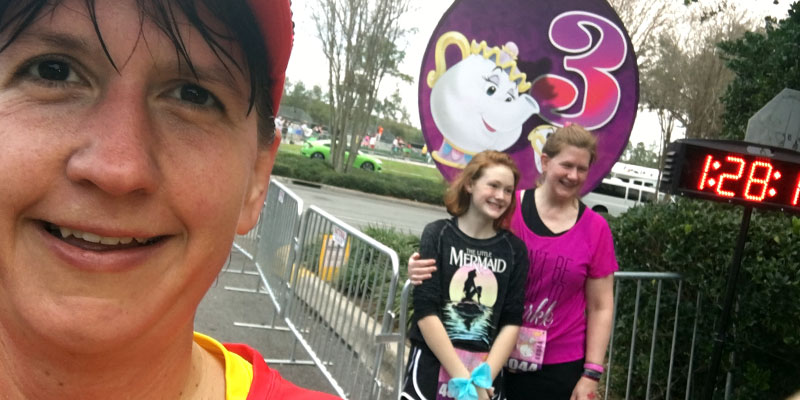 Then it was back around the middle of Future World to race under Spaceship Earth and out to the parking lot for the finish.

After the race I stood in line for a photo with Belle or Rapunzel (there were two backdrops with 2 princesses each with switching shifts). When I was near the front of the line, the group in front of me offered to let me pass them for a photo with Rapunzel. They were waiting for Belle (we were told it would be around 3 minutes) and I decided to wait as well. Word that Belle was coming out passed down the line and for a while there was no one who wanted to have her photo with Rapunzel. The race DJ felt sad for her and came over for a selfie.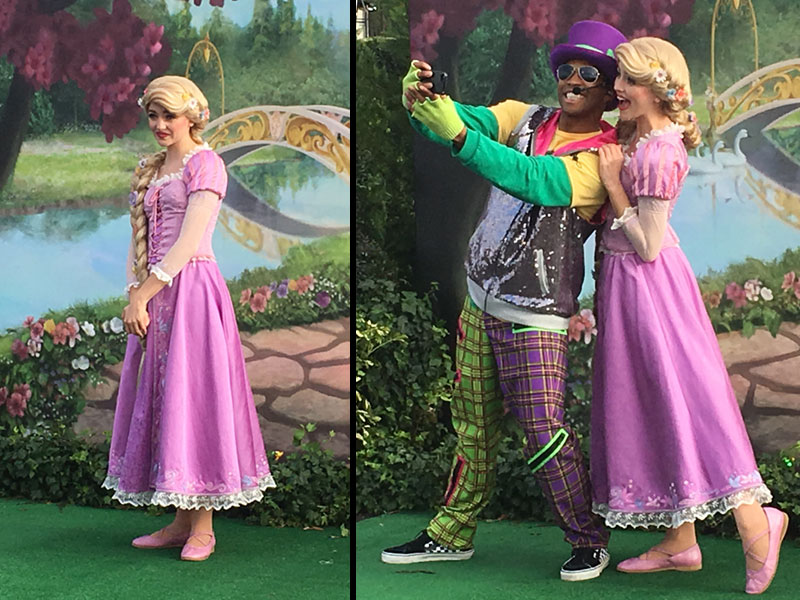 Belle eventually came out to applause and cheers. Sorry, Rapunzel, this was Belle's race after all.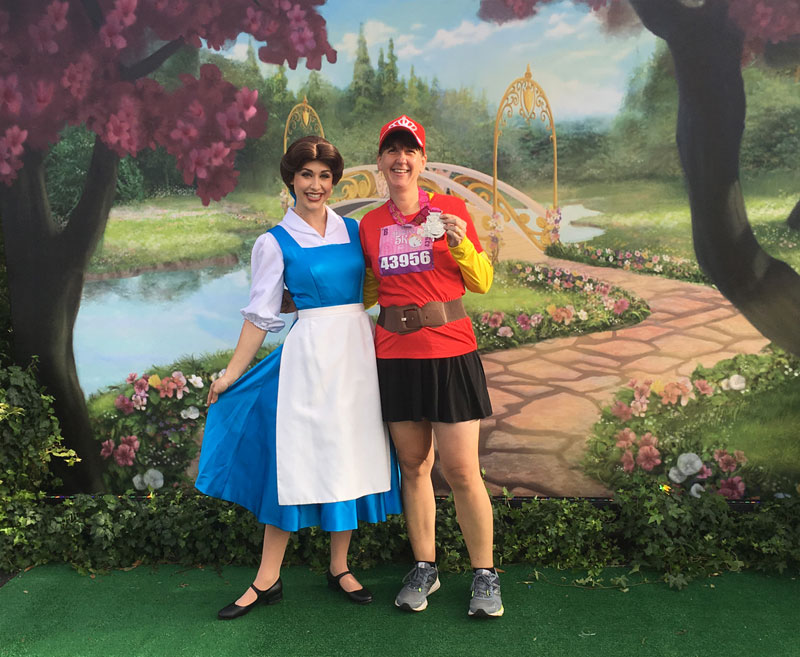 I went to change clothes and have a bite to eat at Art of Animation before heading to Hollywood Studios for a couple of celebratory post-race rides. I had my photo taken with the Oscar they had on display inside One Man's Dream and then rode Tower of Terror for the first time in years. I also rode Star Tours and Toy Story Midway Mania.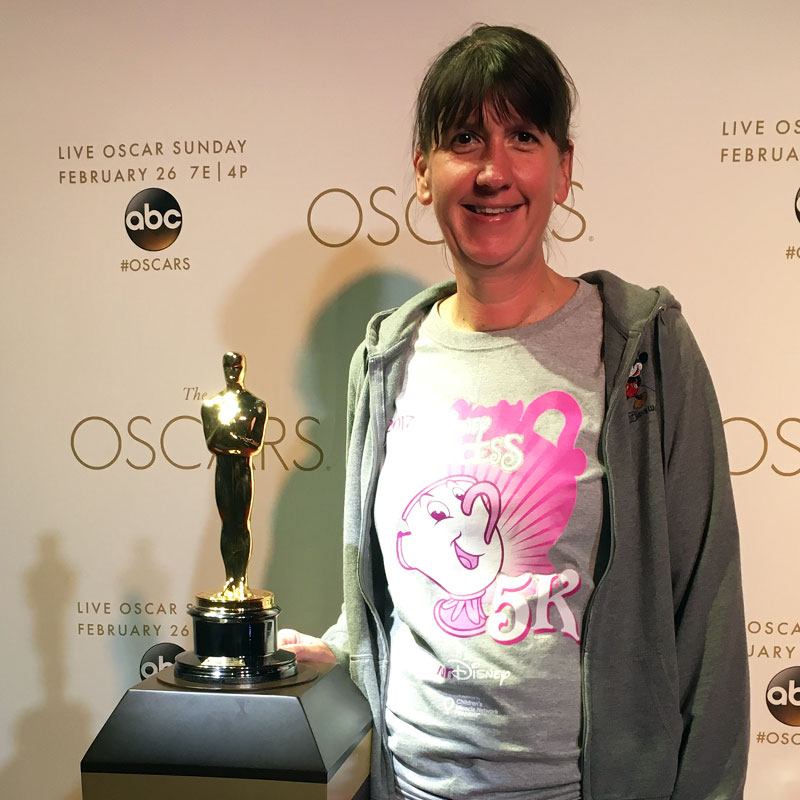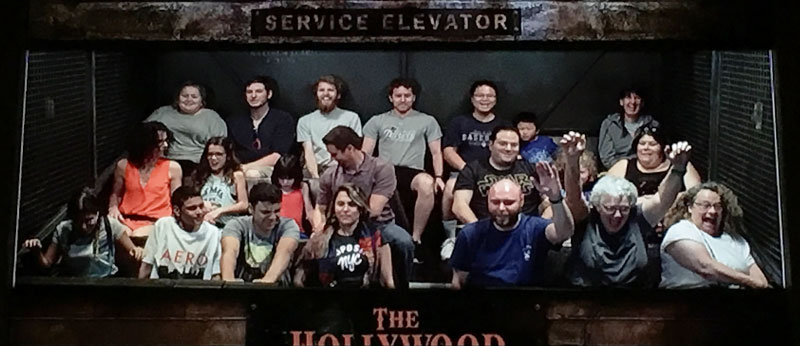 After a quick lunch at PizzeRizzo and a Darth Cupcake to go I headed home for the day.

Recommendation
The course was crowded and slow for the most part but I was taking my time so I can't complain... but I can warn others. All three of these Princess races felt much more crowded than the Dark Side and Wine & Dine races I ran last year. I enjoyed all of the photo ops and was happy they weren't all princesses because I prefer my characters to be furry. ;) I would recommend this race to anyone that enjoys a fun Disney run and knows exactly what they're in for.

Garmin Time: 1:23:04
Race Amenities: All the fun Disney stuff including a cotton unisex shirt and cute finisher medal
Cost: $74.99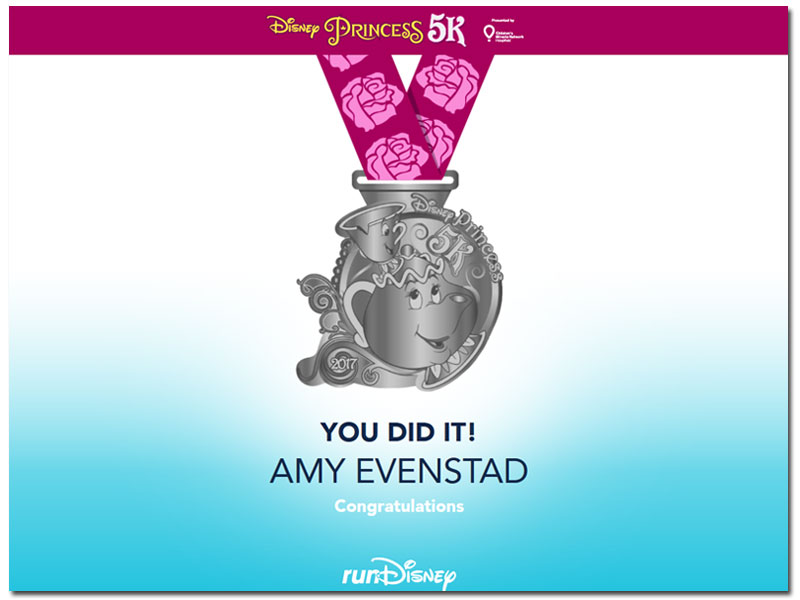 Report written March 8, 2017