Race Recap: Riverside Dash 15K 2018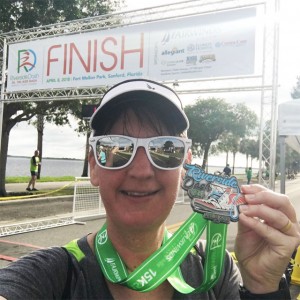 I ran the Riverside Dash 5K in Sanford last year. This year I ran the headliner event, the Riverside Dash 15K run along the riverfront.
Training & Goals
I'm still just muddling along, enjoying races. Goal-setting and goal-oriented training aren't on my radar right now. I hope that this period of taking it easy will recharge my desire to run. I'm signed up for races through the end of May so... stay tuned. For this race I had no expectations although I hoped to finish in under 1:51 to beat my 15K PR set back at Gasparilla earlier this year.
Race Day: April 8, 2018
I had picked up my packet ahead of time and the race is really close to home so I didn't have to leave too early. I snagged a good parking spot a few blocks from the start/finish area and then found a place to sit and wait by gear check so I could keep my sweater on until it was close to race time. It was about 66°F at the start with partly cloudy skies. There was a nice breeze off of Lake Monroe.
Mile 1, 2, 3: 10:33, 10:50, 10:44
This is a really nice course through historic downtown Sanford and then a long out-and-back along Lake Monroe, part of the St. Johns River. I was feeling pretty good through these miles.
Mile 4, 5, 6: 10:49, 11:03, 11:32
Typical-for-me mid-race slow-down. After the turn-around the sun was in our eyes and I started feeling a bit overheated from the direct sun.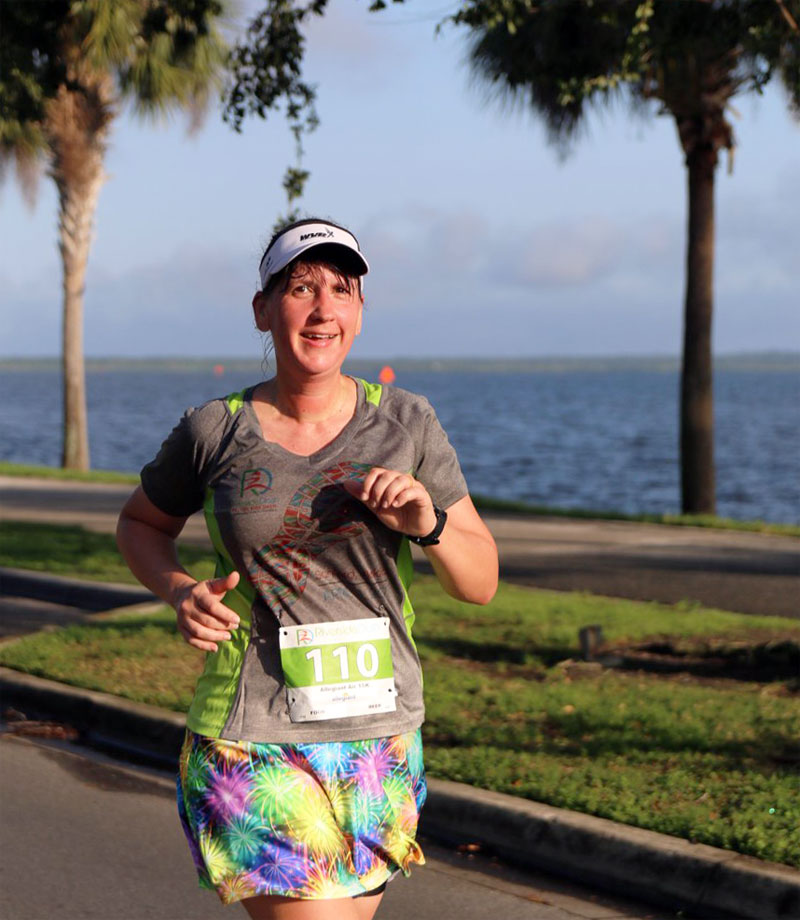 Mile 7, 8, 9+: 11:35, 11:43, 12:20, 4:18
I was determined to keep up my regular run/walk intervals. I was doing well until I realized somewhere in the last couple of miles that my goal of a sub-1:51 finish was well within reach, even if I walked in. So what did I do? Started walking even more. What the heck, that's a terrible attitude. Stupid runner funk.
After Party
I didn't stick around too long after the race. Like last year, a nice breakfast buffet was offered to runners, but I wasn't hungry. I had a look at a few of the vendor stands and rang the PR bell before heading home.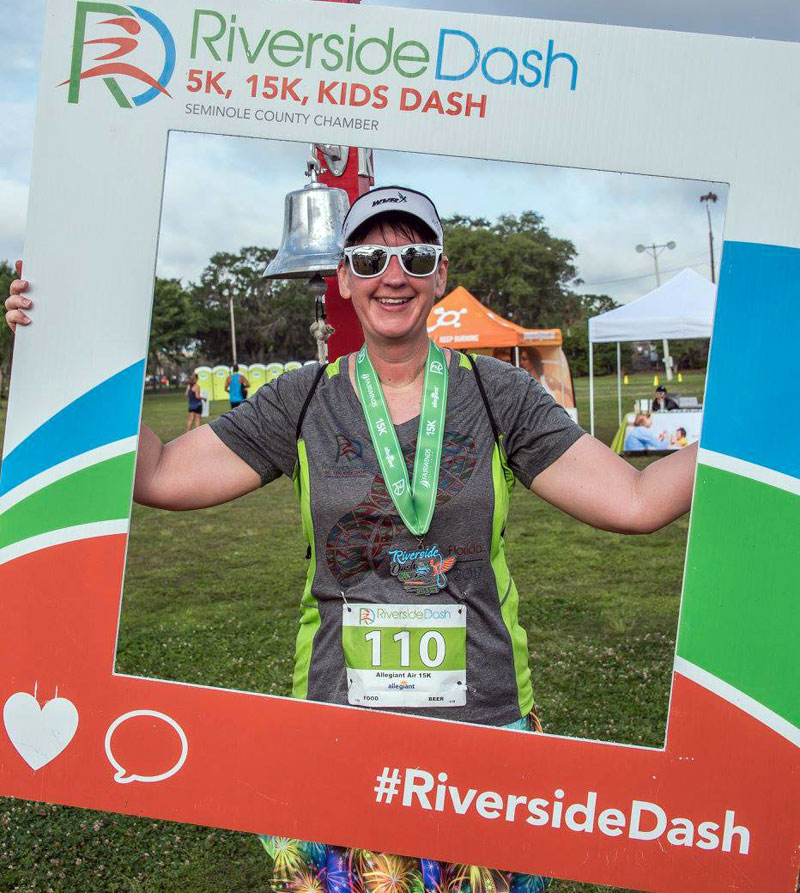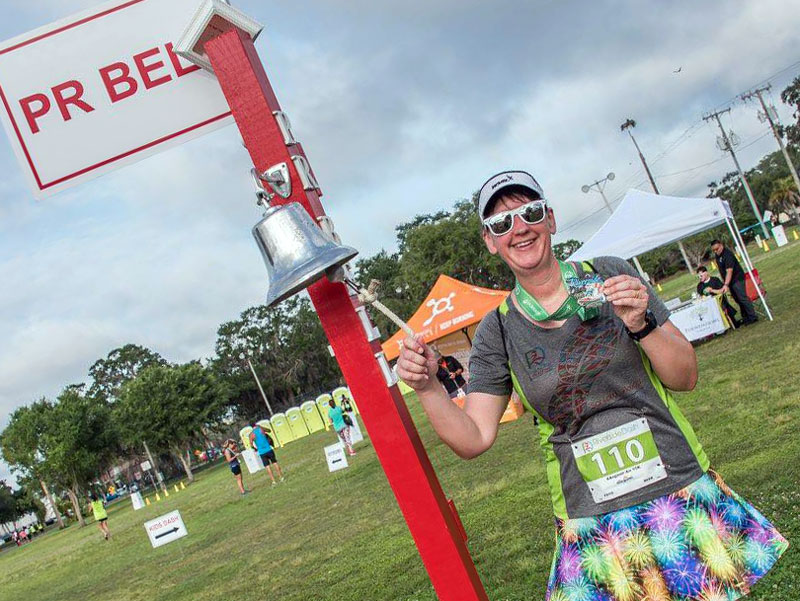 Recommendation
The Riverside Dash 15K runs a beautiful route along the St. Johns and shuts down a major road (17-92) to do so. I'm glad I ran this and I probably will again, hopefully with a better attitude and a more challenging goal in mind. Course support was good and law enforcement presence and traffic control were excellent. The start/finish area atmosphere is great, too. Highly recommended.
Chip time: 1:45:24 (5:49 PR)
Placement details: 20th of 35 in Age Group, 267th overall out of 402 finishers
Race Amenities: Tech t-shirt, finisher medal for all, breakfast buffet
Cost: $38.50 (previous year participants received a generous $20 discount)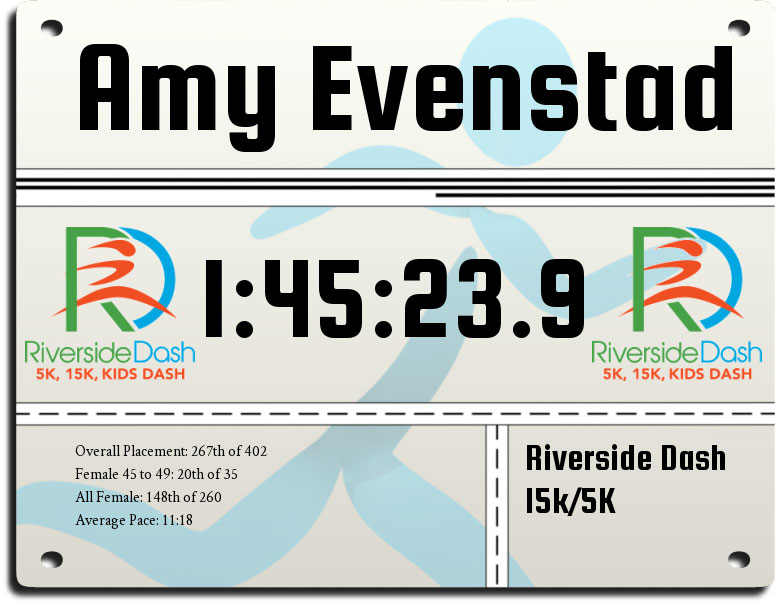 Report written April 20, 2018