Princess Running Costume Idea: Luisa Madrigal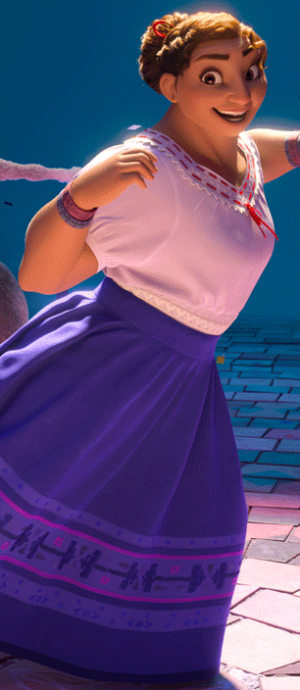 Are you looking for something different to wear for the upcoming Disney Princess Half Marathon Weekend? If you're running but don't want to dress up like one of the race theme princesses, or any princess, for that matter, how about something non-traditional, but still Disney?
Luisa Madrigal is one of the heroines in the latest animated Disney feature film, Encanto.
The main story revolves around her sister, Mirabel, who wears a whimsical outfit with lace-look trim, flower details, and other pretty and intricate design features. We have a few Mirabel costume pieces available in our Etsy shop. I will share the pieces at the bottom of this post as well.
Dress up as the strong Luisa, whose magic is extraordinary strength. Luisa works to balance the responsibilities of her gift with the pressures she feels from those who rely on her.
Luisa great character to channel during a runDisney race or other costumed run. Her signature song, Surface Pressure, is a great workout song with a catchy beat -- hum along during your run, or add it to your running playlist!
Luisa is also a perfect companion costume to join up with a Mirabel runner. Pick up Mirabel and Luisa running outfits for a pair of running sisters, or running besties.
Costume running is even more fun when you do it together!
Luisa Madrigal Running Costume Shirt, Skirt, and More
We offer a few different Luisa-inspired costume pieces in our shop. Luisa wears a lilac blouse with red ribbon and lace-look trim at the bottom. She also wears a dark purplish-blue skirt. In addition to a costume shirt and skirt, we have a t-shirt dress, and a pair of Luisa-inspired leggings for those who prefer that style instead of a skirt. These four items are featured below:
Luisa Madrigal Running Costume Accessory Ideas
Luisa makes for an especially easy running costume because she doesn't have a lot of accessories -- there's nothing large to carry or bulky to wear to achieve her look.
She does wear purple bands at her wrists, and a red ribbon in her hair. You can use sweatbands or a headband to approximate this look, with athletic gear, for your running costume. I would probably accessorize with a red Headsweats hat. You could also consider carrying a prop barbell, dumbbells, or even a plush donkey to showcase Luisa's strength. See ideas below.