I Love Running Funny Junk Food T-Shirts & More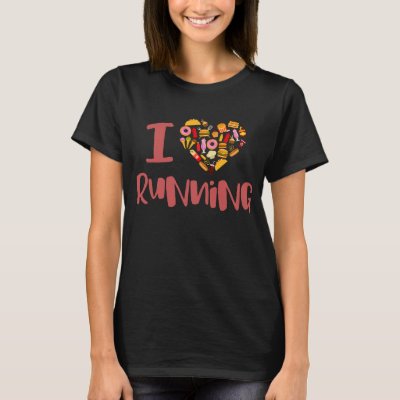 This funny and unique design for runners references a familiar motivation for some athletes: food. In particular, fast food or junk food. The message from this graphic design is simply "I Love Running" or "I Heart Running". When examined closely, it can be seen that the heart shape is made up of junk food icons, like French fries, doughnuts, ice cream cones, hamburgers, and soda.
Shown here on a women's basic t-shirt, this funny runner design can be purchased on a wide variety of other apparel and novelty gift items from our partner Zazzle. A few examples are shown below; visit our Zazzle shop to find more: I Love Running (For Food).
If you don't find the exact product you're looking for, you can use Zazzle's easy tools to place the design on almost anything! Look here to add this runner design to a huge range of products: I Love Running (For Food).
More "I Love Running (For Food)" Funny Gift Ideas from Zazzle
This design is also available on a variety of products via Amazon. See our selection below.
"I Love Running (For Food)" Funny Gift Ideas from Amazon