Weekends are for Virtual Races T-Shirt and More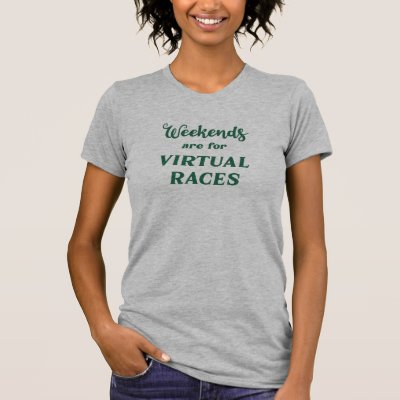 When all of your goal races got cancelled, or postponed, or turned to virtual races, weren't you bummed? Many of us turned to virtual races during the pandemic to support local race companies or charities we believe in.
In any circumstance, virtual races can be a great way to keep ourselves motivated and accountable.
This fun runner design reads "Weekends are for Virtual Races". The stylized text in dark green looks great against a variety of light colored backgrounds.
Shown here on a fine jersey tee from American Apparel, you can find or add this design to a variety of different apparel and gift item options from Zazzle. See some examples below, or click here to add the design to anything in Zazzle's vast selection: Weekends Are For Virtual Races.
Weekends Are For Virtual Races Gift Ideas for Runners