For the past two years I purchased a Daruma doll at the beginning of the year. It is a modern Japanese tradition to use the dolls, symbols of good luck and encouragement, in the setting of goals for the new year. I made my running goal, filled in one of the eyes, and hoped to fill in the other one once my goal was reached.
For 2016 I purchased a red Daruma doll. I hoped to run a sub 30-minute 5K. I filled in the doll's second eye on April 9th.
For 2017 I purchased a black Daruma doll. I hoped to run a sub 2:30 half marathon. That goal was reached at the Swamp House Half Marathon on March 5th.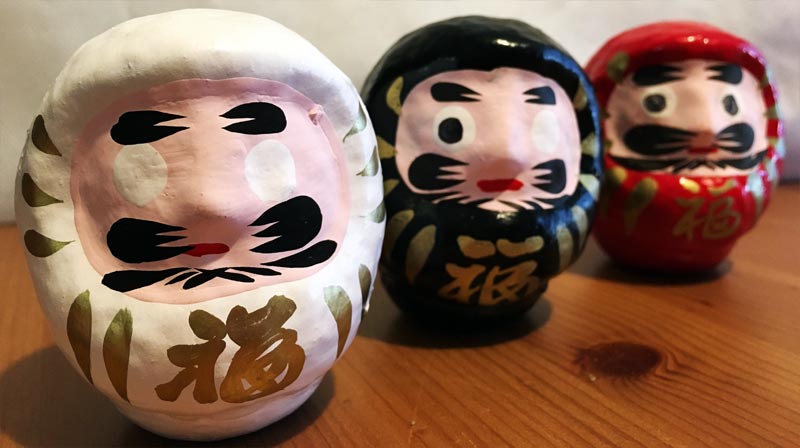 For 2018 I purchased a white Daruma doll. Today is January 1st and I haven't been able to come up with a running goal that I really like out of the ideas I've been floating around. I am both terrified and excited for the Dopey Challenge and have been so focused on that that I am not sure what I should focus on afterwards. So I'm settling on a grab-bag kind of goal -- trying for 2 PRs (Personal Records) for 2018. This is actually a gimme since I'm signed up for three new-to-me distance races in 2018 (guaranteed PRs!). I'll attempt my first marathon in a week (EEK), I'm registered for two 15K races, and one 8K. But I'll still try to beat at least two of these PRs:


| | |
| --- | --- |
| 5K ..... | 29:39 |
| 10K ..... | 1:03:29 |
| HALF MARATHON ..... | 2:24:07 |
| 2 MILER ..... | 19:18 |
| 4 MILER ..... | 41:33 |
| 16K ..... | 1:58:25 |