runDisney Race Recap: Expedition Everest 5K 2022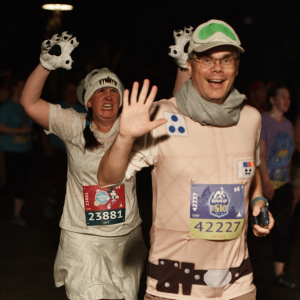 On Thursday, March 31, 2022, Arthur and I participated in the Expedition Everest 5K, part of the new Springtime Surprise race weekend at Walt Disney World. Here's my recap!
Background
The 2020 Star Wars Rival Run race series was the first runDisney event to succumb to the COVID-19 pandemic. The race was fully cancelled, the only runDisney event to be completely wiped off the map.
Wine & Dine 2020, Marathon Weekend 2021, Princess 2021, and Star Wars 2021 all were offered as virtual-only events (Star Wars was initially offered as in-person before being transitioned to virtual. I am not sure if this was also the case for the other race weekends). Eventually the Wine & Dine 2021 race weekend marked the return to in-person racing at Walt Disney World.
When Star Wars 2021 was transitioned to a virtual event, runDisney announced it would be the last Rival Run event, with the springtime race weekend to be reimagined with new theming. At first, many hoped for a different Star Wars themed weekend. But it was eventually revealed that the spring race event put on by runDisney would be something altogether different: the Springtime Surprise race weekend.
The theming for each race would call back to now-defunct events previously held at Walt Disney World.
The Expedition Everest scavenger hunt and 5K race would take place on Thursday night at Animal Kingdom. If I heard correctly, this was the first nighttime race at Walt Disney World since 2015.
The Race for the Taste 10K would take place on Saturday morning. This foodie-themed race came before the Wine & Dine weekend we know today.
The Tower of Terror 10-Miler would return as a daytime race, taking place on Sunday morning. This popular race used to take place at night.
Runners who completed all three races would also earn a challenge medal.
Registration
Arthur and I planned to run the 5K together, while I would run the 10K and 10-Miler as well, to complete the challenge.
The 5K and challenge quickly sold out when they first went on sale for the general public on December 9, 2021. On that day, Arthur got into the 5K, but I got bounced out of my registration at the final step. I was extremely lucky to snag a challenge bib when registration opened up again very briefly on January 20, 2022.
Training & Goals
Arthur and I came home from a brief European road trip vacation the day before the 5K. I had run a few times during the trip but I'm still struggling with knee issues. We planned to walk much of the race, with some short jogs here and there, and we planned to stay together for the whole race.
Expo and Race Day: March 31, 2022
We headed to the race expo in the afternoon. We got our bibs & shirts without issue but the one thing I wanted to buy from the official merchandise area (challenge ears magnet) was already sold out.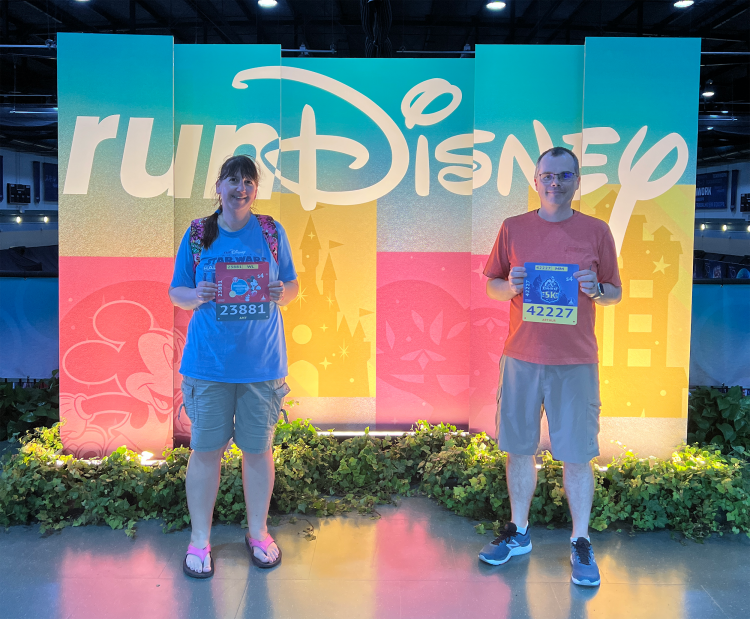 Costumes
As a tribute to the Star Wars races, I decided to wear mash-up or mixed-theme costumes for each race of the Springtime Surprise weekend. Instead of dressing up as the Yeti from Expedition Everest, I dressed up as another frigid bigfoot character: the Wampa from Hoth. Arthur dressed up as Luke Skywalker in his Hoth outfit.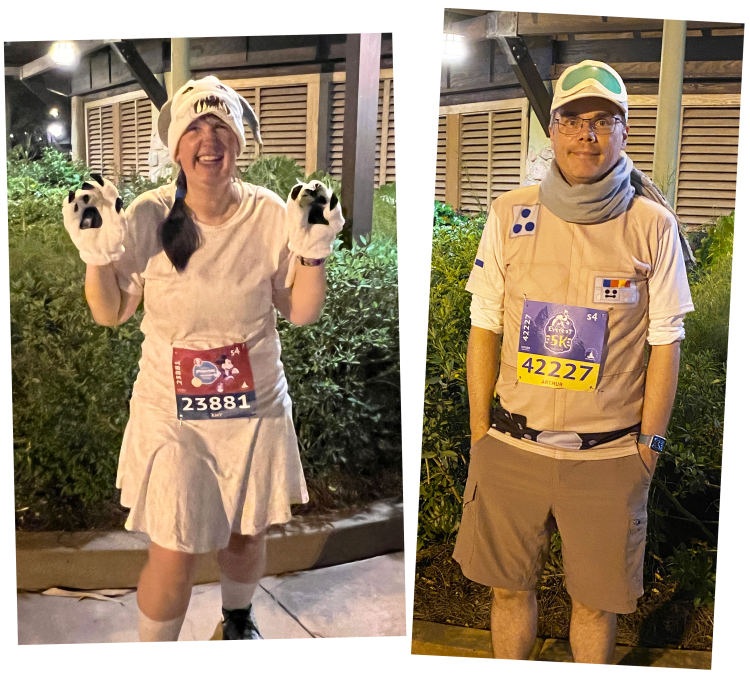 As race time (10PM) approached, the weather was looking iffy. Thunderstorms were predicted. It remained dry as we headed to Animal Kingdom after getting dinner off-property. But in the corrals, the race announcers let us know that the course would be shortened, and that the scavenger hunt part of the event would be converted to a virtual experience.
Arthur and I were in the last corral. When we started our race at 10:42PM, it was 72°F with 83% humidity.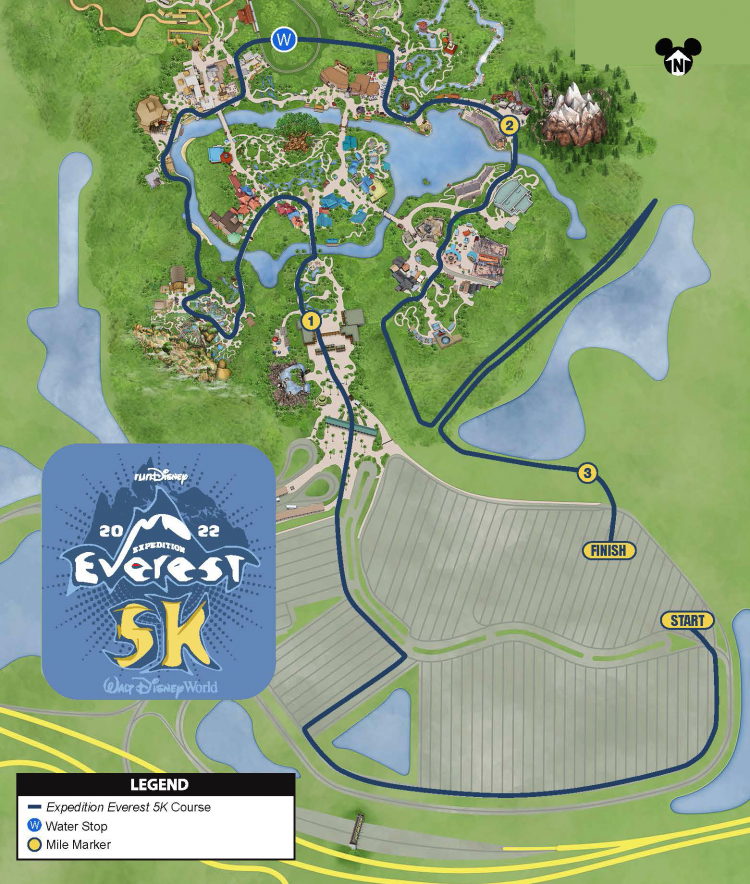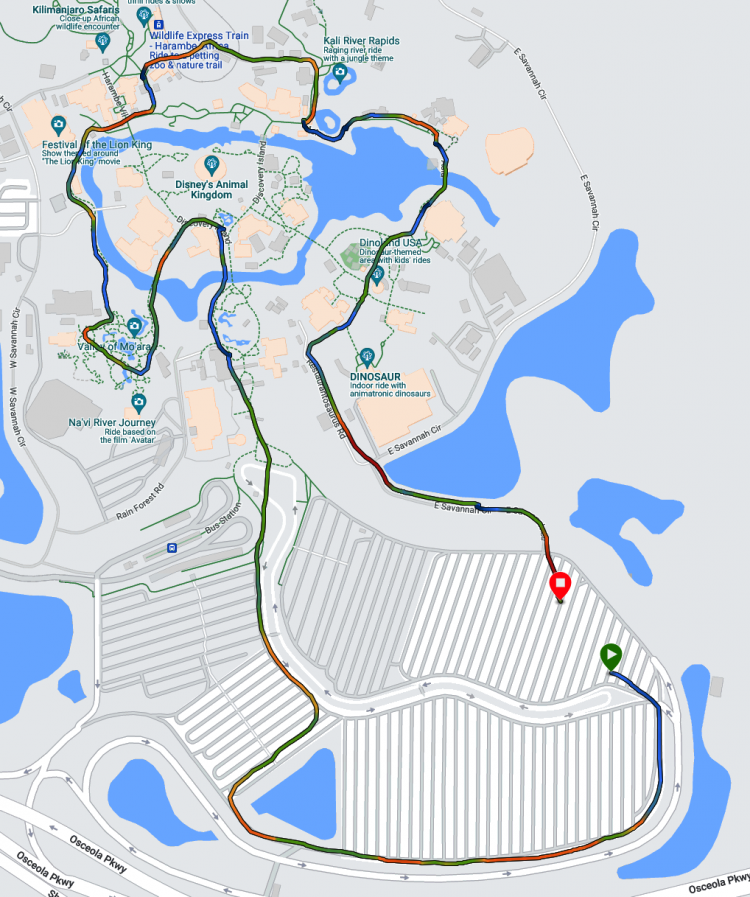 Mile 1: 15:21
I had fun hamming it up for the Photopass photographers.

I hadn't been in a race that went through Animal Kingdom for several years so it was pretty fun. The last time was probably the 2018 marathon, and it wasn't dark when I went through. Pandora is neat in the dark so this part was cool.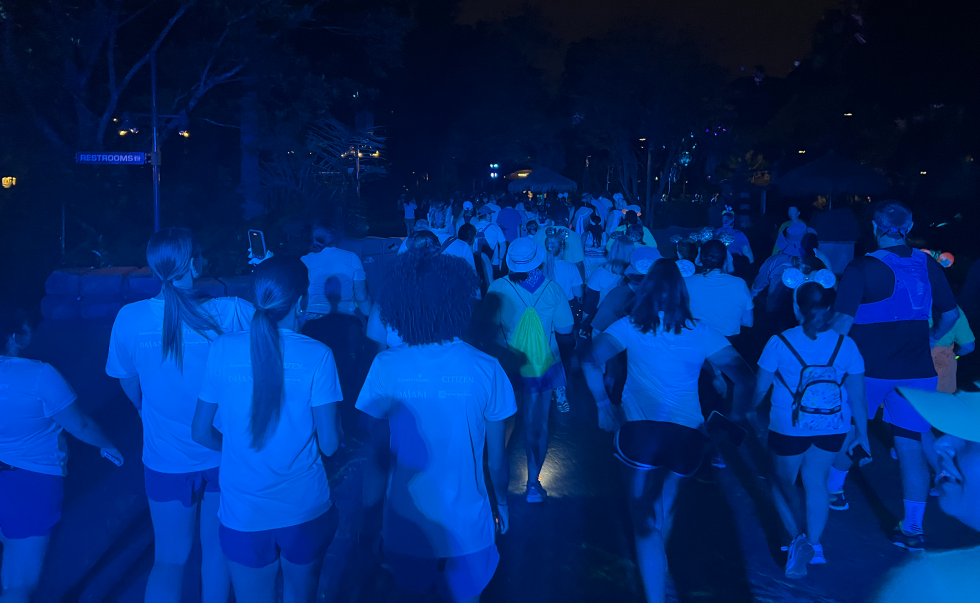 Mile 2+: 18:05, 11:05
We didn't stop for any character photos, but we did stop for some selfies, especially by Everest.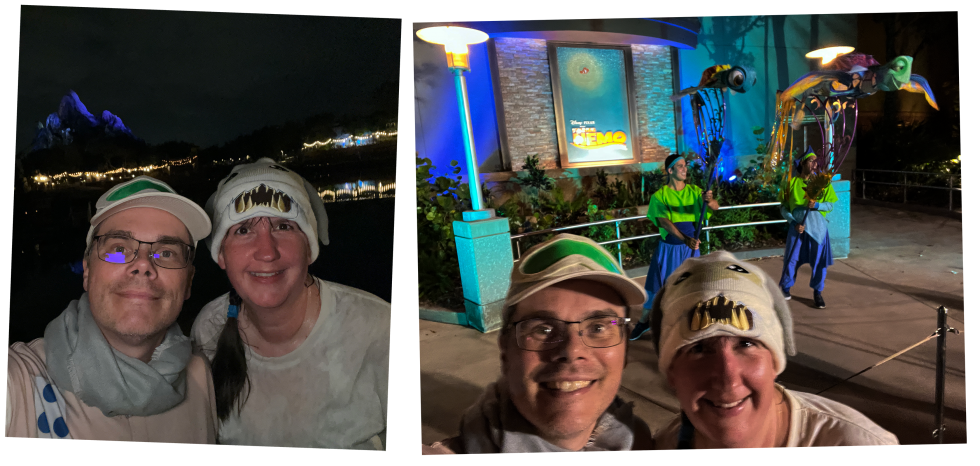 The course was shortened to skip a long out and back on the road, after we left Animal Kingdom. My watch gave me 2.67 miles in total.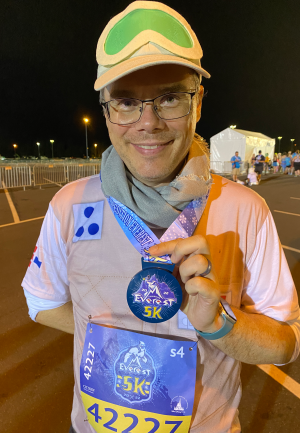 After the Race
We headed to the car right after we crossed the finish line, and after a very quick change of shoes and wardrobe, we hit the road home. Nearly the entire drive was in a steady rain, with the second half driving through a torrential downpour that had me holding onto the steering wheel with a death grip. The rain helped keep me awake, for sure, since we were both still struggling with jetlag following our overseas trip.
Recommendation
It's too bad the race had to be shortened, but I still had a good time. I don't prefer running at night, but I know a lot of participants were excited for a night race. It was great running through Animal Kingdom, and I had the most fun running with Arthur in our silly costumes.
It's also too bad they deferred the scavenger hunt portion of the race to a virtual experience. We missed the window (it was available through race weekend) so we didn't get to check this out at all.

Race Amenities: Nice tech shirt, cool compass themed finisher medal
Cost: $474.37 for the challenge