Race Report: Disney Star Wars Dark Side 5K 2017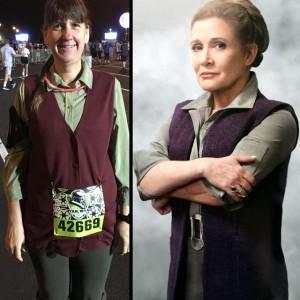 Woo hoo, it was time for my second Dark Side weekend! The Dark Side 5K last year was my first runDisney event and I learned a lot! I had a ton of fun then and even more fun this time since I knew better what to expect. I ran all three events in 2017 (5K, 10K & Half Marathon; last year I skipped the 10K) and took my time to enjoy each one.
For this race I ran as General Organa from The Force Awakens using a shirt, long maroon vest, and running capris I found at thrift stores.
The course ran through Epcot, with the start/finish in the parking lot.
Training & Goals
So in training I run back-to-back-to-back on consecutive days to prepare for a runDisney race weekend. It's total overkill though, since my pace for the training runs ends up being a lot faster (more than 2x faster for the 5K!) than the actual races. I guess being over-prepared is a good problem to have, right? Goals for the weekend were typical for these superfun runs: have a good time and don't get hurt.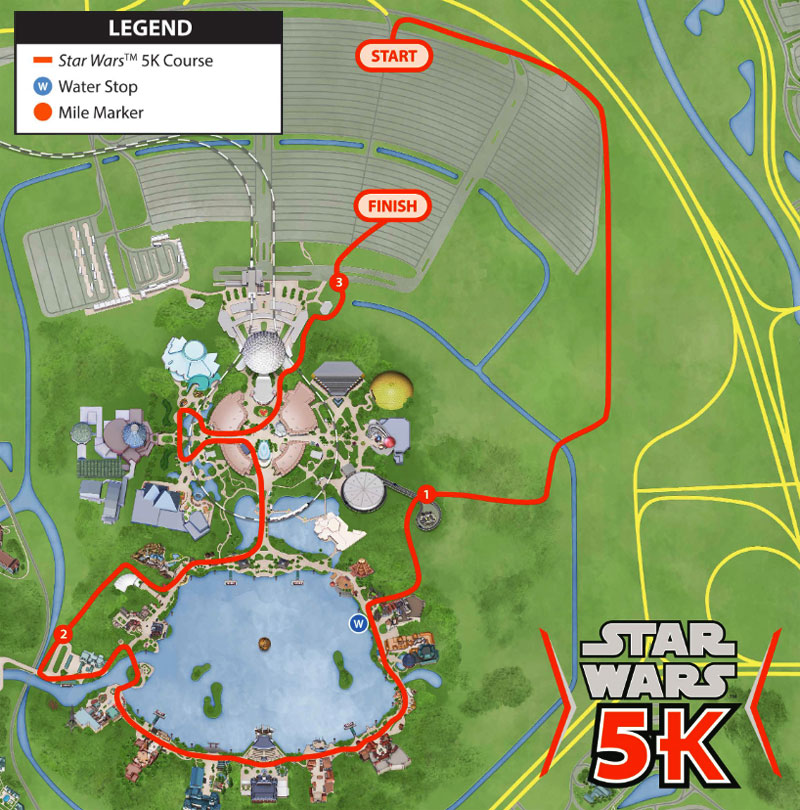 Race Day: April 21, 2017
The 5K started at 6AM which meant a 3AM wakeup call. I was out the door by 3:35AM and had the car parked at Epcot at about 4:25AM. I had time to stand it the very long line for Boba Fett with Han in Carbonite. At first I looked at Han for a minute with a sad face but the cast member and PhotoPass photogs didn't capture that. I even had time for a quick snap at the Rogue One backdrop before heading to my corral, B for this race.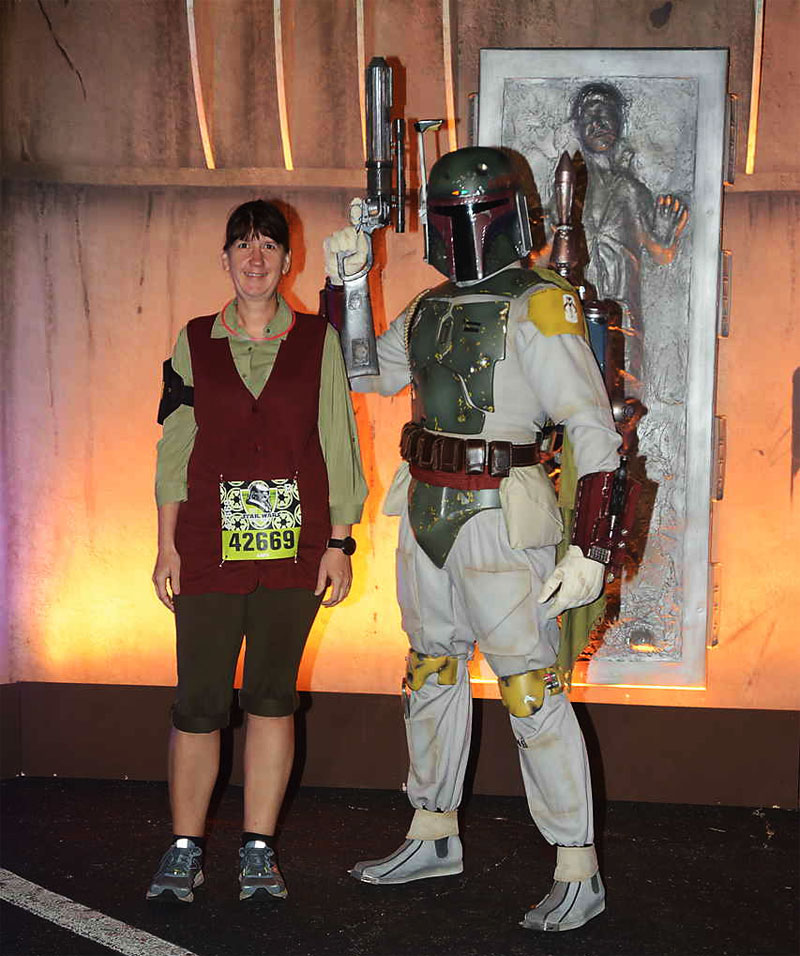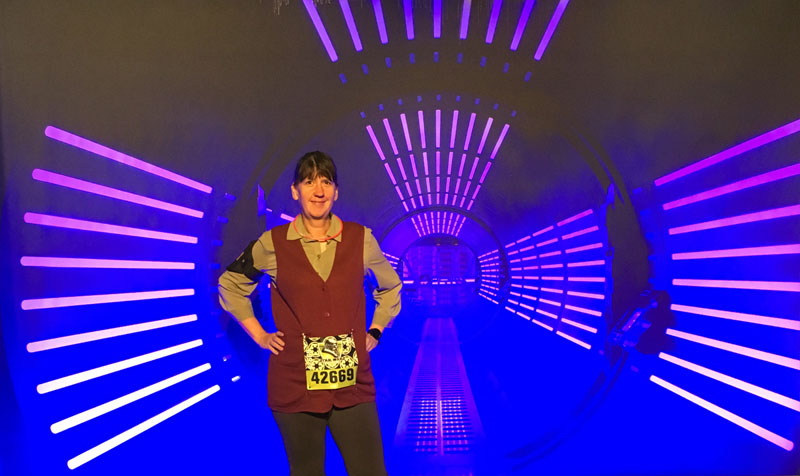 It was 61°F at the start with 88% humidity.
Mile 1: 23:27
I crossed the starting mats at about 6:08AM. Nine minutes later I was at the first character photo stop for the race, and it was a good one, with a very long line. Ewoks!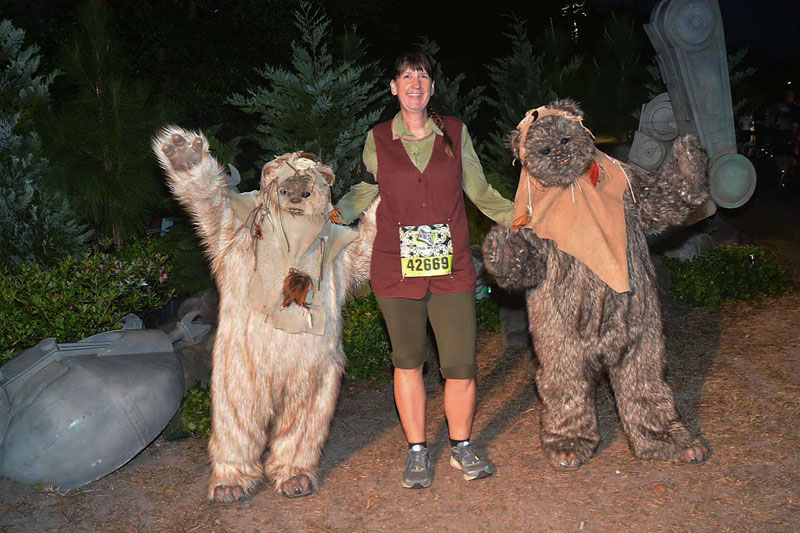 Twelve-and-a-half minutes later I was on my way again. But I wasn't running for long -- the next photo stop was just about a minute away. As I waited to sit in the Emperor's Chair I heard runners passing by saying with confusion, "It's just a chair!" LOL whatevs.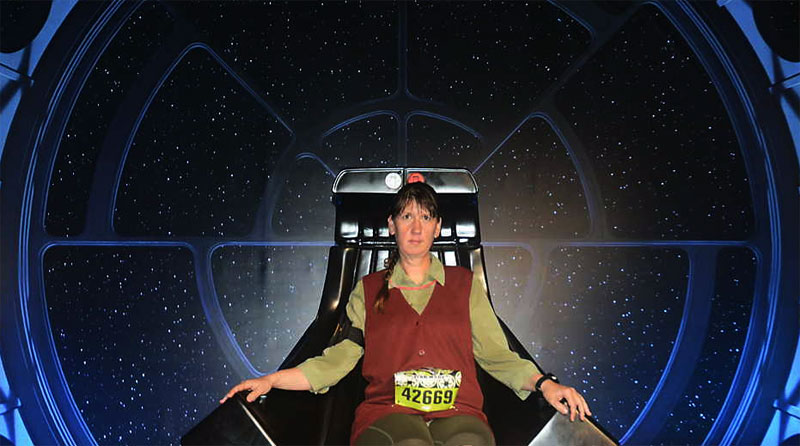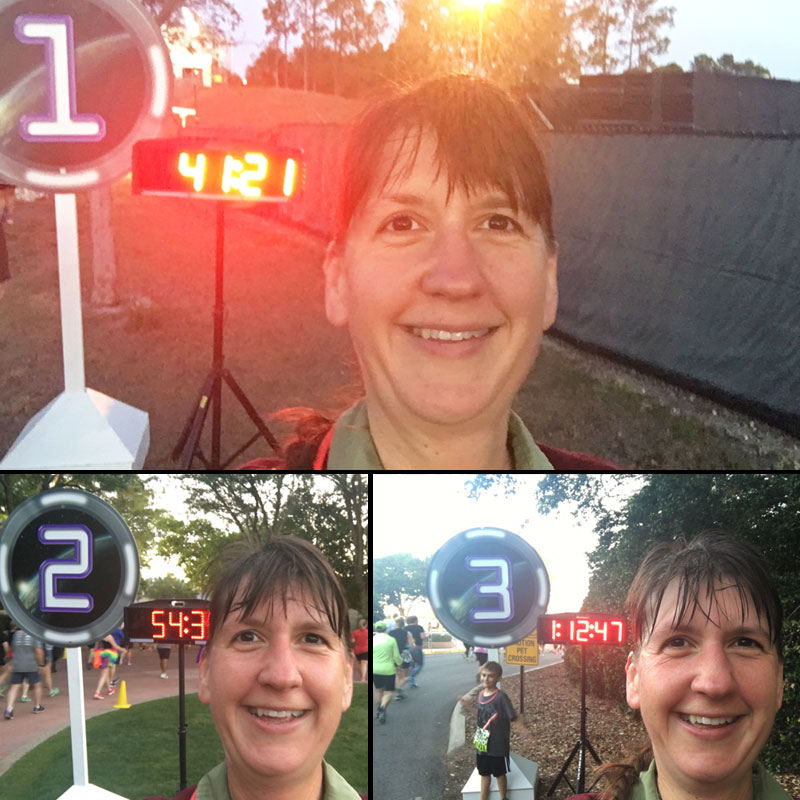 Mile 2: 21:13
Next up was an epic line for a photo with R2D2. I got my picture with him last year so I decided to skip this one. This part of the run took us through World Showcase and around a short backstage area before returning to Epcot. There were lots of PhotoPass photographers in the park.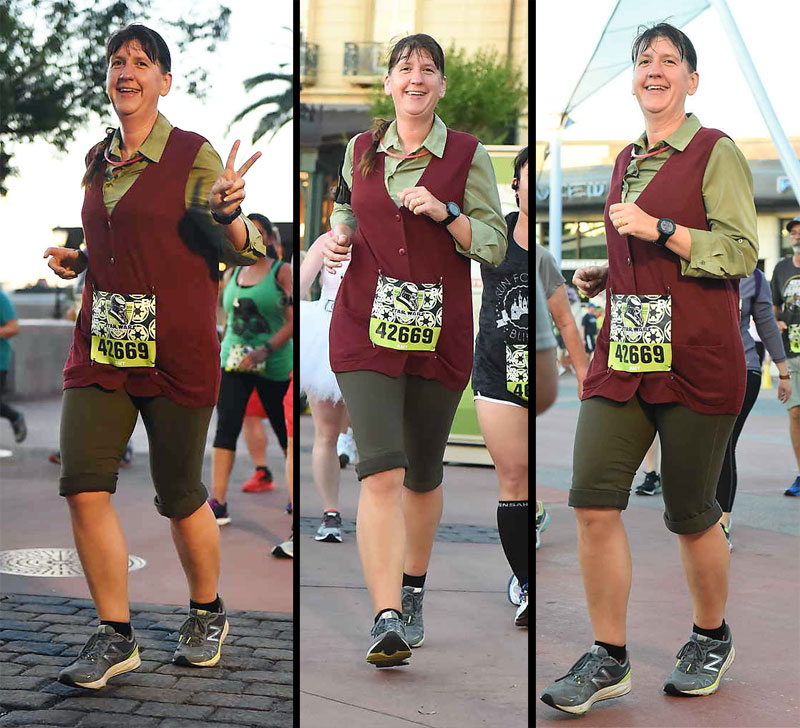 Mile 3+: 17:45, 4:54*
At the start of the final mile there was another epic line for a character. This time it was Chewie, who I've seen many times and can visit any time in Hollywood Studios. So I skipped a hug with the wookiee. Like last year, there were a couple of Stormtroopers standing on the stage in front of Spaceship Earth. I snapped a couple of photos without getting in the long PhotoPass line and ended up almost getting run over by the departing crew of 'troopers.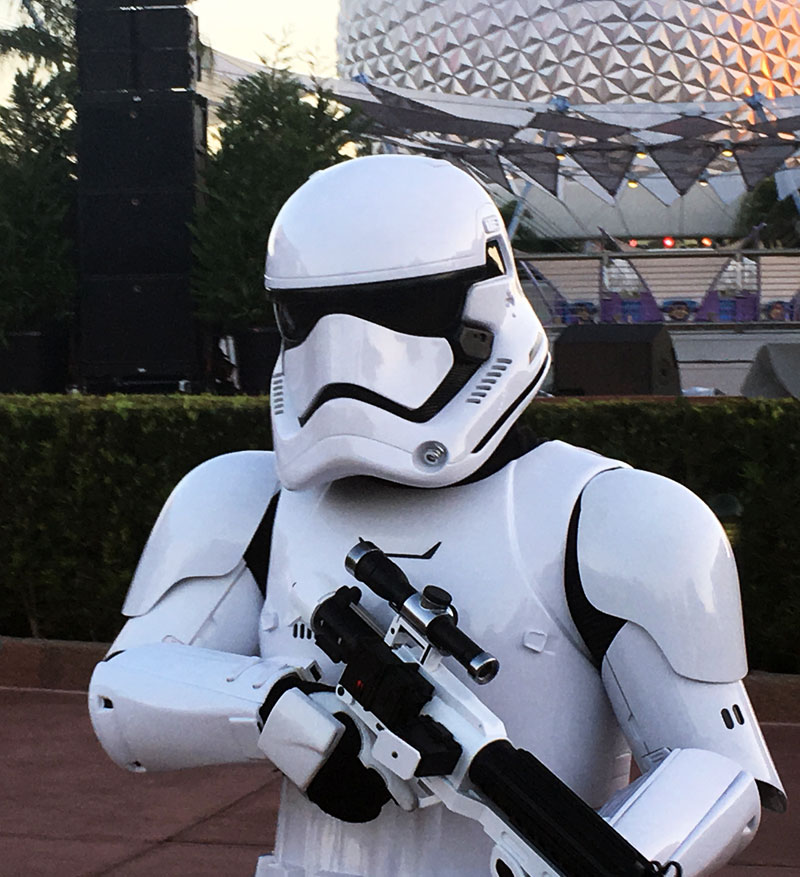 Next up was a short line for a photo with Sabine & Ezra from Rebels. I had completely missed these guys last year. After this stop it was a short run out of Epcot and to the finish line in the parking lot. Good times.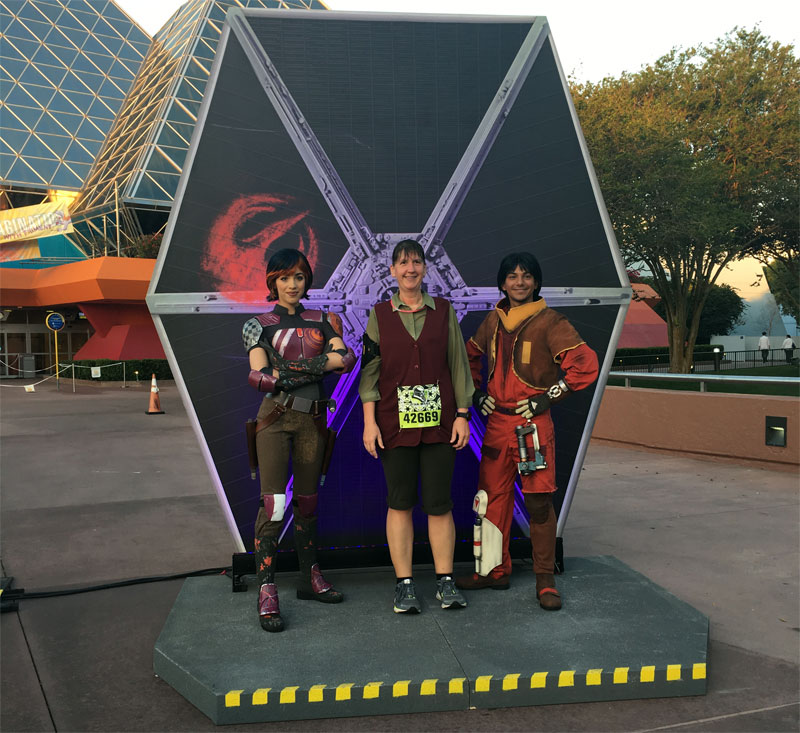 After the race I got a snap with Darth Vader (I said "Hi Dad" but got no reaction). Other characters available at the start/finish area were BB8 (new this year; he was at the Expo last year); Jabba the Hutt, Kylo Ren, and Captain Phamsa (all the same as last year). The lines were huge so I elected to head home right after my picture with Vader.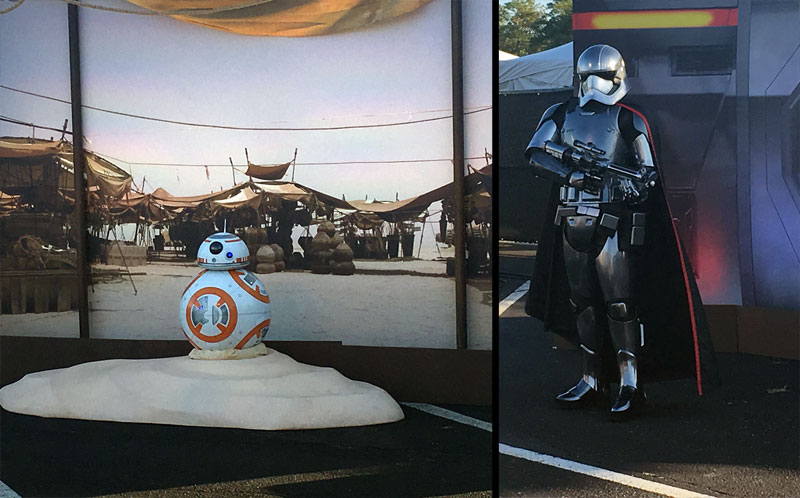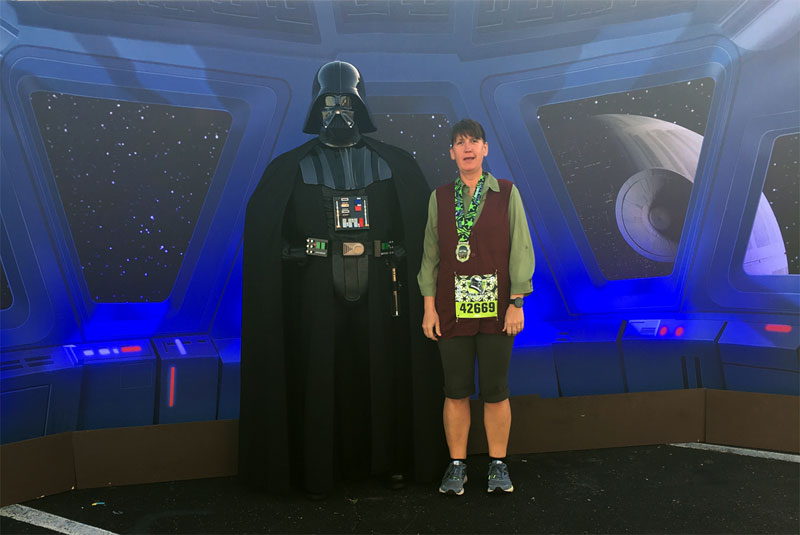 Recommendation
Star Wars runDisney races are the best runDisney races, so you won't hear any complaints from this runner. runDisney events are a strange and expensive beast and while I would highly recommend the experience I know they aren't for everyone.

Garmin time: 1:07:29
Race Amenities: Fun course through Epcot, Star Wars theming, characters and ambiance, nice cotton tee and great finisher medal.
Cost: $80.00 ($5 increase over last year)
Report written May 2, 2017